Fine Lines: Geometric Patterns Make Bold Splash For Summer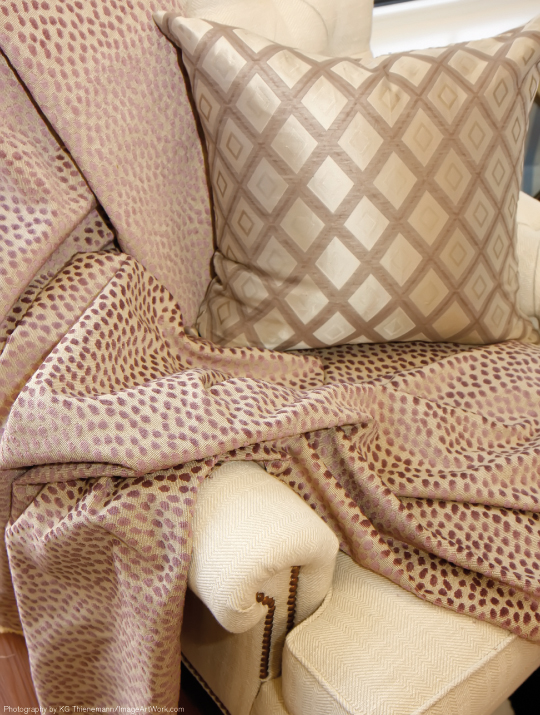 You don't have to know a rhombus from a rectangle to know that geometric patterns are a hot trend in home design. The proof is everywhere; talk to any designer, flip through the pages of design magazines and catalogs, or scan the shelves of home décor stores and you'll see an abundance of geometric patterns in everything from textiles to floor and wall coverings to accessories. Bold or subtle, these patterns can add pop to your existing décor within any budget. Whether installing new draperies, wallpapering your powder room, or just shopping for new summer pillows, think inside the geometric box for a fresh, new look.
Geometric patterns have been emerging on the design scene as part of the "everything-old-is-new-again" trend. Tricia Cronise of Stedman House Interiors explains that since home trends take their cues from fashion trends, we can thank past runway fashions for this current hit in our homes. She also points out that many of these patterns, like the Greek key or fretwork pattern, have roots in historical architecture. "Using these patterns is a great way to refresh and energize your interior without creating too much of a change," she says.
Elaine Stephenson of Elaine Stephenson Interiors adds that today's geometrics have somewhat of a retro feel—think Palm Beach glam in a green and white caning-print seat cushion. Retro-chic is in vogue across the board—in fashion, home and media trends too (think "Mad Men"), also accounting for geometric pattern popularity. Some of Stephenson's favorite geometric patterns include fretwork, quatrefoil, and an updated houndstooth. "Geometric patterns are so graphic and fresh," she says. "And they work well with other designs, like florals and stripes. People find them easy to work with."
Indeed, versatility makes geometric patterns even more appealing. Since home décor is often an investment, homeowners want pieces that are easy to mix and match, and looks that will remain timeless. Though neutrals often satisfy these requirements, geometrics can, too.
"There's a freshness about them, and they are very versatile, says Elizabeth Gilkeson who owns The French Thistle along with husband David. She says that geometrics translate well into the transitional mode because they coordinate with a traditional or a modern look. "They can be a nice opposite to florals and solids," says Gilkeson.
Ikat is another popular look that falls into the trendy geometric category. Linear but soft, this pattern may have once been associated with the global bazaar look but now blends with traditional interiors. "Ikat is a popular look because it's not a floral, but can be blended in with florals and other patterns," says Stephenson.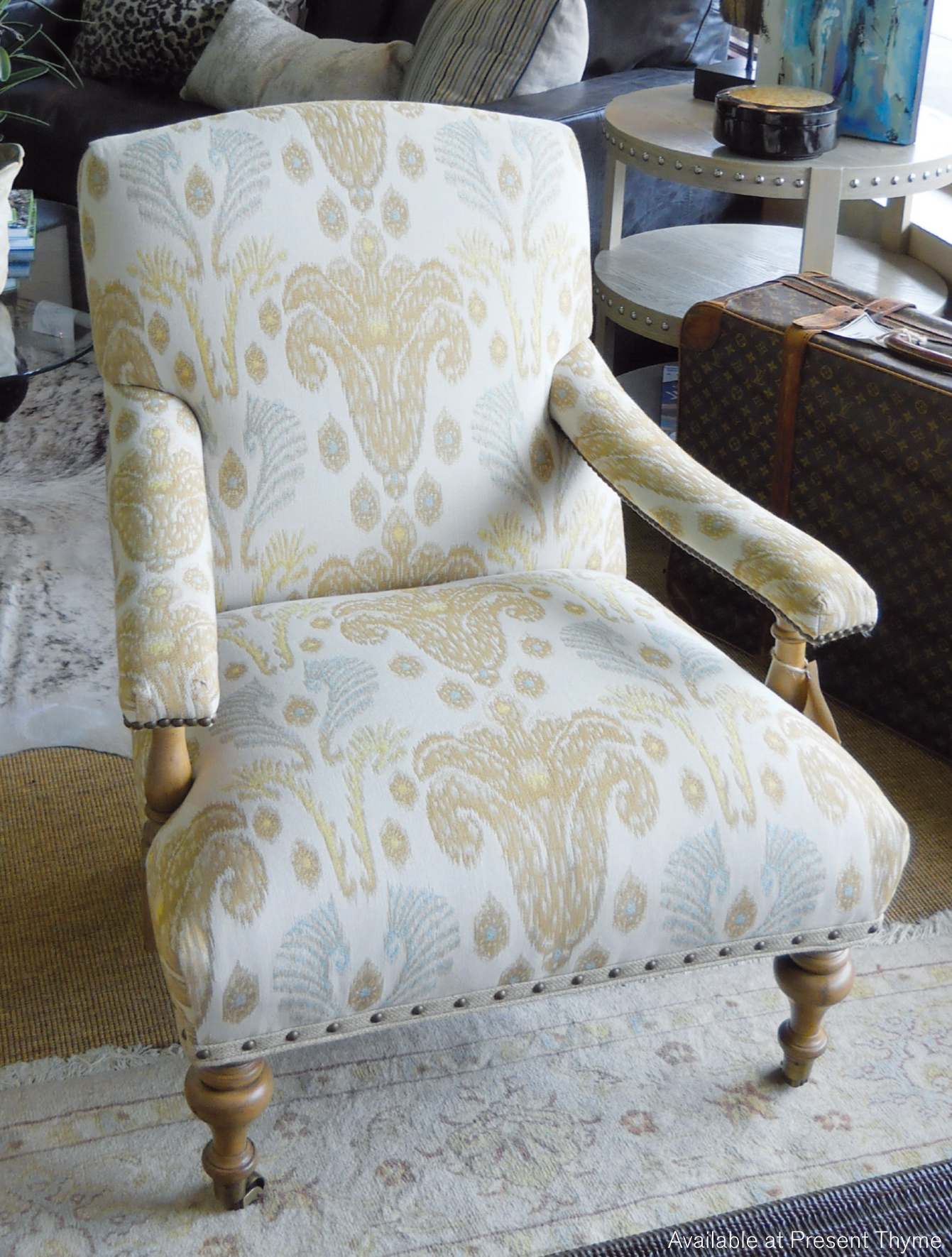 Adding Interest with Pattern
If you're nervous about using geometric prints, Cronise suggests starting small. "In the past few years, we've seen an awful lot of neutrals and textures, so using geometric patterns is our way of breaking out of that rut in a safe way," she says. She suggests an area rug, throw pillows or even a snazzy new mirror as great ways to introduce geometric pattern to your décor. She also suggests working a geometric-patterned fabric onto the trim of a window treatment or on the skirt of an upholstered piece. She suggests soft tones of the colors you want to use; though color is making a comeback, "the softer tones will have more staying power," she says. If being a trendsetter is more your speed, keep your eye out for stronger shades of blue; Stephenson says she's seeing blue come back in strong indigo, Prussian and Delft tones. Gilkeson sees a trend toward colors like navy blue and apple green.
Gilkeson says that geometrics are particularly suited for window cornices because of the linear nature of the pattern on the fabric as well as the treatment itself. "You can play around with different configurations of pattern," says Gilkeson. Geometrics are also great for tufted ottomans and bedding, she says.
Designers agree that geometric-patterned wallpaper can add a great dash of interest to the back of a bookshelf, the interior of a china cabinet, or even one feature wall in a room. Or if you are of the DIY set, try creating custom wall art by placing geometric-patterned wallpaper on plywood—framed or not—for an instant, inexpensive wow on your walls.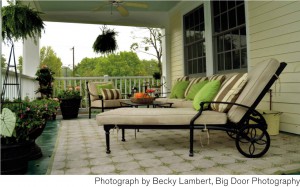 Geometric patterns also work well in your outdoor spaces. Jazz up your standard solid or striped chaise cushions with a fabulous ikat outdoor pillow, or treat yourself to some new placemats in a brightly colored fresh geometric pattern. Or consider an outdoor rug to add color and interest to your patio or deck. Among summer's bold outdoor colors, bright sun and delicate flowers, geometric patterned-goods such as these make a pleasing aesthetic statement. Today's durable indoor/outdoor fabrics are manufactured to withstand the rigors of outdoor conditions.
Scale is an important factor to consider in using geometrics. Cronise says that if you are mixing geometrics, be sure to mix the scale of patterns—some large and some small—to achieve a successful, balanced design that isn't overwhelmed with pattern. Experts agree that you need to seek a proportionate mix of pattern. "If you have a large-scale floral, for example, you don't want to pair it with a large-scale geometric," says Stephenson. If you want your geometric to be the main focal point in the room, then she suggests picking a pattern with a bigger repeat.
If you thought you were finished with geometry class, think again. This time around, however, you have lots of inspiration and guidance to help you strike a balance in your home using this hot but timeless trend.