A Fresh Take on Southern Classics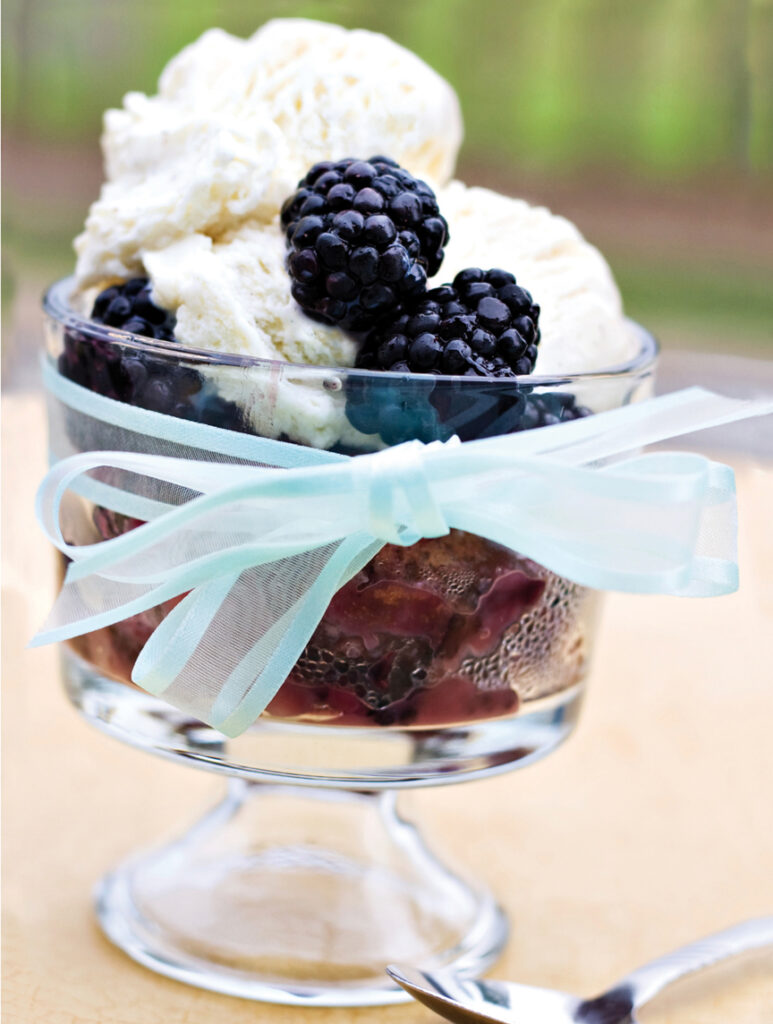 I've had a long, slow introduction to Southern cooking—from my first trips to the South on summer vacations as a child, to my current "research" in restaurants and cookbooks about Southern cooking. I can vividly remember my first taste of spoonbread as a Midwestern preteen visiting a restaurant in North Carolina. My sisters and I could not get enough of it, and asked for it at every meal during the vacation. I have not-so-fond memories as a recent transplant to Virginia of my introduction to greens in the high school cafeteria. As a gardener in Lynchburg, I've been introduced by a friend to some interesting Southern staples: Creasy salad (not the kind of salad I was expecting!) and Damson plums.
Summer gardens and local farmers markets are perfect places to explore Southern cooking because this cuisine is based on a deep agricultural heritage. Crops like corn, leafy greens, squash, tomatoes, peanuts and berries grow well in Virginia and are a big part of our cooking traditions. Corn products like grits and cornmeal also figure prominently. Besides the effect of local vegetables, Southern cooking also has roots in the culinary traditions of its immigrants.
But the South is a large region, and the traditions vary from place to place, shaped by climate, geography and culture. Think of the ham- and peanut-based cuisine of Virginia, based on the heritage of Europeans as well as African slaves. That contrasts sharply with the seafood-based cuisines of the Gulf states, and the French influence on the cooking in Louisiana, or the Caribbean flavors that affect Florida cuisine.
When we talk about old-fashioned Southern cooking, often the picture is unhealthy—overcooked vegetables, lard and other animal fats, fried food, and lots of biscuits and starches. Modern Southern cooking takes the flavors of the South, and lightens them up—using different cooking techniques with the same flavors. Vegetables are lightly cooked, and meat is used as a flavor, not as a main course.
Explore the farmers market this summer. Try out some old Southern favorites like lima beans, okra and field peas. Add a little country ham or bacon as flavor, and enjoy our heritage!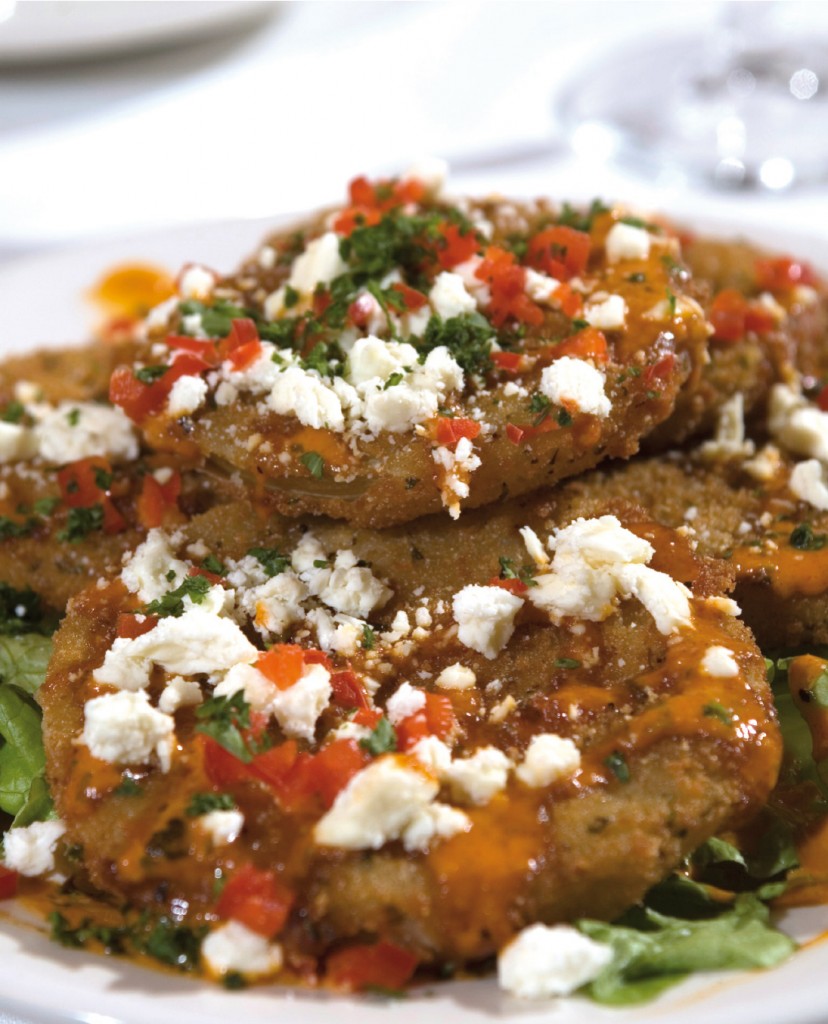 Fried Green Tomatoes with Goat Cheese and Peach Salsa (serves four)
Although not a traditional ingredient in Southern cooking, goat cheese is now produced all over the South.
2 ripe peaches, diced
¼ cup minced red bell pepper
¼ cup minced red onion
1 jalapeno pepper, seeds and ribs removed, minced
2 teaspoons rice wine vinegar
8 thick slices green tomato
Salt and pepper
½ cup flour, divided
About 1 cup cornmeal, seasoned with salt and pepper
2 eggs, beaten with 2 tablespoons water
Vegetable oil
4 ounces fresh goat cheese
Combine peaches, red pepper, onion, jalapeno and vinegar. Set aside (can be done up to one day in advance). Drain tomato slices on paper towels for 30 minutes while assembling other ingredients. Season tomato slices with salt and pepper. Mix 1/4 cup flour, cornmeal, and salt and pepper to taste in a shallow bowl. Place remaining ¼ cup flour in another bowl. Dip each tomato slice in plain flour and shake off excess. Dip in egg wash, then cornmeal mixture to coat. Let dry on a wire rack while coating other slices.
Heat ½ inch of vegetable oil in a skillet. Fry tomatoes, without crowding, until brown on both sides, about 4 minutes total.   Place two tomato slices on each plate. Top with a generous spoonful of peach salsa. Crumble goat cheese over top and serve immediately.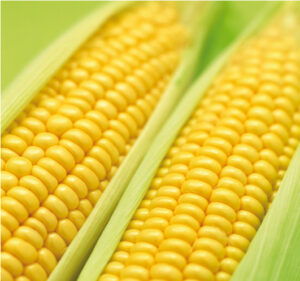 Sauteed Fish over Summer Succotash (serves four)
Use your imagination on this dish. Often at the market, you can find red, yellow and orange pear-shaped tomatoes which would look beautiful. If you can't find fresh lima beans, use fresh peas (cooked like the limas), or cubed zucchini that has been lightly sautéed before adding the other vegetables.
3 tablespoons vegetable oil, divided
2 cups fresh baby lima beans, boiled 15 minutes and drained
2 cups cherry tomatoes, cut in half if large
1 shallot, chopped
2 ears corn, boiled for 4 minutes then kernels cut from the cob
4 flounder filets, seasoned with salt and pepper
2 tablespoons chopped flat-leaf parsley
1 tablespoon each of chopped fresh oregano, dill and thyme
1 piece thick-slice, nitrate-free bacon, cooked and crumbled
Heat 1 tablespoon oil in a sauté pan. To make succotash, add all the vegetables and sauté for 2 minutes. Set aside. Heat a large pan. Add 2 tablespoons oil and heat until shimmering. Add fish, skin side up, and cook without touching, allowing the fish to form a nice browned crust for 3 to 4 minutes. Carefully turn over, and finish cooking on the other side, about three more minutes, until just cooked through. Divide succotash on four large plates. Place cooked fish filet on each, and sprinkle with fresh herbs and bacon.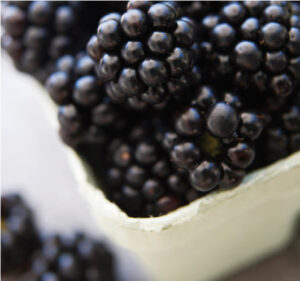 Blackberry Cobbler (serves 6)
The perfect summer dessert!
4 cups fresh blackberries
¾ cup brown sugar
1 tablespoon lemon juice
1 egg
1 cup sugar
1 cup flour
6 tablespoons butter, melted
Preheat oven to 375 degrees. In a medium bowl, toss the berries, brown sugar and lemon juice. Place in an 8×8 pan. In another bowl, combine egg, sugar and flour until mixture is evenly combined. Sprinkle over berries. Drizzle with butter. Place pan on a baking sheet lined with foil. Bake for 35 minutes until browned and bubbly. Serve with vanilla ice cream and enjoy.