Farm to Fork: A Bounty of Local Food Options
So much of our home life flourishes as a result of what takes place at the dinner table—at least in my house it does. Mealtime together serves many great ends: It creates a purposeful environment for discussion, as well as nurtures a sense of connection to the food we are eating, appreciation of the person who prepared it, and the adventure of tasting new things.
So much of our home life flourishes as a result of what takes place at the dinner table—at least in my house it does. Mealtime together serves many great ends: It creates a purposeful environment for discussion, as well as nurtures a sense of connection to the food we are eating, appreciation of the person who prepared it, and the adventure of tasting new things.


Relational benefits aside, we know that food—good, healthy food—is essential to our well-being, so why not make the most of it? Why not take something we must do for our well-being and turn it into a practice that is not only good for our bodies but good for our community and our world? Shopping locally can help accomplish all these things. And you may be surprised to know that within 100 miles of Roanoke, there are more than 50 farms producing fruit, vegetables, herbs, dairy products and livestock to which we have easy access. Here, take a look at just a few.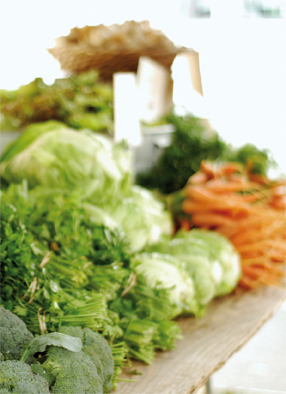 Shop Locally with Ease
There are several local markets, stores and farms where buying locally grown food is a snap. A regular on the scene since 1975, The Roanoke Natural Foods Co-op located in Grandin Village offers a wide variety of natural, healthy foods, a deli, bulk and pet products, eco-friendly merchandise, and organic plants. This store boasts that it is the "largest cooperatively-owned natural foods grocery store in Virginia." With a knowledgeable staff, the store not only offers great food, but superb resources when it comes to cooking and eating right. Check out their website at www.roanokenaturalfoods.com for a full calendar of events, and you will see why "The Co-op" is a Roanoke favorite. By replacing one of your chain grocery store trips with a visit to the Co-op, you will begin see the difference on your dinner table. Membership-ownership is not required.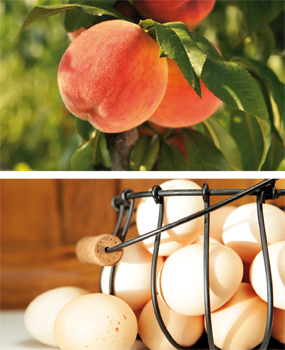 Farmers Markets Abound
Our area has a variety of farmers markets where we can shop for fresh, local food. Located near the Co-op, the Grandin Village Market provides shoppers the opportunity to "visit" many local farms in one trip. Featuring everything from organically grown fruits and vegetables to herbs, farm-raised beef and chicken, eggs, flowers, and much more, a visit to the Market is a weekly ritual in my family. The Market runs on Saturdays from late April through October, from 8 a.m. to 12 p.m., and is a must for anyone wanting to buy local produce and products that can't be beat. Take a big shopping bag, and once you see the choices here, you will be back for more. Learn more about them at their busy blog, grandinvillagecommunitymarket.blogspot.com/.


Another local market is the West End Center's Farmer's Table, which runs on Tuesdays from 3 p.m. to 6 p.m. at the West End Center for Youth, at 13

th

and Patterson. Many of the same local farmers with their fresh-picked goods have booths at both markets, so if a Saturday doesn't suit your fancy, swing by the West End Center for a mid-week delight.




Brent Cochran, the Executive Director of the Local Environmental Agriculture Project (LEAP), operates both of these markets. "Interestingly, LEAP came into existence to increase availability of locally grown goods through establishing these markets," he says. "We aren't asking people to change their whole lifestyle to support local farms, but if they change their habits just a little bit— like spending $5 at a farmers market on a Saturday morning—that translates into building our local economy and supporting our farmers." For more information on LEAP and these markets, check out their website at

www.leapforlocalfood.org

.




Another great option is the Historic Roanoke City Market, which is not only chock-full of produce, but also local artistry, crafts, jewelry and more. As the oldest continuously running farmers market in Virginia, the historic venue is located on Market Street near many downtown restaurants. So make a day of it and load up on some local favorites, then treat yourself to a delicious meal. Learn more about this market at

downtownroanoke.org/city-market/about-city-market

.




Nestled in the heart of downtown Salem is the Salem Farmers Market. Constructed in 1992, the farmers serving this market "pride themselves on bringing the best of the country to the City." They provide fresh produce, flowers, honey and dairy products, eggs and jams. Special events are also held in the market area, boosting the popularity of this terrific venue. Learn more at

www.ci.salem.va.us/depts/streets/market/index.html

.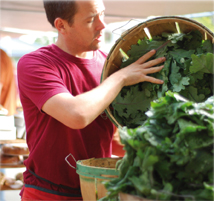 A New Way to Grocery Shop
We no longer cook the way our grandmothers did, by pulling out what was canned the previous summer, or going "out back" to pick fresh vegetables for dinner. Our whole perception of food has changed, likely due to our fast-paced life, and with it, our grocery shopping and mealtime rituals. Thankfully, there are groups like Good Food-Good People (GFGP) who bring the best of the farm right to us. Owned and operated by Full Circle Farm's Tenley Weaver and Dennis Dove, GFGP "serves as a link between the agricultural community in the Blue Ridge Mountains/Piedmont area and the region's market shoppers, fine-dining chefs, CSA (Community Supported Agriculture) sharers and local food lovers." Representing over 30 farms and orchards and two dozen producers, GFGP participates in the Roanoke and Floyd community markets, and operates an "A La Carte" virtual market. Everything can be ordered online through a weekly emailed menu, and you can pick up your order once a week at multiple locations in the area. And P.S.—there is no charge for delivery! Healthy food shopping has never been easier. Weaver says, "The choice to purchase local, fresh foods is an essential step toward the health of our bodies and our environment. Preservation of farmland, water and soil conservation, reduction of toxins in the food chain, improved nutrition and physical health, food safety and security, fair reimbursement for farmers, responsible and thoughtful use of fossil fuels, circulation of local and regional economy, trustworthy and responsive business relationships—these are all cause and effect of a vibrant and sustainable community food system." Visit their website at goodfoodgoodpeople.net to learn more.


Additionally, there are several area farms offering Community Supported Agriculture programs (CSA). Thanks to a recent surge in popularity of CSA shares, our options keep expanding, and choosing to buy better and smarter has never been easier for consumers. In a CSA program, customers pay farmers in advance for "shares" of their crops. This ensures that farmers have steady revenue to run their farm, while we enjoy a share of their bounty. Seven Springs Farm in Floyd offers half and full shares, and partners with other local farms such as Weathertop Farm for dairy and meat. Southwestern Virginia farms participating in CSA programs are either certified organic, or they adhere to organic growing principles. You can place your share order with Seven Springs by visiting their website at 7springsfarm.com. They deliver shares weekly throughout Roanoke, Blacksburg and Floyd.


Other Options for Local Treats
Homestead Creamery, with dairy provided from two Franklin County farms in their third and fourth generations of family ownership, will deliver right to your door every week. Their old-fashioned delivery trucks are all over town supplying customers with milk, butter, eggs and the finest ice cream ever. The milk is free from hormones and antibiotics, and even comes in recyclable glass bottles. Don't you love the nostalgia? For information on scheduling a home delivery or tour, contact them at homesteadcreamery@juno.com or (540) 721-2045.


For those seeking an extraordinary dining experience extraordinaire, pack up your family or grab a few of your foodie friends and book a table at Roanoke's Local Roots Restaurant, a farm-to-table eatery located in Grandin Village. This locale is known for the freshest in meat, dairy, seafood and vegetables supplied by local farmers.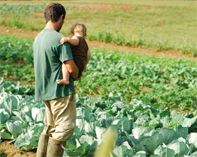 Teach Them Young
Designed especially for kids, through programs in select Roanoke City Schools, is Happy Healthy Cooks (HHC). Created and run by Certified Health Coach and Certified Food Educator Heather Quintana, HHC's mission is to "turn kids on" to healthful foods in a hands-on, experiential fun class. Quintana is passionate about making time for a family meal each day. "Eating together not only fosters closer family relationships, but can also provide the opportunity for parents to model healthy eating choices," she says. Quintana has seen kids taste—and enjoy—all kinds of fresh vegetables, legumes, and whole grains, including spinach, bok choy, edamame, turnip greens, avocados, black-eyed peas, and so much more. HHC is sponsored by The Roanoke Natural Foods Co-Op, Physicians to Children, Lewis-Gale Physicians, Local Roots Restaurant, and many individuals. HHC is growing, thanks to the support of a grant from the Junior League of the Roanoke Valley, Virginia, Inc. If you'd like to learn how you can support this project, contact Quintana at hqhq@cox.net.


Believe it or not, this is only a partial listing of markets, farms and groups in our area who are working hard to bring locally- grown, healthy food to us all. Now is the time to transform your dinner table into all that it can be—one shopping trip at a time.