Accent Tables: Accessorize with Style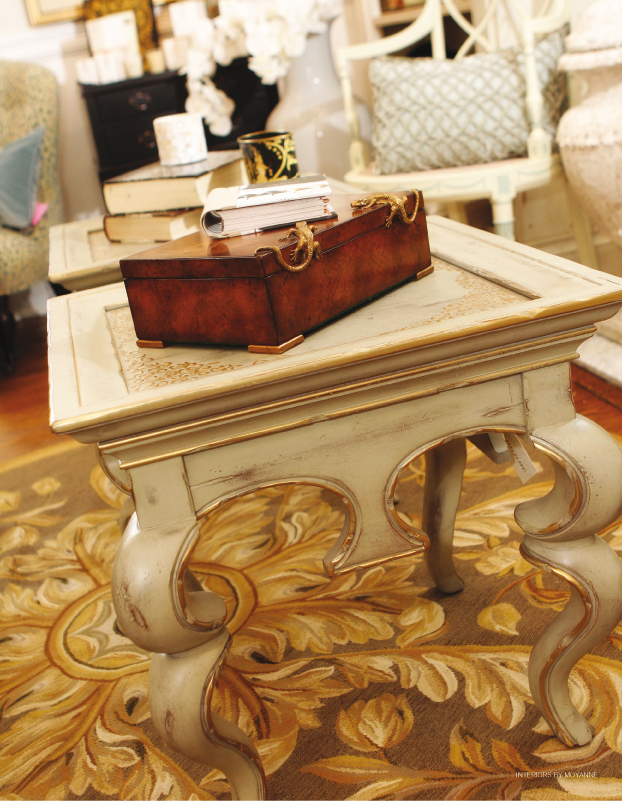 Okay, I will admit this in print: I have a shoe obsession. I know, I know—it is a common thing among women, so I am counting on at least some of you to understand! I love taking a neutral dress—say black or champagne—and bumping it up a notch by pairing it with my hot pink flowered shoes, or better yet, my red 5-inch heels adorned with rhinestones … yes! If I add some fun, funky earrings, I am good to go. Much like adding that pop of color and "bling" to an outfit, adding accent tables to your decor is the perfect way to add both visual interest and practicality to any area of a room.
After a room is furnished with the basics, accessorizing with accent tables, also called occasional tables since they are used on occasion, is much like strapping on those to-die-for shoes. They give the room the finishing touch, and are useful for storage as well as a place to showcase special items. Besides doing double duty, these "jewels" can also be moved from one room to another to add functionality while entertaining in other areas of the house.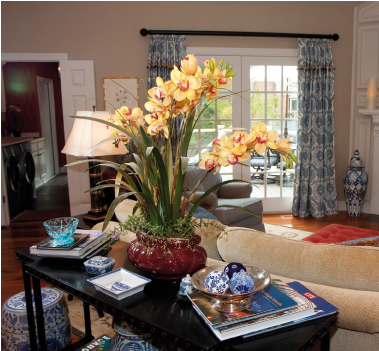 Around the House
There are several basic places that are just begging for occasional tables. Sofa tables are generally tall, long and narrow to take their place behind the sofa, adding functionality and beauty by holding lamps, family photos and essentials like decorative coasters or a basket of pretty beverage napkins. To keep the area in front of the couch cozy, a coffee table is essential. Lower in height—perfect for putting up your feet up while curling up with your slippers and a blanket—they are the ideal place for remotes, interesting books and decorative items. Even a small upholstered ottoman can work as a coffee table and be pulled aside for extra seating. My parents have a round oak dining table which was shortened to a height of about 20 inches, which makes a perfect, interesting coffee table. When placing a coffee table, be sure to leave an easement of 18 inches between the table and the couch. Also essential to a living area are tables that find their way to the sides of the sofa or chairs—even if their only function is to give a resting place for a guest's drink. When considering an accent table for these areas, be sure that the height is no shorter than 2 inches below the arm of the sofa or chair, and that the table is kept within easy reach.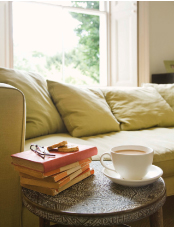 Whether you choose a traditional nightstand or something less expected, side tables in a bedroom are a must … at least they are for me! How else could I keep my books, alarm clock and water bottle handy? For a unique take on this table, bring the outdoors in by using a ceramic garden stool as your nightstand, and you'll never stress about condensation from your water glass again. Antique washstands are also the perfect height and size for beside the bed, and many have drawers to store books or chocolate to satisfy a late-night craving.
Before choosing a bedside table, be sure to measure the height of your bed. As a rule of thumb, the height of the table should be equal to the height of your mattress or a few inches higher. It is much easier to reach up while you are resting than it is to reach down, and having a slightly higher surface will prevent late- night spills from restless sleepers.
Think about the entry area in your home. This is the perfect area to experiment with a unique accent piece by adding a small painted shabby chic dresser, which will do double-duty as a storage space for winter hats and mittens. Or consider a mirrored console to reflect light in an otherwise small space. A demilune accent table flush with the wall also works well in the foyer, serving as a wonderful resting place for keys, mail and a wallet. Add a wall mirror above, and it performs as a staging area to grab everything and give yourself a once-over before you leave (did you remember to put on earrings?). If you have a larger foyer, a round pedestal table with a floral arrangement makes for a stunning welcome. Just be sure that there is at least 4 feet of clearance on each side of the table for easy entrance into your home.
Conventional accent tables take on several basic styles: curved (round or oval), edged (square or rectangular), pedestal (having one main pedestal leg), nested (one taller table with smaller ones underneath—ingenious and great for dual purposing!), storage (having a drawer or storage space), and skirted (those inexpensive particle board tables can look like a million bucks with a great textile covering on top). These accessorizing tables come in many heights, sizes, shapes, materials, finishes and colors. I have seen everything from marble-topped mahogany pedestals to vintage metal rolling carts used as accent pieces. And remember that not all accent tables have to serve multiple purposes; some can just serve as eye candy, a place to display beloved photos of your family or an arrangement of treasures to dress up a bare corner or blank wall. Truly, the possibilities for finding your perfect table are out there just waiting to be discovered.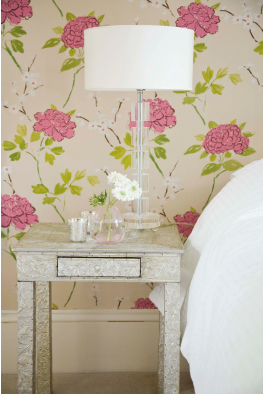 Ready to Accessorize
As for me, I adore incorporating the unexpected in my style, but even if you are not used to an eclectic look, an accent table is the perfect place to introduce an element of surprise to your home. Anything that has a flat top or can have a piece of glass put on top to make a flat surface would make a wonderful accent table. Remember those "coffee table" books … why not make a large stack of those and put a lamp on top for a perfect side table? We've all seen vintage suitcases stacked (they make great storage) on top of a luggage rack, but why not set a sturdy suitcase on its longest side and place a tray on top to hold essentials? In my home, vintage plant stands, small benches, and even a small, glass-fronted cabinet that belonged to my grandmother all do double-duty as tabletops while adding interest and meaning to my home. I have seen glass tops placed on urns and birdbaths to add a different dimension to an otherwise bland space.
On the hunt for accent pieces, arm yourself with an open mind and measurements of the area in which you are considering placing a table. Scour thrift stores, estate sales, antique malls, interior designer's stashes, and even national retail establishments such as TJ Maxx for great finds. The search for this piece can be fun and adventurous. And remember, sometimes these pieces find you; if you are out and about and a great accent table catches your eye—grab it! You can always find a use for a gem like this in your home.
Again, it is good to keep in mind that you are accessorizing: Sometimes it is fine to wear the matching pearl earrings, bracelet and necklace, but other times it is just plain fun to pair that pearl necklace with bold statement earrings and a metallic brooch. Using different styles and sizes along with varying the heights of accent tables within a room will certainly add spice to any décor. Consider going against the flow. Is your décor modern and hard edged? A round table with curved legs could do the trick for visual interest. If you have a more traditional look, try introducing a piece with interesting lines, unexpected details or a metallic finish. Occasional tables
are also a great way to bring color into a room. Use a red farm bench to add a pop of flair to a neutral couch, or repaint a small garden table yellow to add dimension and interest next to your favorite reading chair.
Just like those trendy earrings that you adored three years ago but now feel like you can part with, an accent table is just that: a piece you can have a little fun with, but not one that requires the commitment of a higher-ticket item like a dining table or upholstered piece. Can't afford a total makeover of your family room? A new accent piece could add just the bit of freshness that the room needs. And if you tire of a table in one room, try it in another; you may see it in a different light altogether.
As women, accessorizing is not a must, but it sure does add some fun and interest to our day, doesn't it? Adding a conversation piece of heirloom jewelry or truly owning those lemon yellow pumps allows us to be creative and express ourselves from a new perspective. Look at your accent tables in this way, too. No matter how you accessorize and make your statement, in the end you will gain a great accent piece while adding function to your home.