FANTASTIC FALL FUN
FAN-FAVORITE EVENTS AND DESTINATIONS
When the days get shorter and the evenings get cooler, there is no shortage of things to do in the greater Roanoke region. In fact, there's so much, we couldn't possibly list everything here. Instead, we highlight a few of our family-friendly favorites for fall. Find your next adventure for 2023!
---
Beaver Dam Farm Sunflower Festival 
WHERE: 13561 Lee Highway, Buchanan
WHEN: September 
This family-owned-and-operated farm experienced a rebirth about seven years ago, after the family planted 20 acres of black oil sunflowers on the property to create spectacular scenery. The following year, the Beaver Dam Farm Sunflower Festival was born and instantly turned into a huge success. 
The photo ops are incredible — but also be sure to put down your smartphone and simply walk through the fields and take in the view. 
Visitors to the festival can also enjoy hayrides, pet farm animals, listen to live music and purchase from more than 115 craft and food vendors. Learn more at beaverdamsunflowers.com.
---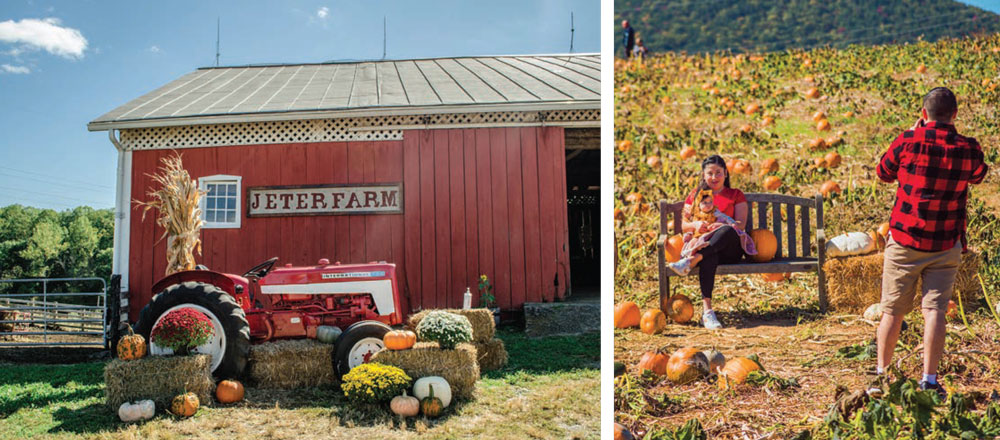 Photos: Courtesy of Jeter Farm Fall Festival
Jeter Farm Fall Festival
WHERE: 181 Blue Ridge Blvd., Roanoke
WHEN: October
If you have small kids, big kids — or are maybe you're a kid at heart — Jeter Farm is a one-stop shop for fall fun. 
The historic family farm in Bonsack offers a wide range of activities — including a corn maze, hay-wagon rides, slides, a barnyard zoo and games. Their concessions are also fall-focused, from local apple cider to roasted corn.
A noteworthy part of the property worth checking out is the Jeter Farm landmark barn, which was built in 1871 and remains one of Botetourt County's best examples of the forebay bank barn. Learn more at www.jeterfarm.com.
---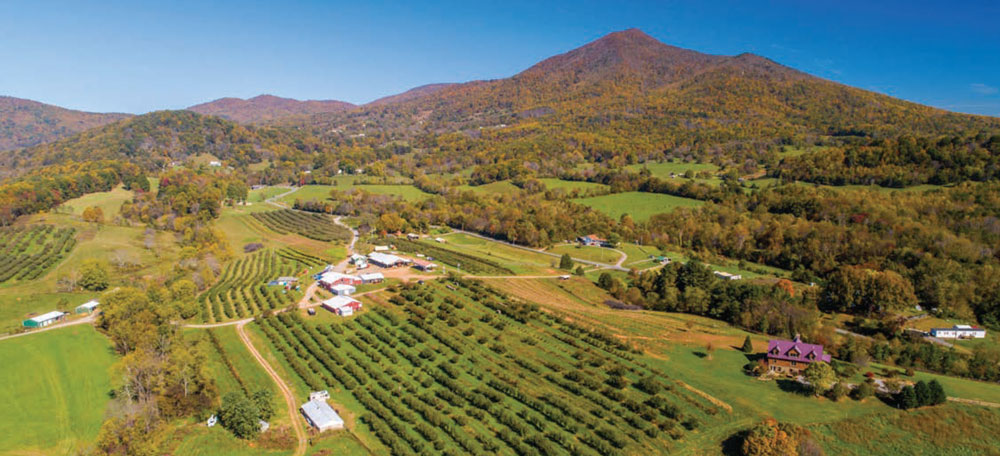 Photo: Star City Skycams
Peaks of Otter Winery/Johnson's Orchard
WHERE: 2122 Sheep Creek Rd., Bedford
WHEN: Daily, Noon to 5 pm
This day trip pulls double duty — offering apple picking and wine tasting all in one stop!
Peaks of Otter Winery/Johnson's Orchard is open daily from 10 a.m. to 5 p.m. during apple season. You can pick your own apples to take home — they sell by the bushel, half bushel or provide smaller bags. 
Inside the pack house, you'll find hot apple cider and fresh cider donuts. Or opt for a flight of eight wines to taste before picking your favorite bottle to take home.
Before heading home, be sure to stop at the iconic LOVE sign and take a photo of your crew with the majestic mountains in the backdrop. Learn more at www.peaksofotterwinery.com.
---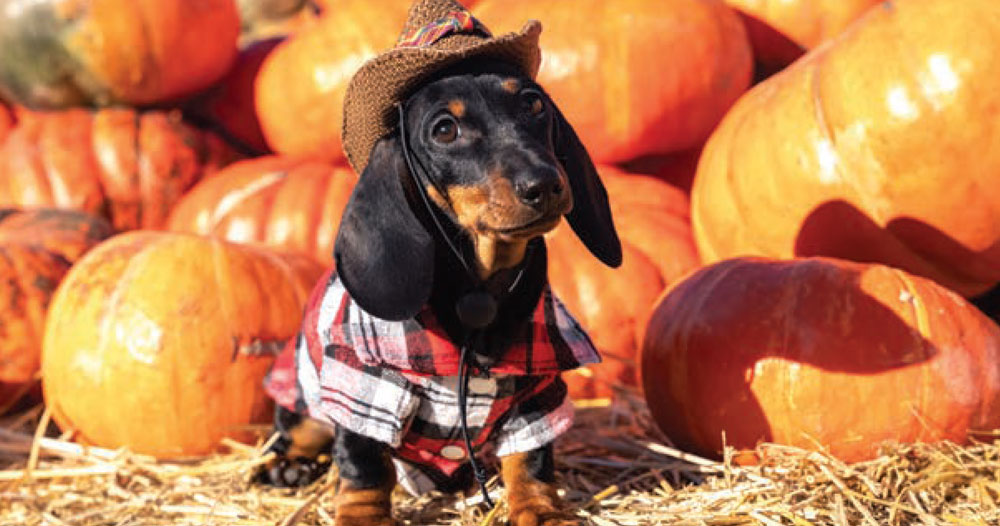 Barktoberfest 2023
WHERE: Elmwood Park, 706 S. Jefferson St., Roanoke
WHEN: Oct. 21, 11 am – 4 pm
A Halloween costume party for our furry friends? Sign me up!
Barktoberfest (an obvious nod to the popular Oktoberfest tradition) is heading into its sixth year with proceeds benefitting Project Support Inc., an organization that helps those struggling with mental illness.
At this event in Elmwood Park, you can peruse outdoor vendors, listen to live music, snack at food trucks and — the best part — be highly entertained by dog/owner costume contests.
There are also lots of opportunities to adopt a new pet into your family. You may go home with a permanent souvenir from this fall outing! Learn more at Barktoberfest 2023 on Facebook.
---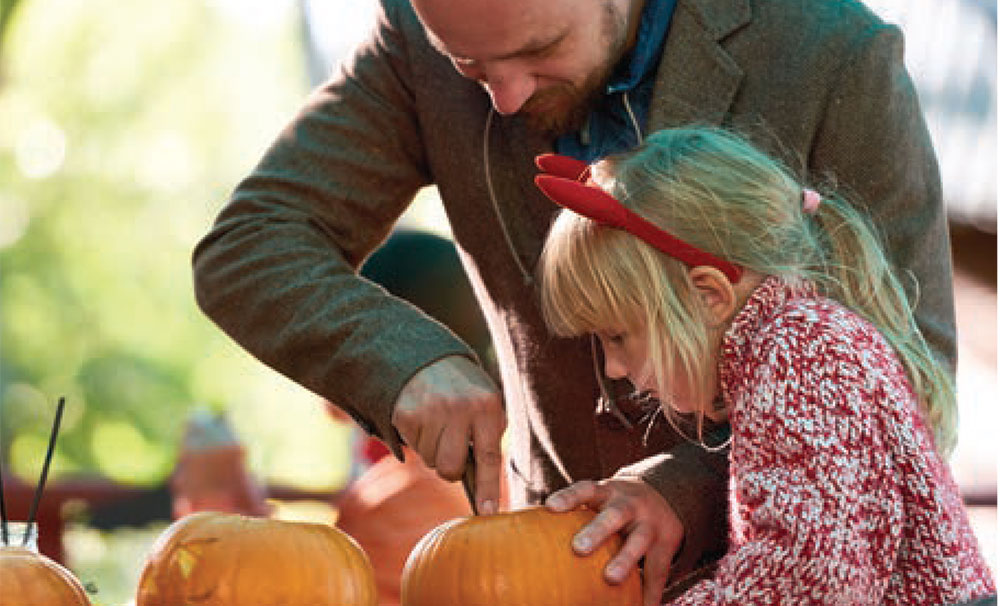 Spooktacular Saturday
WHERE: Explore Park
WHEN: October 28
Roanoke County's Explore Park turns spooky ahead of Halloween with expanded activities for families to enjoy. 
The popular Spooktacular Saturday includes pumpkin carving, costume contests, TreeTop Quest day/twilight zipline events and more! Learn more at www.explorepark.org.
---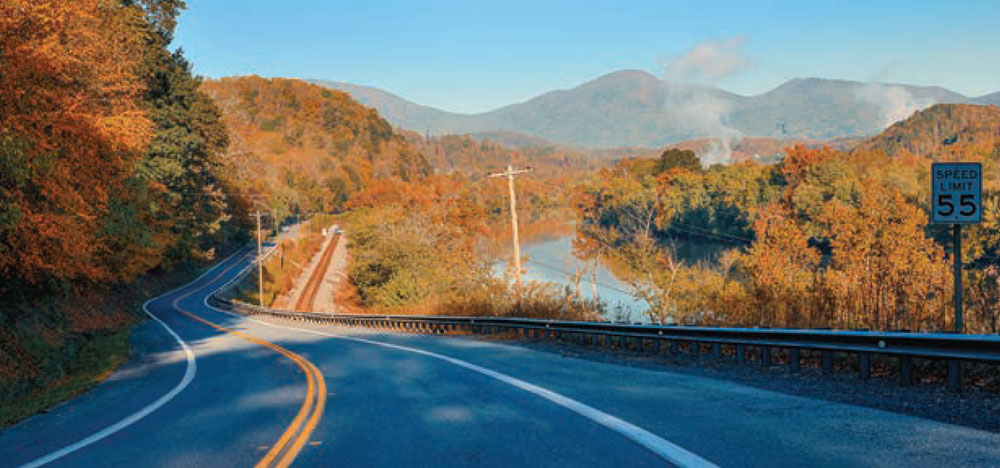 Photo: Star City Skycams
Fall Foliage Drives
WHERE: Blue Ridge Parkway
WHEN: Anytime (The Virginia Department of Forestry's estimated peak for our region is Oct. 10-31.)
In our area, you don't have to travel too far to see the trees showing their vibrant shades of yellow, orange and red. The question is — which view is the best?
If you want to avoid some of the more congested spots, the Virginia Department of Forestry has created 10 driving tours along the Blue Ridge Parkway that they consider "off the beaten path." That way, you can focus more on your trip and less on the traffic.
In the Roanoke area, one of their tours takes you off I-81 near Salem to New Castle. Their tour points out many interesting historical facts along the way as well!
Learn more at dof.virginia.gov/education-and-recreation/fall-foliage-driving-tours/
---
Wait! There's more…
Here are a few more fall festivals worth checking out:
BOONES MILL APPLE FESTIVAL
Oct. 7, 9 am – 3 pm | Town of Boones Mill
LAYMAN FAMILY FARM FALL FESTIVAL
Starting Sept. 16 | 1815 Mountain View Church Rd., Blue Ridge
VINTON FALL FESTIVAL
Oct. 7 | Town of Vinton
SINKLAND FARMS PUMPKIN FESTIVAL
Sept. 29 – Oct. 29 | 3060 Riner Rd., Christiansburg ✦
apple picking, barnyard zoo, corn maze, dog/owner costume contests, Fall Foliage Drives, family-friendly favorites, Games, hay-wagon rides, pumpkin carving, slides, Sunflower Festival, wine tasting