Events Around Town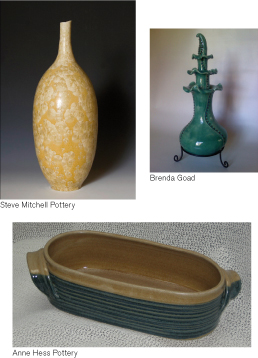 Potters Guild to Host Show and Sale
The Blue Ridge Potters Guild will hold its 13th Annual Show and Sale October 19 – 21 at Patrick Henry High School in Roanoke. The show and sale is the largest all-pottery show in Virginia and features functional and decorative works of art. This year, over 70 potters will display and sell their unique and spectacular works. Show organizers expect 2,000 to 3,000 people to attend. Admission is free to the public.
The event kicks off with a reception on Friday, October 19 at 6 p.m. The show continues Saturday, October 20 from 10 a.m. to 6 p.m. and Sunday, October 21 from noon to 5 p.m. Demonstrations of pottery techniques such as hand-thrown, hand-built and sculpted clay art will be held throughout those days. Special hands-on learning opportunities for children at the "Kids Korner" will also be featured.
The show celebrates the beauty, art and function of pottery. "Pottery is timeless," says Gwynne Myers, president of the Blue Ridge Potters Guild. "For centuries, people have used pottery to live. But pottery is also art, and each piece is unique to the world. You can be sure that any piece of pottery made by hand is the only one in the world."
The show will also feature a special juried gallery dedicated to this year's theme, "There's a Pattern Here." Potters will exhibit work that interprets the theme; an invited juror will judge the entries and award certificates of merit to select potters based on the quality of the work as it relates to various aspects of the theme. Some of the pieces displayed in the gallery will also be
for sale.
The Blue Ridge Potters Guild is a nonprofit organization for potters throughout Southwest Virginia; its mission is to promote community awareness, understanding and appreciation of pottery. Learn more about the guild at blueridgepotters.com. For more information about the show and sale, contact Jessie Rusinko at (540) 989-0450 or jesrus@msn.com.



Home Show Offers Information, Entertainment For All
The Roanoke Regional Home Builders Association, Inc. (RRHBA) will host the 17th annual "FALL Home Show" at the Salem Civic Center Saturday, September 15 from 9 a.m. to 6 p.m. and Sunday, September 16 from noon to 5 p.m. The show features more than 80 exhibitors and vendors displaying and selling the latest in home-related products and services. For consumers who are planning to build, remodel or enhance their homes and outdoor living spaces, this show is a one-stop opportunity to learn the most current design trends, talk with professionals, save money by taking advantage of "show only" discounts, watch demonstrations, receive giveaways, and win valuable prizes.
The show also features a special appearance by Dr Lori (DrLoriV.com), star appraiser on Discovery Channel's "Auction Kings." Dr. Lori will appraise attendees' antiques and collectibles during two 2-hour sessions each day: Saturday, at 10 a.m. and 3 p.m. and Sunday, at  12:30 p.m. and 3 p.m. Arrive early for one free appraisal per person (some restrictions apply). Additional objects can be appraised at $25 per object.
Bring an object and attend both days since every show is different! Find out how to sell unwanted stuff for top dollar. Dr. Lori will tell you what people are really paying for antiques and collectibles, and will pull no punches as she evaluates  objects and elicits laughs. "I'll break some hearts, I'll make some millionaires. We'll laugh and learn long the way," says Dr. Lori.
The show also features fun activities for the kids, including a free "Build and Grow" wooden project compliments of Lowe's, and a visit with Rick Kiser, local author of Carly & Friends book series. Admission to the show is $6; children free when accompanied by an adult.
For more information, visit RRHBA at rrhba.com.