Dreams Come True | First-time Renovators Bring Enthusiasm to Historic Renovation
Photography by Kathryn Feldmann
Mary Lynn Wright and Joe Alesantrino don't really believe in easing into things gradually—or on a small scale. A shared dream to renovate an old home led them, in a roundabout sort of way, to the historic "Garland House" in the Lakewood Colony neighborhood of Roanoke. After months of searching for just the right renovation project, Mary Lynn ran into Becky Garland whose local clothing store in South Roanoke shared space with Mary Lynn's office. "Becky Garland, the owner, had become a friend of ours," says Mary Lynn. "And when I mentioned to her that we'd been searching, she told us that they would soon be putting her old family home on the market. She encouraged us to have a look." Joe was intrigued, recalling an old photograph hanging in Garland's store of Becky's father, Robert Garland, standing next to a classic convertible in front of a stunning whitewashed Tudor home. "That beautiful photo captured my imagination," says Joe, and he and Mary Lynn made time that very week to preview the home.

The stucco Tudor with the terra cotta tile roof was built in 1927 and sits at the top of a cul-de sac flanked by several other large homes on sprawling lots of mature plantings and old hardwoods, but it had been largely untouched for decades. When Joe and Mary Lynn previewed the 21-room home, with over 5,000 square feet of living space on two overgrown acres, their initial thought was … No way. We'd have to be crazy to take on a project of this size.
The couple walked away that day, but over the next few weeks they found themselves revisiting the elegant old home. "We went back in several times after that, imagining the possibilities, and finally we decided to just go for it," says Joe.
Joe and Mary Lynn closed on the house on Nov 1, 2019, and four days later, Stone River Contracting was on the job, installing new HVAC and starting demolition of interior walls in the kitchen.
Working with architect Antonio Veloso of Vinton, Joe and Mary Lynn spent countless hours looking at the home's original blueprints and juxtaposing those with the needs of their own modern family. Between them, the couple has five grown children, and the home is designed with homecomings in mind. For instance, the home's rather small kitchen— complete with some unique 1960's-era frills such as a stove with "gullwing" doors and a custom composting station set into the Formica countertops—was not going to be adequate for their large extended family. But neither did the couple want to do away with the charm and architectural detail of the original home. "We started out thinking we were just going to gut everything in the kitchen," says Joe. "But a lot of this project became more about preserving, while still making the house practical to the way a modern family lives." Out of respect for the history of the home, Joe and Mary Lynn decided to continue calling it "The Garland House" and plan to keep the large gothic "G" that adorns the façade.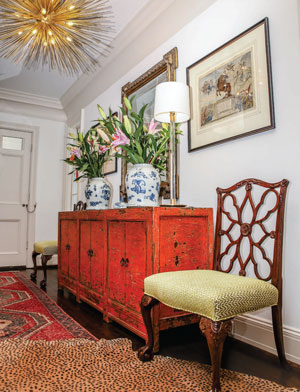 The home's gracious entry has been updated by removing ancient chessboard-pattern black and white linoleum tiles, revealing beautiful hardwoods in amazing shape underneath. The floors were then sanded and stained to match the others in the home. Mary Lynn and Joe turned to Vera Silcox of Vera Silcox Design to help them plan the layout and furnishings. Silcox located the stunning red Chinese credenza and gilt mirror which reflects light back into the entry. The antique runner and animal print rug add texture and color to the space and stand out against sedate white walls and hardwoods. "I love color, and I have actually had to learn to use splashes of it rather than just have it everywhere," says Mary Lynn.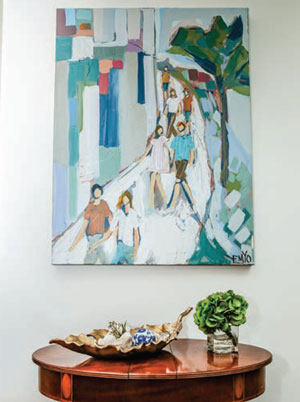 At the base of the steps is a commissioned oil painting by artist Emyo, located with help from Jessica Durham at Magnolia. "We are a blended family. When we married we had lots of pictures of my children and lots of his children, but none of all of us together, so we wanted something that showed that," says Mary Lynn. Emyo captured the couple and their children and created an heirloom that they all cherish.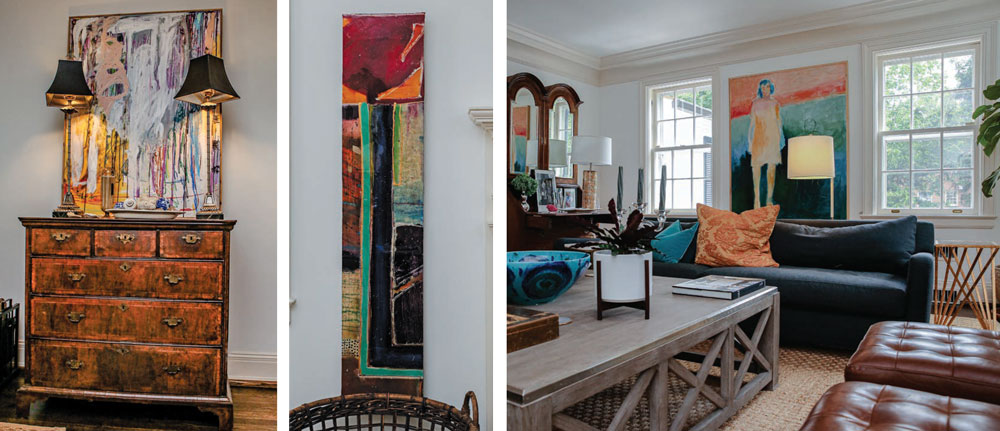 The home's original formal living room with attached den has been re-envisioned by Joe and Mary Lynn as a more casual living space with a pair of comfortable couches in a deep slate blue on a neutral seagrass carpet. Here, art is the star. Over a French antique chest hangs an abstract in pastels by Mary Lynne's favorite painter, Anne Blair Brown. Next to the fireplace is a painted panel which was once a table leaf and is now a work of art. Between two large windows is an arresting oil: a human figure with a transparent second. "People love it or strongly dislike it, but it always sparks discussion," she says with a laugh.

The adjacent room, with its views of the backyard, has now become a bar area, and a transitional space to a private apartment/guest room located over the new garage. The space has been retrofitted with a sink, ice maker, wine refrigerator, and even dishwasher drawers so that the couple's impressive collection of barware doesn't need to be carried through the middle of the house. "It's funny," muses Mary Lynn, looking over her sparkling glassware. "We are not big drinkers, but we DO love barware." The room also boasts a baby grand piano, a bar-height redwood table, and a 1970s-era sculpture of a polar bear that Mary Lynn has kept because she loves its quirky look.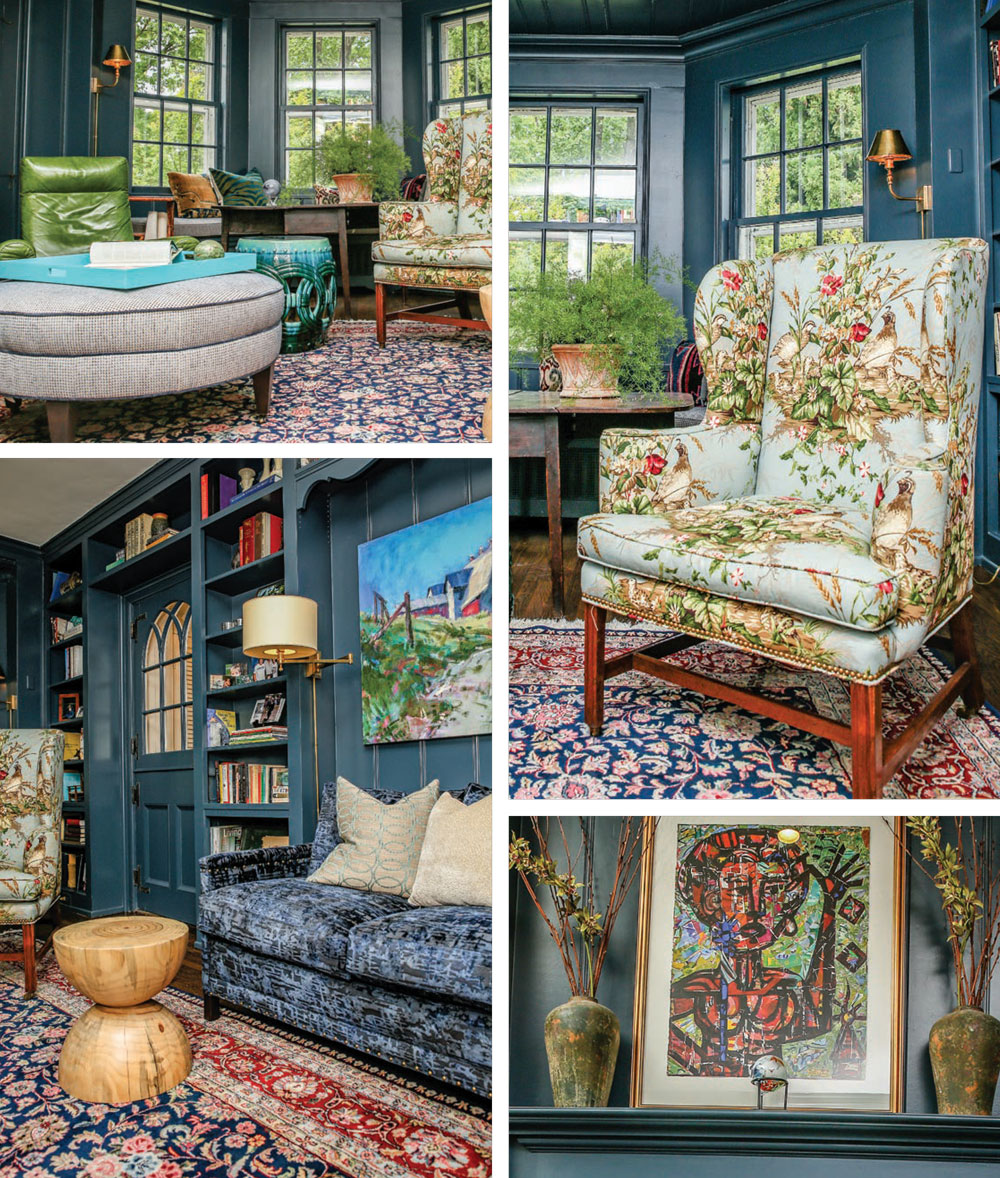 The bookshelf-lined library with views of the backyard was the one room where Mary Lynn could let her love of color run wild. Though it took several tries to find just the right custom blend of colors, she loves the result. "I knew that only one room was going to have such deep saturated color, and it just felt like the library should be the one," says Mary Lynn. "I think it makes it feel cozy." Over the mantel hangs an oil by Mary Bullington. The Oriental carpet, soft furnishings from Present Thyme, and the working fireplace complete the sense of lived-in comfort.

A 1927 home of this stature would include a gracious dining room for entertaining, but also, in that era when household help was the norm, the dining room was the place where the family took all of its meals. Mary Lynn and Joe loved the big dining room—perfect for their large extended family—and credit Stone River's attention to detail in matching the extensive plaster molding with the moldings found throughout the home, and preserving the charming builtin corner cabinet. The dining suite is Parish-Hadley, with help from Ghent Hill Design who made two extra leaves for the table. Vera Silcox helped source the sconces and chandelier, after the original met with an untimely end. "The only real 'tragedy' of the whole renovation was that chandelier," Mary Lynn says. "It literally fell out of the ceiling and shattered." The painted French antique sideboard which stands between the two front-facing windows was purchased from Ellie Proctor Antiques and Fine Things. The attached "Florida room" was left exactly as it was, with the exception of paint. It gives Mary Lynn a place to display her mother's wicker, and a favorite cozy sofa from her previous home now covered in navy ticking with hot pink cording. The brick walls have been painted a soft

Silcox also helped the couple redesign and open up the home's kitchen for their current needs. "A hundred years ago, a butler's pantry and larder made sense for the way people lived in the home, but now," Mary Lynn says, gesturing to what was once warren of spaces, "we prefer a more open plan, with eat-in capability." To achieve this, Stone River took down walls inside and bumped out the exterior wall 8 feet to accommodate a large kitchen island with a quartzite countertop. The cabinets were fabricated by Stone River and incorporate such original details as a laundry chute, a reach-through cabinet to the library, and new built-in appliances. The result is a wide-open space, perfect for a large family gathering. The wall of windows looks out over the verdant backyard and pool area. "The view really is spectacular," says Mary Lynn.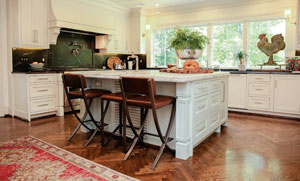 The floors in the kitchen needed to be replaced, so the couple opted to have hardwoods laid in a herringbone pattern for a uniquely textured look. The ceilings are also painted wood, matched with the library ceiling. "We wanted to make it look like it had been here forever," Joe says. To give the family more seating options in the kitchen, the old larder was opened up to become banquette-style seating. A fun ceiling fixture illuminates the dining area and the antique plate holder on the back wall.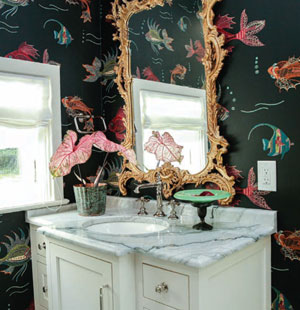 The area off the kitchen was once a pink-tiled cramped bathroom and two tiny bedrooms, barely big enough for a single bed—accommodations for the original owner's household help. Mary Lynn and Joe decided to combine the two bedrooms into a single space. Mary Lynn uses this room as her office, but she and Joe are mindful that one day a ground-floor bedroom might come in handy if they decide to age in place. The bathroom, now called "the pool bath" by the family due to its proximity to the pool, also received a makeover. The pink tile was replaced with a black and white woven pattern. Over the sink hangs an ornate gilt mirror, but the real showstopper is the stunning fish wallpaper on a black background.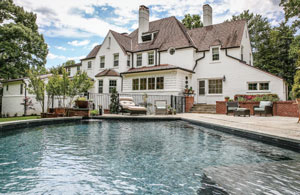 Out back, Mary Lynn and Joe have installed an in-ground pool. "National Pools were amazing. They took what was essentially a big patio and created this," says Joe, gesturing to the oasis of blue in the lush green of the back yard. The original brick patio was replaced with bluestone, giving Mary Lynn and Joe ample room for relaxing and entertaining. They also installed an outdoor kitchen, including a grill, pizza oven and refrigerator into the surrounding brick wall. They love the home's charming old potting shed, and have even tried their own hand at a small vegetable and cutting garden. "I'd describe myself as an aspirational gardener, but Mrs. Garland was reputed to be an avid gardener," Joe says. "There are lots and lots of old plantings all around this yard that we are working to uncover and update. It's been quite a process."

The sprawling home has, in addition to four bedrooms upstairs, a full attic and basement complete with a large entertainment room. With Silcox's design help, the couple transformed a dated space with drop ceilings and asbestos tile into a fun and casual space for the family to enjoy. They removed the old ceiling and painted the exposed beams black (along with the back wall to help the large TV "disappear" when not in use), hung industrial-look exposed lightbulbs along the beams and scattered the repurposed furniture from their old house. Now it feels updated and cozy, and is the perfect spot for a family movie or ball game. The addition of a bar area and beverage refrigerator only enhances the appeal of this functional space.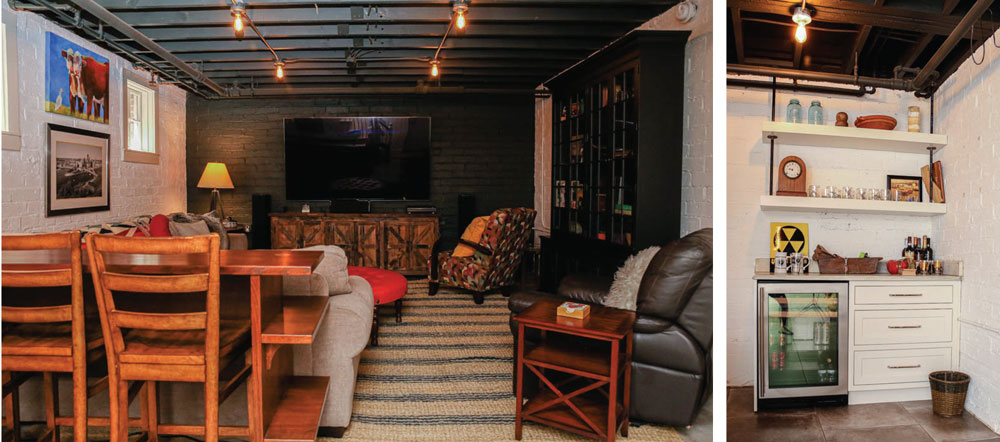 The renovation of the "Garland House" took the better part of a year, and involved many local businesses in the Roanoke Valley. "This is definitely the house built by local business," says Mary Lynn. Once it was complete, the couple invited members of the Garland family in to see the finished renovation. "They absolutely loved it and they also cleared up a few mysteries," Joe recalls with a smile. "Like the giant throttle in the piano room…turns out it was actually an early light dimmer." Mary Lynn and Joe followed up with an open house where they invited the whole neighborhood. "It was our way of saying thank you for putting up with all the construction," says Mary Lynn.
Since the renovations were completed, the couple has hosted several family events and holidays as well. The extra space means that family and friends can relax and spread out, fulfilling the dream of a home where everyone can gather. The dream of buying a grand old house and renovating it: Was it worth it? "It was hard at times and definitely something I've checked off my bucket list, but yeah, I do love it," says Mary Lynn. "Now that our kids are grown it's like another child. It's great for entertaining. It's a great family house. It was and is everything I dreamed it would be." ✦
1927 home, 1970s-era sculpture, 21-room home, a bar-height redwood table, Baby Grand Piano, banquette-style seating, bookshelf-lined library, entertainment room, fish wallpaper, Florida room, formal living room, Historic Renovation, in-ground pool, open plan, Outdoor Kitchen, repurposed furniture, retrofitted, transitional space, Tudor home. terra cotta tile roof