Double Duty | Home Office Becomes Holiday Guest Room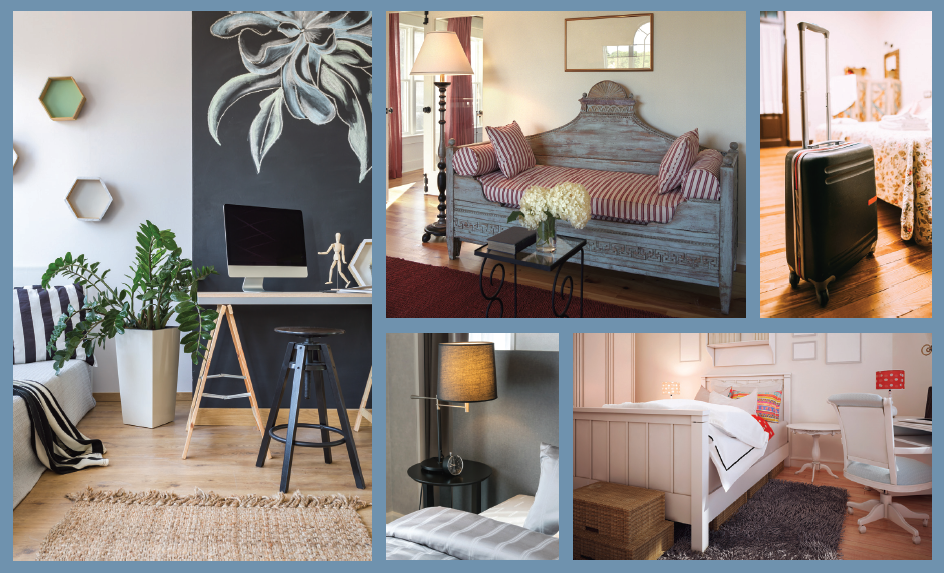 With more and more of us taking advantage of telecommuting opportunities, homes today often have a room set aside as a private office. It's a smart and practical allocation of space, being used at least a few times a week, if not daily. With the holidays approaching, however, you may want to enlist that room to do double duty as a guest bedroom.
You'll probably need to subtract some items from the space, and then add others. At a minimum, you'll need to address the office furniture (and equipment) you already have, while adding some sort of bed into the existing space. But with some creative furniture and storage choices, you can maximize usage and optimize this valuable space in your home, without sacrificing its main purpose.
Subtracting from the space
If you are using your office daily or several times a week, you may have already invested in a good office desk and chair, and you may normally have your computer, printer and phone all hooked up and out in the open. If you want to make the room as inviting as possible, you might not want to have all of that clutter in the guest room. Can you relocate your PC or laptop into another room temporarily? Unplug the printer and move to a closet? If you can remove your existing equipment and make the desk into a table for guests, the room will be that much more inviting.
If you don't already have it, you can also purchase some furniture that will allow you to hide your office equipment on the fly. Instead of an open office desk, a cabinet allows you to close the doors and stash away your PC. Corner units are especially helpful, tucking into unused space. You could also install a drop-down table that can be lowered to support a laptop and folded back up when not in use. You may even opt for movable furniture, such as a small desk on wheels that can be rolled out and stashed in other rooms when guests are visiting.
For open bookshelves, be sure to tidy and straighten. If possible, cluster items toward the top and bottom of the shelves and leave an open shelf for your guests. You may also want to upgrade your storage space to shelves with doors, so you can tuck everything inside.


Adding to the space
Once you have a plan for removing or hiding the clutter, consider your options for making the room suitable for sleeping. To ensure your office is welcoming and comfortable for overnight guests, invest in top-quality convertible bed options.
Murphy beds are an excellent choice, allowing you to have real mattresses and the look and feel of a real bed, with the option to fold it all away against a wall when guests depart. A good quality sofa bed is another option. Sofa mattresses have come a long way, and the convertible couch option comes with the added bonus of being a usable piece of furniture all the time —including an alternate place to work or read in your office.
Before buying furniture and equipment, take measurements and consider placement, including where the electrical outlets and cable jacks are located. You can't install your Murphy bed over the only cable access, or put a couch in front of the only plug. Sketch out the room if you have to, and make scale paper cutouts of the furniture to move things around. Make sure your couch or Murphy bed, when open, still allows for easy movement around the room, so your guests aren't crawling over themselves to get to the door.
Amenities and decor
A few additional touches can make the most of the space and make the room even more comfortable. A nightstand (which could conceal extra storage) and a small table lamp allow guests to have items by their bedside, and to read before going to sleep. A lightweight folding stand, like those in hotels, provides a place for your guests to keep their suitcase.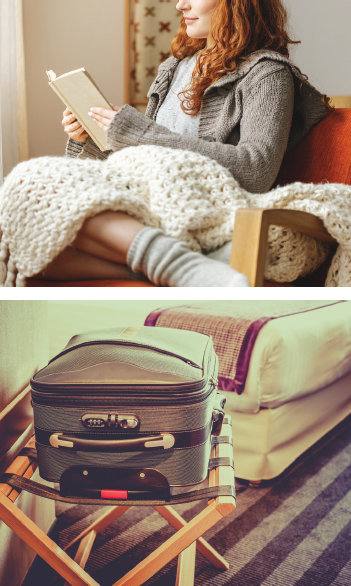 If you have a closet in the room, remove some clothing or push clothes to either side and provide extra hangers, to create space for guests to hang their clothes. If you don't have a closet, install hooks on the backs of doors, and add a coat rack, or other freestanding storage. You can even buy temporary canvas closets that can tuck into a corner, then collapse when not in use.
If your office hasn't been painted in a while, consider a fresh color for the walls. Add a mirror, so guests can check their outfits or apply makeup in the room. Blackout curtains give guests privacy and allow a sleep-in if needed.
Be sure to have the bed—in whatever form—ready before guests arrive. Pull out the couch or pull down the Murphy bed, lay out the pillows and blankets, and have the linens on prior to arrival. Plan ahead, so you aren't racing to set it all up after they get there. This is especially important for late evening arrivals when guests may just want to get to sleep. Like having a hotel room ready at check-in, guests can get settled right away.
Anything you appreciate when you go to a hotel can be recreated at home. Have a welcome basket waiting with bottled water, toiletries, and magazines. Leave out fresh towels and a bathrobe. Have extra blankets folded at the foot of the bed.
With some thoughtful updates to your office, you can turn the space into a welcoming guest room for friends and family, making their stay that much more comfortable, relaxing and fun.
Current Issue, Guest Room, home decor, home office, Interior Design