Cutting Edge With the Grain Craftsman Style: How to Spot Elements of it in Your Home Today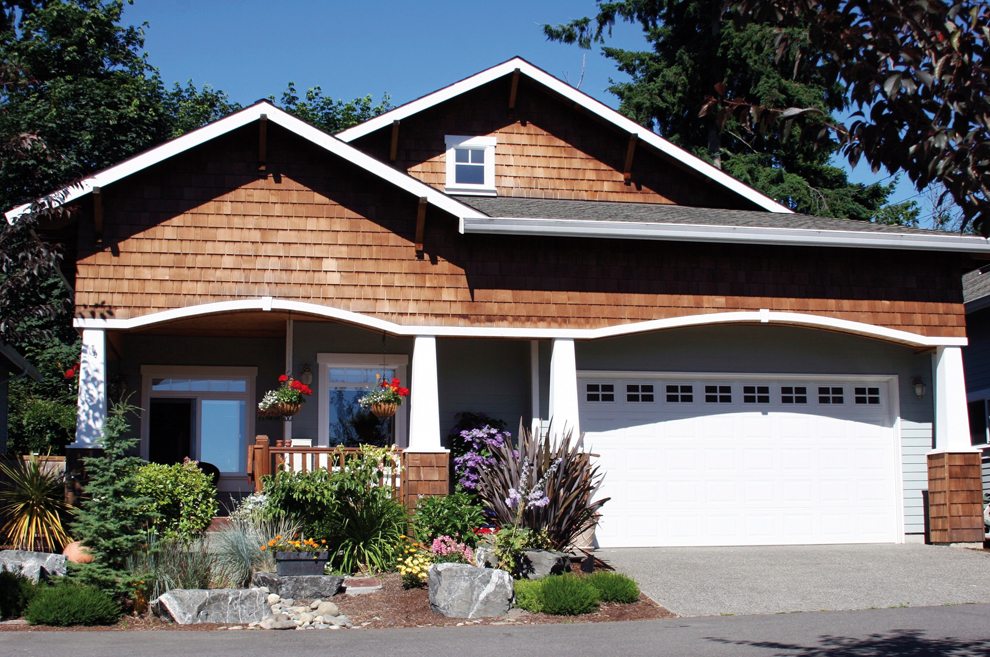 I don't know about you, but I am "over" clutter. Do I really need that drawer full of gadgets when one great paring knife will do? Can't you see yourself getting more work done at a sleek desk where the printer and other computer gear is hidden away in a nearby cabinet, thanks to wireless technology? These days, I find myself pausing to admire the pages in my favorite magazines that feature mudrooms and kitchens with tons of built-in storage. Turns out, this clean aesthetic I yearn for is actually rooted in a historical movement that has influenced and continues to influence several generations of home design: the American Arts and Crafts movement.
Difficult to define, both in era and in style, the American Arts and Crafts movement (1895-ish to 1930-ish) gave itself permission to have many different outward expressions. It was actually more of a design for living than a singular architectural style, and examples of it are prevalent throughout our city's older neighborhoods.
Snubbing mass-produced "art objects," lithographs of famous works of art and furniture "suits," critics said such things were the products of an unimaginative people (well, pardon me for loving Pottery Barn!) and that the refined aesthetics of the Arts and Crafts' decorative arts would instead make individuals more rational and society more harmonious. The underlying fear was that the machinery of the Industrial Revolution threatened to strip the world bare of its creativity.
So Arts and Crafts, in a way, represents an aesthetic we're seeing a renaissance in today with our renewed obsession with all things handcrafted and artisanal. In short, the Arts and Crafts movement was about living well with fewer—but better—things. And this is a cue from which we can certainly benefit today, with an emphasis on being good stewards of our homes and environment.
Not a Hard Sell
The American Arts and Crafts movement was the aesthetic counterpart of its contemporary political philosophy, progressivism, which asserted that advances in science, technology, economic development and social organization would improve the human condition. The movement began in the late 19th century in overcrowded industrial cities where reformers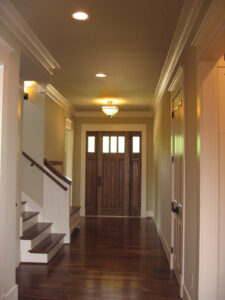 witnessed large numbers of immigrant settlement workers facing harsh conditions at home and on the job. Reformers spoke out about the need for laws regulating tenement housing and child labor. They also called for better working conditions for women. As these reforms took place and Americans' lives improved, a strong middle class emerged and grew so quickly that it eventually became the most influential group of consumers and remains so to this day.
In April 1897, the first American Arts and Crafts Exhibition featured over 1000 objects made by 160 craftsmen, half of whom were women. The exhibition's success led to the formation of The Society of Arts and Crafts whose mandate "to develop and encourage higher standards in the handicrafts" focused on the relationship between artists and engineers. The Society promoted practicality, and challenged designers to counteract a desire for ornamentation and place a greater interest in functionality. The impact of this event reminds me of the reaction every time Apple releases a new iProduct—there's always a lot of excitement and media attention when good technology meets up with good design. Today, Jim Dyson and his superior household appliances are household names because of his design and engineering innovations. How often do engineers become cultural superstars because of Target commercials?
Magazines Influence, Inform and Inspire
Just like today, magazines played a tremendous role in inspiring homeowners to create their own gracious homes through pages of advice and beautiful illustrations. Between 1906 and 1940, thousands of American homes were built according to plans sold by mail order companies such as Sears Roebuck and Montgomery Ward and through magazines like House Beautiful and Ladies' Home Journal, making the world of architecture and design accessible to the exploding middle class of Americans. Don't you dog-ear magazines, saving pictures and ideas for your future home projects? (We certainly hope you do!)
In fact, the Arts and Crafts movement's nickname came from a popular home magazine, The Craftsman, founded by designer and furniture maker Gustav Stickley. Stickley believed that mass-produced furniture was poorly constructed and overly adorned. His designs were governed by clean lines and quality materials and were influenced by Asian motifs. His ideas obviously resonated very well, because his furniture continues to be an iconic fan favorite found in television rooms and lake houses to this day. The Craftsman featured original home and furniture plans fashioning a fresh, new style that reached its zenith with the bungalow—that quintessential Arts and Crafts architectural form characterized by broad overhanging eaves, articulated woodwork and an open floor plan. Perhaps as a reaction to the prissy Victorians, Stickley's pattern books illustrated America's desire for a simpler lifestyle in a wood, bricks and mortar kind of way.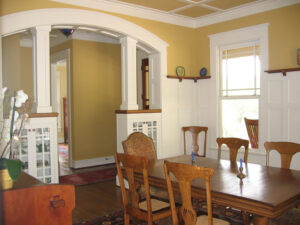 Renovating a Homelife
The previous era's Victorian home featured a complex façade of two-storied bays, an assortment of gables and turrets, wraparound porches and a lot of bric-a-brac cluttering its interior. Typically, a Victorian home had a back wing with a separate entrance that housed the kitchen and pantries on the first floor and the servants' quarters up above. Fitted with inferior-quality woodwork and hardware and noticeably smaller bedrooms with lower ceiling heights, the Victorian kitchen and servants' wing embodied the aristocratic class distinctions of the old world. These homes, designed for a life with servants, were America's Downton Abbeys and they were being edged out of the social scene.
The middle-class housewife of this new age didn't have domestic servants (at least not live-in ones) and did much (if not all) of the housework herself, while also caring for her children. These added roles made it important that her kitchen be integrated into the main house with easy sight lines to the common areas as well as into the backyard. Breakfast nooks and built-in kitchen cabinetry turned the kitchen into the heart of the American family's home.
It seems that even then, the number- one home renovation project was redoing the kitchen! Just as it was then, topping the wish list on every kitchen makeover is "more cabinets, please!" We just can't seem to get enough of them—from mudrooms to craft rooms, we love stowing our gear in built-in custom cabinets sized perfectly to
protect our wares.
A Breath of Fresh Air
The wish for a rural retreat away from smoggy cities inspired many craftsmen to call upon colors, textures and patterns of flora and fauna in their works, resulting in a rustic effect.
Craftsman architects openly displayed a home's sturdy beams and structures and exposed the natural materials they used in their designs rather than hide them underneath lathe and plaster. Designs often mixed materials throughout the homes, rooting a structure to its surroundings and creating a nature lover's scrapbook of indigenous wood and stone.
Deep, friendly porches extended a family's living space outdoors and allowed passersby to stop in for informal visits, replacing stuffy foyers where visitors were once required to patiently wait while house staff announced their call. Tucked underneath low-pitched gabled roofs with deeply overhanging eaves, porches held exposed rafters and were supported by tapered, square columns, often with stacked stones at the base. Gingerbread-style brackets were sometimes added as a decorative adornment, one of the few details in a Craftsman home that served no useful purpose other than to delight.
No matter what the style of your home is, we've seen the porch make a big comeback. Homeowners decorate them with all the comforts and trappings of their home's interiors, creating three-season rooms intended for entertaining. Covered porches have once again become one of the most requested exterior home improvement projects. It's on the top of my list!
Large four-over-one or six-over-one double-hung windows were prominent in Craftsman homes. This describes the number of lights in each window sash, where smaller panes of glass hang above a large single pane, offering homeowners an unobstructed view and excellent ventilation because they could slide up or down in the sash. Arts and Crafts homes featured a variety of light-emitting transoms, dormers and eyebrow windows, welcoming an abundance of light and warmth into a home.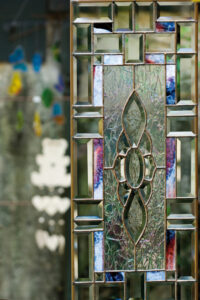 Jewelry for the Home
Of the many decorative arts, some of the best loved of the Arts and Crafts movement were the designs of the stained glass designer Louis Comfort Tiffany, son of the famous jewelry designer Charles Lewis Tiffany. The advent of electricity was of keen interest to Tiffany and he often collaborated with Thomas Edison. By 1906, Tiffany Studios was selling more than 400 different models of electric lamps and hanging shades. Most often, Tiffany's stained glass window panels and lamps depict iridescent patterns of wisteria, apple blossoms, and other plants and trees. Many homeowners still enjoy using stained glass in a bathroom or kitchen window to serve as a colorful obstruction from neighboring eyes.
Decorative metalwork and hardware crafted in warm tones with a rugged, hammered character evoking Medieval, romantic or folk influences were especially popular in Craftsman household items like bookends, chargers, cutlery, candlesticks, desk accessories, knobs and hinges. The majority were made from copper, brass and oil-rubbed bronze. From switch plates and drawer pulls to house numbers and mailboxes, handmade metal accessories put the finishing touches on any Arts and Crafts home. Craftsman knobs and pulls continue to be a very popular look in kitchen cabinet hardware. And, I would love a pair of Bevelo gas lanterns on either side of my front door!
Every homeowner knows that it's the accessories that add the personal touch, distinguishing their home from others and making it truly their own. Whether yours are store bought, handmade or passed down, your accessories likely say something very personal about you. What stories will your items tell about you to the next generation? Even if the Craftsman "look" isn't your personal taste, it's always nice to learn a little something about history and architecture because, like quality handmade wood joinery, the pieces all fit together and inform your future purchases.
So, the smart, streamlined Craftsman aesthetic was the bobbed hair and shortened hemline of home design compared to previous eras' elaborate up-do's and bustled skirts: so much easier to tend and far less confining! Even if your home doesn't have an exposed beam or a single hand-hammered copper anything throughout, it still might be influenced by the Craftsman philosophy. Do you like your things to be stored away in cabinets? Do your windows allow the outdoors to come inside and mingle? Do you like being able to see from the front of your house straight through to the back? (Have you ever admired or bought anything from Pottery Barn?) Then, you have been touched by the Arts and Crafts movement—and you didn't even know it!
Arts and Crafts Movement, Craftman Knobs, decorative Metalwork, Rustic Decor