Strawberry Season: Looking Forward to a Rite of Spring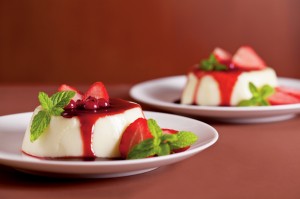 Each year after a long chilly winter, we cherish the arrival of spring fruits and vegetables. The first tip of asparagus to break ground, a pea tendril curling around its support, bright white strawberry blossoms ready to turn into juicy red fruits all signal the arrival of spring. One of my favorite rites of spring is strawberry picking. I usually demand a trip to the strawberry patch each Mother's Day.
Local, fresh strawberries are always the best for flavor and for nutrients. Like other seasonal fruits such as tomatoes, the varieties available in the supermarket are grown for their ability to ship, not their good taste. Local berries trump store-bought for that reason alone! The good news is that they're easy to grow in strawberry pots at home and there are many varieties that will bear fruit all summer, extending their growth season.
The best way to shop for berries is to actually pick them yourself. When picking berries, keep in mind that the fruit does not ripen further after picking. The next best place to pick berries is at the farmers market. Look for berries that are a uniform rich red color. Smaller berries usually have a better, more concentrated taste. Strawberries won't last long after being plucked, so it's best to use them within a few days.  As soon as they're home, spread them in a shallow covered container (they don't like being stacked) and put them in the fridge. Wait to wash and hull them until right before use. Any berries that aren't used within a few days should be frozen. Wash and allow them to dry, then freeze them in a single layer on a baking sheet before transferring them to a freezer bag.
Most strawberry recipes are for desserts, although strawberries are also great in a fruit salsa over grilled chicken or fish! I've included three desserts that make strawberries the star. Each of these recipes requires a little advance planning but they are all simple to make and will be so pretty on your springtime table.
Enjoy our local strawberry season. It goes by too quickly!
Strawberry Panna Cotta (Serves 8)
Panna Cotta (Italian for "cooked cream") is a silky eggless custard, served cold with fruit or chocolate sauce. Panna Cotta is a perfect dessert for dinner parties because it can be made a day or two in advance and kept refrigerated until serving. If you've never had it, this is a great time to try it!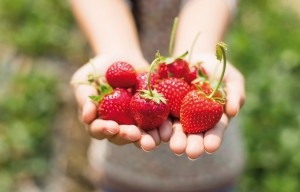 8 ramekins or small molds
6 cups fresh local strawberries, cleaned, hulled and divided
2 cups milk
1 cup whipping cream
1/2 cup sugar
2 envelopes unflavored gelatin
Slice all of the strawberries into halves and divide two equal portions of halved berries into separate bowls. Puree half of the berries in a food processor and refrigerate the other half, reserving for a later step. Press the processed berries through a fine mesh strainer to remove seeds.
In a heavy saucepan, stir together the milk, cream and sugar. Sprinkle both envelopes of gelatin on the surface and let stand for 10 minutes. Over low heat, stir the mixture until the gelatin dissolves, about five minutes. Remove the mixture from heat and fold in the strawberry puree.
Divide the mixture evenly among ramekins or molds and chill for at least 8 hours.
An hour or so before serving, make the sauce:
Reserved berries
1/2 cup local honey
1/2 cup water
Peel of one small lemon, grated
Place the remaining berries, honey, water and lemon in a heavy saucepan and heat just to boiling, gently pressing on the berries while stirring. Transfer to a small bowl and cool to room temperature.
Serve the panna cotta by unmolding desserts onto a puddle of strawberry sauce.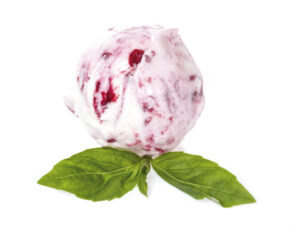 Strawberry Basil Ice Cream
(Makes one pint serves 2-4)
Friends may question this flavor combination—that is, until they try it! The basil is steeped in the milk, creating an interesting flavor that complements the berries. Be sure to use fresh basil for this recipe. For best results, put the bowls of your ice cream maker in the freezer overnight before blending.
2 egg yolks
3/4 cup sugar, divided into 1/4 and 1/2 cup portions
2 cups half and half, divided
1 pound strawberries, hulled
1 teaspoon lemon zest
2 generous sprigs basil, divided
Whisk the yolks and 1/4 cup of the sugar together in an electric mixer until light and fluffy. Set aside.
Heat one cup of half and half with the remaining sugar plus one sprig of the basil until bubbles form around the edge of the pan. Remove from heat and let the mixture steep for 5 minutes. Discard basil.
With the mixer running, carefully drizzle the hot milk mixture down the side of the bowl and into the yolks a little bit at a time (otherwise, you risk making scrambled eggs!). Return this mixture to the saucepan and cook over medium-low heat, stirring constantly until it thickens, about 5 to 10 minutes.
Strain the mixture through a fine sieve into a bowl, then add the reserved berries and cream. Stir and refrigerate the mixture until it is very cold, 4 hours or overnight.
Finely chop the remaining basil and add it along with the lemon zest to the ice cream maker and freeze according to manufacturer instructions.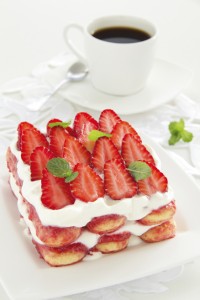 Strawberry Tiramisu (Serves 10)
This dessert is traditionally a mocha flavor, but springtime calls for a change to strawberries! Serve this pretty recipe instead of strawberry shortcake. Despite its many steps, cooks of any skill level can easily master this recipe. Note: this dessert contains raw eggs, which may be dangerous to the elderly, children under age 4, pregnant women and individuals with compromised immune systems.

Step one: The Syrup
2/3 cup water
2/3 cup sugar
1 pound strawberries, washed, hulled and sliced
4 Tablespoons framboise (raspberry-flavored) liqueur
Combine the sugar and water in a small saucepan. Bring to a boil. Cook two minutes at a full boil, then remove from heat and stir in the strawberries. Let the mixture cool, then stir in the liqueur. Set aside to cool and thicken while you work on the next steps.

Step Two: The Creamy Filling
4 eggs, separated
1/2 cup sugar
8 ounce container mascarpone cheese
1/2 cup whipping cream
Beat egg yolks with ½ cup sugar until thick and light yellow in color. In another bowl, beat mascarpone and whipping cream together until soft peaks form. Fold the egg yolk mixture into the mascarpone mixture and blend.
In a clean bowl with clean beaters, beat egg whites until stiff peaks form. Fold the egg whites into the mascarpone mixture.

Step Three: Assemble and Chill
Serving dish (layer the dessert in a footed trifle bowl or a pretty casserole dish)
Berry syrup
1 7-ounce package savoiardi (Italian ladyfinger) cookies, divided
Mascarpone mixture, divided
Strain the strawberries from the liquid syrup, reserving both. Dip half of the cookies for a few seconds in the syrup and place a single layer of cookies in the serving dish. Spread half of the mascarpone mixture over the cookie layer, then spread half of the reserved strawberries on top of the mascarpone mixture. Repeat with the remaining ingredients, ending with the remaining strawberries. Cover with plastic wrap and refrigerate for a minimum of 6 hours.

Step Four: Toast the Almonds
2 ounces slivered almonds, toasted
To toast: spread the nuts in an even layer on a baking sheet. There's no need to add oil because the nuts have their own. Roast the almonds in a preheated oven at 350 degrees for 8-12 minutes (give the tray a little shake halfway through toasting so they don't burn). Transfer the nuts immediately to a plate.
When ready to serve, top your chilled tiramisu with toasted almonds and enjoy!
How to care for fresh strawberries, Strawberries, strawberry basil ice cream, strawberry panna cotta, Strawberry Recipes, strawberry tiramisu