Culinary Crafting: Handmade Artisanal Foods
I once ate what was described on the packaging as an "artisan" tortilla chip. Sure, it tasted good, but was that mass-produced—albeit better-than-average—tortilla chip really an "artisan" food?
Recently, I've noticed that restaurants and food manufacturers have become increasingly fond of using the word "artisan" to describe their pizzas, chips, bagels, etc. And I'm not the only one talking about this.
On a recent episode of NBC's "Rock Center," reporter Willie Geist talked to everyone from college professors to fast-food employees about what truly was and wasn't "artisan" food.
He questioned how name-brand shredded cheese came to be labeled "artisan," and said of a pizza chain that advertises its "artisan" pies, "… even though the ad campaign was tongue-in-cheek, it was still the precise moment, some say, when the term 'artisan' jumped the shark."
So what is "artisan" food anyway? If you swear by Webster's, "artisan" is a noun defined as "one that produces something…in limited quantities often using traditional methods." Applied to food, the adjective "artisanal" would be correct, but the gist is this: unique food, made in small batches in a hands-on kind of way.
But why quibble? Here are some local examples of artisan—er, artisanal—food: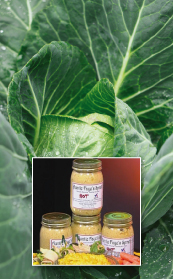 Auntie Faye's Spratt
When talking about Auntie Faye's Spratt, Faye Wood sounds a bit like Forrest Gump's friend, Bubba, with his memorable litany about shrimp. "It's a condiment for hot dogs [and] hamburgers, on crackers, it can be a dip, a dressing, a slaw topping," Wood, a Roanoke native, said. "It's just a very versatile condiment."
The recipe has been in Wood's family for about 100 years. Family legend says Rudolphus Lafayette Wyly—called "Uncle Fate"—concocted it to increase drink sales at his Knoxville saloon.
"He would take kielbasa, split it in half, fry it on both sides, put it on a hamburger bun and top it with this Spratt," Wood said. "The men loved it. … It was an instant success."
Auntie Faye's Spratt, in mild, zesty and hot varieties, is made from a secret family recipe, although Wood revealed cabbage as a main ingredient. Where Uncle Fate got the name "Spratt" is somewhat of a mystery as well.
"We always called it 'Jack Spratt' in the family," Wood said. "I don't know why or where that name came from. … No one in the family has ever known."
Although she grew up eating Spratt and has been making it for years, Wood started selling it only six or seven years ago. Inspired by a Food Network show featuring a hot sauce-making family, Wood wanted to start her own business.
Thinking of selling Spratt, Wood called an aunt in California, who said, "I always wanted to do that." Wood also prayed about it.
As she tells it, when she finished praying, she turned on the TV to find a preacher saying, "Don't you know God wants you to start this business you've been talking about all these years?" Taking it as a sign, Wood started her business.
Where to find: The Cheese Shop (Stuarts Draft), Greenwood Gourmet Grocery (Crozet), email auntie.fayes.spratt@yahoo.com or call (540) 819-3074.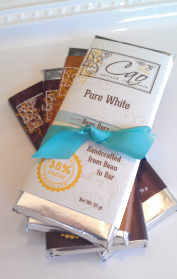 Cao Artisan Chocolates
It was the movie "Chocolat," in which a mysterious chocolatier awakens the passions of a village, that sparked a notion in Lynchburg resident Mary Matice, of Cao Artisan Chocolates.
"In 2010, I watched the movie … and was intrigued at the possibility of actually making small batches of chocolate from the bean," Matice said. "My husband Carl was intrigued as well and we decided to figure out how to make our own chocolate as a marital hobby."
As Matice puts it, she and Carl taught themselves to make chocolate, "scouring books and other resources to better understand the chemistry of cacao and the creation of molded chocolate and hand-rolled truffles."
Today, making and selling bean-to-bar chocolates is a full-time job for the couple. In addition to chocolate bars, truffles and a "dark chocolate, single-origin tasting box." Cao also sells "facial chocolate."
"It's made up of our chocolate, cacao husks, cocoa butter and oatmeal," Matice said. "It exfoliates and moisturizes. I love it and find it perfect for a girls' night in, paired with truffles and 'Chocolat' of course."
Where to find: S&W Market (Roanoke), Savoy-Lee Winery (Moneta) and LeoGrande Vineyard and Winery (Goode).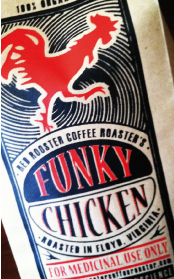 Red Rooster Coffee Roaster
Red Rooster Coffee Roaster describes its coffee as "Coffee with a Conscience." When asked about that, Haden Polseno-Hensley, who owns Red Rooster with his wife Rose, was happy to explain.
Polseno-Hensley commissions local artists to create bag artwork. A Floyd company prints the bags with water-based inks. The coffee is organic, and whenever possible, Fair Trade and Rainforest Alliance certified.
"Everything we do, every decision we make is based on the principles of sustainability," he said.
When Red Rooster started roasting in 2010, the initial plan was to supply coffee for Blackwater Loft, a Floyd coffee shop owned by Rose and her mother. "I took that idea and ran with it," Polseno-Hensley said. "I decided there was a market and I became so interested and fascinated with coffee that I just wanted to see if we could make a go [at] working in coffee."
Red Rooster will roast about 20,000 pounds of coffee in 2013, which Polseno-Hensley said "officially bumps us up from 'nanoroaster' to 'microroaster.'" They carry about a dozen different blends, including the popular "Funky Chicken."
Nationally known companies—Kickstarter and The Lee Bros. among them—have private labels, and Ketch Secor, Old Crow Medicine Show's fiddler, once declared Red Rooster "the best cup of Joe in the Old Dominion."
Where to find: Several Floyd locations, including the roastery, Floyd Country Store and Chateau Morissette Winery; Little Green Hive, S&W Market, The River and Rail Restaurant and Tinnell's Finer Foods (Roanoke); Lucie Monroe's Specialty Coffee and Main Street Coffee Depot (Christiansburg); Eats Natural Foods and Annie Kays (Blacksburg); and online at www.redroostercoffeeroaster.com.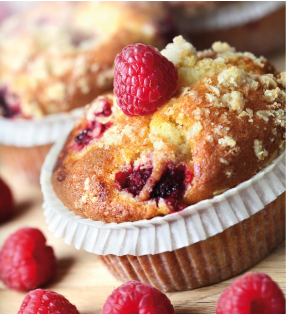 Healthy Stuff Cakery
On Saturday mornings, "Big Al" Hubbard can be found at the Historic Roanoke City Market, handing out samples of his Healthy Stuff cakes. Hubbard has been making his squash-, bean- and fruit-filled cakes since 2009.
Asked how he learned to bake, Hubbard—also a writer, public speaker and artist—said, "When you have a passion to do something, the thing you have a passion for reveals its secrets to you. That's all I can say to people: if I have a passion for something, I'm going to do it. … Passion is the key to opening the door to those secrets."
In his Healthy Stuff Cakery on Grandin Road, Hubbard bakes zucchini, butternut squash and apple-pineapple-mixed berry cakes, and chocolate cakes that incorporate navy beans and butternut squash. He also makes a variety of oatmeal cookies, among them mango apple and pecan cranberry-apple.
He limits sugar by sweetening with fruit, and when cooked long enough, he said, navy beans will "take on the flavor" of whatever they're paired with, while adding protein and fiber. While he doesn't advocate eating too much cake, Hubbard said, "If you're going to eat cake, eat a healthier version of it."
Where to find: Historic Roanoke City Market, email alonzodba@bellsouth.net or call (770) 262-7047.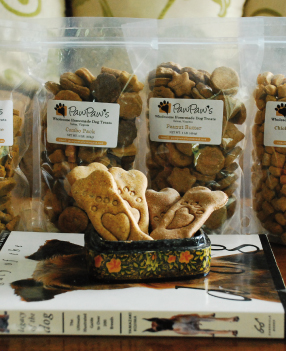 Paw Paw's Dog Treats
In 2008, Debbie Fail and pals Nancy Gladden and Ginger Booze started making "wholesome homemade dog treats" at Fail's house in Salem. "We all have dogs," Fail said, "but it started because of one dog. My dog, actually my son's dog.
After her son was killed in a car accident, Fail channeled her grief into launching Paw Paw's Dog Treats. "I was left with his beagle puppy and decided since I couldn't spoil my younger son anymore, I'd spoil his dog," she said. "The business has evolved quite a lot since then. It's no longer about the loss."
Today, the three women—and Fail's husband, Ken, who she calls her "biggest supporter"—share space with a commercial bakery. They make dog treats in chicken and bacon, peanut butter, chicken and rice and sweet potato and rice flavors,
and peanut butter and chicken and bacon bones. Some are gluten- free.
Paw Paw's also makes iced dog treats—think iced people cookies—and cakes for holidays and birthday celebrations. "A little bit of everything," Fail said.
Where to find: DeRolf Animal Hospital, Bubble & Biscuits, Northwest Hardware and Barkley and Rover (Salem); Brambleton and Hollins True Value, Roanoke Natural Foods Co-op, Valley Animal Hospital, Roanoke Bagel, Sheraton Roanoke Hotel & Conference Center and Historic Roanoke City Market (Roanoke); and All Things Healthy and Southern States Co-op (Botetourt).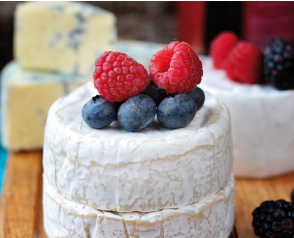 Spring Mill Farm Goat Cheese
Five years ago, H.B. and Danielle Hunter bought some goats and started making cheese.
H.B., who has a degree in dairy science and interned with a cheese maker in Northern Virginia, said he and his wife "were trying to figure out how to play with cheese making and one thing led to another. We bought some goats and started playing around, and figured out how to do it as a business."
Today, the Hunters tend about 30 goats on their Concord farm. H.B., a full-time farm loan officer for a community bank, works the farm during his off hours. Stay-at-home mom Danielle handles the full-time farming duties.
With milk from their goats, along with some bought from a goat farm in Blackstone, the Hunters make several varieties of chevre, a spreadable cheese.
Flavors include plain, Herbes de Provence, garlic and chive, sundried tomato, spicy pimento, and seasonal varieties that include honey-lemon-lavender, tzatziki and others. According to H.B., the best seller is pimento. "I grew up not liking pimento [cheese], but I really like it now," he said.
Spring Mill also makes "Goat Berry Truffles," using plain chevre, raspberries and dark chocolate from Cao Artisan Chocolates (see page 75), as well as Camembert, feta, McLaurin and Crottin cheeses.
Where to find: Historic Roanoke City Market.
Hooper's Sauces
Much of the time, Paul Hooper's pasta sauces are like undercover food operatives, doing their tasty work under the cloak of someone else's label. Hooper, of Martinsville, makes five different pasta sauces—tomato basil, fra diavolo, marinara, vodka cream and a red wine sauce—but the label's don't always say "Hooper's."
"The vast part of my business is my sauce with someone else's label," Hooper said, adding that he has made "house brands" for stores and wineries across Virginia.
Hooper learned to make pasta sauce from the Cresenzos, an Italian family who lived across the street when he was growing up in Reidsville, N.C.
"When I was old enough to cross the street myself—about 6—I went over and knocked on their screen door, which was right off their kitchen, looking for a playmate," he said. "I was greeted, not by a family member, but instead by the most wonderful, intoxicating aroma that had ever graced my nose."
It was dinnertime and pasta was on the menu, topped with what Hooper fondly remembers as "Mrs. Cresenzo's heavenly homemade pasta sauce." That sauce turned Hooper, a self-proclaimed "poster child for picky eaters," into a pasta lover and he started showing up at the Cresenzo's regularly for meals.
Eventually, Hooper learned how to make pasta sauce at the Cresenzo's. "There was nothing written down," he said. "It just rubbed off on me. I just knew I was no longer Irish. I was now Italian, by osmosis."
In the following years, Hooper made pasta sauce for friends, family and school fundraisers. People told him, again and again, he should "go into business." It wasn't until he lost his job at a local manufacturer that he started to take them seriously.
Ten years ago, when a friend said of his pasta sauce, "That's the best sauce I've ever had," Hooper sprung into action. "It was at that moment that I decided to see what it would take to go into the sauce business," he said.
Nowadays, Hooper makes pasta and barbecue sauces. His barbecue sauces, under the name "Bob's All-Natural," come in Hell Raisin (chipotle raisin), Tipsy Pig (red wine-based), Cuppa Joe (coffee and cocoa accents) and Hick'ry (hickory smoke and molasses) flavors.
Where to find: Pasta sauce: Tinnell's Finer Foods (Roanoke) and Homestead Creamery Market (Wirtz). Barbecue sauce: Sumdat Farm Market (Roanoke), Gourmet Pantry (Blacksburg), and Rising Sun Bakery and Janice Cain Stationary (Martinsville).
People always say that handmade gifts are the most special. Whether that gift is given to someone as a holiday present or hostess gift, served at your next dinner party or enjoyed comfortably at home in your pajamas, take time to savor and enjoy these locally-made handcrafted treasures.