Coastal Cool, Mountain Chic or Southern Traditional? A Buyer's Guide to Natural Fiber Rugs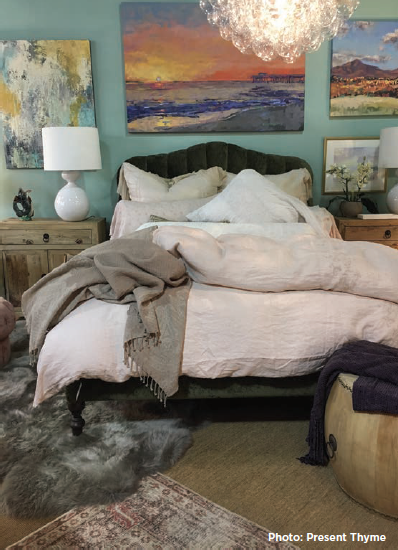 Natural fiber rugs have soared in popularity in recent years, and for good reason—they are an environmentally friendly, affordable choice that lends unmatched casual ease to a room. Many designers love them, and they've transcended their coastal design roots to be featured in homes of varying decor types and locations, including here in Southwest Virginia. 
"Natural fiber rugs can go with so many different styles—they bring a neutral texture to a space and go with a variety of schemes," says Kristin Kopcial, a designer with Decorating Den Interiors in Roanoke. "And they are available in all price points." 
Knowing more about each kind can ensure you make the best decision and that you're happy you said "yes" to this trend.
Jute: The softest and least durable option
Jute is a long, shiny vegetable fiber that comes from the stem and outer skin of the jute plant. The fibers are strung into coarse, strong threads, and woven together to make rugs off all different shapes and sizes. Jute is renewable and biodegradable, so a good choice for homeowners looking to go green. Jute rugs are softer than seagrass and sisal, and the color varies from a creamy beige to dark brown. The fibers are very malleable, so rugs can be found in the tightest weaves to very chunky, loose braids. Jute rugs can be thicker than seagrass and sisal, which is something to consider if you need clearance under a doorway.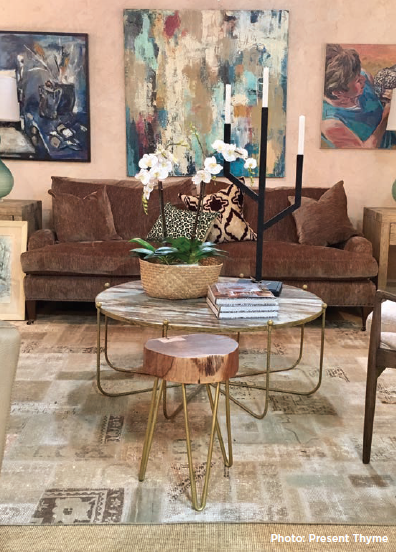 "Natural fiber rugs lend themselves well to layering," says Dorian Clowers, a design consultant with Present Thyme in Roanoke. "We like to use jute in an area that will be walked on barefoot, because it is softer, and it allows you to economically cover a large amount of floor, and then layer something over top that is trendy and easier to clean, like a cowhide.
Jute is very absorbent, so humid environments like bathrooms and outdoor areas should be avoided, or the rug will become moldy, mildewed or will fall apart. Jute rugs typically don't show dirt, in part because of the brown hue, and the fact that dirt tends to settle inside and underneath the carpet. When you move the rug for cleaning, you'll have dirt, dust and fibers left behind, so make sure this is something you are willing to deal with frequently. Given its tendency to absorb moisture, cleaning should be limited to a vacuum and a good shake outside. Clowers advises vacuuming once or twice a week to prevent dirt from settling in. Blot spills immediately; spot cleaning and steam cleaning should be avoided, as the moisture will ruin the rug or discolor it. 
If you do have a spill, blot it, and then break out your hair dryer, says Clowers. "Any moisture is bad for these rugs, so drying it as quickly as possible can minimize damage." 
As with all natural fiber, jute can change color over time, and continual exposure to sunlight may fade it; rotate if kept in a very sunny spot. Many jute rugs are reversible, so can be flipped to extend wear. 
Many people love jute for its chunky texture and relative softness underfoot, and a jute rug can hold up well under low to medium foot traffic—ideal areas might include a dining room, home office, formal living room or bedroom. And as Clowers points out, layering a more durable rug on top of jute can work for high-traffic living areas. There are also jute and wool or chenille combination rugs, which not only provide more stability and longevity, but can make the feel even softer. Still, if you are opposed to the layered look and want a high-traffic workhorse of a rug for family life, you may want to pass by jute and consider an alternative.
Sisal: A durable choice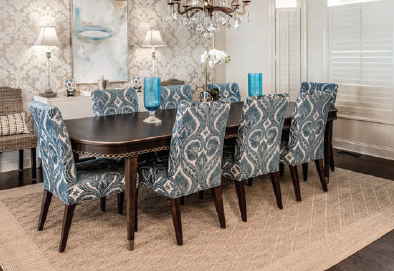 When jute doesn't work for a room, Clowers turns to sisal. "Sisal is naturally a creamy color and is easily dyed to create the look you want," she says. The sisal rugs sold by Present Thyme come from the agave sisalana cactus plant—when grown, Clowers says, agave plants don't need any commercial fertilizers, so her clients who are more environmentally conscious like this footnote about the product. 
Sisal is a very tough natural fiber and historically has been used to make twine and rope. Rugs made from sisal are tightly woven and coarse, which is not ideal for small children to play on, or for bare feet. While sisal is more durable than jute, it still absorbs moisture so is best left out of the bathroom and should only be used indoors. Prolonged exposure to sunlight will fade dyed sisal, and if it is bordered in fabric, fabric can fade as well. Indoor/outdoor fabrics are a great choice as borders for sisal, particularly in sunrooms or areas that are bathed in sunlight. 
A recent home design trend is sisal used for stairway runners—which may not be ideal for two reasons. First, sisal tends to become slippery after prolonged use. Second, says Clowers, a sisal runner will tend to absorb dirt at the top and bottom step, making the color inconsistent. But sisal's durability makes it ideal as a hallway runner, kitchen rug or even a mudroom covering—as long as there is a mat at the doorway to catch the majority of dirt and mud before it gets to the rug. Layering is also a great option for sisal, to extend the life of the rug, to cover spill-prone areas (like under a coffee table) in an easier-to-clean option, and to allow an accent rug to take center stage.
"I like at least the front legs of a furniture grouping to touch the rug," says Kopcial. "So if someone finds a rug they just love but it's really too small, layering is a great option. The small rug can be an accent and the larger rug can provide coverage."
Sisal has the same cleaning limitations as jute—water is a no-no, so steam cleaning or spot cleaning is not an option. Stains do have a tendency to be tricky to get out, so blot immediately and pull out the hair dryer. Vacuum once or twice a week to prevent dirt from settling in.
Seagrass: Best for humid areas, good durability
If durability is your chief concern, seagrass is another good option. Seagrass grows underwater in many parts of the world and is a renewable resource. Seagrass reeds are thick and rigid, and the non-porous skin is smooth to the touch and has a slight sheen. Because the plant grows in water, it has a tendency to
be nonabsorbent, making it the best of the three options for humid areas and climates, which is why it has been the most popular of the three types in coastal decor. It would be fine in an enclosed porch, but should not be exposed to the elements. It would also be better than sisal or jute in a bathroom.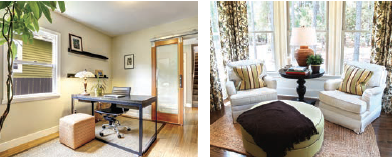 Seagrass is available in neutral tones, and naturally has a hint of green undertones. Like all natural materials, the color will change over time. You may want to inspect it in person instead of buying online (or check the return policy before purchasing), because some homeowners complain of the smell, which is akin to the smell of fresh hay; the smell should diminish over time.
Again, steam cleaning is out—regular vacuuming is essential, and spills will likely bubble up on the surface, giving you more time to blot it clean. Be aware that seagrass, like sisal, can become slicker with long-term wear.
Weighing pros and cons
Jute, sisal and seagrass are all great options in the right setting for imparting beautiful, neutral texture to a room. They are on-trend, affordable and environmentally friendly—but should be considered a short-term investment. A well-cared-for natural fiber rug can last anywhere from three to 10 years and up, depending on the degree of wear. But if you are looking for a rug to live with for a lifetime, these trendy types may not fit the bill.
Keep in mind that beyond the fiber choice, the rug's construction will also affect how your rug will wear and its longevity. Inspect the rug for yourself to get a sense of how it will stand up to your lifestyle. For example, a loose and chunky jute rug might not be the best bet for pets, while a flat, tightly woven seagrass or sisal can better withstand animal claws. And if you are looking for something that is truly suited for outdoor use, there are indoor/outdoor rug options that are meant to mimic the textures and colors of natural fiber rugs. If you do choose to bring a natural fiber rug into your home, know that it will go with just about any other rugs, colors or patterns in your space, and bring an earthy, cozy vibe. 
Area Rugs, home interior, Indoor Outdoor Rugs, jute rugs, Natural fiber rugs, rugs, seagrass rugs, senior living issue, sisal rugs