Easy Breezy Ceiling Fans | Keep Your Cool with Style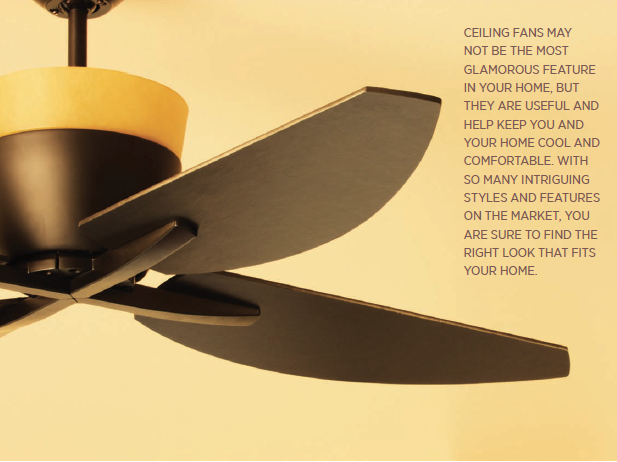 Ceiling fans tend to be an underrated feature in the home. Many homeowners dislike them because they can be somewhat of an eyesore in an otherwise perfectly styled room. But who says that your ceiling fan can't be both functional and attractive?
Don't forgo the comfort of having a ceiling fan in your home just for the sake of appearance. Ceiling fans of the past may have been clunky and distracting, but with today's modern, stylish designs, your ceiling fan can be a feature that helps regulate the temperature in your home as well as adds a unique design element that you will want to show off.
When it comes to choosing a ceiling fan for your home, there are several different features to consider such as style, the inclusion of a light fixture, mounting and energy efficiency.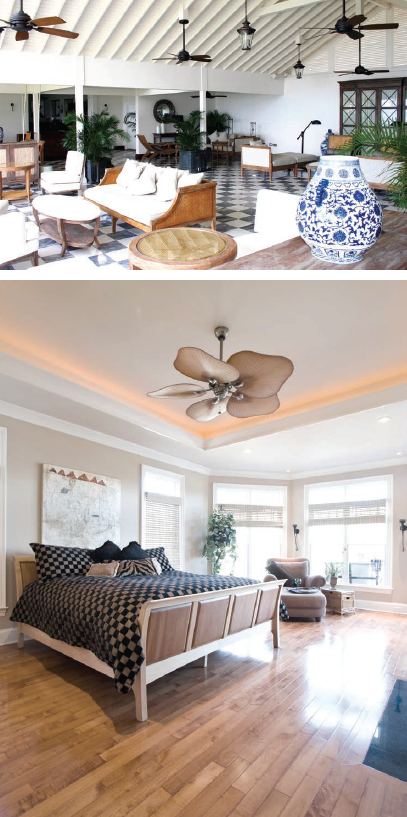 Choosing the Right Style
When you are choosing a ceiling fan, take a minute to think about what style will work best in your home and how you want it to function. Are you looking for something basic that will simply keep you cool and fade into the background, or are you looking for something bold that will make a statement?
Two updated looks on the market for ceiling fans are industrial and farmhouse styles. Both are perfect options for those who will treat this addition as a statement-making accessory. Industrial-style ceiling fans are modeled after heavy duty fans that are used for work spaces. These fans are usually characterized by a steel finish, clean lines, caged lighting, and sometimes even use vintage-style light bulbs. Not only do these ceiling fans present a bold and stylish look, they are great for cooling off large areas.
Another on-trend option for your ceiling fan is a farmhouse-style fan. The farmhouse style has been gaining popularity in recent years, and there are now some interesting ceiling fans that work nicely with this modern rustic look. From Mason jar light shades to windmill fans, your ceiling fan can help give your home the cozy feeling reminiscent of life on the farm. 
Not all ceiling fans need to be elaborate. If you don't want it to be a focal point in the room, try picking a neutral-colored fan that blends into the ceiling, giving you more opportunity to decorate without distraction.
DIY Rehab
If you're not interested in replacing all of your ceiling fans, you can always give your current fans a little update simply by adding a fresh coat of paint to the fan blades, or swapping out lights and lamp shades. There are plenty of fun vintage-style light bulbs on the market, such as Edison bulbs, that will help give your ceiling fans a fresh look.
Other Considerations
If your room is needs brightening, why not get a fan with an incorporated light source? While traditional ceiling fans typically have glass light fixtures that may not be as appealing as a statement chandelier, you could try incorporating a drum shade or even some unique cage fixtures that lend a fresh new look. There are even some ceiling fans on the market that have retractable/foldable blades; what looks like a stylish light fixture transforms to a fan with the flick of a switch. This might be a good solution in a bedroom, where you want the style of a statement light fixture but need air circulation for a good night's sleep.
The mounting you choose for your ceiling fans will largely depend on the style and height of your ceilings. Flush mounts are great for standard ceilings, and down rods work well for high (over 8 feet) or vaulted ceilings, adding an extra touch of style.
Energy Efficiency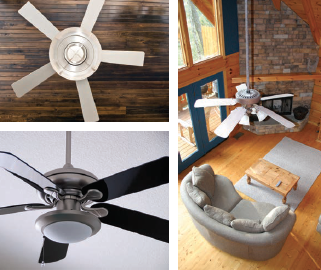 Almost any home can be made more energy efficient by adding a couple of ceiling fans, which typically use fewer watts of energy than a central air conditioning unit. If your ceiling fan allows you to cut down on your AC usage, you could be saving money over time. Here are a few tips on getting the most out of your ceiling fans:
• The bigger the fan is, the more air it will circulate. For rooms up to 75 square feet, consider a fan with a blade span of 29 to 36 inches; for rooms up to 145 square feet, try a fan that is 36 to 42 inches in diameter. For rooms up to 225 square feet, consider a 44-inch fan.
• Make sure you adjust the direction of your ceiling fan according to the season. Most models have a switch that allows you to toggle between clockwise and counterclockwise rotation. In summer, you want air to blow down into the room, so your fan should be rotating in a counterclockwise direction. In winter, fan blades rotating clockwise will draw warm air up and disperse it back down the perimeter of the room.
• And of course, make sure to turn your fans off when you leave the room. While it may seem like a small step, it can help in cutting down on the electric bill over time.
Ceiling fans may not be the most glamorous feature in your home, but they are useful and help keep you and your home cool and comfortable. With so many intriguing styles and features on the market, you are sure to find the right look that fits your home.
bright house, ceiling fans, decor, diy, indoor outdoor fans, Interior Design