Christmas Collected: Collect, Curate & Create Your Most Cherished Holiday Season to Date

Holiday decorating can be a cherished event and a challenge, all rolled into one. Unpacking box upon nondescript box of collections you haven't seen in a year can prove taxing on the memory of where and how you arranged them last year, while those same decorations present themselves as little time capsules, each eager to trigger a warm holiday moment from celebrations past. Whether you're a seasonal decorating veteran or decorating for the holidays in your first home, we've got your guide for beginning, refreshing, rearranging, storing and even photographing your collections. Here, enjoy our tips for a fresh take on the holiday sights in your home.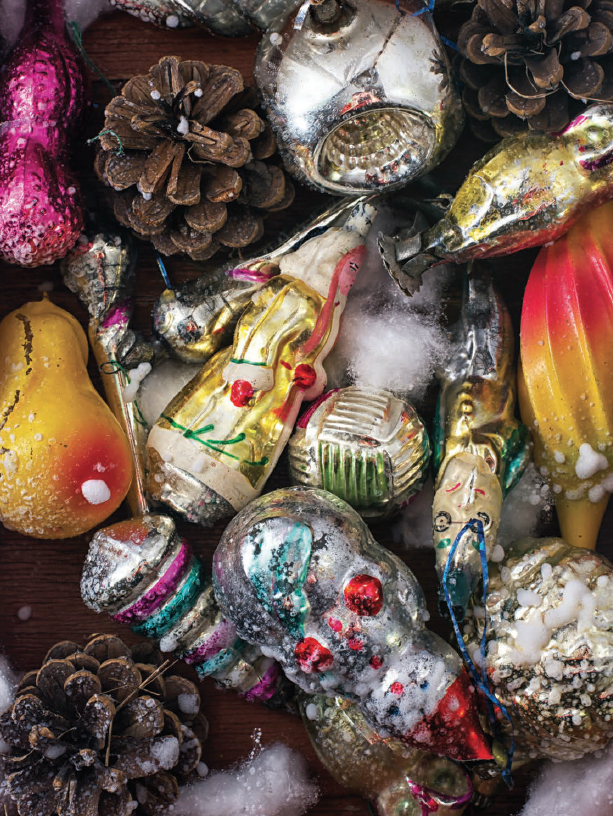 Collect what you love.
If you're just starting on your Christmas collecting path, it can be overwhelming to consider what to actually collect. To make the process of collecting more self-expressive, consider both traditional and outside-the-box ideas. Nutcrackers often come in primary colors that provide a punch to any traditional holiday decor and are made in a wide variety of sizes, from life-sized versions to greet guests in the foyer to tiny soldiers to line up on a fireplace mantel or along a stairwell ledge. Contemporary productions of snowmen, lighted villages and angels may also come to mind, but unique collections can also come from some less-obvious cues that can make the thrill of the hunt that much more fun when you're just starting, or starting a new collection.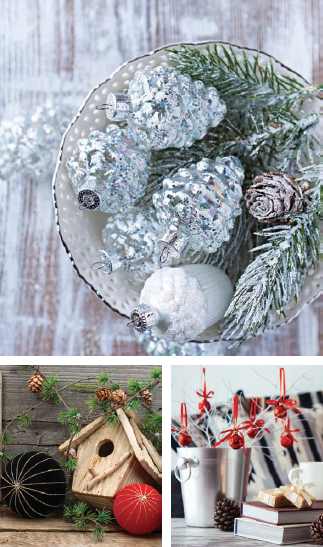 Dog lover? A collection of ceramic holiday dog figurines or tiny snow globes with puppies in Santa hats may take some detective work to find, but will produce a charming and meaningful collection you can cherish for years. A collection of antique children's Christmas books or books you loved as a child can be displayed on almost any shelf or stacked among other collectibles and mixed with naturals to bring a vintage, nostalgic feel to your decor. Even antique sleds or ice skates can be grouped on a wall or balanced on wooden crates to create yesteryear holiday charm. Ceramic or antique bells, creamers, plates and other serving pieces that might not necessarily say "Christmas" in color or pattern can also easily be grouped together with a little ribbon, tinsel or a gilded pinecone or two into a stunning and festive display on a buffet or in a hutch. Love to sail or spend time on the water? A collection of wooden boats, nestled among a string of twinkling white lights, can easily say "holiday" with a nautical flare.
Displaying: Steer clear of clutter.
Going all-out should be more of a feeling than a manifestation in your home; you don't want to trip visiting merrymakers or Santa when he comes down the chimney to deliver the motherlode on Christmas morn. In short: it's all about the edit. One trusty rule to follow when curating your collections is to group like items together, and practice restraint by creating negative space, with nothing in it—which gives the eyes and the floor space a breather—around each grouping. Take a treasured collection of snowmen or tiny snow globes and sprinkle odd-numbered groups around the living room—on side tables, shelves, even as a focal point when accented by a natural element such as pine boughs or sprigs of holly on the coffee table. Display a group of metallic ornaments atop glass taper and pillar candle holders for instant candlelight-like glow without the fire hazard. A group of soft ornaments in primary colors can be displayed on a small tree in a playroom or its own corner of the dining room or foyer for children or grandchildren to enjoy without the risk of breakage. Or try placing a large tree branch (real or faux) in a large pitcher on your dining table and suspending a collection of vintage or color-themed ornaments from its branches.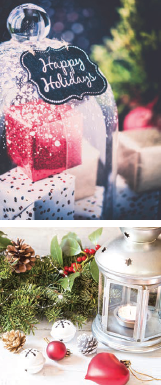 Not putting up a tree this year? Bring a fresh pine garland or two home and drape them on stair railings and mantels, then deck them out with your tree's collections of ornaments. For instant, portable holiday decor, purchase a large glass-paned wooden or metal lantern and place pinecones, real pine sprigs and an LED candle inside to create lovely sparkle and scent for a fireplace hearth, mantel, entryway, stairway or tabletop. Also try consecutively placing several smaller lanterns on stair risers to light up the night and put everyone in a holiday mood.
Keep function in mind, too. A treasured collection of your grandmother's crystal stemware creates a stunning centerpiece when grouped together on a mirrored or rich wooden tray on the dining table while staying within arms' reach of guests who are eager to imbibe your festive drink offerings. A collection of antique holiday hand towels may best be displayed on a small shelf in the bathroom or kitchen, hung on a tiny portable towel rack (assuming they are to be admired and not used by guests).
For a new twist, brainstorm ways to display your collections in different ways this year for an instant freshen-up of your holiday themes. One way to add instant drama is to take them to new heights—literally. Take a collection of villages that normally lights up your sideboard to new heights on a shelf or mantel, hang small sunburst mirrors in metallic finishes in windows to bounce light around the room, and select a few unique ornaments to suspend from your entryway chandelier on fishing line for a floating, unexpected aerial holiday display.
Play shutterbug.
Taking the time to photograph your collections can serve triple-duty: Not only do images serve as great future reference for how you displayed your collections this year, but shutter-bugging your decor will also give you a catalog of your entire holiday inventory in case of future loss or damage. On the brighter side, taking the time to photograph your collections can be a wonderful exercise in brainstorming new groupings and in producing keepsakes in the images themselves. Try catching silhouettes of family members, friends, even pets admiring your collections, and catch some close-ups of ornaments and collections in front of twinkling lights, then print and jot a "happy new year" wish and mail them off to start someone's year on a happy note. Printed images of your collections can also become their own collections; try mounting several images in frames of a similar color, style or size to create a gallery wall in a stairwell or hallway next holiday season that pays homage to the merriment of this year. Some of your images may just make great holiday cards next year, as well. Tips for getting the best shots: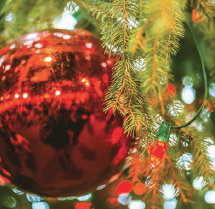 Get close. By all means, photograph the tree, the house from the street and the entire dining tablescape from a distance, but do get in close to highlight specific items and groupings. If using a smart phone, tap the subject of your frame so that the camera's lens uses it as the focus point for both sharpness and correct exposure for your lighting conditions.
Steady, steady. Keep your camera as still as you can. When possible, mount on a tripod, prop on a solid surface, or steady your hand on a surface or close to your body to prevent blurry images resulting from camera shake.
Light it up. You might think that extra lights take away from your holiday ones and may compete with them in photos, but in reality, because holiday lights are often photographed at night, they can tend to be the only things that show up in a photo of an otherwise dark room. More lighting means more glow and will help your camera attain focus. Try photographing with the tree in the background while you focus on your subject in the foreground for a beautiful blur of orbs (often referred to as "bokeh") coming from its twinkling lights. This may take a bit of practice, but keep shooting and you'll master it.
Shoot outside at dusk, not dark. When photographing your home from the outside, don't wait until it's pitch black, or you'll see plenty of lights but no house in your images. Photograph outdoors while it's still light but when lights are visible, and you'll get a pleasing composition that showcases not only the twinkle but your home and landscape as well. Try including a glimpse of sky in your shots—though it may look dull to your eye, chances are the camera will pick it up as a rich blue hue.
Tip: Don't just capture your favorite few (this goes for ornaments and people)—take a shot of each ornament and grouping in your entire home (include a couple of exterior shots). When you're done, attach images of collections you store together to the top or front of their storage containers to make life easier next year at holiday time.
Speaking of storage: Invest in next year.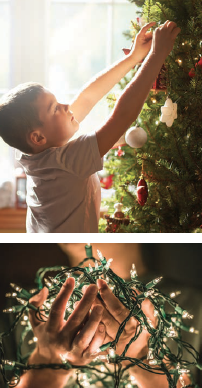 When the holidays are over, nothing brings the promise of a new year to a screeching halt faster than the frustration of where to put all the stuff. Do yourself a favor and invest in a few smart storage items for your collections before you have to take them down, and you'll ensure that your next holiday season is a put-up and take-down breeze. First, wrap all string lights securely to avoid tangling and breakage; consider investing in a reel with its own storage bag to make the process of winding, unwinding and storing lights a painless one.

Ornament chests, tubs and bags with dividers for each one are also a good option (made even better when you refer to your archived photographs of each one). Look for stackable versions with configurable dividers to accommodate large or oddly shaped ornaments and collectibles. If shelf or under-bed storage is tight, consider hanging a shoe organizer in a closet and tuck small collectibles or ornaments wrapped in tissue paper inside. Voila! Instant collectible organizer that can be found in almost any home or grocery store.
Don't forget the workhorses: Group ornament hangers, zip ties, adhesives, suction cups and extension cords into a multi-compartment case (and go ahead and restock lost items for next year) so you'll be ready to get your collections out and up in a flash next holiday season.
With a little creative thinking, you'll come up with the "what" and "why" of your most meaningful holiday collection decorating yet, and if you add in some pre-planning, your "how" will be the easiest part of your holiday season, this year and for years to come.
Christmas Ornaments, christmas treasures, festive, holiday, Holiday Cards, holiday decor, Holiday Decorations, holiday party, holiday treasures