At Home with Lynn Warren | Venerated Virginia Designer Talks Inspiration and Career Highlights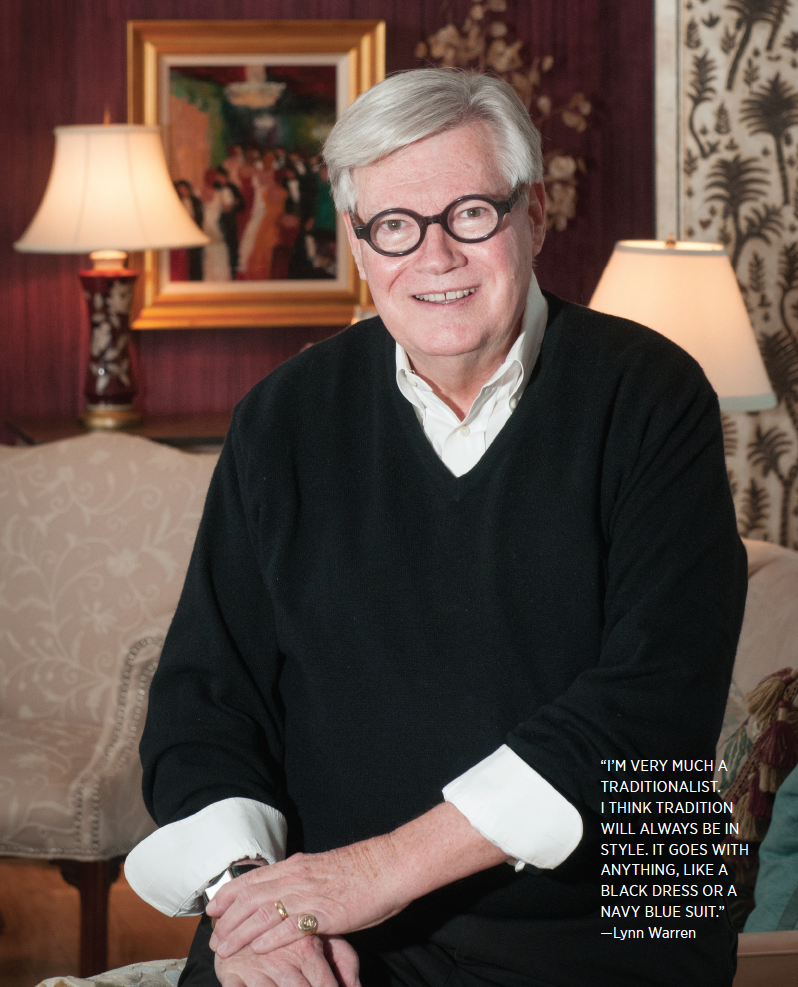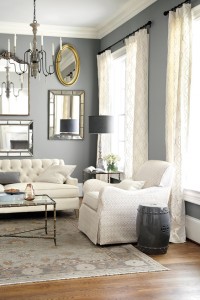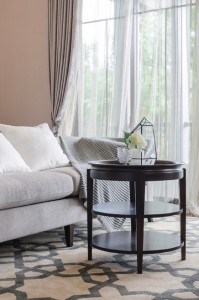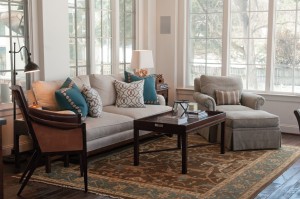 Lynn Warren, CID, ASID, has spent 37 years with Stedman House, an esteemed Virginia design firm, and longer than that in the interior design business. Now, having announced his retirement at the end of last year, he's finishing up a few projects and looking forward to some travel, rest, and volunteer work. Lynn recently sat down with HOME to discuss his design philosophy and a couple of professional highlights in what has been a career grounded in tradition, with nods to the unexpected. He also gave us a peek at his own living quarters on the summit of Hunting Hills.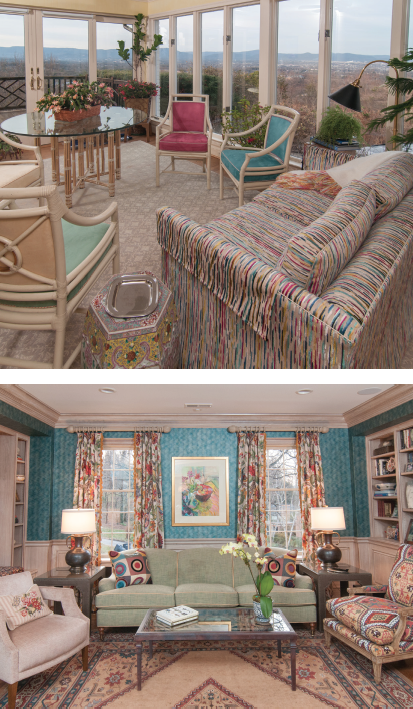 For many years, Lynn has divided his time between Roanoke, Richmond, and other locales. A native Roanoker whose family founded The Roanoker Restaurant, Lynn studied interior design at Virginia Commonwealth University in Richmond, where he met his wife, Nancy, and honed his craft. In 1980, he merged his interior design company with Stedman House, known for classic, tasteful interiors and with offices in Roanoke, Charlottesville, Wintergreen, and Richmond. He commuted between here and Richmond, with stints in other cities when Nancy, a pathologist, was transferred for work. But he always kept a home in Roanoke, and now that he and Stedman House's two other longest-working designers, fellow VCU alums Pat Nolan and Tom Gilreath, are retiring, the company is quietly closing its doors after more than 70 years in the business. It's a bittersweet time for Lynn, who enjoys the work but is ready to slow down the pace. "I've continued to work because I love what I do and have several second generation clients," Lynn, a soft-spoken gentleman, says modestly, "Clients I've worked with since the late '60s."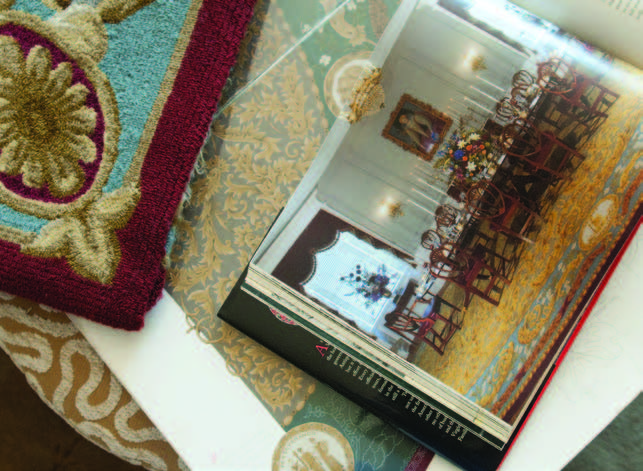 One of those long-term clients was Douglas Wilder, Virginia's first African-American governor who served from 1990-1994. Governor Wilder had been a client of Lynn's since the 1960s, and when he took office, he asked Lynn to redesign his private living quarters at the Executive Mansion. At around the same time, the governor appointed Lynn to a state nonprofit charitable organization, the Citizens Advisory Committee on Furnishings and Interpreting Executive Mansions, where he was asked to design a new 19×30 rug for the Executive Mansion. "I needed a very traditional rug because of course the room is very traditional," says Lynn. "But I wanted it to have some Virginia symbolism. I worked with Stark Carpet Company to design the rug, incorporating a tobacco leaf border, a dogwood flower, an oyster shell, and our state seals." He also created a complementary 11×14 rug in the adjacent dining room, using the same colors but without the symbolism.
Not every interior designer would have the courage and skill to create a formal rug from scratch, let alone one with such tradition and significance. But Lynn says, "I'm very much a traditionalist. I think tradition will always be in style. It goes with anything, like a black dress or a navy blue suit."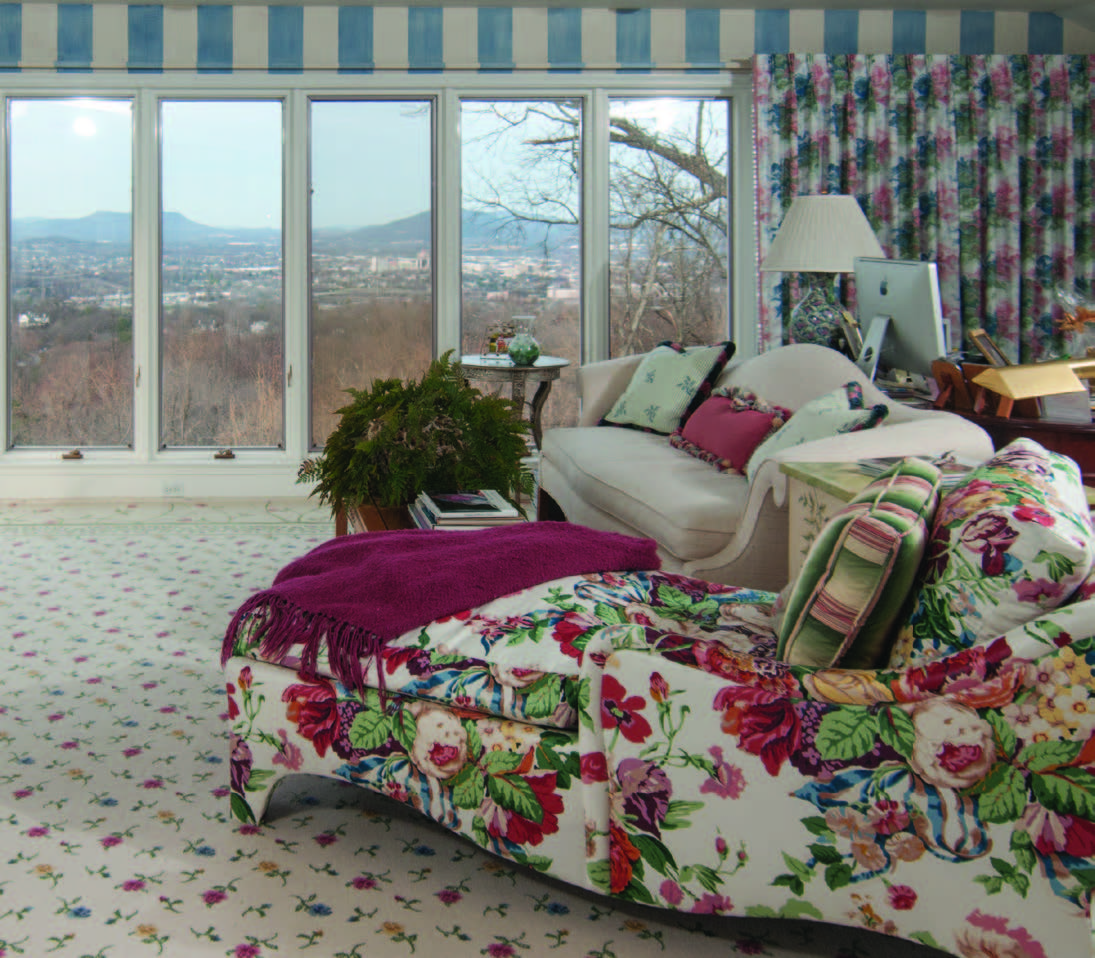 That's not to say that Lynn is stuck in the past. With a fondness for polka dots—including a pair of polka dot socks he's wearing, one of multiple sets he owns—Lynn likes to inject doses of color, whimsy, and contemporary elements into his work, underscoring that design is collected over time. "I love color, and I don't want my clients' rooms to look dated, or to look like they're in vogue with the style of that year," he says, adding that to avoid looking dated, "You have to be aware of what's in style right now, and you might try to use some of that in small doses."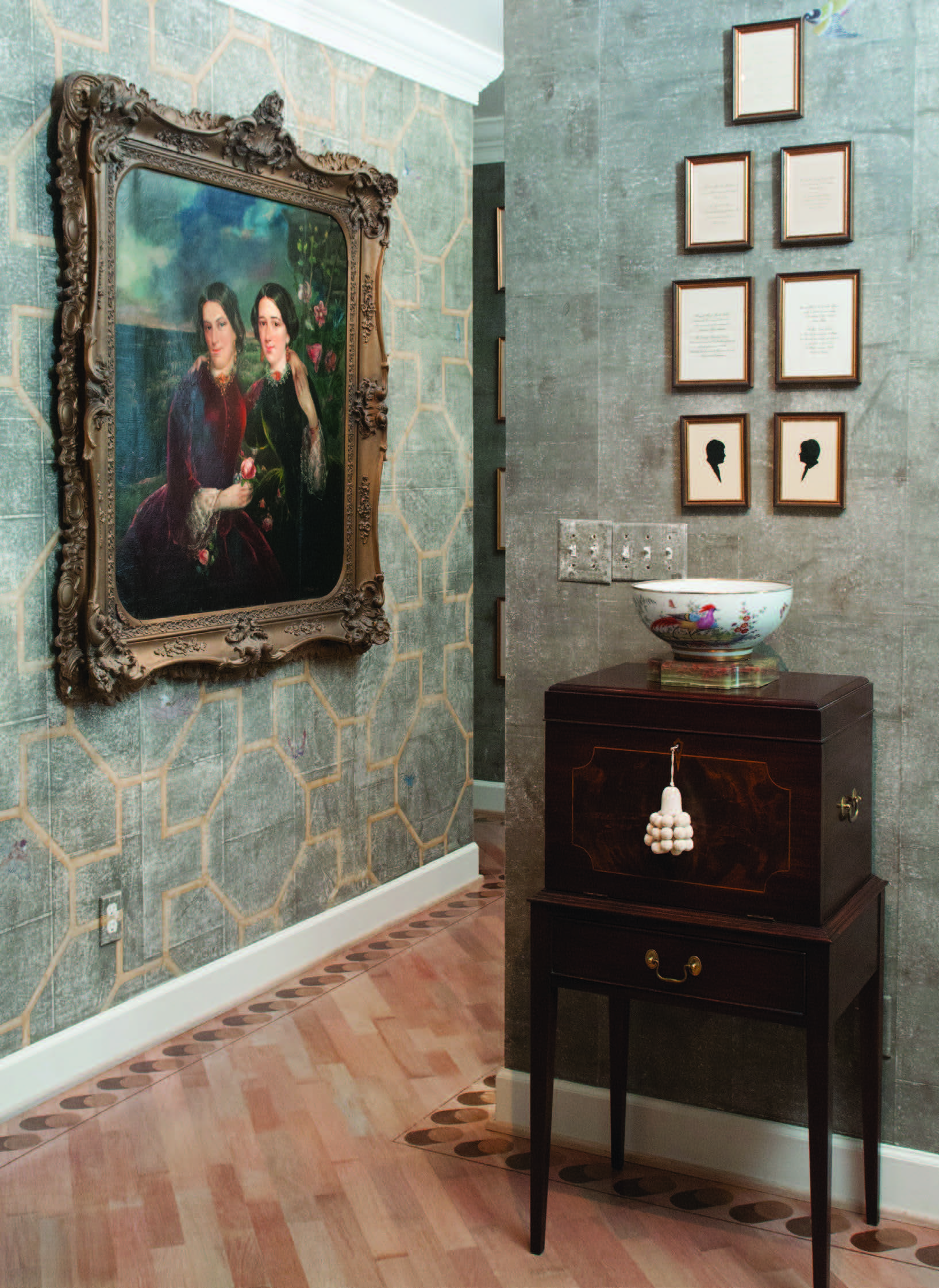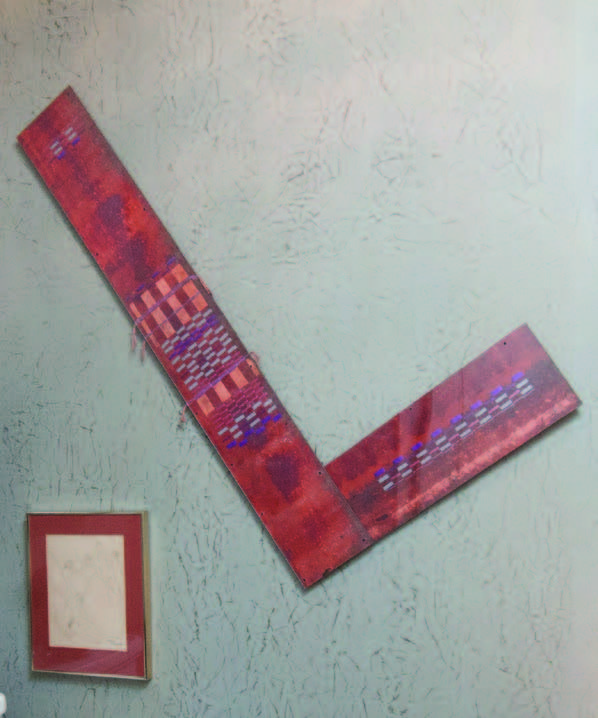 His own home, a condominium perched atop Hunting Hills with sweeping views of the valley, reflects this philosophy. The color scheme in the main area is mostly understated because, Lynn says, "We collect so much stuff. If we do a lot of color or pattern here it's going to be awfully busy. Not many of my clients have as much stuff." It's not just any old stuff, either. The entryway boasts a sunburst chandelier from an Italian church and an old Venetian mirror, both in his possession for years. In the adjacent powder room, a frame holds tassels that are from trim used at Windsor Castle, given to him by a colleague from his Executive Mansion days who worked on the castle's restoration after the 1992 fire. The gold tassels are juxtaposed with a giant modern "L" hung at an angle, a Christmas gift from Nancy that was made by a Richmond artist.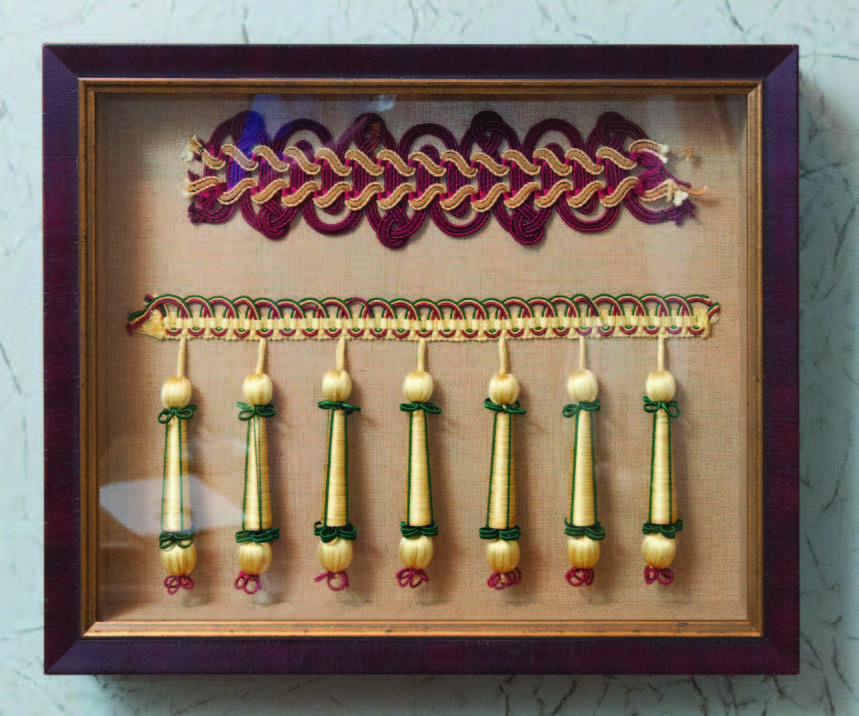 The foyer and front hallway are defined with custom lattice wallpaper that he worked to create with Paul Montgomery, an artist who designs handprinted murals and wallpapers from his studio in Churchville. Once hung, Lynn says, "I decided it looked too new, so we took triple aught sand-paper and sanded it." The wood floor is sanded and pickled cherry, with a custom border he used in a Roanoke Design House project and liked so much that he asked his decorative painters, Bonnie Thomas and Kay Jacobs, to replicate in his home.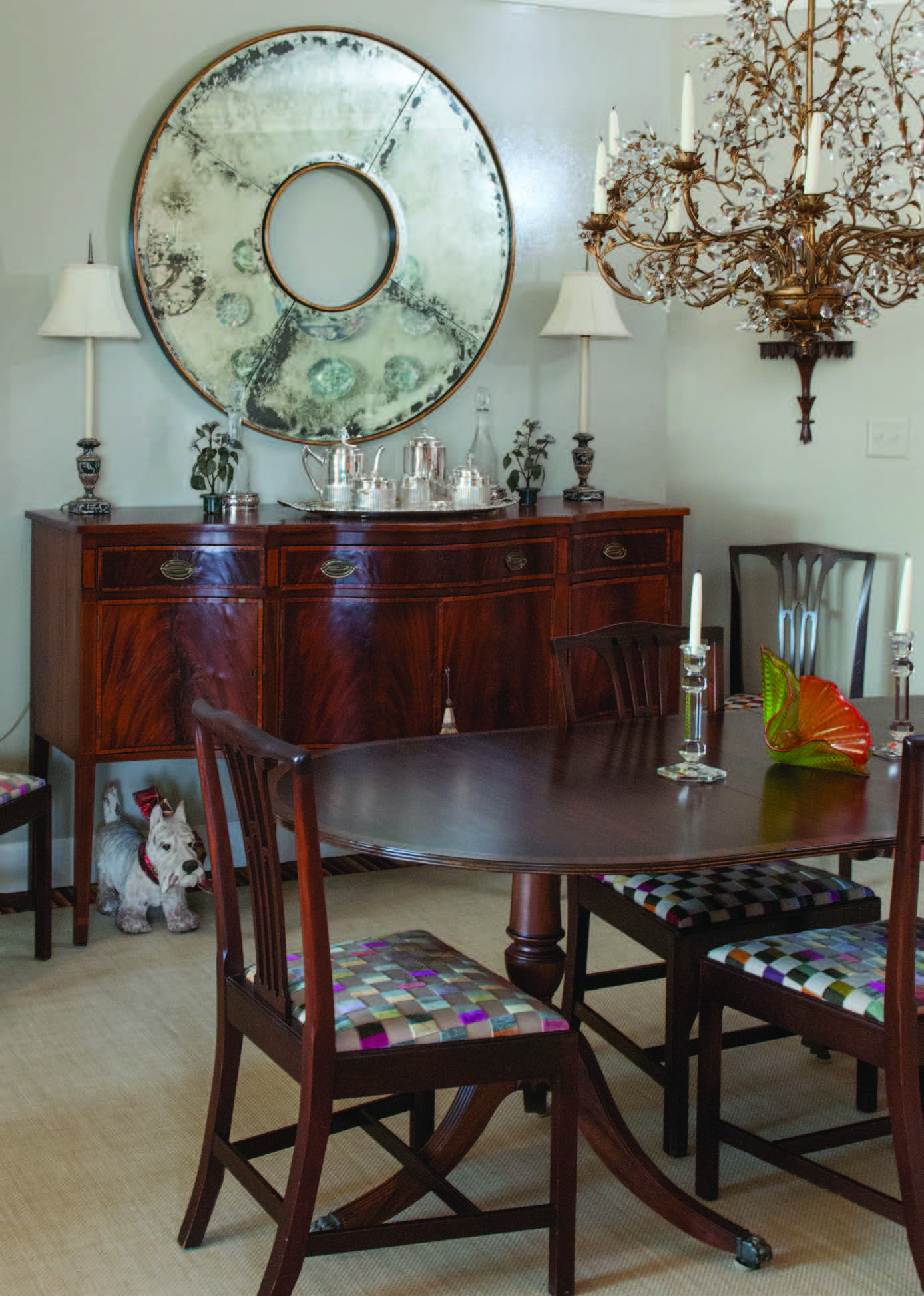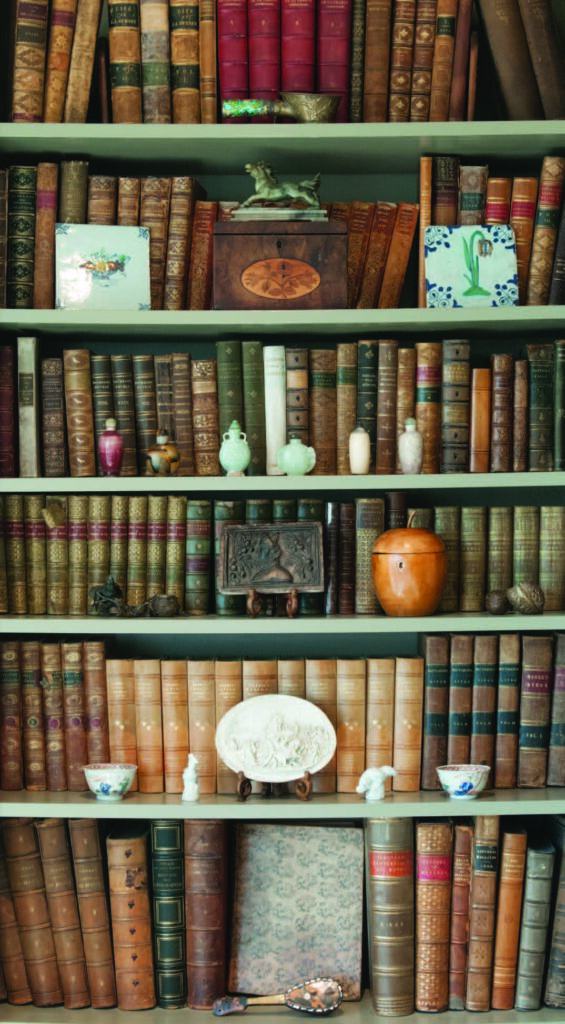 Lynn's hallway and main living area are hung with several historic family portraits from Nancy's side. Their elaborate frames and Old World patina lend stateliness to the space, which flows from foyer to dining room to living room. One of Lynn's favorite pieces of furniture is the dining room table, which once belonged to late designer Billy Bowles, of Bowles Nelson Powers, who worked for Stedman House for 20 years. The table is surrounded by Chippendale chairs, family pieces which have been recovered in a modern checkered pattern. In Lynn's signature style, the traditional tableau is offset by placing a vibrant glass sculpture from Dale Chihuly on the tabletop. Lynn says that when he visited Chihuly's exhibit at Richmond's Virginia Museum of Fine Arts, "I hyperventilated because of all the color!" Above the table is a chandelier he designed and had made in Spain after seeing something similar in New Orleans. The chandelier is actually candle instead of electric, and was originally made to complement a vine rug he also designed, which now rests in the adjacent living room. On the dining area walls, a collection of antique porcelain plates and a huge disc-shaped mirror call to mind Lynn's love for polka dots and are part of a recurring circular theme in his home. The floor is covered with an unusual rug made from recycled soda bottles with a striped wool border. "To me, every rug needs a border," Lynn says, adding that with the uncommon materials and design, "This kind of floor makes a statement."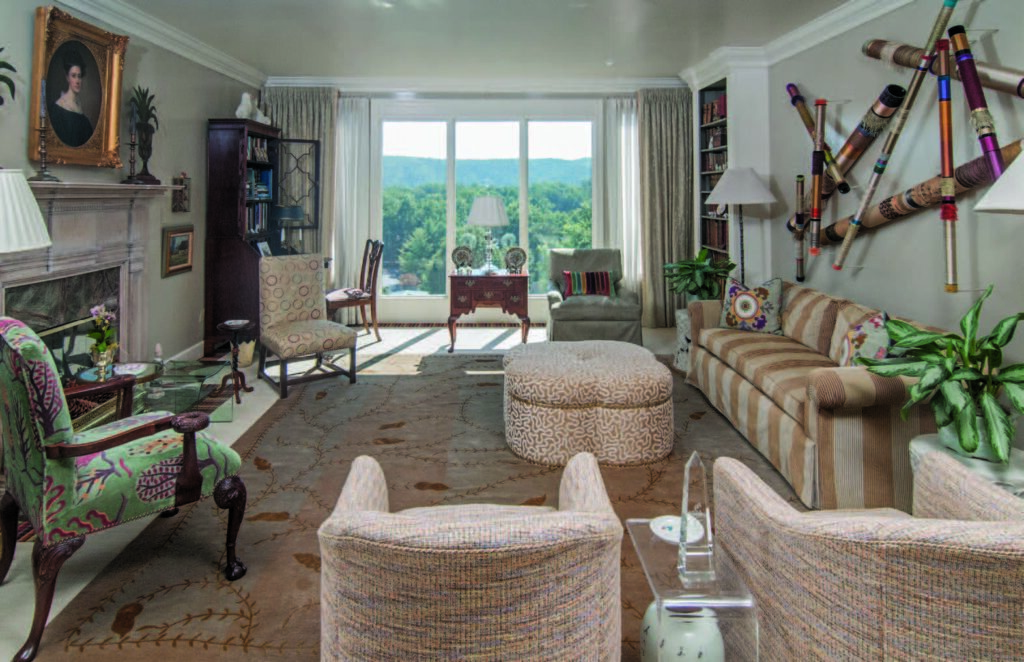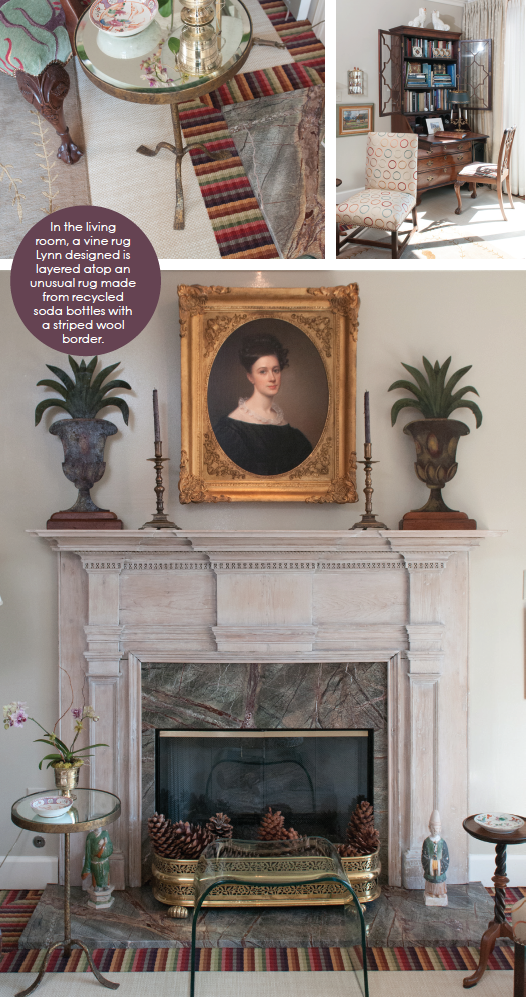 The rug continues into the living room, where a wall of windows overlooks the mountains ringing the Roanoke Valley. The space is decorated in shades of gold, taupe and pale green, a serene blend of pattern and texture that is punctuated with dashes of detail and color, such as a pair of side chairs that Lynn upholstered in a subtle pastel fabric, but with waterfall skirts on each arm featuring a contrasting striped fabric on the underneath. Likewise, a Martha Washington chair with carved legs and ball and claw feet has been recovered with Clarence House's whimsical Le Foret fabric in green velvet. "I love to do things that are unexpected," Lynn says. "Little things make a big difference." Another eye-popping element is a large piece of art over the sofa, from Malibu artist and architect Myra Berg. Lynn, who says he sat on the floor of Berg's studio and picked out the colors himself, likes the way her piece injects life and movement into the room. "I don't want spaces to look static," he explains.
The fireplace mantel holds special meaning for Lynn. Bought by Stedman House in Richmond in the 1960s, it stayed in the office there for years before ending up in owner Ted Oakey's possession. It was originally painted white, but Oakey stripped and pickled it, and gave it to Lynn as a housewarming gift. Lynn cherishes it as a remembrance of his former boss (who passed away in 2014) of whom he was very fond.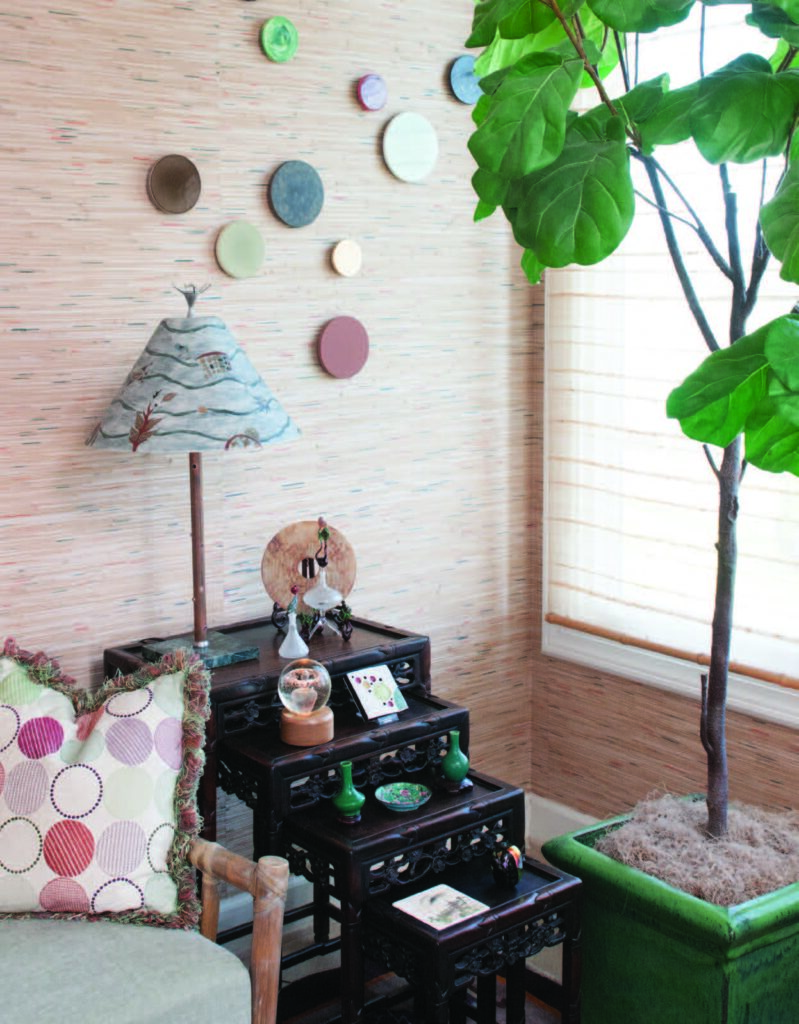 Anchoring the furniture group is an area rug with a gold and taupe vine pattern, the one that Lynn designed to complement the dining room chandelier. His mastery of design has led to several distinguished appointments and opportunities during his career. In addition to serving on the Citizens Advisory Committee and working on the Executive Mansion, Governor Wilder also appointed Lynn to be the residential design representative for a state board with an unwieldy acronym but important function. "APELSCIDLA" is the board for Architects, Professional Engineers, Land Surveyors, Certified Interior Designers and Landscape Architects, and oversees licensing and regulating for all applicable individuals and businesses in Virginia. In this capacity, Lynn was tasked with defining the criteria for state certification for interior designers practicing in Virginia, and he considers it his most honored appointment.

Working on the Executive Mansion led to another professional highlight: the opportunity to be involved in the refurbishment of George Washington's mansion, Mount Vernon, in preparation for the bicentennial of Washington's death in 1799. Christine Meadows, long-time curator at Mount Vernon, had worked with Lynn on the Citizens Advisory Committee and was impressed with his work and collegial mien. She brought Lynn on board to design new silk curtains for Mount Vernon's West Parlor, a project which involved considerable research. Lynn, in going through Brunschwig & Fils' fabric archives for appropriate period fabrics, found a peacock pattern that seemed like a good fit, with the added bonus of having a small repeat (the number of inches before a pattern is repeated) which would save on the yardage required. When he presented the fabric—to be produced in a custom color—Lynn says he was asked how he knew Mr. Washington brought peacocks to the United States. "I said, 'I did my research'," Lynn laugh

s, adding, "It was a fluke!" His custom curtains were so well received that he subsequently used the fabric in the rest of the room, and was involved in selecting materials for other areas of the mansion, including the bedrooms.
Despite the prestige of Lynn's work for the Commonwealth, it has been equally rewarding to design for his residential clients, where he can also indulge the more playful side of decor. He once put a curved Lucite sofa in a client's home in Altavista; another's has walls lacquered in an eggplant shade. Deep purple is one of Lynn's favorite colors—his office is painted that hue— and while he has outfitted his own home in more subdued tones, it does make an appearance. In the den off the kitchen, a pale green sofa and ecru patterned side chairs are anchored with a deep purple rug that Lynn found in Asheville and bought not only for the color, but also because the motifs on the rug (ornamental vases, and a cluster of rolled-up carpets, among others) seemed like a good fit for an interior designer.
The den area features textured grasscloth wallpaper, a built-in bookcase, (which Lynn wryly notes is "crammed full of books") and more polka dot and circular accents, and Asian nesting tables and a chow table from the late 1800s that belonged to his great aunt and uncle. A cozy corner off the kitchen, which is outfitted with clean lines and understated celadon-colored cabinets so as not to detract from the living space, the den is a place where Lynn and Nancy spend their downtime.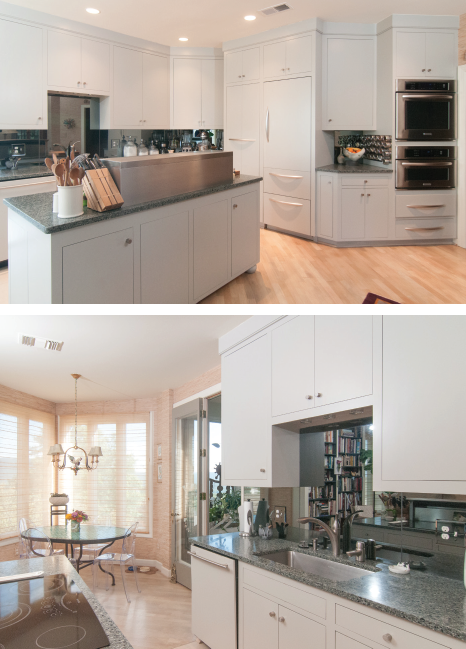 Now that Lynn's illustrious career is winding down, they'll have more time to relax, travel, and to pay it forward in the community. Lynn, who has traveled quite a lot over the years, says that while he looks forward to doing a bit more of that in the future, it's important for him and his wife to spend time volunteering in their home turf. He remains genuinely humble about his accomplishments, noting that he grew up in modest circumstances. "I've been so blessed with the things I've been able to do and see," he says. "Nancy and I have both been fortunate to have had exciting careers, and we feel the need to change track now, and give back to our hometown." 
Photography by Kevin Hurley & Present Thyme

designer, home decor, Interior Design, lynn warren, Stedman house, traditional decor, traditional design, virginia design firm