Best in Bouquets | Collecting the Right Vase for the Right Flowers
It's that cold and dreary time of year, and the lack of foliage can really take its toll on us. However, spring is on the way, and with it, the return of freshly cut flowers and arrangements. While you anxiously await brighter days, you can be stocking your cabinets with vases to fit the requirements for your choice of arrangements. When it's time, you won't have to put the apology bouquet from your partner in a two-liter bottle, or the flowers you picked on a hike in your only clean cup; you'll have the exact vase you need.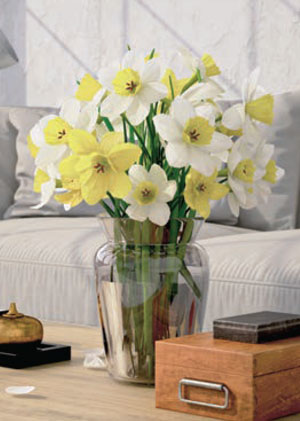 One of the most versatile vases out there is the traditional bouquet vase. This type of vase has an hourglass-like shape, with a narrow lip and wide body. Due to its shape, bouquet vases are great for full arrangements and flowers with large blooms. This type of vase is perfect for flowers with medium- to long-length stems to balance out the wider body. For this vase, think of a bouquet with roses, freesia, lily of the valley, and ferns for foliage. Arrange them so the lily of the valley spills over the sides, with the ferns cradling it right behind to create a full arch shape. This will keep the heavy-bottomed vase from overshadowing your arrangement.
A similar vase to have in your collection is a rustic vase. It has the same hourglass shape as a bouquet vase, but with a slightly narrower neck and a rounder bottom. This is a great vase for top-heavy flowers that might otherwise be knocked over easily. When you have snapdragons, rhododendrons or Virginia bluebells, reach for the rustic vase. This is a casual vase that is great in places with higher traffic, like a coffee table or kitchen island.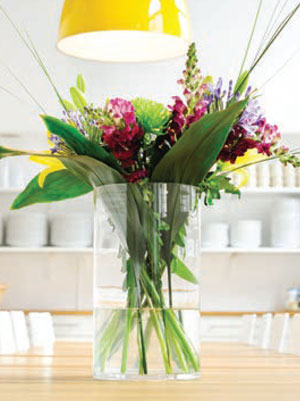 Especially with daffodils and tulips popping up, a cylinder vase is good to have on hand. With its tall, narrow shape, it's perfect for long-stemmed flowers with dramatic blooms. This vase shows small bunches of tall flowers in their best light, and also looks beautiful with just a single flower. This works wonderfully for not only daffodils and tulips, but also irises and orchids. It's a dramatic shape that makes an excellent statement piece. A cylinder vase is best placed on a side table or fireplace mantel where it isn't likely to fall over or obstruct vision.
Another classic vase for your collection is the trumpet or vintage vase. It is similar to the cylinder vase, but flares out at the opening. A staple for wedding flower arrangements, it can be a great formal vase option to have for more sophisticated gatherings. Stick with longstemmed and dramatic flowers as you would for the cylinder vase, but keep in mind that the wider mouth allows for more flowers and some filler or greenery.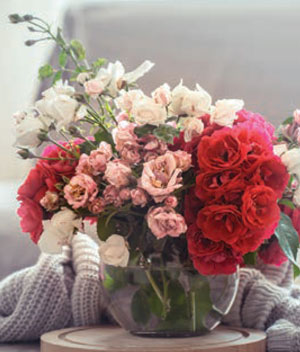 For truly gigantic blooms, a bowl vase, with its round bottom and a wide opening, works well. Also known as a bubble vase, this vase is great for flowers that have rigid stems and large heads, like peonies, magnolias and hydrangeas. Organic-looking arrangements—where you want the flowers to fall naturally— will shine in a bowl vase. With this kind of vase, cut the flower stems to the height of the vase and let the blooms fall into a round shape.
A great catch-all that doesn't take up too much space is the bud vase. The bud vase is small, meant to hold only a single flower or miniature bouquet. It's also great for showing off wildflowers, dogwood blooms, cherry blossoms and Lenten roses. This type of vase works well as a centerpiece at a dinner table without blocking anyone's face during conversation.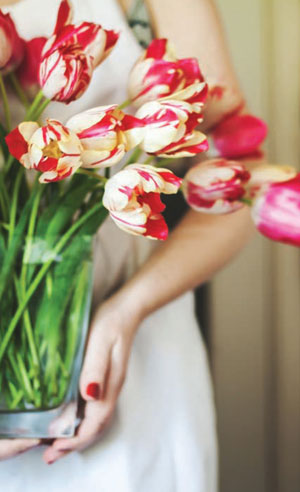 If you prefer a more minimalist, modern look, a rectangular vase would be a great choice. This type of vase works best for tall flowers with large blooms, but gives them space to spread out. For flowers like lilac, tulips or forsythia, you can arrange them in a row and tie stems together for a contemporary look.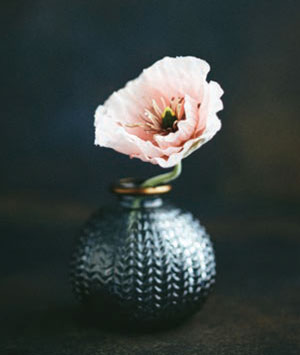 There's no reason to wait for the flowers to bloom in spring, either. If you find yourself getting the itch for an arrangement, you can get inspiration from our winter plants. Forage outside and use sprigs of pine, birch branches and holly to create a lovely arrangement in a pinch. We're thankful that spring is coming, but we can be content through the last cold days as well. ✦
bouquets, bowl vase, bubble vase, bud vase, cut flowers, cylinder vase, rectangular vase, rustic vase, top-heavy flowers, traditional bouquet vase, trumpet or vintage vase, vase