Bedside Manner | How To Pair Bedside Tables With Your Bed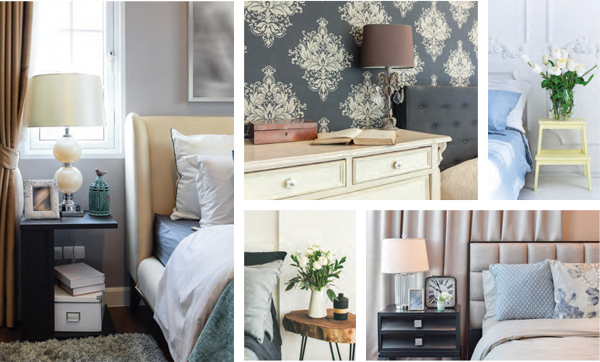 The days of matchy-matchy bedroom sets with coordinating nightstands are gone. There are more stylish options than the furniture sets from the bigbox store. Mixing furnishings gives your boudoir a more sophisticated and collected feel, along with the impression that it was intentionally decorated. The simplest way to get a more elevated look to your bedroom is changing up some of the smaller furnishings, like your bedside tables.
When searching for new bedside table pairings for your bed, don't be afraid to mix and match colors, materials and styles. With a natural wooden headboard, choose a nightstand with a different finish—perhaps painted in a contrasting color, like ivory, gray or even a bright hue like red.
For a quick makeover, update your current nightstand with a layer of milk paint. Or strip it down and finish in a high-gloss paint. Feel free to mix woods for a more dynamic look, but proceed with caution—a room with light beech and dark mahogany can look distracting instead of calculated.
---
BEDSIDE TABLE STYLING TIPS
Narrow nightstands call for dainty lighting. With wide, chunkier bedside tables, select a more substantial lamp with bulky base and broad shade.
Don't feel like you need to choose a classic table lamp when adorning your bedside table. A task lamp, which is traditionally intended for a desk, is great for reading in bed. Sconces are ideal for tight spaces and bedside tables with limited surface area.
Style large nightstands with additional tchotchkes like a vase filled with fresh blooms, a soothing candle or fragrance diffuser, a stack of books or a stylish alarm clock. Don't overload small bedside tables with clutter. Keep small tables sparsely decorated with only the necessities—a lamp and an alarm clock.
With small bedside tables, you may want to create more storage by tucking storage bins under the table, or by adding a bedside caddy that is stocked with all your nighttime necessities.
---
If you have a brass bed frame, stay away from metal side tables. Too many metals in a bedroom doesn't make for a soothing retreat, and can give your boudoir the appearance of an indoor jungle gym. Opt for sturdy wood tables with drawers to help anchor the space. And feel free to update the nightstand hardware to brass knobs, as it will add a cohesive element, tying the tables to the bed.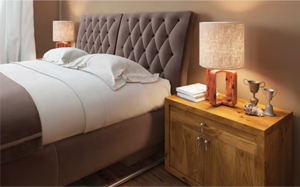 In an elegant bedroom with a velvet upholstered or silk tufted headboard, select bedside tables that match the bed's elevated style. A mirrored nightstand or side table with curvaceous legs, ornate knobs and gilt accents is fitting.
With more modern bedrooms that are outfitted with contemporary beds, it's best to look for tables that echo the bed's straight lines and simple aesthetic. Mixing more ornate styles like French Provincial with clean, contemporary furnishings might be jarring to the eye.
Keep scale in mind when pairing tables with beds. A double bed calls for a narrow nightstand, whereas a sprawling king-size bed should be flanked by wider, substantial tables.
Measure to make sure that the table is an appropriate height as well. Not too high or too low, the nightstand should be about the same height as (or maybe even slightly higher than) the mattress.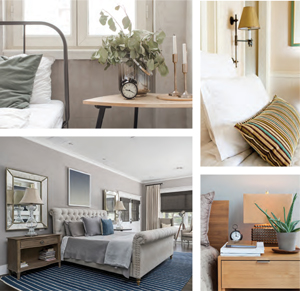 Small spaces are cumbersome to furnish in general. Be mindful of your square footage, and don't over-decorate with chunky and overly stuffed furnishings. In tight spaces, choose a compact table with a small drawer and long narrow legs that allow air to flow freely underneath. Bulky furniture with many drawers overwhelms a small room.
Transparent materials like glass and lucite also are smallspace- friendly, giving the bedside table a minimal appearance. Wall-mounted shelves with sconces hung above make for a nice nightstand alternative in cozy berths as well.
Tables that aren't normally intended as bedside tables are fun to add into the mix. Consider a fancy demilune table, a cleanlined, midcentury waterfall console that you can tuck a cushioned ottoman or storage baskets under, or even a narrow shelf where you can display your book collection. Nesting tables are a compact piece that you can easily expand for more surface area.
Or, get creative and eschew tables altogether. Experiment with something else like a tiered footstool, an old chair, a wooden crate, a tall stack of coffee table books, or even a rolling cart.
Finding the appropriate nightstand for your boudoir may take a little time and effort, but with some measurements and a little shopping around, you'll find the perfect pairing.  ✦
and match colors, bedside caddy, bedside tables, design, glass, High Gloss Paint, lucite, materials and styles, mi, milk paint, Narrow nightstands, scale, Sconces, storage