Beautiful Baths | Three Unique Renovations Showcase What's Trending in Bathrooms
Photography by Jared Hall
Bathrooms are small in square footage relative to the rest of your home, but these tiny rooms can deliver a big hit to the budget. It's important to make well-considered decisions, especially for fixed elements that are difficult to change, such as tile, cabinetry, plumbing fixtures and countertops.
Three Roanoke-area homeowners invested in their bathrooms in the past year to create more attractive and functional spaces for daily living, and the results are three stunning and unique spaces that convey their personal styles. One is a bathroom makeover in a 1920s Tudor with traditional design elements; one is a renovated bathroom in a downtown condominium; the third is a bath redo with modern touches in a historic neighborhood.
Read on to learn about their design and construction processes and maybe even glean some tips for your next renovation project.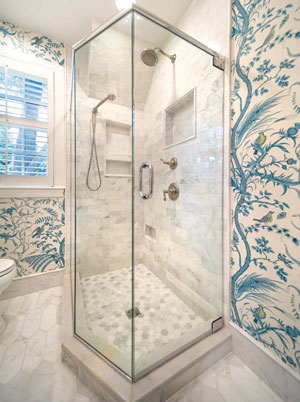 PROJECT: SOUTH ROANOKE 1920s HOME GETS NEW BATH WITH CLASSIC TWIST
Allison and Matthew Parry purchased a 1929 Tudor in the historic neighborhood of South Roanoke in 2018. It was the couple's first home, and it was love at first sight. "We could see raising a family here," says Allison. "We wanted an old house because we loved the character, but we knew we'd have to renovate."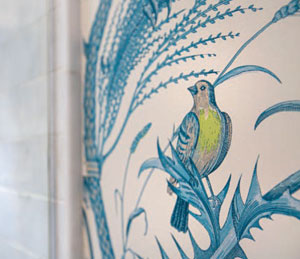 THE STAR OF THE ROOM IS THE BRUNSCHWIG AND FILS WALLPAPER, IN SHADES OF CREAM, TEAL AND GREEN. "I WANTED TO USE AS MUCH OF THE WALLPAPER AS POSSIBLE," SAYS ALLISON. "WE DID A TILE BASEBOARD AT THE BOTTOM OF THE WALL AND THEN THE WALLPAPER, EXCEPT IN THE SHOWER AREA."
After a kitchen remodel was completed, the couple turned their attention to the second-floor bathroom, which was cramped and limited by stairs that led to the attic. For the to-the-studs redo, including removing the staircase, the Parrys turned to Wyatt Silcox and Mike Kraemer of Stone River Contracting to execute their vision. "They really listened to everything Matthew and I wanted, and they were so reliable and consistent … it was a professionalism I've never seen before [with a contractor]," notes Allison.

Allison enjoys design, and chose all of the fixtures, finishes and tile, and created the cabinet layout with Stone River's custom cabinet maker. The star of the room is the Brunschwig and Fils wallpaper, in shades of cream, teal and green. "I wanted to use as much of the wallpaper as possible," says Allison. "We did a tile baseboard at the bottom of the wall and then the wallpaper, except in the shower area." In the shower, Cararra marble in a classic subway tile extends to the ceiling. The floor is also Cararra marble, in a picket fence tile, which looks like an extended hexagon shape.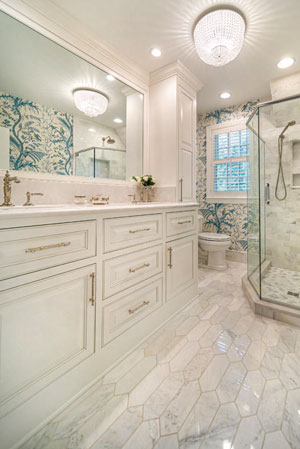 The marble finishes, along with creamy white cabinets, enlarge the space, while the wallpaper provides a jaunty hit of color and pattern, resulting in a space that feels classic but fresh. The addition of family heirloom antique silver on the double vanity hints at the era when the house was built.
"I love design and decorating, and I like to incorporate antiques," says Allison, a trained physician's assistant who says she would go back and study design if given another go-around. "But even in the bathroom, I wanted to incorporate my great-grandmother's sterling silver, so I have her powder jars, and store Q-tips in them, and a vanity dish that you can put jewelry and things in, and sterling silver bud vases."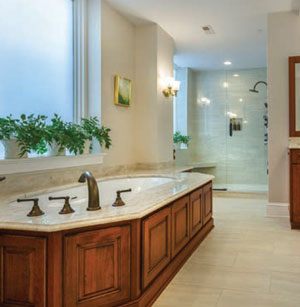 PROJECT: EMPTY NESTERS REWORK DOWNTOWN CONDO AND GAIN LUXURIOUS BATH
Patricia and Cecil Doyle aren't new to home ownership, or to renovation and construction, as Cecil Doyle has been instrumental in downtown development via his company, Doyle Properties. The Doyles have lived in a variety of homes, says Patricia. "We started in Raleigh Court, lived in Roanoke County, and renovated a historic farmhouse in Botetourt, so we thought why not downtown?" she says. "We wanted less exterior maintenance, and the ability to just up and leave to go to Claytor Lake, where we own a home."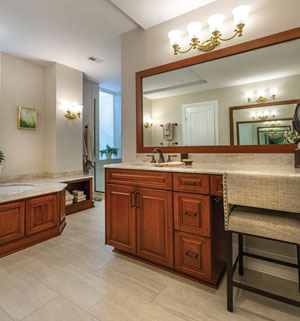 THE CREAMY MARBLE AND QUARTZ SURFACES ARE BALANCED BY WARM WOOD CABINETRY ON THE TWIN VANITIES, AND SURROUNDING THE LARGE SOAKING TUB. LARGE WINDOWS IN THE SHOWER AND ABOVE THE SOAKING TUB ARE LEFT BARE BUT TREATED WITH A PRIVACY COATING, HINTING AT THE VIEW BEYOND.
The Doyles purchased the fifth floor in the Colonial Arms building on South Jefferson Street, a 1920s historic building that was turned into condominiums in the early 2000s. The space was dated and didn't suit the Doyles' needs, so they hired architect Lora Katz to rework the entire space, and contractor Matt Prescott to execute Katz's design. In addition to the challenges of working during the COVID-19 crisis, Prescott says downtown renovation is logistically challenging, but after completing several projects there over the years, he understands and anticipates those challenges.

"There was a parking deck next to the building, and a back door that goes right to the top of the parking deck, so that was lucky … and a good way to get materials in and out," explains Prescott, who says the bathroom turned out nicely, with luxuries like a heated tile floor, and a large window in the shower for light.
Patricia and Katz worked together on selections. Patricia wanted a space that felt warm and inviting, but with a downtown feel. The creamy marble and quartz surfaces are balanced by warm wood cabinetry on the twin vanities, and surrounding the large soaking tub. Large windows in the shower and above the soaking tub are left bare but treated with a privacy coating, hinting at the view beyond.
"It feels very soothing and spacious," says Patricia. "I'm a traditional person, and it has pretty lighting and traditional touches, and we maximized the light. We were able to make it what we really wanted it to be."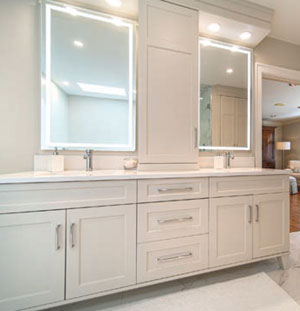 PROJECT: LEAK LEADS TO BATHROOM REHAUL IN SOUTH ROANOKE HOME
Frank and Jeanni Cotter weren't looking to take on a new project in their 1920s home, but a water leak snowballed into a plan for a new primary bath that better suited their needs. "We had water coming through the ceiling, and coming down the hallway stairs," says Jeanni, who happens to live next door to Steve Morris of Classical Design, who designs and creates custom cabinetry.
Morris took a look after the ceiling was opened and the shower was determined to be the source of the leak, due to a faulty pipe and shower seams which were showing water damage. Morris drew up a few layouts, and the Cotters were sold on a complete gut renovation, bringing in Pitman Construction to carry out the plans.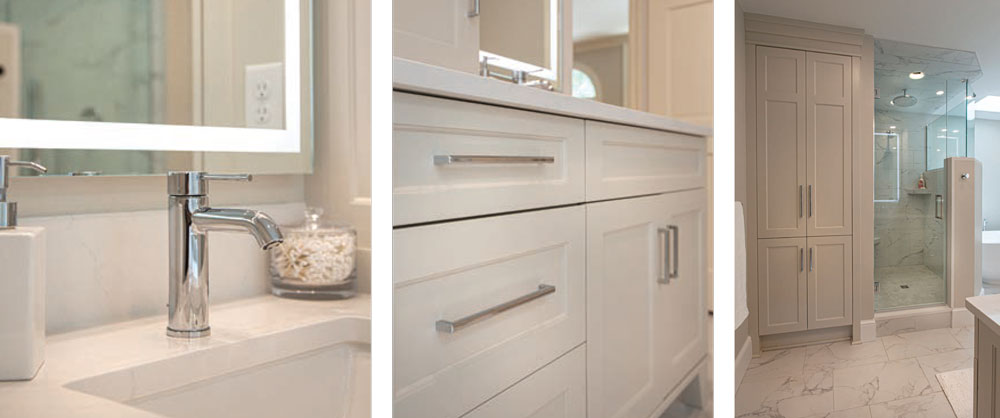 "They wanted an update that felt more modern, with a more open shower and a freestanding tub," explains Walt Derey of Pitman. "We tiled the entire shower area, including the ceiling. It's a nice look and helps with any potential water issues over the long term."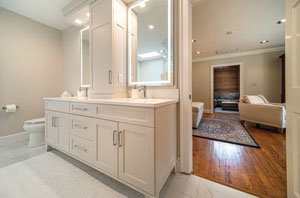 Morris designed a double vanity with a storage column in between, providing hidden storage and defining the space as "his" and "hers" for the couple. "I have so much storage in this bathroom, I actually have four empty drawers," laughs Jeanni. Lighted mirrors above the sinks give off a welcome glow, which can be controlled with a switch separate from the rest of the bathroom lighting, which is now an overhead fixture and a light in the shower—more illumination than the couple had in the original bathroom.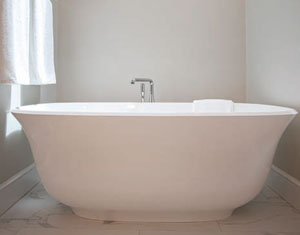 A freestanding tub is a new addition, and replaced a dated tub deck with steps. It has a sleek look, and takes up less visual space, enlarging the look of the light and bright bathroom, with its creamy cabinetry and marble-look tile. Some details of the bathroom are still in the works, including an accessory table for near the bathtub, shutters for the window, and towel racks to be hung, but details like a heated tile floor, better lighting and multiple nozzles in the shower are updates the couple relishes, noting they feel like luxuries. "It's amazing what they did in there, and we are just really enjoying it," says Jeanni. ✦
1920s Tudor, Bathrooms Renovations, Brunschwig and Fils wallpaper, downtown condominium, freestanding tub, heated tile floor, historic neighborhood, marble and quartz surfaces, sterling silver, to-the-studs redo