BATHROOM REMODELING
What's Trending?
THE PROS AND CONS OF WET ROOMS, BIDETS AND JETTED TUBS
When it comes to places in a home that are used frequently, few outrank our bathrooms. Morning routines there prepare us to tackle each day. At day's end, a get-ready-for-bed ritual is key to a good night's sleep. And multiple return visits will likely use shower or tub, sink and commode to help keep us progressing comfortably through each day's appointments and activities.
That's why bathrooms are right up there with kitchens as frequent choices for home improvement.

Photos: Courtesy Of Construction Marketing
Common remodels
"Indeed, bathrooms are our most common remodel," asserts Mike Bryant, co-owner of Construction Marketing, which is headquartered in Hardy. "Many clients have dated bathrooms with fiberglass tubs and showers, rarely-used corner 'garden' Jacuzzis, worn-out vanities with Formica countertops and floors that need an upgrade. They now are opting for decorative tile showers with frameless glass doors, vanity cabinets with innovative storage and stone countertops and tiled floors and walls that use epoxy grout to reduce discoloration from mildew or water stains."
"Tile often runs up the walls 42″ or more," Bryant says, "helping create a truly waterproof space with a spacious open look and feel. 
"Today's remodelers are seeking a spa-type experience in their own homes, a place to decompress from the stresses of their days with luxurious 'me time.'" 
Jack Hamlin of Hamlin Builders in Roanoke uses the term "wet room" to refer to the combined shower/bath areas that are commonly included in a bathroom remodel. "Sometimes the wet room design makes most efficient use of existing square footage that is freed up when a seldom-used Jacuzzi tub is eliminated," he says. "Non-skid tile floors can be sloped to provide drainage, enabling shower spaces with no raised curbs that might interfere with easy access later in life."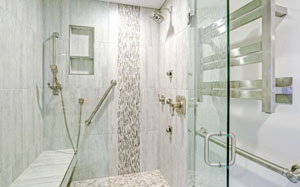 Locker-room-style shower areas with no doors became the rage a few years ago but, he cautions, many who tried that ended up missing the heat and humidity retention that enclosed showers offer. "A door-less walk-in shower may work great in a hotel suite or health club, but for everyday home life, seal off the shower with a frame-less glass door," he advises.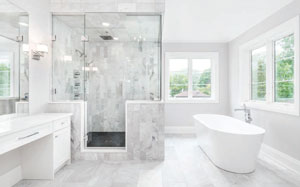 As for free-standing tubs replacing the jetted tubs, Hamlin agrees they can add stunning elegance to a bath remodel an generally take less space than the Jacuzzi they replace. But, "they can be difficult to get in and out of, especially as the owners age." Adds Bryant, "Remodelers might consider using a shower with heated bench seat, convenience niches and multiple shower heads to sub for a tub, which is likely available for guests needing to bathe children elsewhere in the home." 
With today's technology, exotic materials and upscale fixtures, a spa-like bathroom can go as luxe as the budget and available square footage will allow — with multi-function showerheads and body sprays, wireless audio, in-mirror TV, color-sequencing mood lighting and even aroma therapy. Expert tip: Always include a hand-held shower extension, not only for bathing convenience but also for easy wall wash-down. 
Luxury bath vanity countertops, like those in upgraded kitchens, typically use stone or the usually less-expensive faux stone for both eye appeal and durability. A cascading waterfall faucet, perhaps combined with a surface-mounted vessel sink, provides an eye-popping touch. Upscale master baths call for a pair of sinks, sometimes located in separate vanities. 
The loo lowdown
A remodeling project is a good chance to update the convenience and functionality of the bathroom's toilet. The first decision is whether or not to enclose it in a walled-off section of the bath space. Even a partial-height wall can provide some privacy without much impact on the apparent size/openness of the bathroom, though that approach is not as effective at isolating odors or noises. 
Another option: upgrading the toilet fixture itself to one with extra flushing oomph (Japanese-made Toto toilets are highly regarded for this) and targeted spray washing and drying capabilities. A wide range of toilet seats with built-in cleansing features are also available (visit myOMIGO.com to see add-on sprayers starting at $39 and fully-featured cleansing toilet seats at around $500). Owner testimonials indicate this upgrade borders on "life-changing."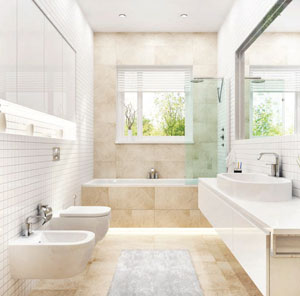 To bidet or not?
Finally, spa-style bathroom remodels with sufficient square footage nowadays often include the European-inspired bidet fixture for convenient cleansing of "down there" areas. Danielle DeBoe Harper, a spokesperson from upscale fixture manufacturer Moen, recently told Forbes: "I think we're finally wising up to what the Europeans have long been enjoying: total clean and total comfort." 
Regardless of specific arrangement and fixtures chosen, most any bathroom upgrade is a sound investment that will make a home more functional and appealing for years to come — and certainly more marketable when that need eventually materializes. ✦
Bathroom Remodeling, bidet, decorative tile showers, frameless glass doors, free-standing tub, spa-like bathroom