Area Rug Inspiration | A Whole New World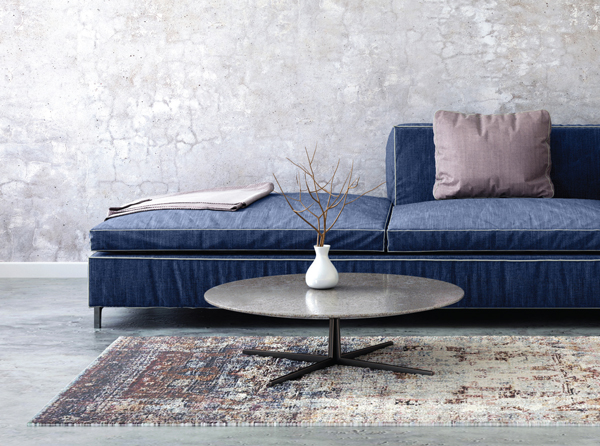 There's a reason why the magic carpet was Aladdin's vehicle of choice for soaring Princess Jasmine into "a whole new world." Colorful, intricately woven area rugs can add a sense of drama to interiors and have been doing so for thousands of years. Though old-school artisans continue to make classic designs in the ancient ways, this time-honored tradition remains relevant by embracing modern trends, materials and technology. While it's still possible to recreate an Arabian night in your home office or living room, there are endless possibilities for design and delivery. Here, learn all you need to know about the area rug that's just right for your space.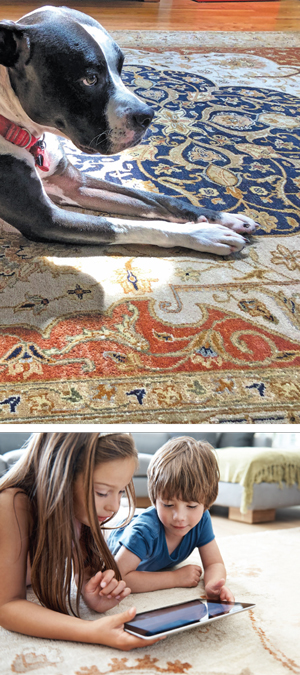 Rug basics
Area rugs are a popular solution for floors that need a little softness, warmth, color or texture. They're adaptable and easier to maintain than their wall-to-wall cousins, but before you do any shopping, it's helpful to understand the basics about their construction. Rug construction refers to how various weaves are made. Tufted rugs are created without knots, looped with a machine or hand-held tool through the rug's backing, then sheared to create a smooth surface. Hooked rugs are similar; they are also pulled through the backing but left unshorn. Flatweave rugs are woven on a loom and have no pile. Hand-knotted rugs are the most labor-intensive to create; traditional artisan weavers tie individual knots to warp yarns that form the length of the piece.
Area rugs are versatile; they can function as artwork for the floor, or an anchor for a room's furnishings and decor, and are easy to switch out for a new look. When rug shopping, check materials and cleaning instructions carefully. Natural fibers like bamboo, jute and sisal are not easily cleaned, while wool rugs bounce back beautifully after a good scrubbing. Silk rugs look and feel wonderful, but are delicate and difficult to maintain. Cotton rugs are affordable and fun, though not "forever" pieces. Area rugs can be made of leather, hide and sheepskin; "faux" hides are fabricated of acrylic and synthetic blends. Many modern rugs are made in polypropylene and microfiber. Polypropylene does not decompose easily—perhaps acceptable to environmentally-conscious buyers, and synthetics are petroleum products–not optimal for crawling babies and children.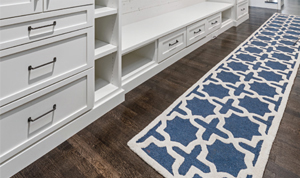 Local trends
Area rug professional report that buyers most often request a blend of old and new. "Our customers seem especially pleased with rugs that use traditional patterns in unconventional colorways, whether vibrantly vivid or nearly neutral," explains interior design consultant Mary Jean Levin at Halifax Fine Furnishings in Roanoke. "Other popular trends are borderless styles with consistently repeated design from edge to edge, and unusual shapes, like square or circular." Levin and owner Valeta Pittman agree that demand for area rugs rises alongside with desire for hardwood floors. "As increasing numbers of home buyers and renters consider hardwood floors to be a necessity, beautiful and movable area rugs have become essential," Levin points out. She finds fun in creative combos. "As a designer, I particularly enjoy offering the versatility of a traditional patterned rug mixed with very contemporary fabrics to give an eclectic and personal flavor to any room," she says.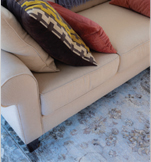 Dawn Rezai owns Persian Rugs & More in and observes a dichotomy of design trends guiding Oriental rug buyers. "First, there is the traditional Oriental rug, constructed of wool that has not been treated or washed in acid or anything that alters the original dyes," she explains. "Second is the wool Orientals, usually from Turkey or Iran, that have been whitewashed or acid-washed to make colors fade out dramatically." These are made for a more subtle or monochromatic look, while maintaining the Oriental style and durability—far superior in both to polyester or olefin look-a-likes.
"Persian rugs and their traditional designs are timeless," says Rezai, emphasizing notable types of "city" rugs, from places like Tabriz—Iran's capital—and Persian Sarouks and Kermans from Iranian provinces. Then there are the not-so-traditional Persian "village" rugs. These pieces, for those with a penchant for the unique, feature intricate geometric designs and soft colors that you don't see every day. These include Yalami, Shiraz, Karajeh, and Caucus Mountain styles. "The colors and designs are unique; they're works of art. We tell people they are "generational" pieces; we often see rugs coming through for cleaning and an occasional repair that are over a hundred years old," Rezai says.
Under the rug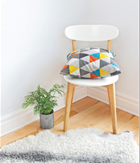 Have you ever walked into a familiar room and felt you'd arrived in a brand new place? Perhaps a rug set a new tone for that room. Did its shape, length, and width inform the perception of size? Did its colors, pattern and geometry affect the overall feeling of the space? "Rugs provide not only comfort and quiet underfoot, but also inspire visual design," Levin says. Rezai says rugs deliver more than aesthetics; they provide warmth and dampen sound in large rooms. The open floor plan of many new homes with lots of glass, she says, can generate an echoing, cavernous atmosphere if there is not enough fiber material in the room. "Wool rugs make a huge difference," she notes. ✦
"faux" hides, "village" rugs, acrylic, cotton, hide, leather, microfiber, Persian, petroleum products, polypropylene, sheepskin, silk, synthetic blends, traditional Oriental, traditional patterns