Any Excuse to BRUNCH
SPRING FLAVORS CALL FOR CELEBRATION
Brunch is a lifestyle. It's not only a promise of good food, but to great company and time to unwind. I love how it's more relaxed than a dinner party but has a vibe of celebration. Here are my top three reasons to "brunch" whenever you get the chance.
Brunch is the best of both worlds: You can have your favorite breakfast, lunch or dinner options. It's a no-rules menu.
People are happier at brunch. They got to sleep in (maybe, unless you are a parent to 6- and 8-year-olds, like myself), and they are more relaxed.

There is usually champagne. Need I say more?
Here are some easy, fun recipes to make brunch happen!
---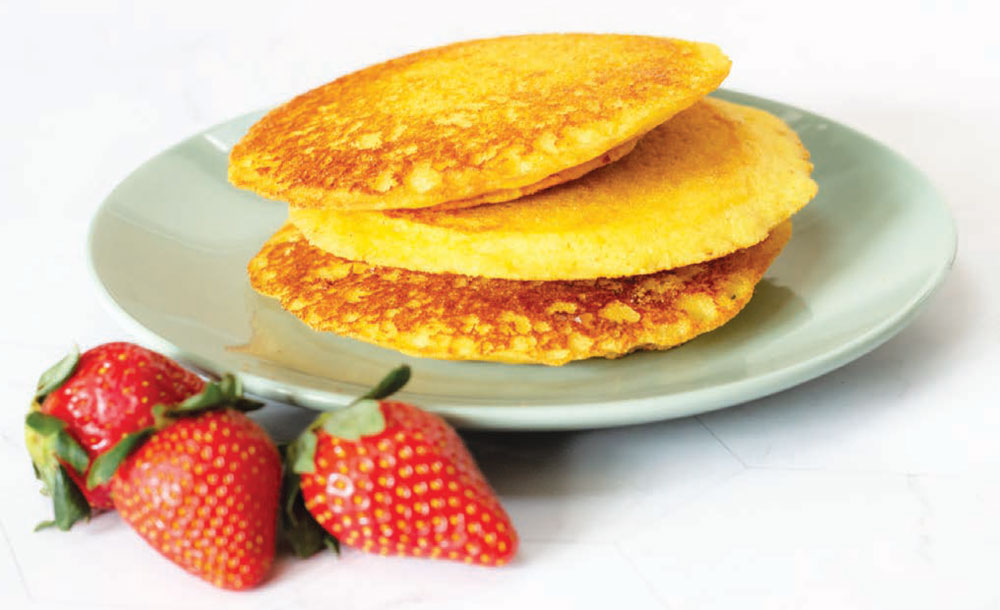 Cornmeal Cakes with Strawberry Basil Compote
Hands down my favorite brunch dish! It is beautiful with its lacy appearance and tastes divine. I especially love it with the addition of rum for those adult-only brunch times!
COMPOTE
1 pound strawberries, cleaned, trimmed and hulled
Handful of fresh basil, minced
2 tablespoons rum (optional) or ¼ cup water
2 tablespoons sugar
PANCAKES
1 ½ cups half & half
4 teaspoons cider vinegar
1 ½ cups fine cornmeal
¾ teaspoon baking soda
¼ teaspoon baking powder
¾ teaspoon kosher salt
2 large eggs
4 tablespoons butter, divided
Cook strawberries, basil, rum and sugar in a saucepan over medium heat. Stir continuously until strawberries are softened and syrupy, 15 minutes. Let compote cool.
Whisk half & half and vinegar in a small bowl and let it curdle slightly. Combine cornmeal, baking soda, baking powder and salt in a medium bowl. Whisk eggs into half & half mixture and slowly add to dry ingredients. Whisk to fully combine. Melt 2 teaspoons of butter in a large nonstick skillet over medium heat. Ladle ⅓ cup batter into skillet. Cook pancake until lacy and golden underneath. Flip and cook about 1 minute more. Repeat about eight times. To serve, spoon compote on top!
---
Spicy Strawberry Sparkle
This cocktail has a funny story: It started out being called "The Feisty Homeschooler" when my mom friends and I went to quarantine/homeschooling mode in 2020. Now that life is much changed, I have retitled it to a more fun name that captures its sparkly vibe!
5-7 oz Champagne1 tablespoon strawberry syrup (see note)Dash of cayenneMint sprigs for garnish
Add 1 tablespoon of the syrup to a glass of champagne, no stirring, and garnish with a dash of cayenne and mint!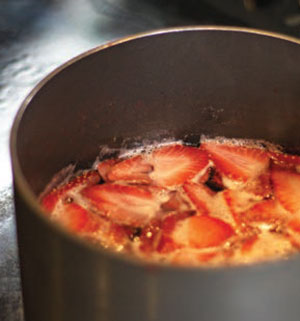 Note: Strawberry syrup (makes approximately 24 1-tablespoon servings)
6 strawberries
1 cup water
1 cup sugar¼ teaspoon vanilla extract2 sprigs of mint
Wash and core strawberries. Combine berries, water and sugar
in saucepan, and bring to a boil. Stir in vanilla, and add 2 sprigs of mint. Reduce heat to a simmer, about 15 to 20 minutes until strawberries are very soft. Strain the mixture well. Allow to cool.
---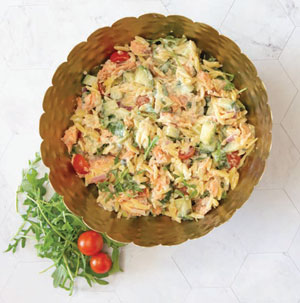 Spring Forward Salmon Orzo Salad
I love adding smoked salmon as a protein at brunch. It isn't your traditional bagel and lox, which I adore, but this is amazing, too. It hits all the notes of spicy, salty, sweet and hearty yet light.
SALAD
1 ½ cups orzo, cooked
½ cucumber, chopped
1 shallot, minced
2 tablespoons red onion, chopped
1 tablespoon capers, drained
½ cup cherry tomatoes, halved
Handful of fresh arugula
8 ounces of smoked salmon, chopped
DRESSING
½ cup sour cream
1 tablespoon Dijon mustard
2 tablespoons honey
½ teaspoon olive oil
1 tablespoon lemon juice
1 teaspoon garlic powder
⅛ teaspoon cayenne
1 tablespoon chives, minced
Salt & pepper to taste
In a large bowl, prep your salad ingredients. Set aside. In another bowl, combine the dressing ingredients and whisk vigorously. Toss everything together. Salad is best cold! ✦
brunch, Cornmeal Cakes, Salmon Orzo Salad, Spicy Strawberry Sparkle, Strawberry Basil Compote