Anne Marie Poore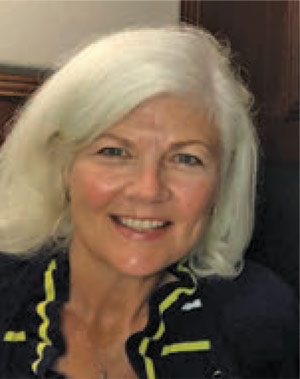 Never have I welcomed spring with more exuberance. I mean—what a winter it has been! Alas, here we are anticipating a glorious spring replete with birdsong, dogwood blossoms and sweet Virginia breezes. Intoxicating! We are so fortunate to enjoy four seasons, but my goodness; it's time to turn the page already.
The spring issue of Roanoke Valley HOME is full of everything essential to make your spring nothing short of idyllic. HOME moves outside to help you update your current pot situation—ceramic, zinc, concrete, and even plastic. Make your patio or porch pop with new planters in fresh colors for the season. April in our region means Historic Garden Week in Virginia; the much-anticipated Garden Day in the Roanoke Valley is set for Saturday, April 30th. HOME previews the homes and tour in Historic Fincastle, Virginia.
What is your interior design style? Everyone has one and it's important to determine your individual taste and preferences: Modern? Boho? Maximalist? A combination of all three, perhaps? Design matters inside and outside the home, and lighting is paramount when it comes to a first impression of your home. Explore exterior and interior lighting options whether gas or electric, and the many different fixtures and finishes available. This issue's feature home is a magnificent Prairie-style custom build where every detail is in keeping with the integrity of the Arts and Crafts architectural style.
It's that time of year when we can begin entertaining outside once again and Sarah Nicholas will have you picnicking and garden partying in the most delicious ways. Rhubarb: is it a fruit or a vegetable? Now through early June is the perfect time to enjoy this sweet but tangy perennial. What are you keeping in plain sight that is somewhat of an eyesore you'd rather keep out of sight? We all have those oddball items lurking around the perimeter of our house, like composting bins, trashcans, items that can be camouflaged and tucked away with fencing or natural foliage. Find out how best to hide what needs hidden.
Please enjoy this issue of Roanoke Valley HOME. We've worked hard to bring you a well rounded issue full of information you can use, featuring our loyal and diverse advertisers whom we thank for continuing to support our publication. As you go about living in and loving the Roanoke Valley, please continue to rely on and utilize these local professionals and retailers. It's a beautiful day in the Blue Ridge—it's easy to love where you live.
Thank you for reading,
Anne Marie Pooreannemarie@westwillowpublishing.com