Affordable Art | Transforming Ordinary into Extraordinary
Home décor shows abound with designers who are not only able to swing a hammer, but who can also whip up a painting, mural or macrame wall installation on command. For those of us less tactically talented, there are many fun and easy ways to create artwork that won't break the bank.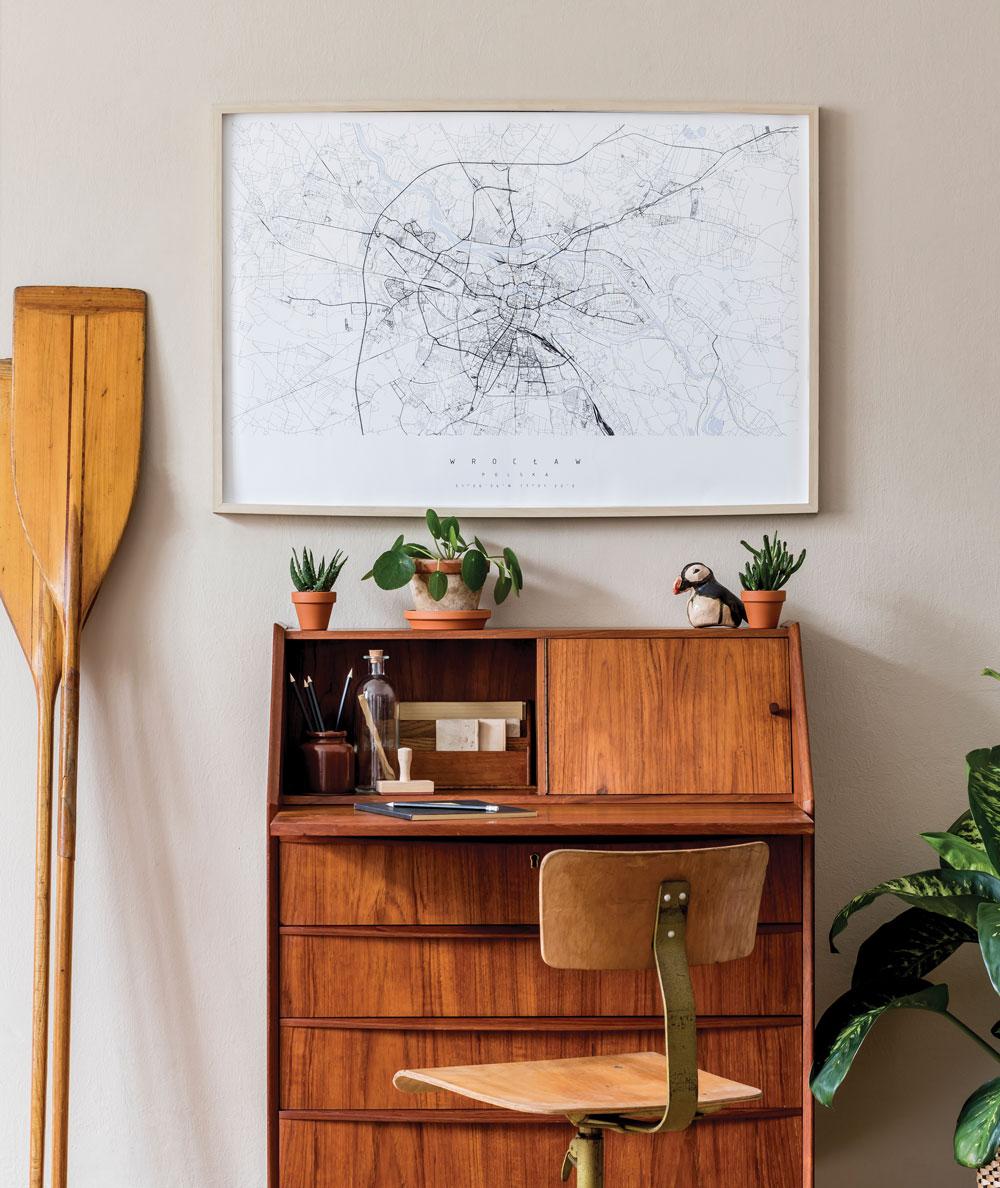 Mapping out your décor
One wonderful source for artwork is modern day maps of places that are special to you and your family. Some inexpensive places to source free maps include local visitors' centers, national and state parks and your own home archives. We're talking about all those subway, bus, and train maps you got on vacations to cities or hiking trail maps from national parks you visited – all of which you couldn't quite part with but which you have never really been able to enjoy as mementos because they're buried in a box.
You can unearth those maps and give them new life in your home. If you like the maps as-is, simply frame and hang. But you can also imbue newer maps with a faux sense of age by brewing a strong pot of black tea with a few tea bags and then soaking the maps using a large cookie sheet or large sink. Let them darken with the tea, then lay flat or hang to dry. The maps will have a crinkled, aged look to give them some character — and it helps multiple different maps look similar so they can be displayed together.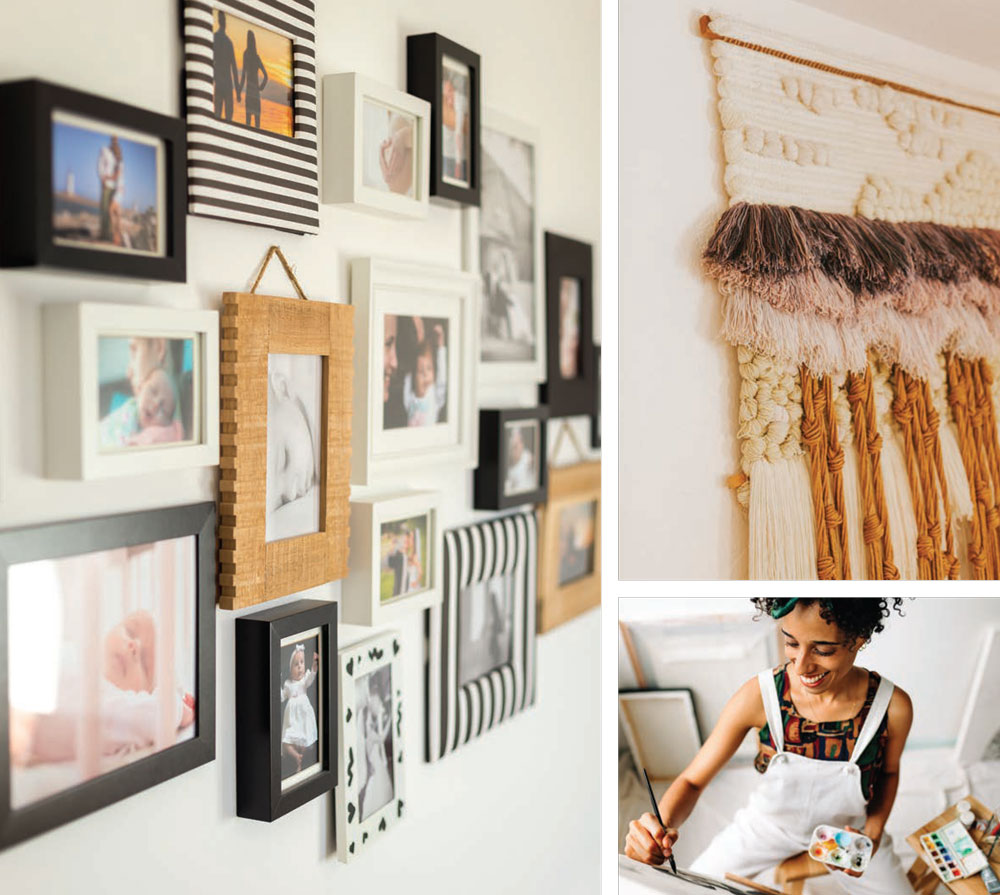 Personal photo gallery
One way to repurpose existing artwork — and create a more serene space — is to move smaller wooden photo frames off your shelves and mount them on the wall. But don't just drill 20 holes and hang them all independently. Group them together for greater impact.
You can buy small, thin metal plates and shallow screws from a hardware store and use them to connect multiple frames together to create a large wall installation. You could group completely different frames for an eclectic look, group identical frames for more uniform appeal, or try something in the middle, taking different frames and painting them a uniform or in similar colors so the texture is different but with an intentional color scheme.
To fill your frames, you can use what you have, or rotate new photos in and refresh the look. You can also have fun creating faux vintage photos. Leverage online photo sites by uploading favorite recent photos and getting them printed with cool tinting options. A series of photos can be made to look more uniform by printing them all in black and white, or adding a brown sepia tone like old-timey photos.
Truly DIY
Look to your own family — and yourself — for inspiration and art. You can enjoy a fun night out with friends doing one of the many "paint and sip" evenings and come home with your own artwork. Or take a crafting class and create your own macrame art. Raid your children's stash of school art for a few gems you want to display. You can even "commission" a special work from your kids.

Get thrifty
Local charity thrift stores are gold mines of artwork, especially if you go in with an open mind. People are always redecorating and happily donate their pre-framed and matted artwork – which can be prints of famous works from art galleries or even generic stock artwork that catches your eye. You may even find a truly vintage map, already framed. Give all these objects new life by popping them out of the frame, cleaning, and painting frames to match each other.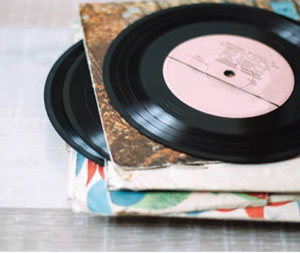 And that isn't the only source for potential décor items. You can purchase multiple mirrors in different sizes to create a beautiful accent wall – again, painting to match if needed. Old quilts can be washed and hung like tapestries or cut down and framed. Vintage plates can be mounted on walls for a charming cottage look. Old vinyl records or album covers can also be mounted on walls in a media room for some music-inspired ambience. You can even buy some vintage magazines and create your own cover collage with just a glue stick and some foam core. Ideas abound, so you can be super creative and experimental for only a few bucks while also helping a local charity.

Framing it up
For many of these ideas, you may need to invest in new frames. Professional framers charge quite a lot for custom framing, and while they often do an amazing job, if you are on a budget, consider saving that for truly heirloom items like original artwork that has been handed down or rare vintage family photos. You can buy standard frame sizes and standard matting to give your maps, photos, kids' artwork, and more a polished and professional look.
Don't be limited by your budget when it comes to artwork and décor for your home. There are so many creative ways to refresh your look, whether it's mining local places for free or inexpensive art, repurposing what you have or creating and enjoying your own original works. It can all come together to create a unique and original look that you, your family and your guests will all enjoy. ✦
affordable art, charity thrift stores, Maps, paint and sip, personal photo gallery, Quilts, repurposing, vintage plates