A Sterling Idea: Decorating with Collectibles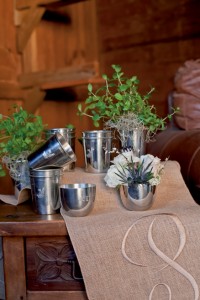 While serving as U.S. president in 1806, Thomas Jefferson found himself grappling with a dilemma. His old law professor and dear friend George Wythe had recently passed away and bequeathed him two silver cups. They were perfectly lovely but not something Jefferson would have picked out himself. They were probably a little too big, possibly a little too ornate…just not quite his style.
What to do? He could re-gift of course, but that trend wouldn't come into vogue for another 200 years or so, and besides—the cups were silver. He could turn to an old standby: safely display the cups behind glass. But Jefferson was far too practical for that; in his world at Monticello, everything had a job and cups didn't get by only on their looks.
His solution, in true Jefferson style, proved to be brilliant and well ahead of its time. He decided to recycle and repurpose the gift, commissioning silversmith John Letelier to melt down these cups (along with two other silver mugs) and create a new set of eight tumblers.
These low, round-bottomed cups, designed by Jefferson and used as part of his regular dining set, featured a gilt interior and a base that was proportionally thicker than the sides, making the cups stylish in form, comfortable to hold and extremely stable. On four of the cups, Jefferson included an engraving, "GW to TJ"—a clear show of Jefferson's appreciation for Wythe's original generosity.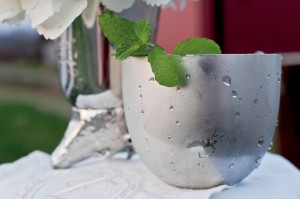 "This design is really quite a wonderful expression of the kind of neoclassical, straightforward, elegant look that Jefferson preferred," explains Susan R. Stein, Richard Gilder Senior Curator and Vice President for Museum Programs at Thomas Jefferson's Monticello. "It's consistent with his tastes and it's one more way in which he added to his reputation as a style-setter in America."
Historic Style, Modern Tradition Jefferson's creation is, of course, what we now refer to as the Jefferson cup, which has become famous not only because of the four originals still on display in the dining room at Monticello but also because of the hundreds of thousands of reproductions (available in silver or pewter) that are given as gifts and symbols of momentous achievement. The cups, almost always engraved with something personal, are presented for all manner of graduations, baby and bridal showers, and birthday, anniversary and retirement parties, and have become a favored style of trophy for everything from wine competitions to poetry recitals.
They are so popular, in fact, that it's almost become a rule that "you can't graduate or get married in Virginia without getting a Jefferson cup as a gift," according to Stein.
This associated spirit of generosity is completely in keeping with the history of the original cups.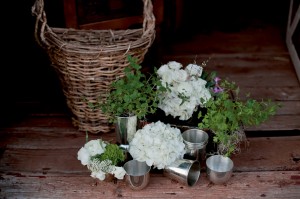 Pairing Form and Function So what should today's Jefferson cup owners do with their own collections? Be Jeffersonian and put those treasures to work! The possibilities are limited only by the imagination.
For starters, Jefferson cups can, of course, be used to serve cold beverages. Or, they work well as containers for dips and other snacks at your next party. As a bonus, Jefferson cups, with their personal inscriptions and commemorative associations, can also be counted on to spark memories and conversation topics.
In fact, that unique blend of form, function and history also makes the Jefferson cup an exceptional and adaptable design piece that can add just the right touch of elegance, practicality and personal remembrance to any occasion or room.
For example, Jefferson cups serve as the perfect-sized vase for displaying fresh-cut peonies, winter pansies, miniature carnations, dwarf lavenders, old-fashioned English roses, and other eye-catching blossoms in any room that could benefit from small splashes of color and refinement.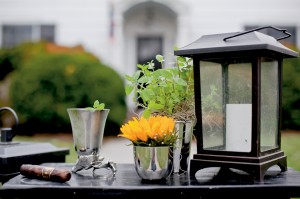 Another house-garden idea: employ your Jefferson cups as sweet-sized planters for succulents, mosses and small creeping plants that require very little water (though be sure to use proper potting soil and a spare watering schedule to guard against root rot since Jefferson cups don't have drainage holes). If possible, cover the soil surrounding your plant with white pebbles—a step that allows the green-and-silver color combo to really pop—and then set it on a sun-soaked windowsill.
You can also add a bit of pizzazz to your bookshelves by displaying your collection of Jefferson cups in stair-step style, placing them on ascending or unstructured stacks of books and periodicals. Or group them with other pewter and silver pieces to create a sparkling focal point to a table, mantel or shelf. For instance, you can mix and match silver and pewter Jefferson cups, julep cups, goblets and teapots, positioning them on an antique platter, creating visual interest with their variety of heights, colors and styles. Another possibility: create a visual tribute to family achievement by displaying a collection of Jefferson cups, trophies and related photos from the events during which these memories were made.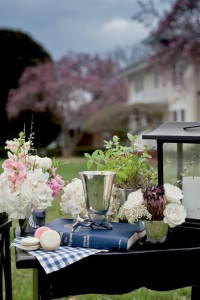 Jefferson cups also make refined catchalls for everyday living. Owners often employ them to organize buttons, jewelry, paper clips, loose change and pens. You can even count on them to dress up a bathroom when they hold such ordinary objects as makeup brushes, cotton balls, Q-tips and other personal necessities.
Think outside of the box like Jefferson did and be creative with your cups. "They are meant to be talked about and to be used ceremonially, reverentially and also casually," Stein says. "They're very versatile, which is one reason that they're so popular."
The other reason they're so highly regarded, of course, is their unique link with the man of Monticello. While most Americans think of Jefferson in historical, lofty terms, owners of the Jefferson cup can hold in their hand—or store their earrings in—a very tangible reminder of Jefferson's creativity, as well as their own unique ties to Virginia. And that's a gift that should forever be kept, cherished, used and enjoyed.
Meet the Jefferson Cup's Famous Cousin— the Julep Cup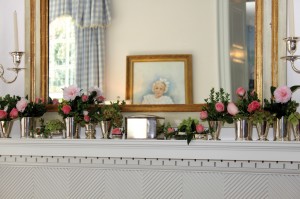 The taller, more slender julep cup is also an object worthy of your attention when considering its usefulness as a decorative object in your home. Far too precious to just sit idle on the sideboard, julep cups can be used in all the same ways in your home décor as Jefferson cups. In fact, the stately julep cup's height is an essential ingredient for your displays. Mixing Jefferson cups and julep cups together in the same arrangement makes for a truly gracious Southern charm. Odd-numbered groups of cups, whether on your mantel, bookcase or dining room table, add a sophisticated sparkle to any room—especially when a few non-shiny items like antique leather-bound books or accessories made of natural horn or tortoise shell are added to the collection, giving a warm contrast in colors and textures to keep the silvery cups from looking too cool.
Cheers, Y'all! Despite what those Kentucky hard boots might argue, probably the most famous mint julep recipe in antebellum America was served to influential judges, legislators and planters at the Old White Tavern in what was then White Sulphur Springs, Virginia—better known today as the Greenbrier Hotel and Resort. The earliest recipe featured the "purest" French brandy. However, bourbon later proved to be an inexpensive, widely available substitute during the Civil War and eventually became the mint julep's staple spirit. The mint julep is a "sippin' drink" and is best served in a silver or pewter julep cup that should be held only by the top or bottom edges, so as not to interrupt the critical frosting process that occurs on the outside of the cup.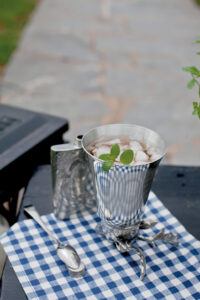 The Greenbrier's Famous Mint Julep
12-15 fresh, large mint leaves
1 oz. simple syrup
2 oz. Maker's Mark bourbon
Crushed ice
Place mint leaves and simple syrup in the bottom of a small mint
julep cup and use a specialized muddling tool (though a wooden spoon will also work) to gently crush and break open the mint
leaves just enough to release their concentrated oils.
Fill the cup with crushed ice.
Add bourbon.
Spin with bar spoon 1-2 times
Garnish with large sprigs of mint dusted with powdered sugar.
The mint julep is an ice-cold icon of warm southern hospitality—a simple, four-ingredient concoction that, according to one long-since-passed southern gentleman, acts as "a vehicle in which noble minds can travel together upon the flower-strewn paths of a happy and congenial thought."

Decorate with Silver, Jefferson Cup, Mint Julep, Thomas Jefferson