A NATURAL APPROACH TO HOLIDAY DECORATING
Photos: James River Media
LOCAL DESIGNERS SHARE TIPS, TRICKS & LATEST TRENDS
It's the most magical time of the year, as we prepare for the holiday season and all the festivities that come along with it. While there is no right or wrong way to deck the halls and express your style, below are some tips from design experts in our area. Plus, discover the latest trends, which, take us back to the basics!

Photos: James River Media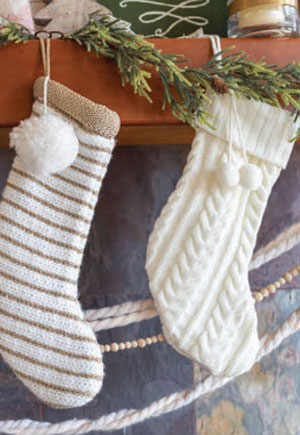 Trending Now
Designers in our area say the trends for this holiday season will heavily feature organic and natural materials that focus on bringing the outside in. Colors like cream, beige, browns and gray will remain in the spotlight. Materials such as yarn, burlap, wood and paper will be prevalent.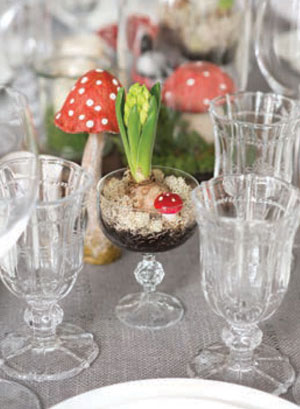 What's great about natural materials and neutral colors is you can somehow incorporate the trend into whatever holiday décor you may already have and love. A natural and neutral base gives way to countless options. Add pops of bright colors for a fun look, or golds, silvers and glitter for a glam effect. The neutral category also blends well with other popular styles such as Scandinavian and farmhouse.
Earthy tones and woodland vibes remain one of the top trends for this season. And, believe it or not, mushrooms seem to have jumped ship from autumn to winter and are everywhere! Think rustic, whimsical and magical. We're talking fun and cute fungi in psychedelic colors, glittered, pink and in every material from velvet to wood to glass.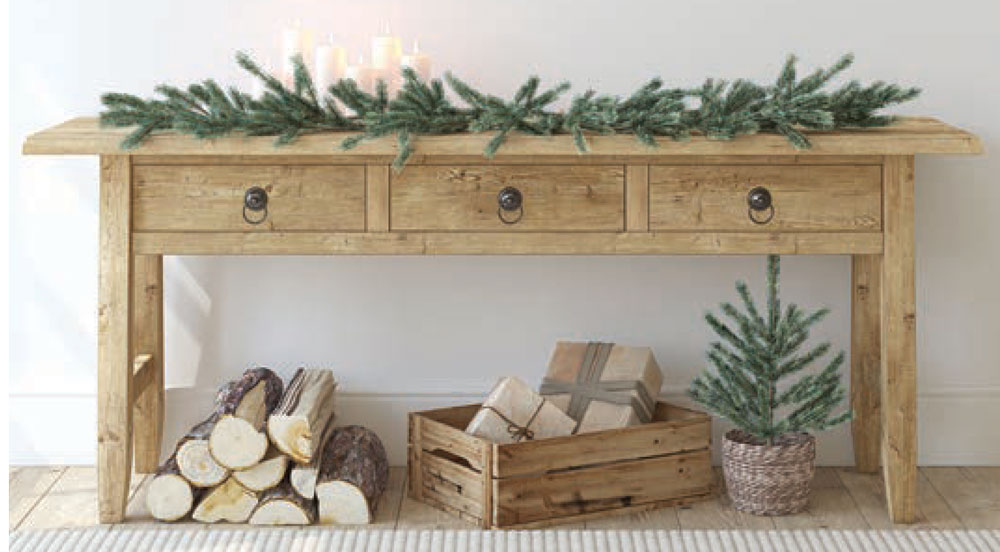 Minimal effort, maximum effect
For some, decorating for the holidays can be overwhelming. If you find yourself in this position with limited time, it's important to remember that you don't have to go over the top. Lisa Sloboda, interior designer at TXTUR in Downtown Roanoke, believes less is more when it comes to décor.
"I love fresh greenery, clean lines and wood," Sloboda says. "Our style here [at TXTUR] is mid-century modern and very minimalist. Simple can really be beautiful."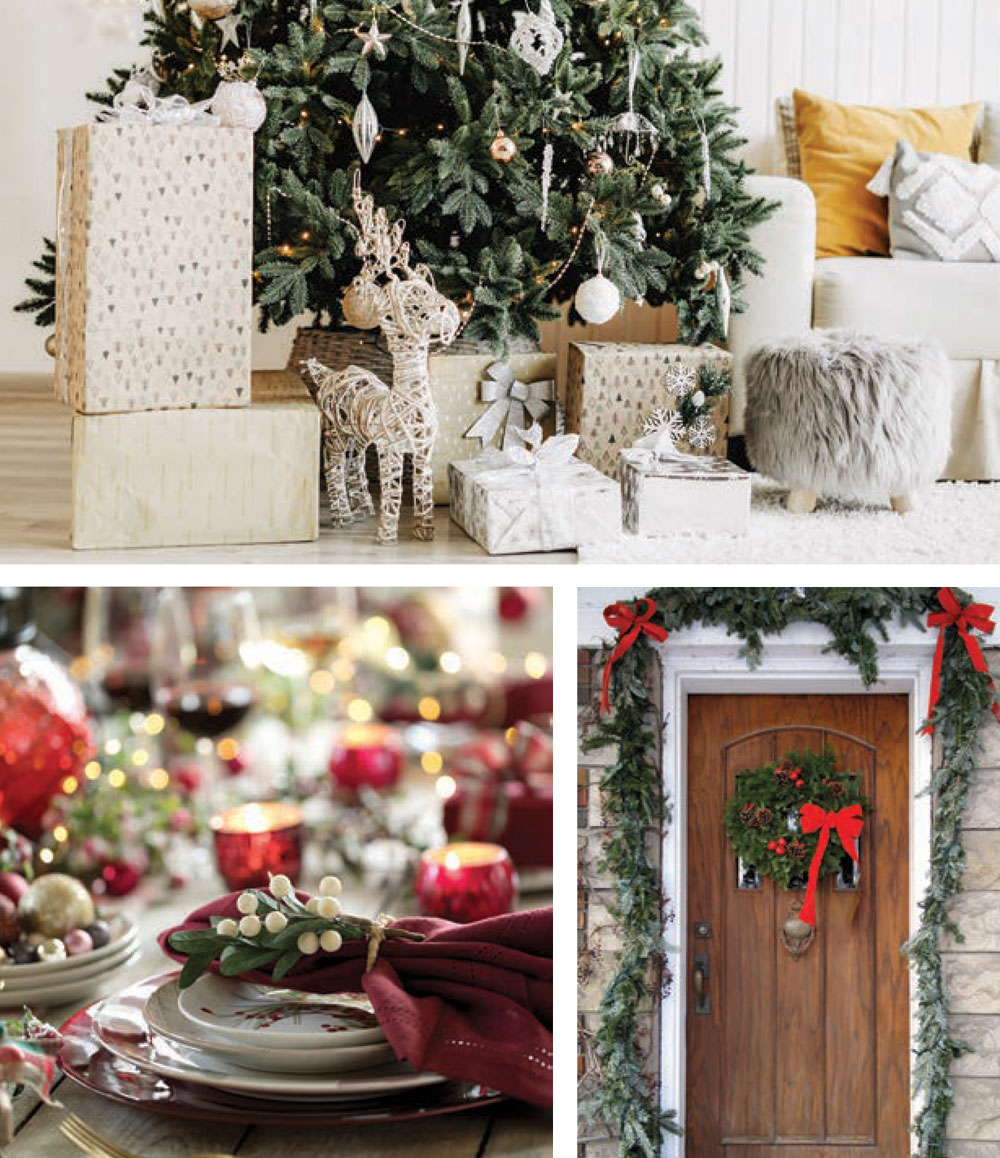 The tree

. The obvious piece of décor that will make

 

the most impact is the tree. If you're looking to just

 

do a few things here and there, you can put much

 

more time and focus into decorating your tree,

 

making it more of a work of art. Start with stringing

 

lights, then layer in some textural elements with

 

picks or stems. Next, add your garland or ribbon, if

 

you choose. Finally, finish with ornaments. Ditch the

 

traditional tree skirt and add a natural, woven basket

 

or tree collar instead. These ways of adding various

 

depths, textures and colors are sure to create a focal

 

point for your room.

The table

.

Another important space to be sure

 

to decorate is the kitchen or dining room table.

 

The holidays are all about loved ones gathering, so

 

it's likely when your table is in the most use. Make

 

an impact here with a festive centerpiece or

 

table setting.

The entry

.

The outside of your home is also worth

 

paying attention to, as it's what people see first. This doesn't mean you have to hang lights from the roof

 

or around every tree. Focus on the entryway and invest in beautiful garland and a wreath to frame out

 

the front of your home. Add a festive doormat and

your home will be instantly inviting.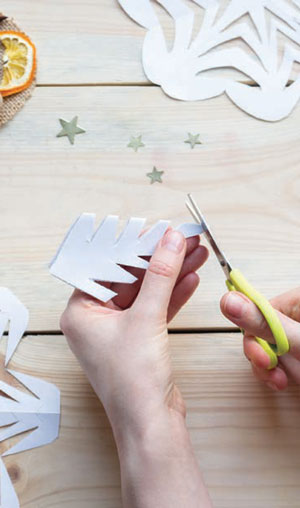 On a budget
If you're on a budget, there are countless DIY projects on social media platforms. Paper decorations are the ultimate home crafters dream, as well as one of the hottest trends. Think paper snowflakes and chains and garland made out of book pages, newspaper or brown Kraft paper bags. A quick search on Pinterest or TikTok will provide an abundance of ideas. Get the whole family involved and embrace the homemade feel.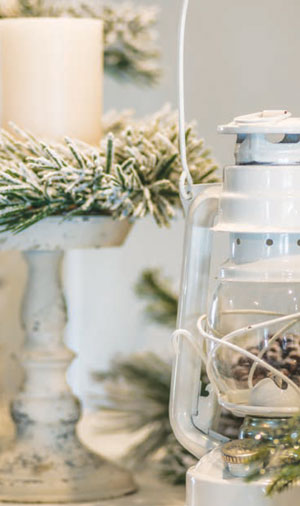 Using fresh garland is the more affordable – and aromatic – way to go; just remember you can't put it up too early, as it won't last forever. Natural foliage is also, once again, a top trend for this season. In addition to greenery, be prepared to see plenty of pampas grass and dried fruits and flowers in festive displays. Click here to see our article on using greenery.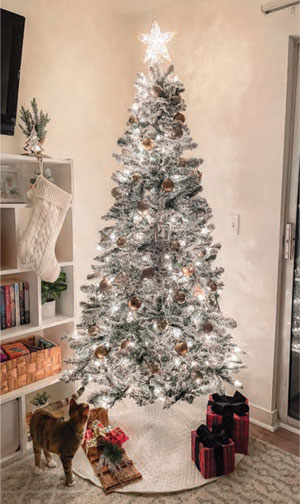 When purchasing new décor, get the most bang for your buck by drifting toward seasonal versus holiday items. Trees, snowflakes and wood tones give a nod to the whole season and will make your house feel cozy and festive all winter long.
The best time to buy is after the holidays when most stores have big clearance sales. Thrifting can also be fun, so be sure to check out estate sales in the area.
Tight on space
If space is an issue, pencil trees are perfect. A flocked tree is also a smart option, as it doesn't require as much decorating and minimizes storage space needs. Garland is a great way to decorate a smaller space as it packs a punch with minimal effort. It doesn't take up a lot of surface area and can be placed on any type of existing handrail, mantle or table.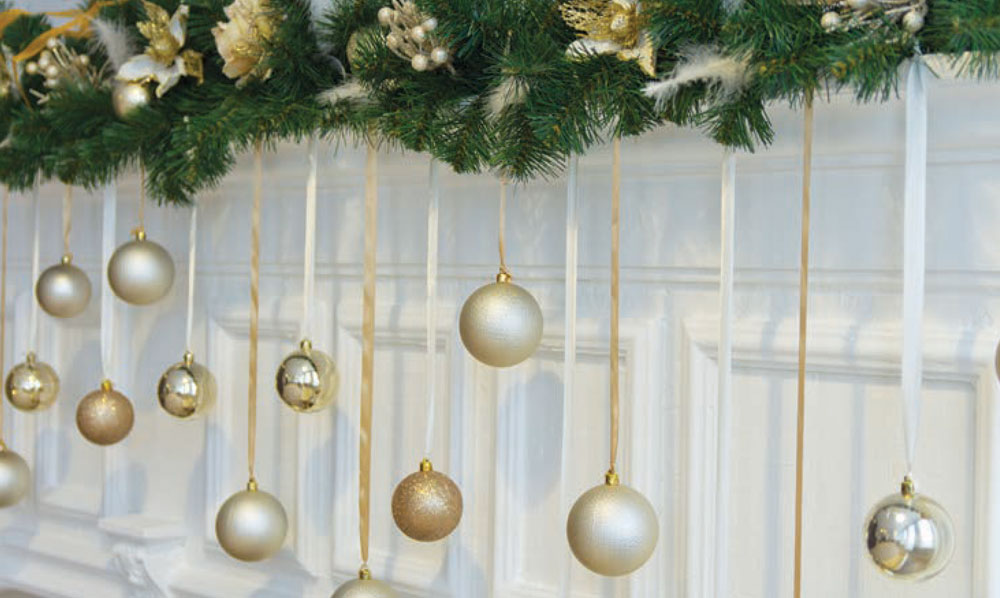 Take advantage of vertical space. Hang ornaments and pendants from the ceiling above a table and add twinkle lights for some dimension. Lean into the neutral trend and keep things bright, as lighter colors help a room to feel more spacious.
Sloboda believes that any space, even the smallest ones, can be made beautiful for the holidays.
"Do not feel limited with a small space," she says. "It can shine just as much as a mansion. Set a small tree on a table, wrap some pretty greenery and twinkle lights around a chandelier and add some candles. It's all about keeping things to scale and layering simple but beautiful elements. It doesn't take much to create that warm ambiance to set yourself, and others around you, at peace." ✦
earthy tones, front door, holiday décor, holiday season, lights, natural materials, organic textiles, pencil trees, table, tree, woodland vibes