A Mid-Century Modern Home | with Touches of Glamour
Photography by Kathryn Feldmann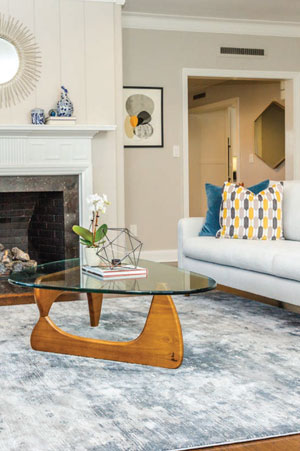 Built in 1955, a storybook stone home with picturesque front window boxes sits nestled into a Roanoke hillside. Its iconic style gives a nod to Hollywood glamour with plenty of mid-century modern details — clean lines, organic forms, and an invitation to bring the outdoors in. A spacious open floorplan and numerous windows fill the home with light, while the front porch and decks offer views of the surrounding mountains. With abundant room for spreading out, this home provides ideal places for the Lynch family of four to live and entertain.
When Jennifer and Sean Lynch toured this house, it checked all the important items on their list. After two and a half years of looking, they knew exactly what features they wanted in a home, and this one appealed to their love of clean, modern design. The previous owners renovated the baths, updated the kitchen, and refinished the gorgeous oak floors so it was move-in ready. The neighborhood is quiet and private, which was an important component. A few projects outside needed their attention, but Sean says, they "like doing the things that need doing."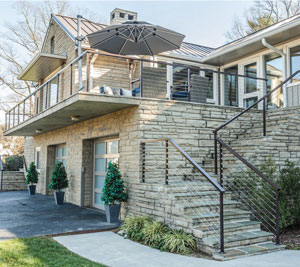 Outdoors appeal
First up, a new roof. Sean always thought the house needed a metal standing seam roof. Replacing the old terracotta shingle roof that looked like cedar with dark metal panels gave the home's Tennessee Crab Orchard Stone exterior a fresh modern vibe. Commonwealth Roofing installed the roof in a brown hue that the Lynches selected. They were rewarded with instant curb appeal.

The stone walls surround a flat backyard with a long grassy area where children can run and play. There is a nook for their son's garden; he grows tomatoes, cucumbers, squash and jalapeños. The kitchen doors open to a new patio made of Pennsylvania Bluestone. Jennifer and Sean designed this large terrace to accommodate a dining table and chairs as well as a seating area. A wood pergola with retractable awning shades the expansive u-shaped ratan sofa and chairs.

Nichols Welding installed metal railings with horizontal steel cables for a modern look on the steps and decks that surround the home. These cable railings replace 1950s square iron railings that looked dated and blocked the views. The deck flooring is concrete, which the Lynches adore for its low maintenance and sleek gray look. The new railings don't obscure the mountain views when the family sits around the fire pit in the evenings. Now, the side deck is perfect for watching the sun go down over the valley.
Sean and Jennifer hired Hall's Garage Doors to remove the old wooden garage doors and replace them with modern ones made entirely of square glass panels framed in powdered aluminum. The smoked glass panels allow light in the garage while maintaining privacy.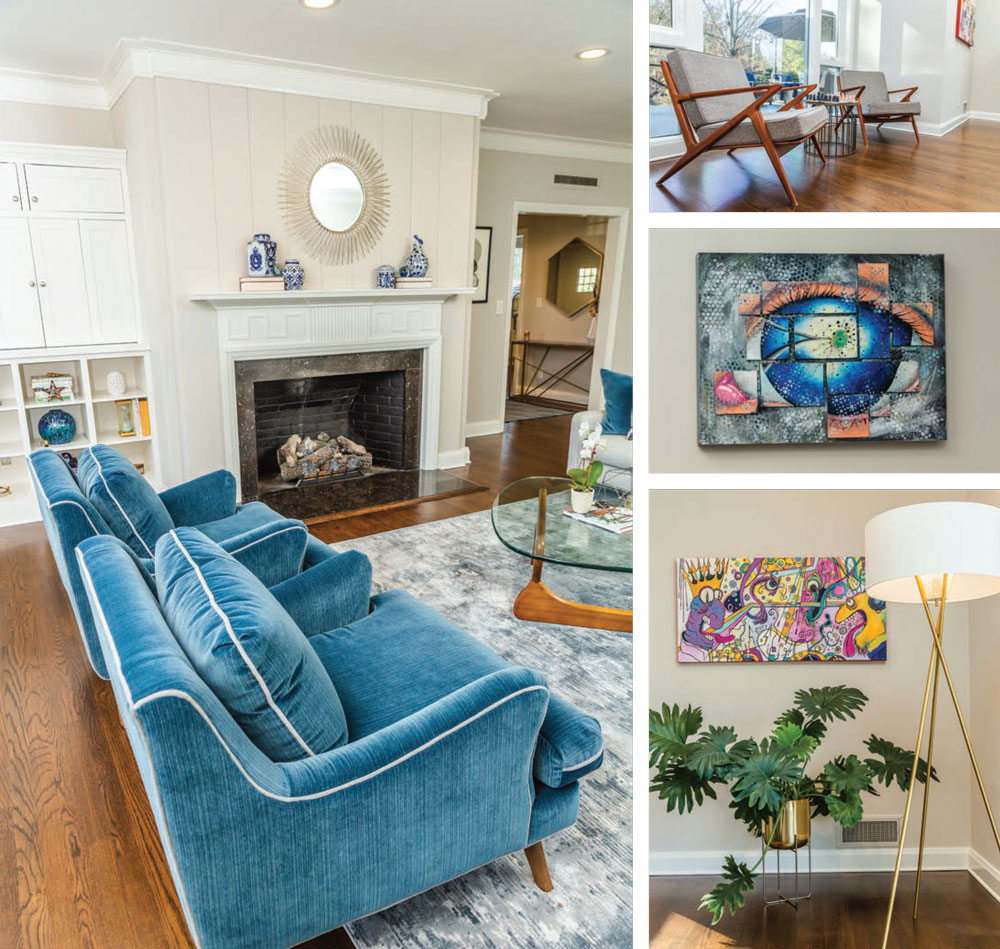 A Touch of blue
Inside the home, a bit of blue is woven into each room's decor. Used as a statement color, blue adds a splash of brightness to the soft taupes, whites and grays used throughout the home. One of their favorite art works is in the front hall. It is a contemporary painting of a blue eye entitled, "Iris Storm" by Patricia Capral.
Jennifer and Sean knew they wanted furniture and accessories with a modern vibe to accentuate this contemporary home. Jennifer found Abby Hostetler of Enhance Abby Hostetler Design to assist them with some of their design decisions.
The living room exudes mid-century modern vibes from its sunburst mirror over the fireplace to the sleek, low furnishings in tones of blue and gray with pops of yellow. The rug displays a mix of blues that offsets the Scandinavian-style wood and glass coffee table. A bold, colorful piece of art by Kelly Smith-Price adds a touch of whimsey.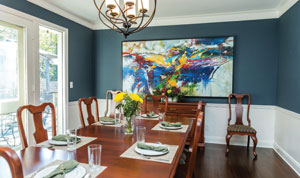 The dining room is painted dark blue above the white chair rail. The wall above the pristine wood buffet hosts a large Italian painting that infuses bold greens, blues and yellows with a splash of red. These powerful colors contrast beautifully with the wood furnishings. The brass chandelier — a one-of-a-kind sculpture — hangs elegantly above the table.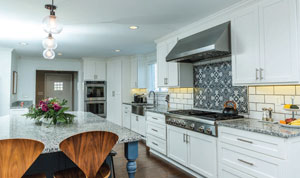 White shaker cabinets line the kitchen walls. A large, vibrant blue island with carved legs makes a statement in the room's center. The floral tile patterned backsplash behind the stove adds an artistic element to stone countertops and serene décor.
The kitchen opens to a family room with a sleek, dark gray sofa and two comfortable chairs with soft gray ottomans; a spot to prop up one's feet and watch television. There is plenty of room on the pristine white and gray rug for a family game night.

Warm wood features
Gleaming wood floors run throughout the living and dining rooms then down the long hallway that leads to the bedrooms. The exterior hall wall features an array of large windows over a staircase to the lower level. A half wall topped with custom mid-century geometric trim partially encloses the staircase.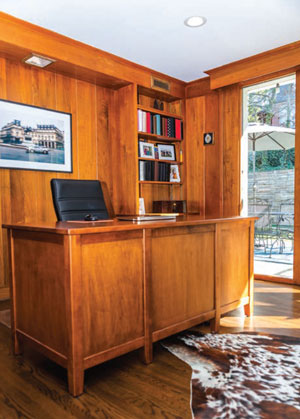 Tucked behind the dining room, the office is paneled in wood with built-in bookcases and a matching wood desk. A gas fireplace with green marble surround and hearth is encased in a simple wood mantle that complements the paneling. In front of the fireplace, a cow skin rug in shades of browns with splashes of white centers the room. Behind the desk, a giclée print of a photograph taken in Paris, features a gray Porsche in a cityscape. Glass doors open to the rear courtyard.
For the children
Each of the children's rooms has its own private bath tiled in white with accent tiles that create diminutive pieces of art in the shower stalls or flooring. The white fixtures and vanities fabricate a clean, fresh feeling while the light fixtures add a bit of bling, especially the jeweled one in their daughter's bath.

Both their son and their daughter keep geckos for pets. In each of their bedrooms, a small terrarium sits in the center of the dresser. Geckos are clean, unassuming pets that mind themselves most of the time. They tend to be shy and quiet, only requiring a little food and water periodically.
Artful spaces
The main bedroom and bath sit at the end of the hall and include a large walk-in closet and full bath. The big, white ceramic soaker tub is as inviting as the spacious glass and tile shower. Over the soaker tub hangs a framed watercolor of a Venice canal, a special remembrance of their trip to Italy. Two sinks with pewter hardware sit atop a powder blue vanity that offers plenty of drawers and cabinet space for storage. Two matching powder blue mirrors with pewter light fixtures hang above the large vanity. Pewter drawer and door handles complement the faucets for a uniform design.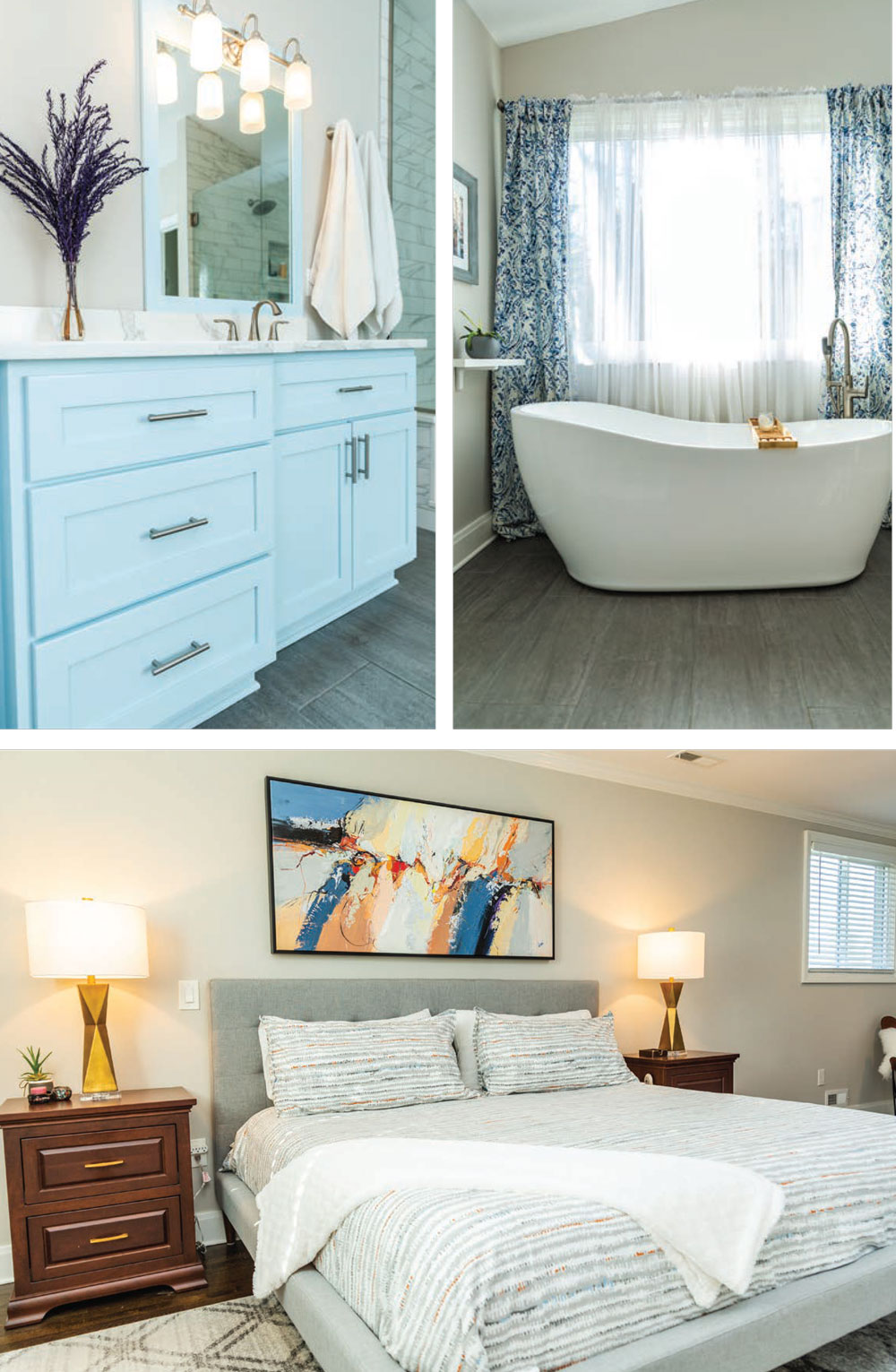 Above the bed, an abstract painting from Croatia in bold oranges and reds counterplays the flaxen bedding. Matching bedside tables are topped with a pair of gold symmetrical lamps with oval shades. In the corner, a leather and metal sling chair and ottoman made in Argentina offer the perfect spot for a quiet read. A white sheepskin throw adds warmth to the cool brown leather.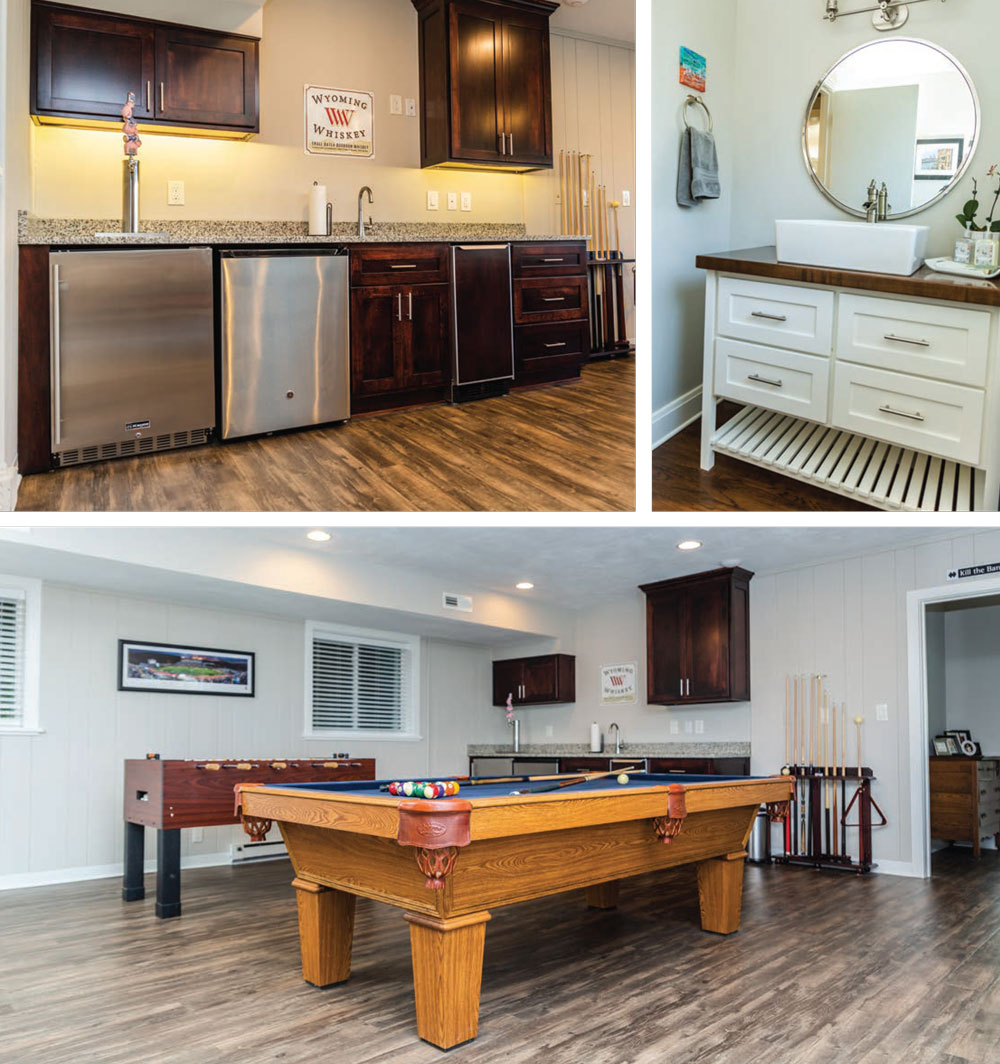 Family fun
Downstairs, the English basement offers family friendly activities: a pool table, foosball table and big TV. Sean's favorite feature of their home is "having room for the pool table." With a mini kitchen and game tables, there is plenty of space to hang out with friends.
The Lynches are active: "We love to ski, mountain bike and hike, so the lower level's ample storage rooms for our equipment fits our lifestyle," says Sean." It also provides a private bedroom and bath that is ideal for guests.
Jennifer and Sean Lynch have an eye for detail. They've chosen art and furniture that reflects the clean lines of this mid-century modern home adding touches of glamour and blue to personalize it. The exterior updates they made were meticulously researched and fabricated to enhance the home's serene, modern style. This stylish family home blends the best of color, architecture and fun! ✦
ceramic soaker tub, English basement, gas fireplace, green marble, metal railings, metal standing seam roof, mid-century modern, open floorplan, stone walls, storybook stone home, sunburst mirror, white shaker cabinets, wood pergola