A Breath of Fresh Air
If you're like me, by the time the calendar rolls around to March, you're ready for an excursion. Our great Commonwealth of Virginia can have relatively mild weather, but snow and ice can persist into early spring – and disrupt flights nationwide – which makes planning travel feel dicey. No one wants to pull the plug on an anticipated weekend jaunt because of a scary weather forecast.
There's a real benefit, then, in booking an excursion to a nearby locale. The time spent in transit is minimal, which makes it easier to dodge a storm (or wait it out). Plus, even if your destination is no more than an hour away, you'll be in a completely different place. Fresh views and unexpected opportunities to explore are spring tonics as much as seeing the first crocus pop up from the ground.
Consider these Virginia options, listed in alphabetical order: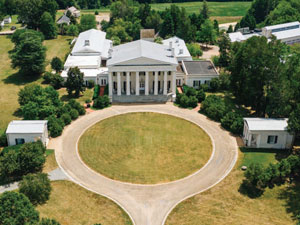 Berry Hill Resort, South Boston
berryhillresort.com
If your idea of relaxation includes a step back in time, this former antebellum plantation is for you. Located three miles outside South Boston, the resort literally takes guests to another era via a tree-lined half-mile drive leading to a Greek Revival mansion. Inside, guests can unwind in gathering spaces decorated in old Southern style and in bedrooms with handcrafted Italian beds. For more active relaxation, try a lawn game, basketball on the regulation-sized half court, tennis or poolside yoga. Photo Courtesy of Berry Hill Resort
Keswick Hall, Keswick
keswick.com
A full-scale renovation, concluded in fall 2021, has transformed the 1912 property with refreshed spaces and new buildings designed to connect guests with nature. Golfers will be challenged by the Pete Dye-crafted Full Cry golf course, which opened in 2015. If you like to hit a larger ball, the enhanced tennis facility has European red clay surfaces and state-of-the-art lighting for year-round play, day or night. For a quiet retreat, settle in under a weighted blanket in the new spa's Serenity Room.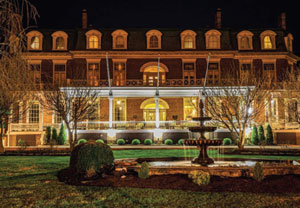 Martha Washington Inn & Spa, Abingdon
themartha.com
Located in the heart of Abingdon, The Martha is steps away from the historic Barter Theatre, the longest-running professional Equity theater in the country. Take in a show or settle into the inn's Round-Table Library for an American classic. The hotel also has a slew of family-friendly activities, including free bikes for rides in town, an 18-hole putt-putt course, trampoline, tennis and pickleball. Or relax in the main parlor, original to the 1832 house, and then withdraw to one of the hotel's signature suites for a private retreat. Photo Courtesy of Martha Washington Inn & Spa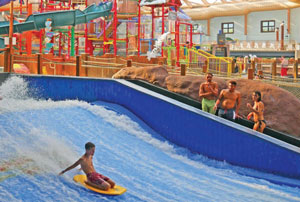 Massanutten Resort, Massanutten
massresort.com
Sure, you can ski at Massanutten, but if it's a change of season you're looking for, break out the swimsuits and head straight to the resort's award-winning indoor water park. A range of water adventures await, all in a toasty 84-degree enclosure. Once you dry off, try the resort's new Perfect Break facility, with simulated golf suites and e-sports gaming options. And bring your pandemic puppy along! The resort now welcomes dogs up to70 pounds in designated rooms and locations. Photo Courtesy of Massanutten Resort
Mountain Lake Lodge, Pembroke
mtnlakelodge.com
Known to some as one of the locations where the film Dirty Dancing was made, Mountain Lake Lodge specializes in outdoor adventures. Enjoy craft beer and snacks at the new Salt Pond Pub, which overlooks a fire pit and outdoor lawn games. Bundle up for the hike to Bald Knob and panoramic views, or try your hand at clay shooting, with expert guidance from a certified instructor. Work up an appetite for fine dining at Harvest, where the seasonal menu features locally sourced produce and meats.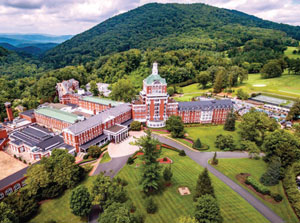 The Omni Homestead, Hot Springs
omnihotels.com/hotels/homestead-virginia
The Homestead has been welcoming guests since 1766, learning from indigenous people the benefits of relaxing in the area's mineral springs. Today, you can enjoy some of that water in a special pool, open year-round. Before you take the plunge, try a round of golf on the Old Course, open 365 days a year, weather permitting, or explore the property. If marked woods trails seem slippery, just stick to the paved roads. And book early: The resort is undergoing a renovation, so capacity is limited. Photo Courtesy of The Omni Homestead Resort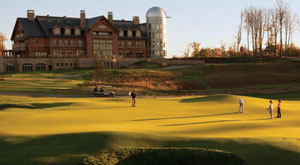 Primland Resort, Meadows of Dan
aubergeresorts.com/primland
Rated the best resort in the Southeast by Conde Nast Traveler, Primland sits on 12,000 acres full of options. Trails for mountain biking and hiking yield show-stopping sights. For another kind of view, visit the on-property observatory, where the elevation and absence of ambient light take star-gazing to new heights. Take your stay to another level — literally — by booking one of Primland's three tree houses, balanced high above the Dan River Gorge. Photo Courtesy of Primland Resort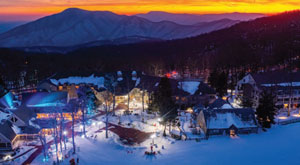 Wintergreen Resort, Nellysford
wintergreenresort.com
Wintergreen might have "winter" in its name, but it's also a great place in the springtime. Explore 30 miles of hiking trails with views that don't exist when trees are fully in leaf. Bring your camera to capture all of the spring wildflowers and mountain vistas! The Rees Jones 27-hole Stoney Creek golf course, in the valley, is playable early, or wait a few weeks to try Devils Knob, the highest course east of the Mississippi. Photo Courtesy of Wintergreen Resort
Spring is in the air. Head out and explore Virginia! ✦
Berry Hill Resort, Keswick Hall, Martha Washington Inn & Spa, Massanutten Resort, Mountain Lake Lodge, Primland Resort, The Omni Homestead, Wintergreen Resort