Light and Bright: Shedding Light on Lampshades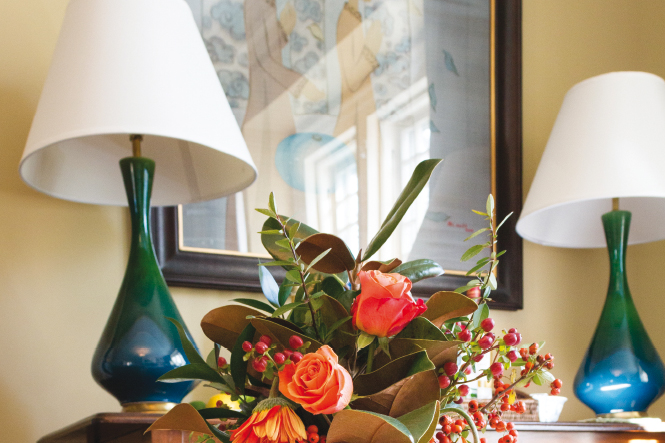 You spot it across a crowded discount-store aisle: the lamp you've been looking for, the one that will complete your room, at half the designer-lookalike's price. Back at home, you place it just so, flip the switch, and are thoroughly disappointed by the sickly light that emits from its cheap lampshade. Or perhaps you've inherited a ginger jar lamp that you've always admired from a doting aunt. But once you get it home, it looks dated in your house and its shade seems dull.
In cases like these, there are endless possibilities when it comes to buying a replacement lampshade that freshens the look and fits your personal style. Knowledgeable professionals at lamp stores, or local designers can help. And with a few basic design and functionality rules, the perfect look for any room is simple for any homeowner to achieve.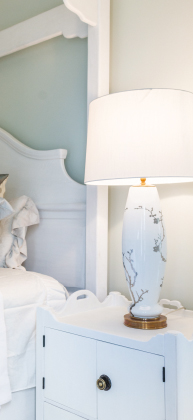 Shape
While there's always some wiggle room in choosing a shade for a lamp, there are a few basics to keep in mind. The shape of the lamp (square, round, or one that encompasses multiple shapes) should match the shape of the shade. (Generally, either shade design—round or square—works for a lamp that incorporates multiple shapes). Similarly, if a lamp is straight, go with a shade that incorporates straight edges. Curvy lamps get curvy shades. Intricately designed lamps should have simple shades, while a basic base deserves something more interesting up top.
Then there are the myriad shapes to choose from: bell, drum, square, octagon, barrel, empire (narrow at the top, wide at the bottom) and more. Bell shades generally fit with a traditional design scheme, while drums lend themselves to more modern interiors. Bell shades shed light between the top and the bottom of the shade, empire shades illuminate mostly from the bottom, while drum shades provide a medium amount of light from both ends.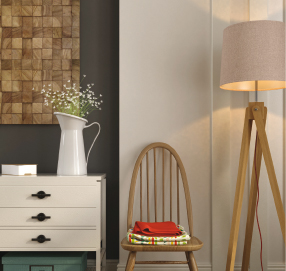 Purpose
White shades are best at lighting an entire room, while darker ones tend to funnel the light and make a more dramatic statement. When it comes to fabric, follow the generally accepted truths that silk is more formal than linen, textured materials or parchment shades.
You also should consider the purpose of the lampshade and base you are looking to purchase. Will it provide ambient light or simply be an interesting design piece? Will it be used as an accent, or for a specific task, such as reading? Task and ambient lights require broad and translucent shades, while decorative and accent lights can be colored and opaque.
A new trend in the lampshade world is custom-made chandelier surround shades. These typically are round and mostly cover the chandelier for a more modern look. They can be translucent or colored—really anything you would like to complement the room. They can transform a tired, standard brass chandelier into something much more interesting and modern, making them a good fit for transitional interiors.
Proportion
To avoid an awkward look, choose a shade that is in proportion to its base.
A rule of thumb is that a lampshade should be 2 or 3 inches shorter than its lamp, and only half an inch of the connecting lamp neck should be visible. You never want to see the mechanics of the lamp near the bulb at eye level, so consider that when you place your lamp. Generally, a proportionate look includes a shade that is two-thirds the height of the lamp and half an inch wider than the base's thickest part.
Freestanding floor lamps provide other challenges. Due to their height, empire shades tend to look best and they should be tall enough to stay in proportion to the large lamp base.
To hold their shape, lampshades have either a metal framework or a hard—usually plastic—lining. These prevent light from passing through the sides of the shade. If you are looking for more ambient lighting, choose a soft-backed shade whose lining is flexible (typically linen or paper). These diffuse more light but need vertical supports on the lamp to retain their original shape.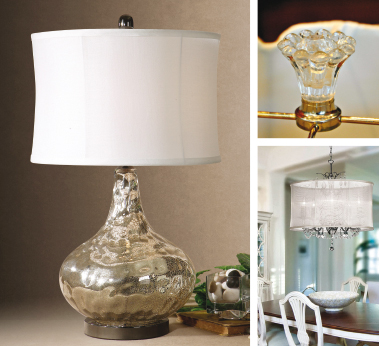 Extras
When you want to add a little personality to a lamp or shade, add an ornamental finial that sits atop the lamp and holds the shade in place at the top. They come in a variety of shapes, sizes and styles and can be inexpensively changed to match the new tone of a room when redecorating.
Something less fun but just as important to consider is safety. Lamps that use high-wattage bulbs create more heat and need more ventilation between the bulb and the shade. The best way to figure out the required area is to measure the distance between the lightbulb and the inside of the shade and to follow the manufacturer's instructions on maximum wattage. The area can be as small as 2 inches or as large as 4 ¾ inches. 
You can also determine this by turning on the lamp for five minutes and feeling the top of the shade. If it's hot, you need a shade with a wider opening.
Whatever your mission when purchasing a new lampshade, follow these guidelines and your room will emit a welcoming glow for all who enter.
accent lights, ambient light, chandelier surround shades, floor lamps, lamps, lampshades, light, lightbulbs, lighting, linen, silk, translucent shades