2023 READERS' FAVORITES
Profiles by Bella Dunn
THE RESULTS ARE IN! Earlier this spring, HOME magazine readers cast thousands of votes for their favorite home and garden-related businesses in the area in our annual Readers' Favorites Awards. Here, we are delighted to share the winners, many of whom won multiple awards in various categories. If you need goods or services for your home, these pages may be a great place to start to find your favorite. 
CONTRACTORS, REMODELERS & HOME BUILDERS 
ARCHITECTS
Platinum: John Fulton
Gold: Spectrum Design

FENCE & RAILING
Platinum: Viking Fence Company, Inc.
Gold: Roanoke Valley Fence, LLC
Silver: Sam Fencing  
GENERAL CONTRACTOR
Platinum: Construction Marketing, LLC
Gold: Collins Siding & Windows
Silver: F&S Building Innovations 
HOME BUILDER
Platinum: Building Specialists
Gold: Construction Marketing, LLC
Silver: Pitman Construction 
HOME REMODELING/RENOVATION
Platinum: Construction Marketing, LLC
Gold: Building Specialists
Silver: Pitman Construction 
ROOFING
Platinum: Bob Riddick Roofing
Gold: Cenvar Roofing
Silver: Allen's Roofing & Remodeling 
SOLAR ENERGY CONTRACTORS
Platinum: Progress Street Builders
---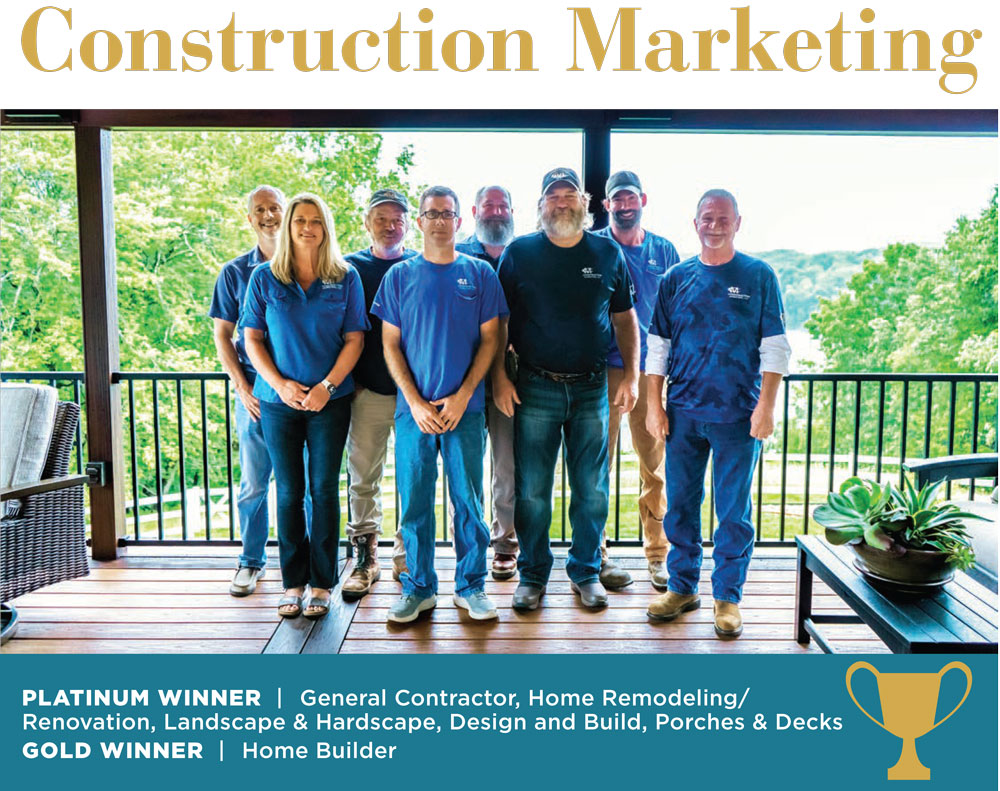 Outdoor living has become more important than ever in recent years, and Construction Marketing co-owners Mike Bryant and Ronnie Booth appreciate the myriad ways people are enjoying their patios, fire pit circles, decks and porches. 
"We know how to make your outdoor living space part of your home," Bryant says. "We're trying to make your home feel like a resort." 
Since 2010, Construction Marketing has been serving the Roanoke and Smith Mountain Lake areas with a "unique approach to construction." A top-end remodeler, they also build custom homes. Construction Marketing specializes in outdoor products and are recognized as a Trex Pro Platinum Installer, Fiberon Pro and Azek/TimberTech Composite Decking Pro. 
In the remodeling space, Bryant says they've seen more and more interest in homeowners wanting to update their homes rather than moving. Yet, remodeling requires special know-how and sensitivity to those living in the home during the work. 
"Remodeling and building new are totally different animals. When you're remodeling, people are living there. With a kitchen or bathroom remodel, you're looking at weeks or months of being in and out of the home. They have kids; they have pets," Bryant says. "We actually have a team member who goes from job to job and cleans … We really specialize in keeping things clean." 
Their customers appreciate the Construction Marketing team's honesty and transparency throughout their projects. That's why they often have repeat customers. The Construction Marketing team strives for 100 percent satisfied clients. Learn more at constructionmarketingllc.com
---
GARDEN & LANDSCAPE 
GARDEN SUPPLIES & ACCESSORIES 
Platinum: Capps Home Building Center 
Gold: Townside Gardens
Silver: The French Farmhouse 
LANDSCAPE AND HARDSCAPE DESIGN & BUILD 
Platinum: Construction Marketing, LLC 
Gold: Ronnie Mitchell and Son Landscaping
Silver: Townside Gardens 
LAWN & LANDSCAPE MAINTENANCE 
Platinum: Ronnie Mitchell and Son Landscaping 
Gold: The Guys In Purple
Silver: Bass Sod Farm
Silver: Townside Gardens 
NURSERIES 
Platinum: Townside Gardens 
Gold: Lichen Or Knot Plant Company  
OUTDOOR FURNITURE 
Platinum: Capps Home Building Center 
Gold: Indoor Outdoor Living
Silver: Virginia Furniture Market 
PORCHES & DECKS 
Platinum: Construction Marketing, LLC 
Gold: Building Specialists
Silver: Pitman Construction 
SPA & HOT TUB SALES AND SERVICE 
Platinum: National Pools of Roanoke
Platinum: Water By Design 
Silver: Aqua Pros 
STONE, BRICK AND HARDSCAPE MATERIALS 
Platinum: Boxley 
Gold: Marshall Stone
Silver: General Shale Brick 
SWIMMING POOLS 
Platinum: National Pools of Roanoke 
Gold: Water By Design
Silver: Aqua Pros 
TREE SERVICE 
Platinum: Bartlett Tree Experts 
Gold: Brown Hound Tree Service
---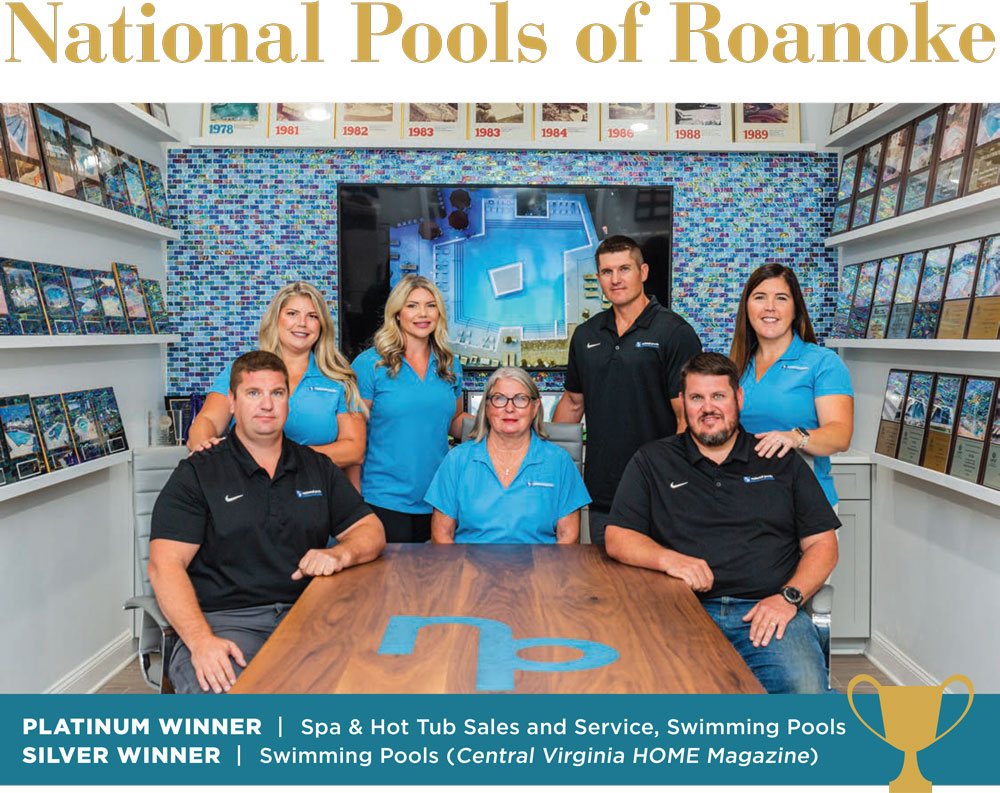 Photo: Kathryn Feldmann
National Pools of Roanoke may be a local, family business since 1977, but it is also nationally recognized for its pool construction and services, ranking it in the top 50 pool companies in the nation. 
"That speaks a lot about our company and our employees," says Lee Vaughan, president of National Pools of Roanoke and a third-generation pool builder. 
National Pools of Roanoke builds and serves pools across Virginia and West Virginia. In fact, if you've been to a collegiate pool in Virginia, you have very likely seen their handiwork at the University of Virginia, Liberty University, William & Mary and Virginia Tech, to name a few. 
Providing both commercial and residential services, National Pools of Roanoke can create 3D renderings for new swimming pools, assisted by software and augmented reality. "We can bring your dream to life and show you how the pool looks in your backyard," says Vaughan. 
The company designs and builds inground gunite swimming pools for residential, public and semi-public use. What is gunite? It is pneumatically applied concrete, much stronger than cast-in-place concrete. 
The company has grown significantly since its founding in 1977. They now have 65-70 employees and build 35-45 pools annually as well as servicing and repairing many more each year. 
Their showroom offers nearly every after-market item customers could need for their pools including swimming pool and spa chemicals, equipment and maintenance supplies as well as a wide selection of outdoor furnishings. If you aren't sure of your pool's water quality, bring in a sample for a free test. National Pools of Roanoke's staff can help you find the right chemicals and equipment to create a better balance. Learn more at nationalpools.com. 
---
HOME FURNISHINGS, INTERIOR DESIGN AND DÉCOR 
ANTIQUES 
Platinum: Black Dog Salvage
Gold: Blue Ridge Antique Center
Silver: The French Farmhouse 
APPLIANCES 
Platinum: Vinton Appliance Center 
Gold: Austin's Appliance
Silver: Ferguson Bath, Kitchen & Lighting Gallery 
ARCHITECTURAL SALVAGE 
Platinum: Black Dog Salvage 
Gold: The French Farmhouse
Silver: Habitat for Humanity 
ART GALLERY/STUDIO 
Platinum: The Little Gallery 
Gold: LinDor Arts
Silver: Troika Gallery 
BLINDS & WINDOW TREATMENTS 
Platinum: Budget Blinds 
Gold: Custom Shutter & Blind Store
Silver: Curtains, Blinds & Bath 
CABINETRY, KITCHEN & BATH 
Platinum: Ideal Cabinets 
Gold: Capps Home Building Center
Silver: CTS&I 
COUNTERTOPS 
Platinum: Johnson Granite 
Gold: Capps Home Building Center
Silver: Roanoke Granite 
CUSTOM FURNITURE MAKER
Platinum: crafted. by Virginia Furniture Market 
Gold: Wood Grains Furniture & Gifts
Silver: Phoenix Hardwoods
FLOORING 
Platinum: Capps Home Building Center 
Gold: Whitt Carpet One
Silver: All Sealed Up
---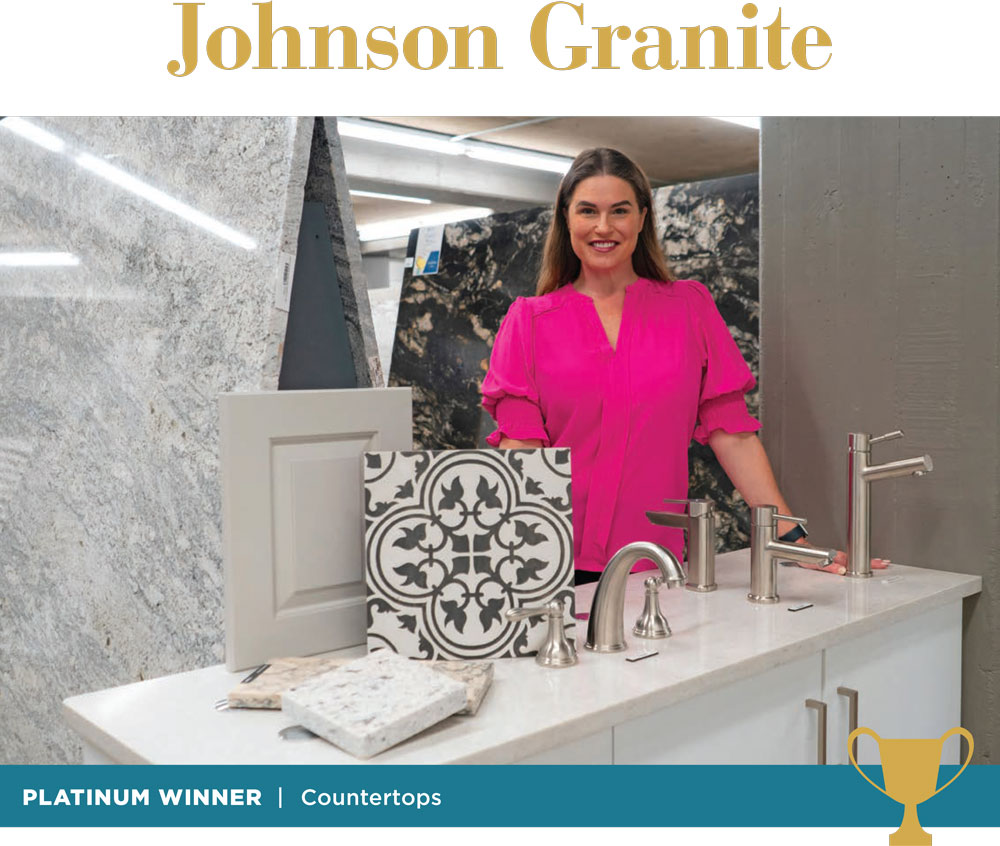 Today, there are more choices than ever when it comes to countertops and other durable surfaces: granite, marble, quartzite, engineered quartz products and wood. Johnson Granite's team offers a wide selection and promises quality craftsmanship and installation. 
Founded in 2000, Johnson Granite has grown from a small, family-owned business to a leading supplier of finely crafted countertop surfaces with three locations, including one at 1948 Franklin Rd SW, Roanoke. The company offers a control sample program to help customers see what they are buying — this is important as different quarries of natural stone can produce a wide range of colors and patterns. 
"Nature's recipe can be highly variable, so we work very hard to eliminate guess work," says Jennifer Slate, Marketing Director. Built on the principles of hard work, honesty and integrity, Johnson Granite has earned the designation of Accredited Natural Stone Fabricator from the Natural Stone Institute. 
Slate explains, "It lets customers know working with us is going to be a custom, personal experience, and we have the know-how and skill level to do things with stone that others cannot." 
Slate encourages customers to visit their showroom to see the products and discuss their needs. She says that many people love the romance of natural stone, but manufactured stones continue to grow in popularity. As people have invested in their homes to make them more luxurious with soaker tubs, high-end kitchens and outdoor living areas, stone products have grown in demand. Learn more at johnsongraniteinc.com. 
---
FURNITURE 
Platinum: Virginia Furniture Market 
Gold: The French Farmhouse
Silver: Indoor Outdoor Living 
HOME ACCESSORIES & GIFTS 
Platinum: The French Farmhouse 
Gold: Virginia Furniture Market, Decorator's Outlet
Silver: George's Flowers
INTERIOR DESIGNERS 
Platinum: The French Farmhouse 
Gold: Magnolia
Silver: Alicia Smith, F&S Building Innovations
Silver: Emily Mangus Interiors
Silver: Present Thyme 
LIGHTING FIXTURES
Platinum: The French Farmhouse 
Gold: Magnolia
Silver: Present Thyme
PAINT & PAINTING SUPPLIES 
Platinum: Capps Home Building Center
Platinum: Sherwin Williams
Silver: Northwest Ace Hardware 
PICTURE FRAMING
Platinum: Brambleton Frame Shop 
Gold: Picture Frame Warehouse
Silver: LinDor Arts
RUGS 
Platinum: The French Farmhouse
Platinum: Virginia Furniture Market 
Silver: Halifax Fine Furnishings 
UPHOLSTERY 
Platinum: Citizens Upholstery & Furniture Co.  
WOODWORKING & TRIM 
Platinum: CTS&I 
Gold: Consolidated Construction Services, Inc.
Silver: N-Hance
---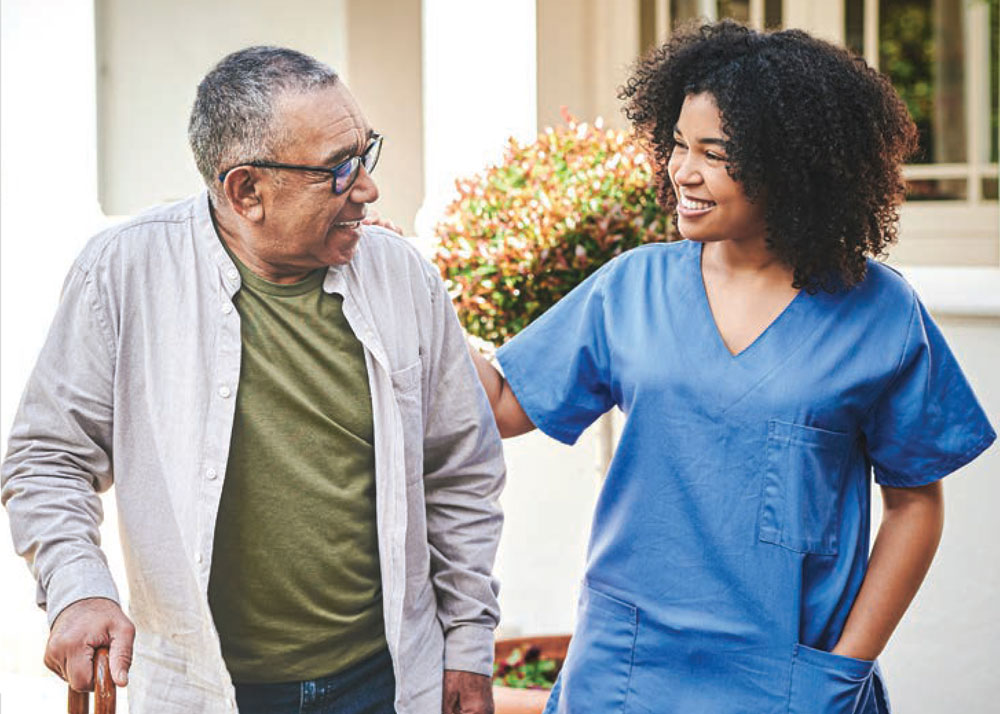 HOME LIVING OPTIONS 
APARTMENT LIVING 
Platinum: Daleville Town Center Apartments 
HOME HEALTH SERVICES/AGING AT HOME
Platinum: EZ Mobility Solutions 
Gold: Brandon Oaks at Home
Silver: Visiting Angels
RETIREMENT LIVING COMMUNITIES 
Platinum: Our Lady of the Valley 
Gold: Brandon Oaks
Gold: Richfield Living
Silver: The Glebe Retirement Community
---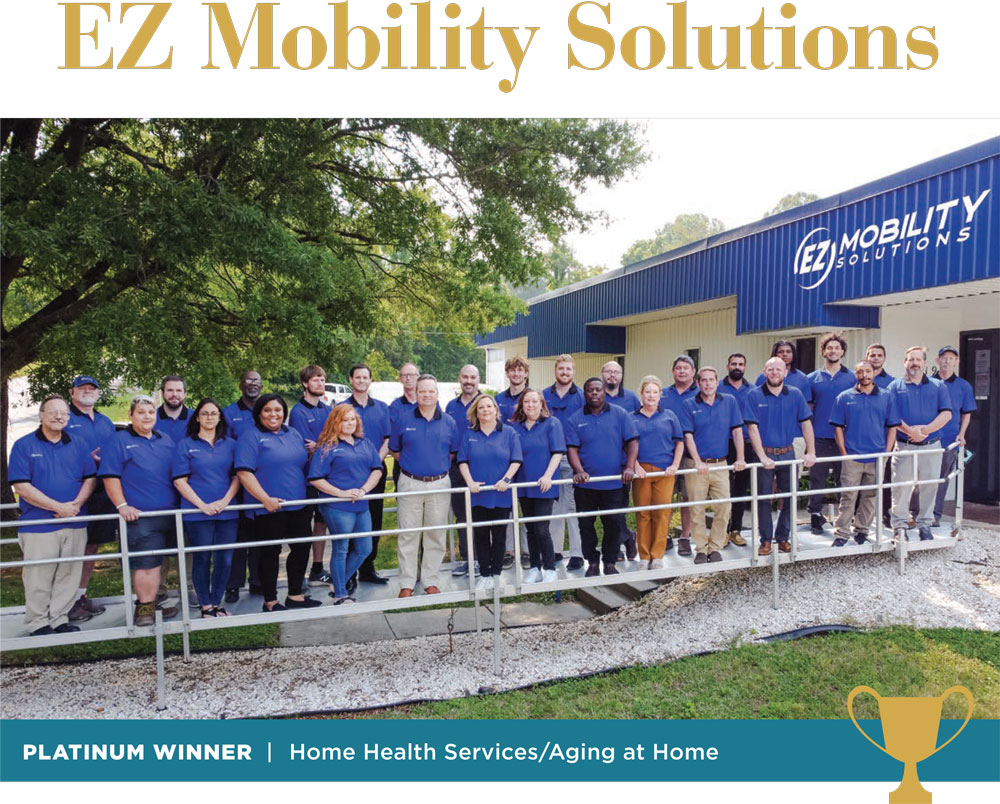 Photo: Courtesy of EZ Mobility Solutions
When David Todd first started building ramps, he was at a woman's house and she kept coming outside to see his progress. He worried she might step on the ramp before it was finished. She finally explained to him that she hadn't been outside her home unassisted in two years, and she was so excited to get out! 
"I was hooked from then on," says David Todd, president of EZ Mobility Solutions. 
Inspired by his grandfather, a decorated World War II veteran who was facing the challenges of aging, Todd created a company that sold mobility products to help people stay in their homes and increase their quality of life. Starting with ramps, Todd grew his products, services and staff to serve clients across Virginia, North Carolina and West Virginia. Today, the company sells, rents and installs modular aluminum wheelchair ramps, stairlifts, wheelchair lifts, accessible bathrooms, power wheelchairs, mobility scooters and more. They are Certified Environmental Access Consultants and Certified Aging-in-Place Specialists. 
"You do what you think is a little thing, but it can be life changing," says Todd. 
In the same spirit that the business started, EZ Mobility Solutions prioritizes its customers' needs. "Our company is all about relationships. We are always there for you!" says Todd. They follow through with this promise by providing a free lifetime warranty on installed products and a 48-hour service guarantee. 
They go the extra mile by offering free risk assessments of the whole home. The EZ Mobility Services team wants to ensure each client is safe in their home. They are dedicated to living out their value to "give joy" to each client. Learn more at ezmobilitysolutions.com. 
---
REAL ESTATE & FINANCIAL 
BANK 
Platinum: Bank of Botetourt 
Gold: Bank of the James
Gold: First Bank
Silver: Ridge View Bank 
CREDIT UNION 
Platinum: Freedom First Credit Union 
Gold: Member One Federal Credit Union
Silver: ValleyStar Credit Union 
FINANCIAL PLANNING 
Platinum: Freedom First Wealth Management 
Gold: Ayers Financial Services
Silver: Dominion Risk Advisors 
HOME INSURANCE 
Platinum: Bill Meador Insurance Agency 
Gold: Dominion Risk Advisors
Silver: John Alderson Agency
Silver: Bankers Insurance 
MORTGAGE LENDING COMPANY 
Platinum: Freedom First Mortgage 
Gold: Guild Mortgage
Silver: Virginia Mountain Mortgage 
MORTGAGE LOAN OFFICERS 
Platinum: Tessa Rider, Freedom First
Platinum: Taylor Smelser, Guild Mortgage 
Gold: Nikki Griffin, Bank of Botetourt
Silver: Alicia White-Braxton, ValleyStar Credit Union 
REAL ESTATE COMPANY 
Platinum: MKB, Realtors 
Gold: Coldwell Banker Townside Realtors
Gold: Mountain City Realty and Auction, LLC
Silver: Long & Foster, Roanoke 
REALTORS 
Platinum: Susan Bailey 
Gold: Amy Cullen
Gold: Bill Gearhart
Gold: Krystal Ulmer
Silver: Dayna Patrick
Silver: Jeannine Hanson
---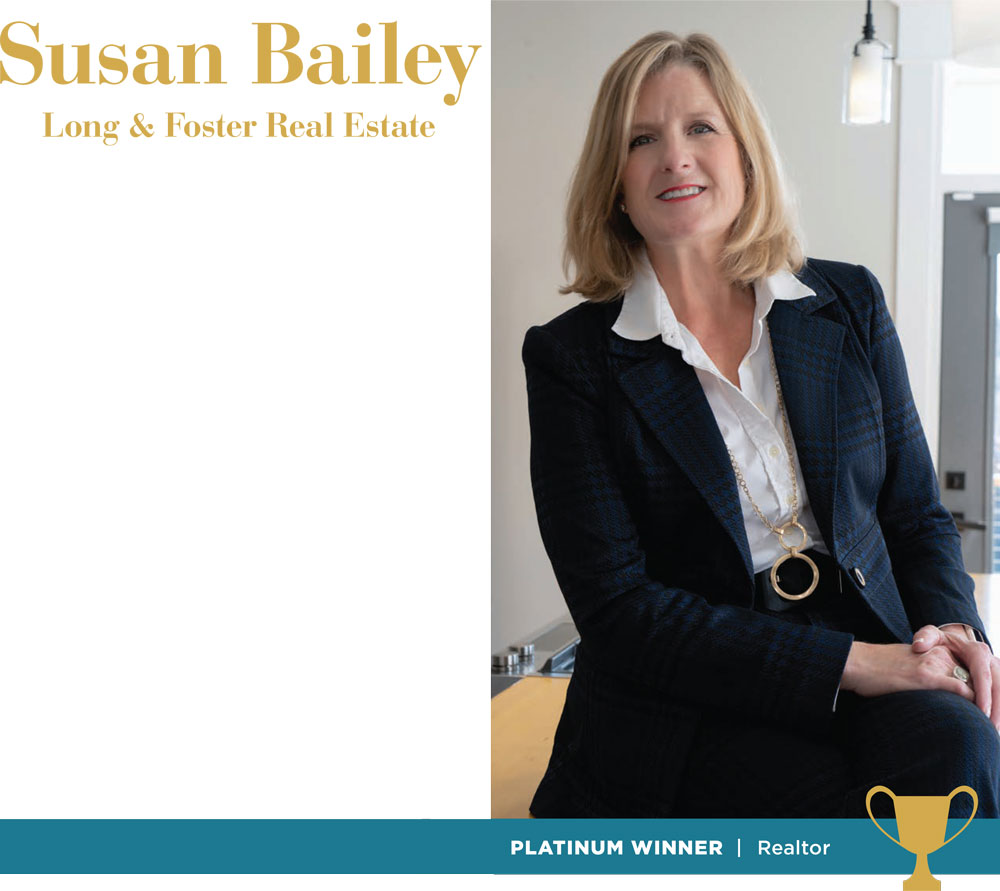 Photo: Courtesy of Susan Bailey
Susan Bailey, who grew up in Roanoke, began to see the need for an outstanding real estate agent when she first went searching for a horse farm in the area. Today, she uses her hometown experience, her 18 years as a Realtor and her deep knowledge of high-end properties and farms to best serve her clients. 
With specialties in new construction, horse farms, country homes and luxury homes, Bailey says it's really not as much about her designations as her relationships. She bases her whole business on trust. 
"Real estate is not just about finding the right house, it's about making connections," says Bailey, a Roanoke Realtor with Long & Foster, where she serves as both a selling and buying agent. She often helps her clients find decorators, home improvement specialists, inspectors and other professionals to take care of the many details of home buying and selling. 
Bailey started her career in retail, which gave her a sharper understanding of the needs of customers. "It's not about the sale, but about the experience. I want my home buyers or sellers to feel that they have been cared for." 
Real estate is one of the biggest investments most people will make in life. She says, "When you are ready to move forward in buying or selling a home, trust my knowledge, skill and commitment to get you where you want to go as smoothly as possible." 
Learn more about Susan Bailey and Long & Foster Real Estate at longandfoster.com/SusanBailey. 
---
SERVICE PROVIDERS & MATERIALS 
BUILDING MATERIALS AND SUPPLIES
Platinum: Capps Home Building Center 
Gold: Ideal Building Supply
Silver: Skyline Door & Hardware
CARPET AND RUG CLEANING 
Platinum: Robert's Cleaning & Restoration
Platinum: Stanley Steemer, Salem 
Silver: Chem-Dry of Choice
CRAWLSPACE, WATERPROOFING AND FOUNDATION REPAIR 
Platinum: Fortress Foundation Solutions 
Gold: Seal-Tite Basement Waterproofing Co
Silver: Star City Home Services  
ELECTRICAL 
Platinum: Shively Electric 
Gold: Pitman Service Group
Silver: Davis Heating, Cooling, Plumbing & Electric 
EXTERIOR HOME CLEANING SERVICES 
Platinum: All Washed Up 
Gold: H2O Home Improvements 

FIREPLACE & CHIMNEY SERVICES
Platinum: Dixie Building Products 
Gold: Black Goose Chimney Service
Silver: Top Hat Chimney Services
Silver: Yonn's Chimney Services
GARAGE DOORS
Platinum: Dixie Building Products 
Gold: Hall's Garage Doors
Silver: Star City Garage Doors
---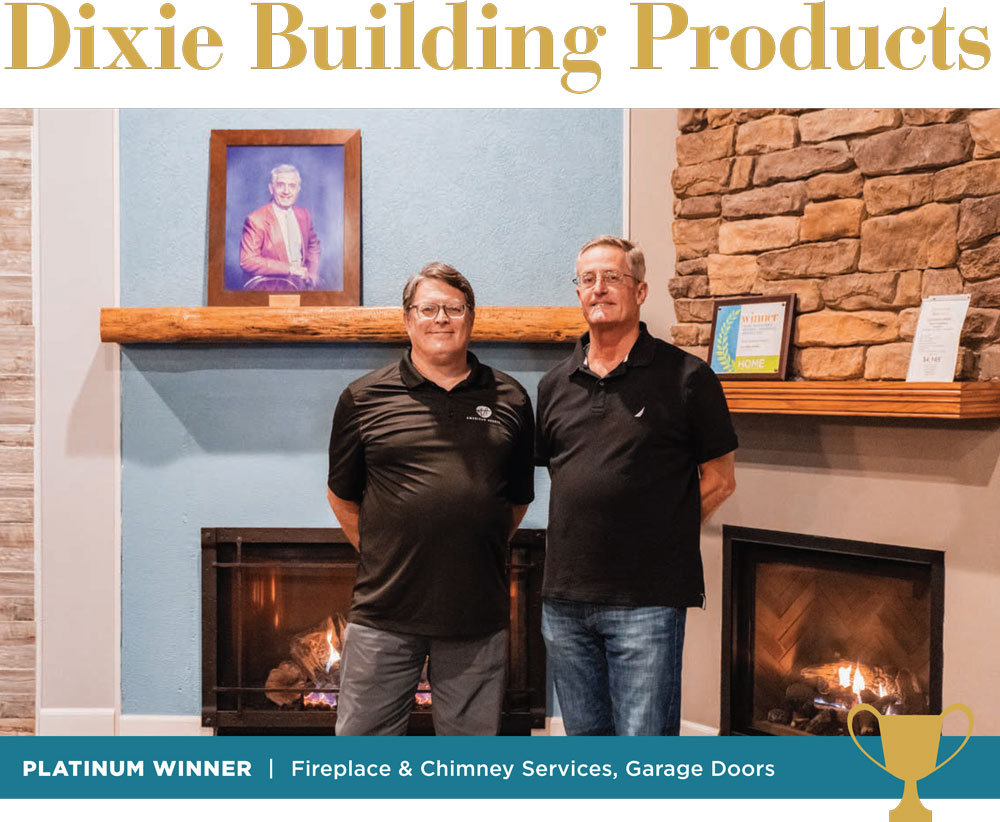 Mark Silverstein first began working for his father, Al Silverstein, at Dixie Products when Mark was just 10. He's come a long way since then and now serves as CEO of the company. Overall, the Roanoke-based family business has been going strong for 65 years. 
Dixie Products is the largest volume garage door company in the area and has one of the largest volumes of gas log sales. Along with being experts in vented and vent-free gas logs, wood stoves and fireplaces, the Dixie Products team also sells premium gas grills, wall heaters and garage operator systems. 
"We only sell top tier products," says Silverstein. "We sell products you don't have to worry about 10 years from now." 
Located on Melrose Avenue in Roanoke, Dixie Products offers a large selection of fireplace options in its spacious showroom. Not only will you see traditional logs, but many new options — some of which you can operate from your smartphone! 
Dixie Products is a member of the Hearth, Patio & Barbecue Association and the National Association of Home Builders. They are also part of United Buyers Group, which helps them access exclusive suppliers and only the best brands. 
They are a value-added distributor, which means if you buy a gas grill at Dixie Products, it will come already assembled. If you buy gas logs, they've already been tested at the warehouse and/or at Dixie. 
"With a staff combining over 300 years of experience, we have the know how to help you select the perfect product and the experience you need to get you up and running quickly." Learn more at dixieproducts.com. 
---
GUTTERS
Platinum: The Brothers That Just Do Gutters 
Gold: Seamless Aluminum Guttering & Siding
Silver: Blankenship Roofing
HEATING & AIR CONDITIONING
Platinum: Bower Heating & Air Conditioning
Gold: Davis Heating, Cooling, Plumbing & Electric
Silver: Bud Weaver Heating & Air Conditioning
Silver: Platinum Heating & Air
Silver: Woods Family Heating & Air Conditioning
HOME AUTOMATION AND SECURITY
Platinum: Security Lock and Key
Platinum: Sound Decision

HOME FUEL COMPANIES
Platinum: Davenport Energy 
Gold: Webb's Oil Corporation
Silver: Glenwood Oil & Gas, Inc.
Silver: Rockingham Cooperative 
HOME INSULATING
Platinum: Kent's Insulating 
Gold: Star City Home Services
Gold: Toler Insulating 

MOVING AND STORAGE
Platinum: Virginia Varsity Transfer 
Gold: Rogers Moving & Transport
Silver: American Moving & Storage
PAINTING
Platinum: Sergio Diaz Painting 
Gold: Mountain Top Painting
Silver: A. Silva Painting
Silver: J. Martinez Custom Painting
PEST CONTROL
Platinum: Bug Man Exterminating 
Gold: Dodson Pest Control
Silver: Perdue Exterminators
PLUMBING
Platinum: Davis Heating, Cooling, Plumbing & Electric 
Gold: Ryan Plumbing
Silver: Layman Electric & Plumbing
WATER & FIRE RESTORATION AND CLEAN-UP
Platinum: Consolidated Construction Services
Platinum: SERVPRO 
Silver: Robert's Cleaning & Restoration
WINDOWS & DOORS
Platinum: Skyline Door & Hardware 
Gold: Capps Home Building Center
Silver: Roanoke Glass
WOOD & FURNITURE REPAIR AND REFINISHING
Platinum: Lee's Hardwood Floors 
Gold: Astonish Antique Restoration
Silver: N-Hance
ARCHITECTS/DESIGNERS, CONTRACTORS, fence, financial, Gold winner, HOME BUILDERS, home décor, home furnishings, HOME LIVING OPTIONS, Interior Design, landscape, materials, Platinum winner, Railing, Readers' Favorite, real estate, REMODELERS, roofing, SERVICE PROVIDERS, silver winner, SOLAR ENERGY CONTRACTORS