2021 READERS' FAVORITES
Winner Profiles by Claudia Pick
THE RESULTS ARE IN! Earlier this spring, HOME magazine readers cast thousands of votes for their favorite home- and garden-related businesses in the area in our annual Readers' Favorites Awards. Here, we are delighted to share the winners, many of whom won multiple awards in various categories. If you need goods or services for your home, these pages may be a great place to start to find your favorite.
CONTRACTORS, REMODELERS AND HOME BUILDERS
 ARCHITECTS
Platinum: Balzer & Associates
Gold: Mid Atlantic Architects Group, PLLC
Silver: Interactive Design Group
ELECTRICAL
Platinum: Cline Electric
Gold: PSG-Pitman Service Group
Silver: Shively Electric
GENERAL CONTRACTOR
Platinum: Dollman Construction, Inc.
Gold: F&S Building Innovations
Silver: Pitman Construction
HEATING AND AIR CONDITIONING
Platinum: Bower Heating and Air
Gold: Cundiff Heating and Air
Silver: W C Butler Heating & Air Conditioning Inc.
Silver: Comfort Services
HOME BUILDER
Platinum: Baron Enterprises
Gold: F&S Building Innovations
Gold: Pitman Construction
Silver: Dollman Construction, Inc.
HOME REMODELING/RENOVATION
Platinum: Dollman Construction, Inc.
Gold: Construction Marketing
Silver: F&S Building Innovations
PAINTING
Platinum: Mountain Top Painting
Gold: Custers Custom Painting
Silver: Brian the Painter
PLUMBING
Platinum: Big Time Plumbing
Gold: Wisler Plumbing
Silver: McGuire Plumbing & Heating
ROOFING
Platinum: Vinton Roofing
Gold: Baker Roofing of Roanoke
Silver: CENVAR
---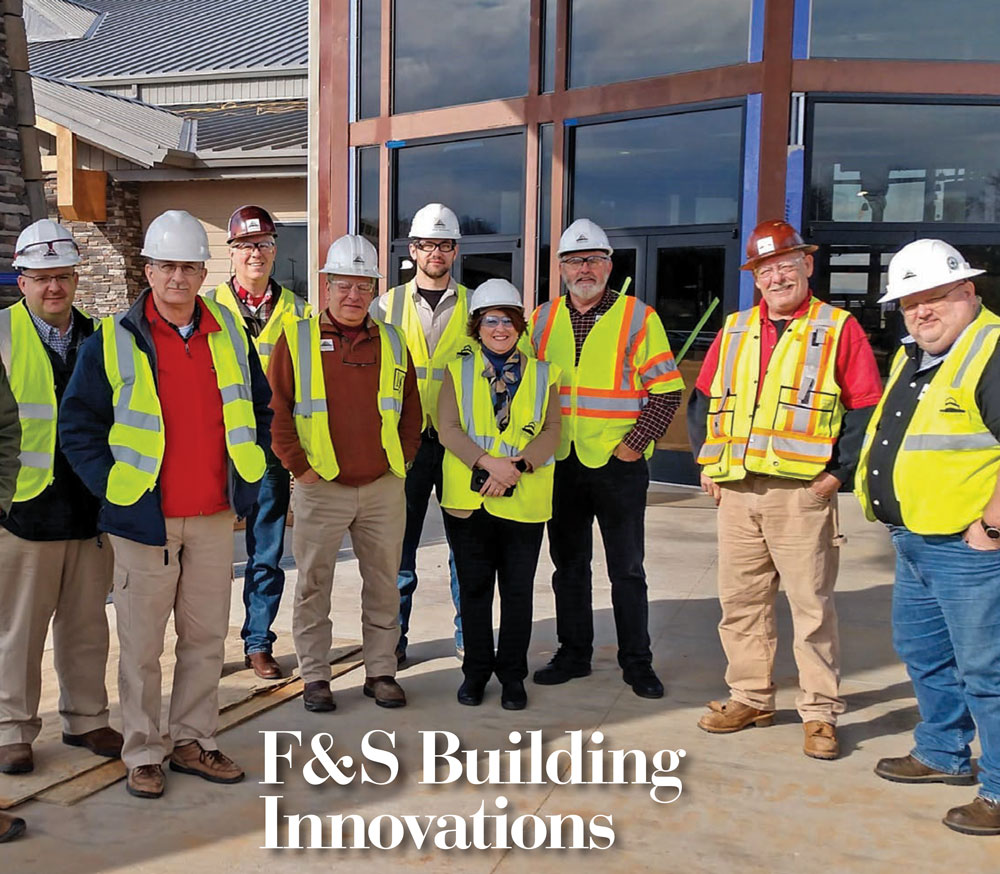 GOLD Home Builder
GOLD General Contractor
SILVER Porches & Decks
SILVER Home Remodeling/ Renovations
While many construction businesses have a niche, F&S Building Innovations serves a diverse group of clients' building needs in Roanoke and the surrounding areas. The company offers multiple building services including renovations, custom residential and commercial buildings, and more.
Established in 1976 as a custom home building company at Smith Mountain Lake, F&S Building Innovations has continued to expand in size and in the services offered. Though they have grown over the years, Director of Marketing and Development Alicia Smith says that the company is continually dedicated to providing expert service while building relationships. "People say that we are a building company, but we say that we don't build buildings, we build relationships," Smith says.
Since the coronavirus pandemic, F&S Building Innovations has been busier than ever. Smith says that she believes many people started to look at their houses and projects in new ways after spending more time in their homes than ever before. When construction was deemed "essential business," the company's workload exploded and they remain grateful for the continued support.
Smith says that the company understands that your home is important and that everybody they help has a different story. F&S Building Innovations is dedicated to understanding what your home means to you. "When you are doing a renovation project, you understand that this is someone's home," Smith says. "It is where they raise their family, where they go to relax at night, where they experience the highs and lows of life, so we always love to get to know our customers."
---
SERVICE PROVIDERS
BUILDING MATERIALS AND SUPPLIES
Platinum: Capps Home Building Center
Gold: Ideal Building Supply
CARPET AND RUG CLEANING
Platinum: Robert's Cleaning & Restoration
Gold: Dave's Chem Dry
Silver: Danny Williams Carpet Cleaning
Silver: Impressive Carpet Cleaning
DRIVEWAY REPAIR AND SEALING
Platinum: Salem Paving Corporation
Gold: Roanoke Star Paving
Silver: Roanoke Driveway Paving and Repair Pros
DUCT CLEANING
Platinum: Fresh Air Solutions
Gold: Baker Heating, Air Conditioning and Duct Cleaning Inc.
Silver: Air Duct Solutions
ESTATE SALES
Platinum: Houck Asset Verification
Gold: Vintage Cargo Antiques & Estate Liquidation
Silver: J.W. Holcomb Estate Liquidation
EXTERIOR HOME CLEANING SERVICES
Platinum: Roanoke Pressure Pros LLC
Gold: Roanoke Exterior Wash
Silver: Under One Roof
FENCE AND RAILING COMPANY
Platinum: Sam Fencing
Gold: Viking Fence
Silver: Snell Fencing
GARAGE DOORS
Platinum: Dixie Building Products
Gold: Overhead Door Company of Roanoke
Silver: Star City Garage Doors
GUTTERS
Platinum: Cook Siding
Gold: Brothers Who Just Do Gutters
Silver: Gutter Specialists
HANDYMAN
Platinum: PSG-Pitman Service Group
Gold: Danny's Handyman Service
Silver: Family Handyman LLC
HOME AUTOMATION AND SECURITY
Platinum: Security Lock and Key
Gold: Audiotronics
Silver: Security Consultants Unlimited
HOME FUEL COMPANY
Platinum: Webb's Oil Corporation
Gold: Davenport Energy
Silver: Glenwood Oil & Automotive
HOME INSULATING
Platinum: Kent's Insulating
Gold: Bay Insulation of Virginia Inc.
Silver: Southern Comfort Insulating Company
HOUSE CLEANING SERVICES
Platinum: The Happy Housekeepers
Gold: Sunshine Cleaning
Silver: A+ Cleaning
MOVING AND STORAGE
Platinum: Virginia Varsity Transfer
Gold: Lawrence Transportation
Silver: American Moving & Storage
PEST CONTROL
Platinum: Bug Man Exterminating
Gold: Dodson Pest Control
Silver: Perdue Exterminators
SOLAR ENERGY SOLUTIONS
Platinum: POWERHOME Solar
Gold: Solshine Energy Alternative
Silver: Main Street Solar
WATER AND FIRE RESTORATION AND CLEAN-UP
Platinum: SERVPRO of South Roanoke County
Gold: Consolidated Construction Services
Silver: J & W Global
Silver: ServiceMaster of Roanoke, Blacksburg, Martinsville & Princeton
WINDOWS AND DOORS
Platinum: Capps Home Building Center
Gold: Skyline Door & Hardware
Silver: SJ Neathawk Window & Door Gallery
WOOD AND FURNITURE REPAIR AND REFINISHING
Platinum: Astonish Antique Restoration
Gold: Lee's Hardwood Floors
Silver: Black Dog Salvage
GARDEN AND LANDSCAPE
GARDEN SUPPLIES AND ACCESSORIES
Platinum: Townside Gardens
Gold: Capps Home Building Center
Silver: Country Corner
LANDSCAPE AND HARDSCAPE DESIGN/BUILD
Platinum: Seven Oaks Landscape and Hardscape
Gold: Construction Marketing, LLC
Silver: One Earth
Silver: Varsity Landscaping & Grounds
LAWN AND LANDSCAPE MAINTENANCE
Platinum: Seven Oaks Landscape and Hardscape
Gold: Roanoke Landscapes
Silver: The Guys In Purple
NURSERIES
Platinum: Townside Gardens
Gold: Greenbrier Nursery
Silver: Walter's Greenhouse
OUTDOOR FURNITURE
Platinum: National Pools
Gold: Capps Home Building Center
Silver: Better Sofas
PORCHES AND DECKS
Platinum: Construction Marketing
Gold: Pitman Construction
Silver: F&S Building Innovations
SPA AND HOT TUBS SALES AND SERVICE
Platinum: National Pools
Gold: WaterWorks Hot Tubs and Pools
Silver: Water by Design
STONE, BRICK AND HARDSCAPE MATERIALS
Platinum: Boxley
Gold: Marshall Stone
Silver: Blue Stone Block
SWIMMING POOLS
Platinum: National Pools
Gold: Virginia Pool and Sales
Silver: WaterWorks Hot Tubs and Pools
TREE SERVICE
Platinum: Bartlett Tree Experts
Gold: Brown Hound Tree Service
Gold: Paul Bunyan Tree Service
Silver: J & J Treewackers
---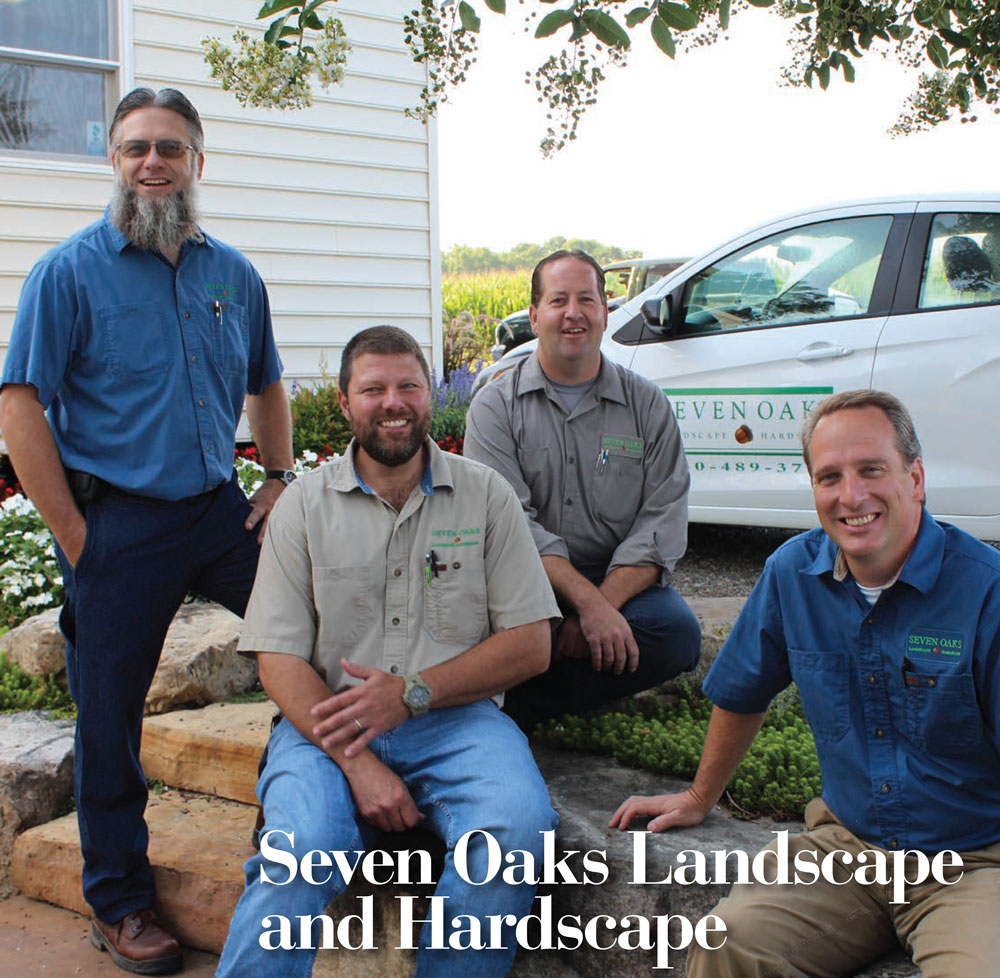 PLATINUM Landscape and Hardscape Design/ Build
PLATINUM Lawn and Landscape Maintenance
Founded in 1991, Seven Oaks Landscape Hardscape is built on the principles of quality, hard work and strong relationships. The company specializes in the design, installation and maintenance of one-of-a-kind landscape and hardscape projects. Seven Oaks Landscape Hardscape also offers services ranging from planting to aeration and more. Seven Oaks' mission is to always go above and beyond for their clients with their attention to detail and by providing a memorable experience. Rooted in relationships, Seven Oaks Landscape Hardscape is dedicated to helping their clients through every part of the process, from design and construction to maintenance.
With over 35 landscape professionals, Seven Oaks Landscape Hardscape offers quality and expert service. President David Bower says that the company is truly invested in their core values that drive every project: opportunities, attitudes, knowledge and synergy.
"Being able to take something from nothing and see the beauty of it, then going back five years later and maintaining it, you can make it even better," Bower says. "When we go back to our jobs and see people really living in the space, we feel good about it."
---
REAL ESTATE AND FINANCIAL
BANK
Platinum: Bank of Botetourt
Gold: The Bank of Fincastle
Silver: Pinnacle Bank
CREDIT UNION
Platinum: ValleyStar Credit Union
Gold: Freedom First FCU
Gold: Member One Federal Credit Union
Silver: Salem VA Credit Union
FINANCIAL PLANNING
Platinum: Botetourt Wealth Management
Gold: Dominion Risk Advisors
Silver: The Conner Group
HOME INSURANCE
Platinum: Bankers Insurance
Gold: John Alderson Agency
Silver: Adam Wilmer, Liberty Mutual
Silver: Bill Meador Insurance Agency
MORTGAGE LENDING COMPANY
Platinum: Virginia Mountain Mortgage
Gold: Colonial Mortgage Company
Gold: Atlantic Bay Mortgage
Silver: Alcova Mortgage
MORTGAGE LOAN OFFICERS
Platinum: Melissa Stankov, ValleyStar Credit Union
Gold: Nikki Griffin, Virginia Mountain Mortgage
Silver: Chris Hollish, Colonial Mortgage
Silver: Mikki Barranco, First Bank and Trust
REAL ESTATE COMPANY
Platinum: MKB Realtors
Gold: Coldwell Banker Townside
Gold: ReMax/All Stars
Silver: Berkshire Hathaway Home Services Premier
REALTORS
Platinum: Bill Gearhart, Realtor
Gold: Scott Avis, Realtor
Silver: Susan Bailey, Realtor
---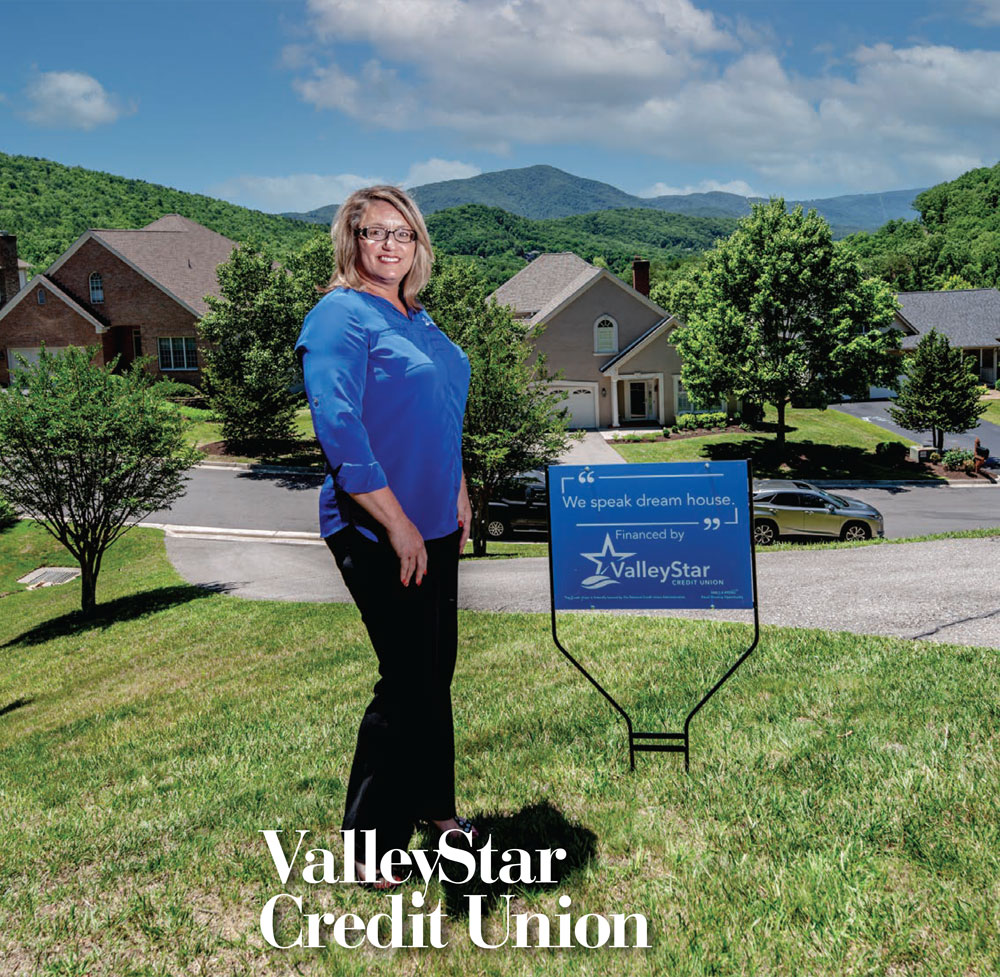 PLATINUM Credit Union
Serving Virginia residents since 1953, ValleyStar Credit Union specializes in helping individuals and families find financial stability as a way to reach their dreams. ValleyStar Credit Union aims to make managing clients' finances easy, from helping a couple purchase their dream house to paying off a college degree.
Specializing in construction lending, Senior Mortgage Loan Officer Melissa Stankov has been working with the Roanoke community and Smith Mountain Lake area for four years. Stankov loves being able to help people with one of the biggest decisions of their lives and guiding them through the process."The relationships that I get to build with people throughout the process are the best part of my job," Stankov says. "When we get to closing, it's just nice to see how happy they are and the smile on their face. Everybody has a different story."
With many employees as experts in their fields, ValleyStar Credit Union strives to make sure that their clients are at ease knowing that they are in good hands.
"Our ValleyStar team truly goes the extra mile to make sure anyone who needs our help is heard and answered," says Lisa Lambrecht, who at press time is interim CEO. "It's about meeting people where they are, at that moment, and our team understands that."
---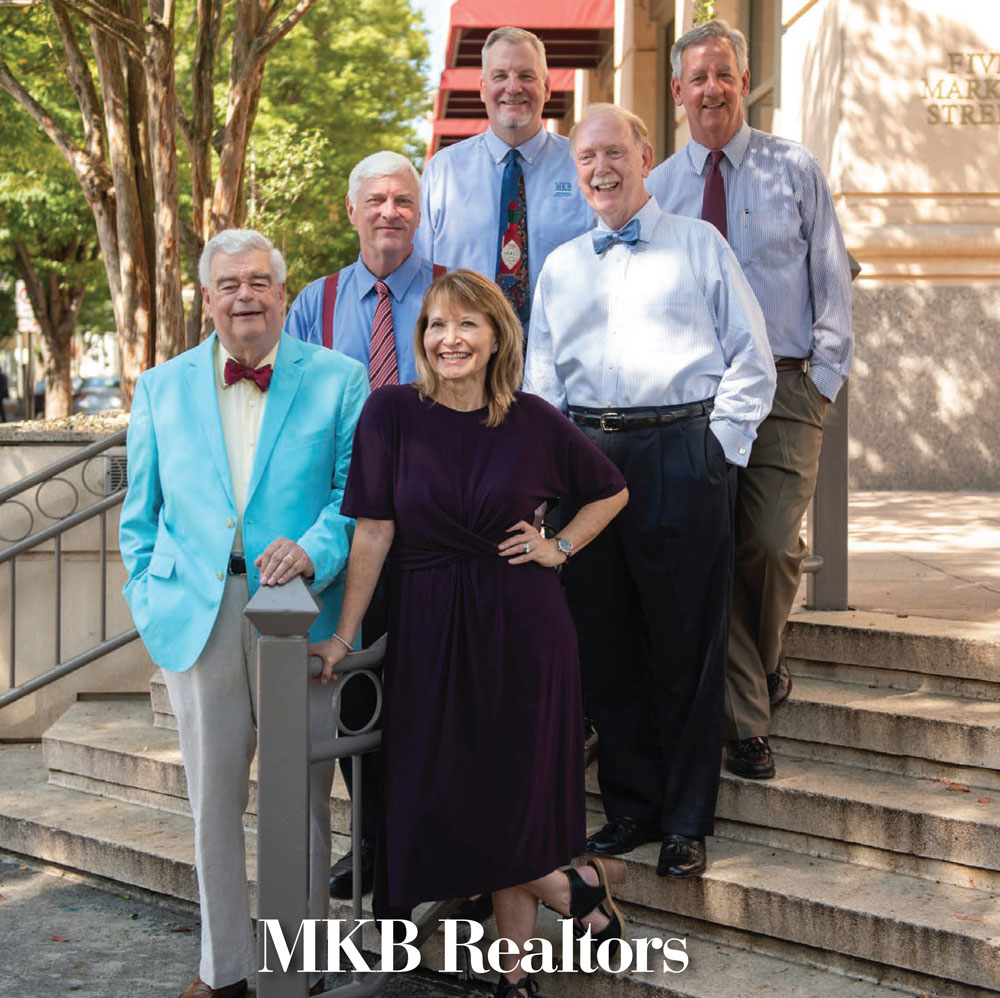 PLATINUM Real Estate Company
MKB Realtors aspires to provide full, comprehensive service to the Roanoke and surrounding area real estate market, including residential and commercial real estate, property management and more. The company was established in Roanoke in 1973 and has remained locally owned and operated ever since. Voted the top provider for real estate companies, MKB Realtors understands the dynamics of the market and strives to offer clients a thorough and full experience.
Principal broker and managing partner Kit Hale believes that the real estate business is shaped and maintained through relationship building. Hale says that they may sell homes, but they are primarily focused on building long-lasting relationships. "I believe that real estate is a relationship business," Hale says. "We are market aware and market knowledgeable, but more than anything, we aspire to be someone's Realtor for life."
The agents and staff of MKB Realtors desire to provide a positive experience for their clients. Hale says that the company's success can only be attributed to the well-educated and wonderful agents that are a part of the MKB Realtors' family. "Our success is all because of our staff and agents," Hale says. "It is always a team effort."
---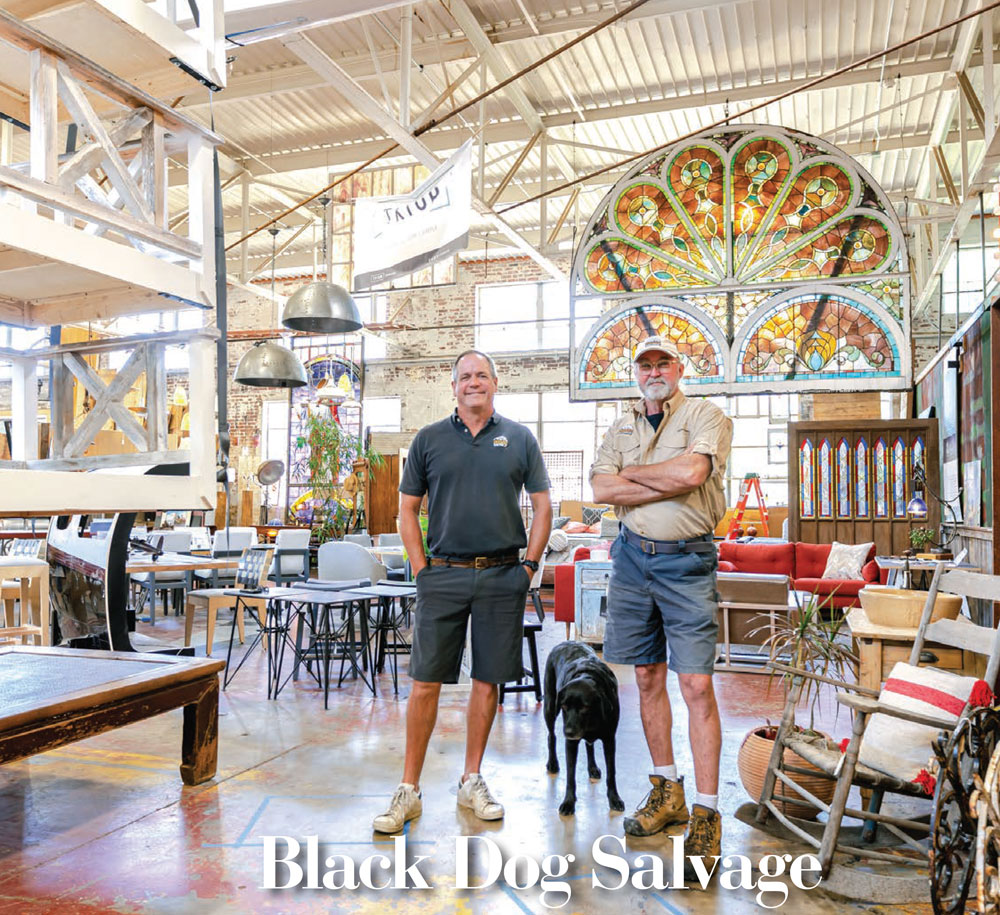 PLATINUM Antiques
PLATINUM Architectural Salvage
SILVER Wood and Furniture Repair and Refinishing
What started over 20 years ago with saving one old home filled with architectural history from demolition has now turned into a one-of-a-kind business. Specializing in architectural salvage and upcycled materials, Black Dog Salvage helps people find the beauty and the value in where they live.
Tapping into the abundance of rich architectural history surrounding Roanoke and Southwest Virginia, the company is dedicated to helping folks find unique pieces for their homes as well as creating one-of-a-kind artwork and furniture. Since the coronavirus pandemic, CEO and "The Big Dog" Mike Whiteside believes that people are starting to concentrate more on adding value to their homes.
"Everybody got to know about their home during COVID," Whiteside says. "People are putting a lot more value in where they live and why they live there and, if the coronavirus has done anything, it has opened people's eyes to the quality of life they are living."
Whiteside says that the company is performing even better than before the coronavirus pandemic with customers finding new ways to improve their homes. As people reevaluate their sense of "place," Whiteside believes that Black Dog Salvage will only grow bigger.
"We are always evolving and looking for the next generation of Black Dog Salvage," Whiteside says. "If you are looking for something unusual that you can't find anywhere, we can create it for you here."
---
HOME FURNISHINGS, DECOR AND INTERIOR DESIGN
ANTIQUES
Platinum: Black Dog Salvage
Gold: Ellie Proctor Antiques and Fine Things
Silver: Charlotte's Web Antique Mall
APPLIANCES
Platinum: Vinton Appliance Center
Gold: Austin's Appliance Center
Silver: Appliance Studio
ARCHITECTURAL SALVAGE
Platinum: Black Dog Salvage
ART GALLERY/STUDIO
Platinum: The Little Gallery
Gold: LinDor Arts
Silver: Magnolia
BLINDS AND WINDOW TREATMENTS
Platinum: Elaine Stephenson Interiors
Gold: Custom Shutter and Blind Store
Silver: Accents on Windows
Silver: BF&M Interiors Window Treatments
CABINETRY, KITCHEN AND BATH
Platinum: Ideal Cabinets
Gold: Bowman Woodworking
Silver: Carter's Cabinet Shop
CONSIGNMENT FURNITURE
Platinum: Ellie Proctor Antiques and Fine Things
Gold: Now, Then, and Again
Silver: New To Me Consignment Boutique
COUNTERTOPS
Platinum: Johnson Granite
Gold: Premier Stone
Silver: Rockfab
CUSTOM FURNITURE MAKER
Platinum: Bowman Woodworking
Gold: Phoenix Hardwoods
Silver: Ghent Hill Design & Furniture Restoration
Silver: Evan Berding Custom Furniture
FLOORING
Platinum: Fashion Floors
Gold: Whitt Carpet One Floor & Home
Silver: Capps Home Building Center
FURNITURE
Platinum: Virginia Furniture Market
Gold: Elaine Stephenson Interiors
Silver: Reid's Fine Furnishings
HOME ACCESSORIES AND GIFTS
Platinum: Elaine Stephenson Interiors
Gold: Ellie Proctor Antiques and Fine Things
Silver: Magnolia
INTERIOR DESIGNERS
Platinum: Elaine Stephenson Interiors
Gold: Magnolia
Silver: Emily Mangus Interiors
LIGHTING FIXTURES
Platinum: Ferguson
Gold: Elaine Stephenson Interiors
Silver: Magnolia
PAINT AND PAINTING SUPPLIES
Platinum: Sherwin Williams
Gold: Northwest Ace Hardware
Silver: Benjamin Moore/Spectrum Paint
PICTURE FRAMING
Platinum: Jordan's Custom Framing & Art
Gold: Salem Framing
Silver: Picture Frame Warehouse
RUGS
Platinum: Halifax Fine Furnishings
Gold: Magnolia
Silver: Tribal Rug Gallery
Silver: Elaine Stephenson Interiors
UPHOLSTERY
Platinum: Creasy's
Gold: Geobany's Upholstery
Silver: Dominion Upholstery
WOODWORKING AND TRIM
Platinum: Fine Line Interiors
Gold: CTS&I Building Products & Services
---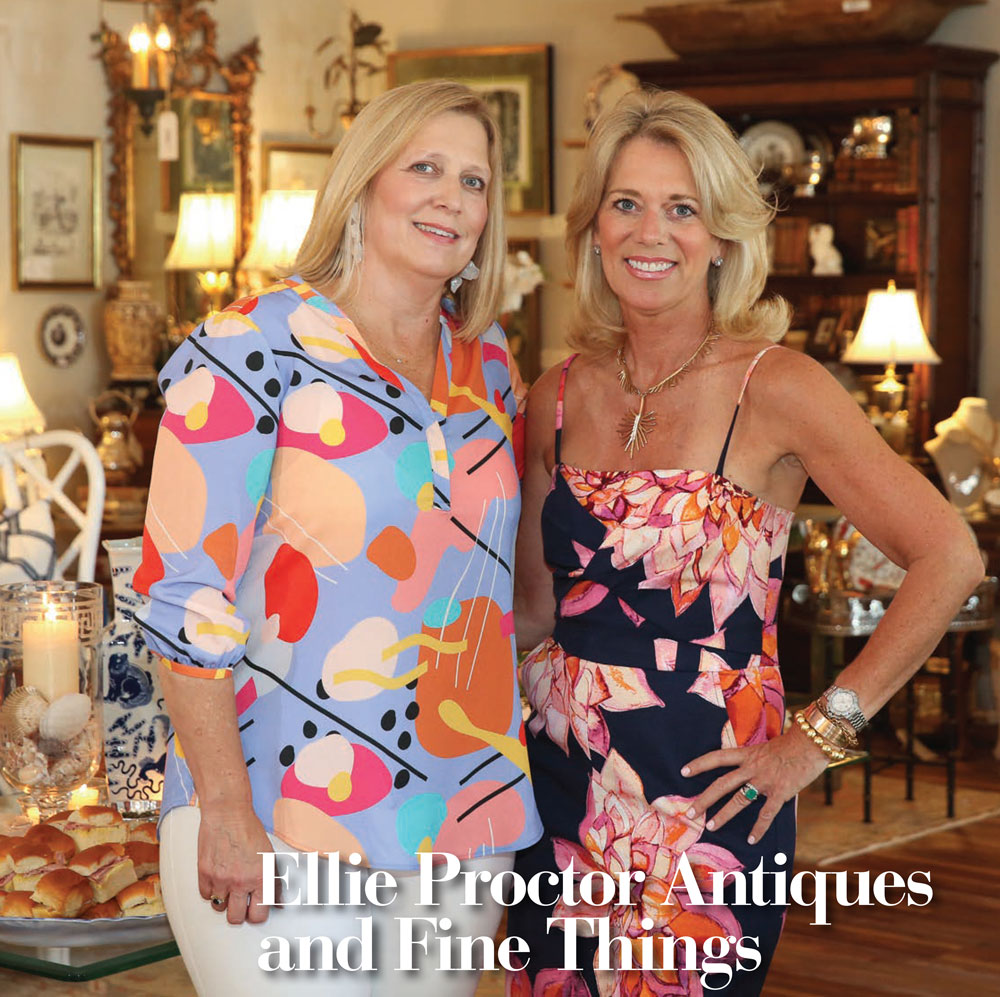 PLATINUM Consignment Furniture
GOLD Home Accessories and Gifts
GOLD Antiques
Ellie Proctor Antiques and Fine Things has a knack for mixing old and new in home furnishings. Owners Meredith Draper and Ellie Proctor opened the store in Piccadilly Square after seeing a need for a consignment and gift store in the Roanoke area.
Specializing in everything from bridal services to consignment, Ellie Proctor Antiques and Fine Things has something for everybody. The store offers a variety of services including monogramming, personalized stationery, bridal registries and a gourmet-to-go food service called "Lady Fingers."
Draper describes Ellie Proctor Antiques and Fine Things as having a vintage flair mixed with the traditional. With no other businesses like it in Roanoke, Draper and Proctor have seen the local community's support continue to grow from year to year.
"We really bring something to Roanoke that hasn't been here before," Proctor says. "Before, a bride could never register for items like antique silvers, but now they can."
In the coming year, Draper will be reopening the company under a new name as Proctor is relocating to Charleston, South Carolina. Both say they are excited and hopeful for their next chapter.
---
HOME LIVING OPTIONS
APARTMENT COMMUNITIES
Platinum: The Reserve at Daleville
Gold: Daleville Town Center Apartments
Silver: Lofts at West Station
HOME HEALTH SERVICES/AGING AT HOME
Platinum: EZ Rampz
Gold: Brandon Oaks at Home
Silver: Home Instead Senior Care
RETIREMENT LIVING COMMUNITIES
Platinum: Richfield Living
Gold: Edinburgh Square
Silver: Our Lady of the Valley
THANK YOU!
WE APPRECIATE THE HOME MAGAZINE READERS WHO CAST THOUSANDS OF VOTES FOR THEIR FAVORITE HOME AND GARDENRELATED BUSINESSES IN THE AREA IN OUR ANNUAL READERS' FAVORITES AWARDS. IF YOU NEED GOODS OR SERVICES FOR YOUR HOME, THESE PAGES MAY BE A GREAT PLACE TO START TO FIND YOUR FAVORITE.
CONTRACTORS, DECOR AND INTERIOR DESIGN, GARDEN AND LANDSCAPE, home furnishings, HOME LIVING OPTIONS, Readers' Favorites, REAL ESTATE AND FINANCIAL, REMODELERS AND HOME BUILDERS, SERVICE PROVIDERS