Year-Round Flowers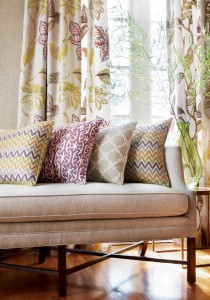 Taking cues from nature, fabrics printed with large-scale botanical themes can energize a room with a big, bold spark of color. Or, depending on the theme, they can add a sense of spa-like serenity. Or…they can simply take over! Often adding a sense of fun to a room, the trick to using these prints is in the application. Your goal is to give your room a touch of whimsy without looking like you have jungle fever.
Use these strong patterns in limited amounts and consider them the anchor for the rest of the room. "You want it to be a centerpiece," says Hope Hollingsworth, manager of The Second Yard.
When used as a focal point, a contemporary oversized design can mix in very well with furnishings that are more traditional. A print on a wing chair becomes a statement piece, adding drama without overwhelming the rest of the room. And, framing a portion of the pattern on something small like a throw pillow or a dining room chair can add an element of surprise to a room, drawing out that detail that attracted you to the fabric in the first place. Used as drapes, these prints can become the backdrop for your room. If you're worried the print may be too bold, keep in mind that when drapery panels are hanging on either side of your window with all those pretty pleats and folds, the fabric won't look the same as it does when it is stretched out on a bolt or upholstered on a sofa. Paint the walls the same color as the background of the fabric and the drapes can blend in.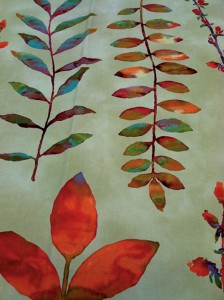 Remember that these patterns can live in almost any room in your house. They're not just for sunrooms and patio furniture! When used in a bedroom, these large prints make fabulous duvet covers or even headboards, bringing the restorative touch of nature to that relaxing place. Used in a more unexpected space, such as in the study or the kitchen, the small punch of color found in botanicals becomes a treat for your eyes. Such patterns can bring a woman's touch to an otherwise masculine leather-and-wood library or study—without being out of context or "girly." And, when used in the kitchen, these patterns can offer a refreshing, clean vibe, evoking feelings of purity and fresh air. "The juxtaposition of these fabrics used in any traditional way becomes the surprise," says Hollingsworth.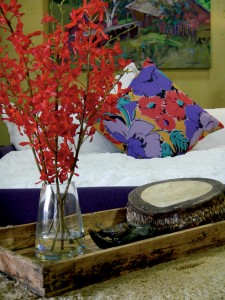 Mix It Up!
Don't be shy in combining other patterns with large botanical prints, which come in a wide range of colors and shades. Anything goes when it comes to pattern mixing—stripes, plaids, chevrons, lattices, ikats, paisleys, even other florals can work together wonderfully.
Pull colors and shapes out of the base print when coordinating fabrics to tie the look together. Another approach is to pull the color from the background of one fabric and choose a coordinating fabric featuring that color in its foreground.
Hollingsworth says that the key to working with these special fabrics and mixing them with others is to keep the patterns in scale. "As long as the scale is considerably different, you can pair these prints with any textured solid or geometric pattern," says Hollingsworth. "Pairing a large leaf print with a large woven grass cloth calms the print down, keeping it more refined," she says. Adding texture also adds interest and depth to your décor. For instance, you could add a lumbar pillow in a tactile fabric like velvet or chenille featuring your family's monogram in colors pulled from the botanical print. Or a silky fringed throw draped over an ottoman that's been covered in a tropical pattern adds a different element to the look.
Try It On For Size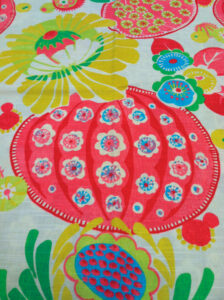 Bring home large samples to try out in your space before committing to them. In fact, ask if you can bring home the entire bolt so that you can really get a sense of what it will be like to see large swaths of the fabric in your room. A small swatch in a print like this just isn't going to give you an honest answer. Seeing the colors and prints in your room allows you to see what your room (and you) can handle, before you commit to yards of fabric.
While it may seem that the rules are wide open when it comes to decorating with these warm-weather fabrics, there is one piece of advice that seems universal among the experts. When considering using an oversized botanical print on a large piece of furniture like a sofa (something that is meant to last for many years), you'll probably be happiest over the long term if you upholster it with something neutral. Bring the fun print into your room by way of throw pillows or perhaps a smaller piece of furniture like a chair or ottoman.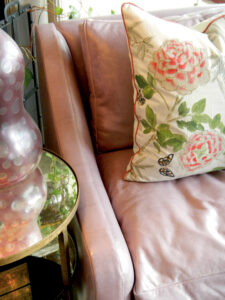 Don't be afraid to try large-scale botanical prints. They're not as difficult to work with as it may seem. Though Hollingsworth cautions "a little goes a long way," offering small doses of large-scale botanical prints can make any room feel more at ease and give it a sense of flair and playful eccentricity.
In the end, you and your family are the ones who live in the space. Creating a look and atmosphere that you love is part of what makes your home, well…your home. Expressing yourself through these beautiful fabrics lends a casual, resort-like feeling to your home all year-round.
Bold Design Colors, Botanical Prints, Nature Fabrics, Pleats, Resort Decorating