Wreathed in Seasonal Splendor: Create Your Own Wreath with Nature's Treasures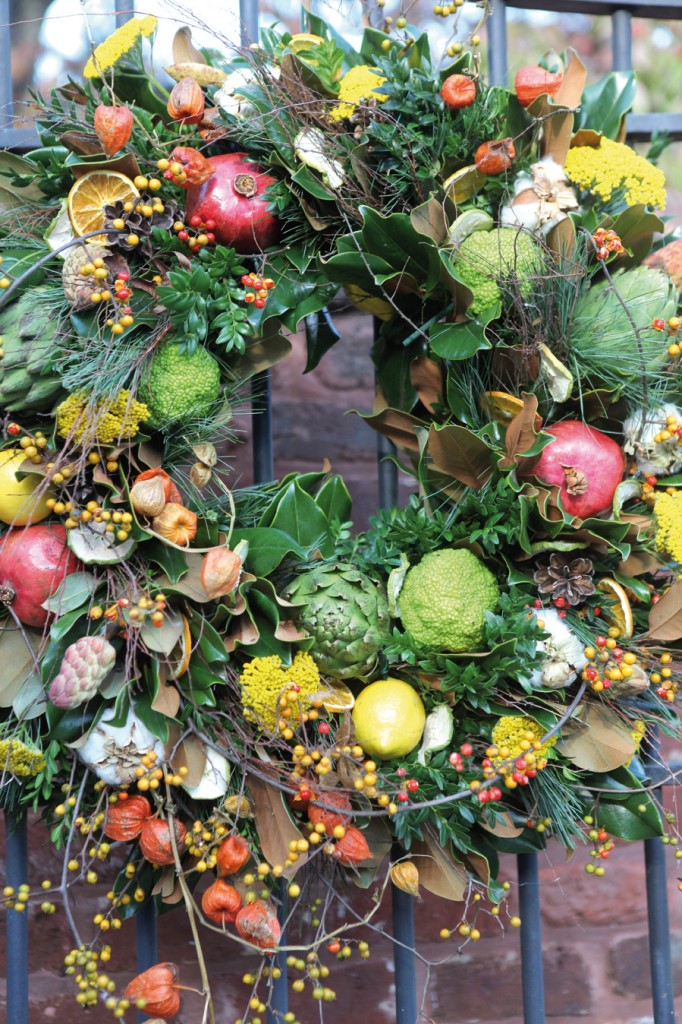 When decorating for the holidays, the basic wreath is one of the most versatile pieces you can use to express your artistic side and your own personal style. By using different wreath frames, elements from nature, and other accents from your home, you can create a wreath that reads as traditional, casual, whimsical, elegantly natural … there is no limit to what you can do with a simple wreath.
Consider starting with a pre-made wreath of pine, boxwood, fir or other evergreen, adding your own greens for a fuller, more custom look. Or you can start from scratch with a wire, straw or floral-foam wreath frame, attaching bunches of evergreens with floral wire or florist pins. And you probably don't have to look much further than your own backyard for varieties that work. Be on the lookout for needle-type evergreens, such as pine, spruce, cedar, cypress, yew, hemlock, arborvitae and junipers; consider incorporating broadleaf evergreens as well—boxwood, magnolia, camellia, aucuba, euonymous, osmanthus, photinia and laurel.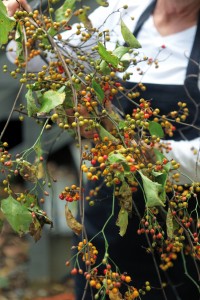 To get started, grab your clippers and cut 12-inch lengths of evergreens in various shapes, textures, and shades. Layer different greens into a small bundle that you find pleasing, or use just one type of green. Wire the bundle about 6 inches below the leaf tops and cut about 4 inches off bottom. Your bundle should be about 8 inches overall.
Wire the bundle onto a straw or metal frame, repeating the process in a counterclockwise direction until you've completed the circle. The bundle should be full enough to overlap the interior circle as well as the outside. Use individual sprigs, pinned to the frame for filling in or covering all of the exposed straw.
Enhancing a purchased wreath with additional greens can be done in the same way with thinner bundles. In this way, greens can be more randomly placed, as desired.
Once you have created the wreath frame just the way you want it, you can insert accents of your choosing. While there is no magic formula to arranging your accents just right, consider placing the larger elements first then filling in until you feel satisfied with the look. Take into account color scheme and placement, too, making sure colors are represented throughout the wreath in a balanced way. If incorporating a bow, consider where you will place it—top or bottom. If the wreath is hung from the top using a ribbon, the bow should be at the top for a look of continuity. A bow at the bottom of the wreath works best if the wreath is hung by something other than a ribbon (wreath hanger, nail, or some other nondescript hanger).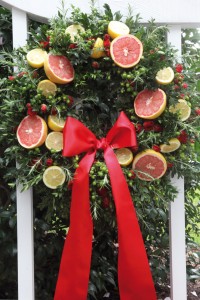 Nature provides some of the most interesting wreath accents around—think pinecones, sweet gum balls, acorns, nuts, moss, milkweed pods, lichen, feathers, lotus pods and more. All of these things can be attached to a wreath using floral wire or hot glue. Herbs and flowers can add interesting color, texture, and even fragrance—think rosemary, yarrow, cockscomb, lavender, hydrangea, globe amaranth and cotton. The produce aisle provides yet another source of inspiration—apples, oranges, lemons, pineapple, artichokes, pomegranate, gourds, okra and more can be attached using wire or staked on floral picks. And don't forget the berries: nandina, winterberry, holly, beautyberry, and bittersweet are all easily found and can add that unique touch to your wreath.
Vintage ornaments and other found treasures can also be incorporated into your design. For an interesting juxtaposition of season, climate and elements, evoke coastal chic by incorporating seashells and driftwood from your summer vacation to your holiday wreath. Bird nests and twigs can make a wildly natural arrangement too. Remember, if you can affix it with hot glue or floral wire, it might make an interesting addition to your wreath.
Inspired? Here, enjoy three handmade wreaths created using elements from nature, resulting in very different but equally beautiful looks.
Seasonal Splendor
Gather a basket full of natural materials to achieve an artful collage of seasonal splendor. This wreath is a magnificent display of the abundance of nature: magnolia, white pine, boxwood, and twigs are bunched, layered, and wire-wrapped on an 18-inch straw frame. Dried orange and apple slices, pomegranates, osage oranges, cotton, pinecones, Chinese lanterns, bittersweet, artichokes, and fresh yarrow complement the colors of the season. This wreath exudes a traditional, natural yet elegant look that would play well in November, December, or beyond.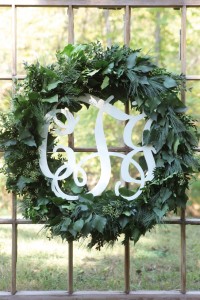 Make it Personal
Create the ultimate personalized wreath with your family monogram. This wooden script monogram is encircled with English ivy, white pine, and boxwood. The greens are bunched and clamped on a wire frame, and the monogram is attached with wire. Monogram cut-outs are available online at places like figure8monograms.com (made from acrylic), southernpropermonograms.com (wooden), and many vendors at etsy.com.
Citrus Surprise
If you want to capture a really unique look, consider this surprisingly beautiful mix of pink, yellow, red and green that captures the full, fresh and fragrant essence of rosemary and citrus. Created on a floral foam base with boxwood and small roses, this wreath features the unexpected: fruit sliced and inserted on florist sticks. A wreath with such perishable components should be used for a special event since it will not last a long time. You can replace the perishables to lengthen the life of the wreath and time for enjoyment.
Special thanks to Kerry Giles, Katy Murray and Lauren Bennion of farmbasket for creating, photographing and writing about these magnificent wreaths to share with readers of HOME magazine. We are most grateful for their extraordinary talent and generosity.
citrus wreath, Create with Nature's Treasures, fresh wreath, monogram wreath, Seasonal Wreaths, wreaths