WILD ABOUT WALLPAPER Hot Trends in Cool Paper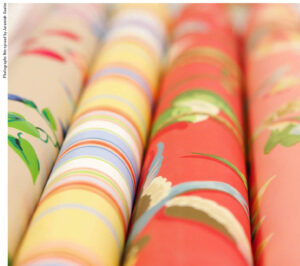 Toss those stiff old paintbrushes and half-empty paint cans buried in your garage. Do it now because you won't need them this summer. Luxurious and vibrant wallpapers that turn rooms into art are ready to reclaim their place in your home.
Wallpaper makes everything look better, from your artwork to your furniture, says Elaine Stephenson, owner of Elaine Stephenson Interiors, Inc.
"Generally my favorite rooms to wallpaper are bathrooms and kitchens because they are utilitarian. Wallpaper perks them up," says Stephenson. "It warms the kitchen up and makes the bathroom fixtures look great in a way that paint can't." 
This elegant staple has been reincarnated. Botanical, animal and damask prints still reign, but now they are dramatic and fresh, and pepped up in size, sparkle and sheen. And the best part is that those dusty old wallpaper rules on mixing and matching are long gone. 
"With wallpaper, you're making something stand out," says Mahala Fletcher, assistant manager of Sherwin-Williams. Many times a home has a theme that reappears in different rooms, and wallpaper can pull it all together to make things pop.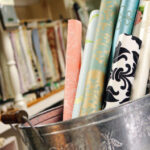 Roll Out the Trends
This season, interior designers are gathering collections of colorful damasks, papers with dramatic bird patterns, textures like grasscloth, and jewel-toned papers.
Previously blue dominated the damask print, but now lavenders, purples, yellows, browns and softer blues are staking an equal claim over the classic. Designers love that the pattern works in every room, whether large or small. Contemporary toile prints are being welcomed into homes just as frequently.
"A large room looks great with wallpaper; in a big two-story foyer for example, a large-scale damask is stunning," says Stephenson.
Dragonflies, butterflies and leaves have also been swept into kitchens, bedrooms and dining rooms in new botanical prints. Vibrant birds and stylized flowers are now larger than life. Realizing that petite flowers just didn't do justice to a room with a vaulted ceiling, wallpaper makers have seen to it that the nature prints blossom to sizes that work for large rooms.
Stripes are still a good idea in any room because of the visual magic they weave. Stripes in shades of tan, blues with green, and blues with creams brighten a room. Placing the stripes vertically adds height and gives the illusion of a larger room.
Instead of a painted faux finish, consider going faux with paper, saving time and money. Makers have rolled out papers with the look of a faux finish in dark reds, browns and pinks in color washing, sponging, marble and metallic designs.
Stephenson says that the right metallic—those that are soft and burnished—are particularly pretty. "I try to steer clients toward things that look fresh. You do have to walk a careful line too, between what is fresh and what is timeless," she says. The same care must be taken when choosing geometric prints; you don't want a print that is too "retro".
Color Your World
Aqua colors, particularly sea green and sea foam; jewel-toned purple, red, green and gold; and brilliant hues of blue, fuchsia, lemongrass, rich green and orange are increasingly in vogue. Bathrooms are seeing an influx of these eye-catching colors including pinks and greens, dramatically colored prints with black backgrounds, and prints featuring fun motifs like surfboards, flip-flops and seashells.
"People put all different kinds of things in their bathrooms because that is a big theme room," says Fletcher. "Everybody tries to jazz them up." Small rooms are a great place to try a theme or bold designs. If you want to open the small space up, Fletcher recommends trying a faux-finish paper and using light colors, possibly in shades of green.
If you are papering a formal room, however, consider opting out of these bolder colors. A paper that has a bit of a shine turns up the glam on a room. A beautiful option is a silk-and-satin paper that mixes white-on-white or beige-on-beige. One color appears slightly different, almost like a shadow—and this timeless look will not go out of style. The colors may sound familiar, but they won't look it. The tone-on-tone papers meld natural tans with creams, or tans-on-tans offering barely visible patterns that are caught in the right light. This look is ideal for those who already have busy patterns in the room. Textured papers are another option in heavily patterned rooms.
Grasscloth is also making a big comeback. The colors of grasscloth mellow and soften as the paper ages, adding to its attractiveness. Depending on the tightness of the weave, you may see more or less of the background color, anything from cream to a metallic. It gives walls a reeded look and has tremendous versatility. It comes with provisos though: Grasscloth can't be cleaned, and cats love it as much as people do.
Textured papers make it easier to update home décor later because there is less concern over coordinating with existing colors and patterns. Textures are ideal for those uncomfortable with a wallpaper print, or those who prefer to have bold patterned furniture or drapery.
Although trends fade, local designers say these wallpaper trends should stand the test of time. Other trends on the market—think leather, super shiny metallics and flocked wallpaper—will not. (Yes, we did say flocked wallpaper.) The trendiest of papers will make rooms look dated in just a few years. Avoid them, as well as tiny florals, country prints, borders, the mix of blue and brown, circles, polka dots and matching the wallpaper precisely to fabrics.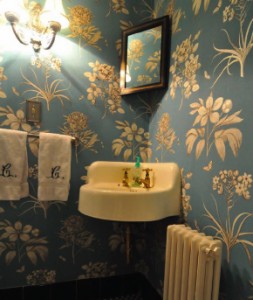 Paper Your Spaces
Choosing the right wallpaper can be made easier by asking yourself the basics, according to the Wallcoverings Association website (www.wallcoverings.org). You need to consider if the space is for activity or relaxation, who uses it, how much light it gets, and if you want to make the space appear larger or smaller. An activity room might need warm colors, and a relaxing room, cool colors. When you know who uses the room, you can take their favorite colors into consideration as well. Generally speaking, a room with northern or eastern exposure needs warm colors, and one with western or southern exposure, cool colors. To visually enlarge the size of the room, paper with cool colors, and to make it seem smaller, try warm colors.
Some other elements to mull over: Is it a high-traffic area? One with lots of moisture? Is there just one problem wall you'd like to cover? Is there a piece of furniture you want to showcase? Do you have a theme?
High-traffic areas like your hallway need vinyl-coated wallpaper, which can be wiped off and cleaned. Intense moisture, in a steamy bathroom for example, will also require a heavier vinyl paper product. Paper can transform an exasperating wall into an elegant one that makes your favorite furniture stand out. Any theme can be represented in wallpaper to give rooms continuity.
Once you've decided what to buy, stop. Decide if you want to paper the room yourself or hire a pro. You absolutely can wallpaper with the help of friends if you are willing to put in the time to do it right. That means removing old paper and priming the walls. While it is a messy job, only a few tools are needed (smoothing tool, sponges, razor blade and level). Priming is essential because it makes moving the strips around easier as you attempt to get the paper in just the right spot. Primer also makes removing paper in the future easier. If you are going it alone, choose a paper that has no texture and no pattern, and start with a large room.
If you have chosen a pattern or texture, hire a professional. The craftsman knows how to get the most out of each roll and will help you determine how much to order. It is tough to match each strip of paper perfectly (imagine searching for a pattern repeat in 32 feet of paper) and you could end up wasting a lot. Most wallpaper dealers can provide the names of professional paper hangers. The general rule is that it will double the cost of the project.
If the company you go to keeps wallpaper on hand, you'll find steals as low as $10 per roll. If not, prices are still great at $25 to $35 a roll, about as much as quality paint. If you can't deny yourself that special-order hand-painted designer roll of paper—and yes, a roll of dainty, shimmery Farrow & Ball will make you coo—be prepared to part with $200 per roll. Grasscloth papers have come down in price to about $50 a roll, less if you go faux, with a flat paper made to look like woven grasscloth. It's also helpful to know that the average bathroom requires five double rolls of wallpaper, and the average bedroom, 10 to 14. 
The most important thing is to not be intimidated, says Fletcher. "Wallpaper is fun. There are so many fun patterns that you can use. Don't be scared of it."
Armed with all of this information, there is only one question left: Did you toss your paintbrush yet?