What the Watt? | An Illuminating Look at Modern Day Lighting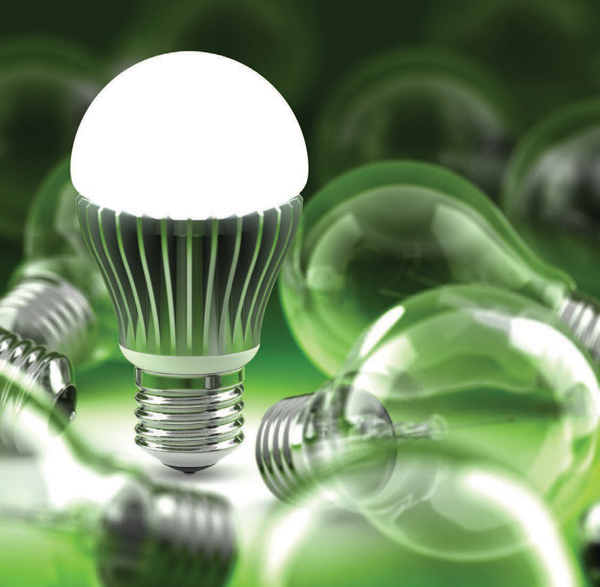 The subject of light bulbs used to be as dull as 25 watts. A lamp burns out? Replace it with a 60W, 75W, 100W or—if you're feeling fancy—a 3-way bulb, and life is bright again.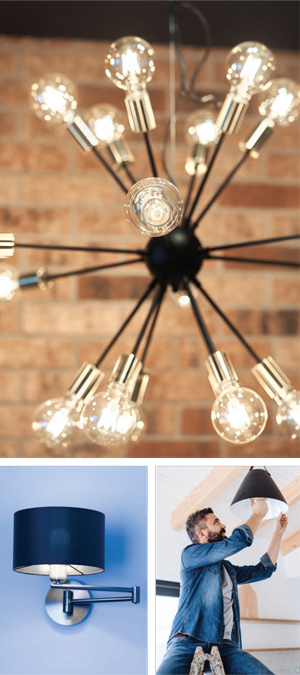 End of adventure
Welcome to a brave new world in which lighting one's home has come to a convergence of science and art—with options that not only change the ambiance of each room, but actually shave hundreds of dollars off the electric bill each year. Add to that "smart lights" that you can control with a smart speaker or your smartphone, color-changing bulbs with mini remotes, and all things LED.
This requires a bit of untangling, with an understanding of such enlightening modernday terms as lumens, soft vs. daylight, and the fundamental differences between incandescent— the technology developed by Thomas Edison that remained relatively unchanged after more than 100 years—alongside Compact Fluorescent Light Bulbs (CFL), Light Emitting Diode (LED) and Halogen.
First, to throw some shade on a well-established rumor. No, incandescent bulbs are not illegal. The Energy Independence and Security Act (EISA), which went into effect in January 2014, did indeed phase out the 25-cent, traditional 60- watt light bulbs that employed tungsten-filament incandescents—they no longer met new energy standards. Today's versions of standard household bulbs, according to Energy Star, use at least 27 percent less energy with advancements in halogen technology (actually part of the incandescent family).
There's more to come. Next year, EISA is mandating that light bulbs must be 60–70 percent more efficient than the standard incandescent on the shelf.
And that brings us to the puzzle of today's CFLs and LEDs, which are dramatically more efficient and offer lifetimes that extend beyond the decade marker. Still, the terms on the box can be seriously perplexing. Let's try to simplify that journey down the bulb aisle.
First, there are differences in light color. Warm yellow light, similar to old-fashioned incandescent, has a color temperature around 2700K. The K stands for "Kelvin," a temperature scale that measures light color. Most Energy Star-qualified bulbs are in the 2700K to 3000K range. As you move higher up the scale, bulbs with a 3500K to 4100K rating cast a whiter light, while those measuring 5000K to 6500K give off a bluer-white light.
But there is perhaps nothing more confusing than discerning the difference between Lumens and Watts. So, here goes: The more lumens, the brighter the bulb (the term is derived from "luminous").
For bulbs used in lamps and ceiling fixtures, known as A-type:
800 lumens = 60 watts
1,100 lumens = 75 watts
1,600 lumens = 100 watts
One of the benefits of the newer bulbs is that they purport to last a great deal longer than incandescent filament light bulbs. Because of high heat levels, the standard filament workhorse typically lasts between 1,500 and 3,000 hours. Second-generation halogen lamps are essentially improved incandescent bulbs. The process of incandescence is still there, but the glass bulbs are filled with halogen gas to counter the detrimental effects of heat and thus improve longevity. So with halogen, the lamp's lifespan averages between 4,000 and 8,000 hours.
Next in line are Compact Fluorescent Lamps (CFLs), which provide an even longer lifespan and more light for much less electricity. These are the curlyshaped gizmos, and they endure up to 10,000 hours. Then there are today's standard Light-Emitting Diode bulbs (LED), offering unprecedented durability and a previously unheard-of life span. Energy Efficient Pros offers on its website: "Featuring solid-state lighting technology, LEDs are much closer to computers than light bulb technology, and thus do not suffer from [traditional light bulb] problems, such as flickering, heat and premature burnouts. Because of their low heat levels, LED light bulbs can last up to 25,000 hours."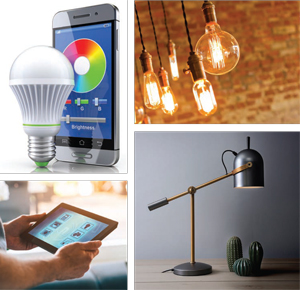 Lighting the smart home
If all of this is starting to read like a science fiction novel, it's about to get even more space-age. Among the latest innovations in smart home technology is the ability to control one's entire home lighting grid with either your smartphone or smart speaker. Rising in the dark before dawn? "Alexa, turn on the stairway lights." Heading to the slightly scary cellar? "Okay, Google, turn on the basement lights." How ubiquitous have smart speakers become? In the five years since Amazon introduced Echo, more than one in five Americans (21 percent) own a smart speaker, or 53 million folks, according to Edison Research and NPR.
"Smart bulbs" are becoming less expensive, too. CNET points to the Wyze Bulb, which costs $8. These bypass the need for additional hardware—the $10 add-on plug—that most smart home applications require: "With Wi-Fi radios built into each bulb, screw them in, turn them on, pair them with the Wyze app and bask in the glow of a dirt-cheap smart light," the tech website says. These also offer a spectrum of white light color temperature settings, ranging from a warm, candle-like 2,700K to hotter, whiter daylight tones that approach 6,000K.
Beyond that, the latest, greatest technology reaches even further into Jetsons territory. Color-changing smart bulbs, from $9 to $30 on amazon.com, utilize a mini remote allowing users to switch between 10 colors and such multiple modes as Flash, Strobe and Smooth, along with a cascade of changing colors and your choice of brightness to set up any kind of ambiance, from dim to disco.
It was 60 years ago that Joel Spira invented one of the marvels of modern lighting—the wall-mounted dimmer switch. With the technology patented, he founded Lutron Electronics in 1961. Based in Coopersburg, PA, the company is still shining bright—and it continues to innovate. For one, it is known for lighting the Statue of Liberty. That feat alone is certainly tell-tale of just how brilliantly lighting has evolved. And who said bulbs were boring? ✦
---
DECK THE HALLS WITH HOLIDAY LIGHTING


The same innovations revolutionizing indoor lighting are bringing new energy to seasonal lights as well, especially the classic string lights that have long illuminated Christmas trees, rooflines and entryways. Remember National Lampoon's Christmas Vacation? Poor, beleaguered Clark Griswold overloaded his house with 25,000 lights… and zap! Griswold moments are a thing of the past with LED products available today; they use less energy, allow for multiple strands, keep burning even when that one cursed bulb is missing, and stay cool to the touch. And that's just a prelude: here's a look at how creative holiday lighting solutions have become.
GET SMART:
Systems like Lumenplay or Philips Hue work with your smartphone and an app to create a personalized light show, with color combinations, effects, speed, direction and brightness. Color and white, dimmable and extendable, these mirthful tech-savvy options also work with your smart home, alongside smart speakers like Amazon Alexa and Google Home.
BATTERY-OPERATED AND SOLAR LIGHTS:
On the other side of the tech spectrum, here's a jolly option for stand-alone displays far from a power source, without need of unsightly extension cords. Inside, place miniature blinking white lights in a colored vase on top of the piano for starry ambiance. For outdoor displays try solar-powered lights.
NET LIGHTS:
Patterned like a giant web to be laid over bushes and shrubs, these lights easily drape across foliage—no need to unbox 10 strands of tangled string lights that can turn the holiday spirit into a Halloween boo. Two sets nicely cover the boxwoods out front. Make sure you opt for green wiring instead of white.
PROJECTOR LIGHTING:
These gizmos have become crazy-popular over the past few years. Set up the projector a minimum of 10 feet from the house, aim, and enjoy the likes of vibrant moving snowflakes or star patterns that sweep across 30 feet. The ubiquitous Star Shower emits a laser light that diffracts into thousands of tiny shapes; colors can be set to red, green, or a mixture of the two. Each year has seen technology advances; this year's models come with more than a dozen slides for multiple holiday showcases, 10 colors and remote control.
REMOTE LIGHTS:
A single 6-foot strand of lights handles any combination of colors. They can be set to steady, blinking, "horse race," slow glow, "meteor" and more. The options are endless for holidays year-round; permanently adhered to upper window casings indoors, you're ready for red, white & blue on July 4th, green for St. Patty's and orange for Halloween.
MORE TECH-SMART LIGHTING:
Try KooPower Waterproof Battery Fairy Lights. Like rum in egg nog, these babies will definitely kick your holiday lighting up a notch. The twinkling charmers are controlled by a remote and powered by batteries for ease of use.
OUTDO THE JONESES:
If you intend to be the new-tech Clark Griswold in your neighborhood, LED Meteor Shower Rain Tubes are marvelous. Long and only 3 centimeters wide, they come in various lengths. The meteor effect is that of a cascade of color that "falls" through the tubes repeatedly, as each light turns on and off one by one, in sequence, much like a meteor shower or falling snow in the night sky. They come in packs of eight for a dazzling spectacle that will summon Santa to ho ho ho with extra gusto.
---
Compact Fluorescent Light Bulbs (CFL), Halogen, improve, Joel Spira, Kelvin, light bulbs, Light Emitting Diode (LED), Lumens, NET LIGHTS, PROJECTOR LIGHTING, REMOTE LIGHTS wall-mounted dimmer switch, smart lights, SOLAR LIGHTS, tungsten-filament incandescents, Watts