Water, Water Everywhere: Find Your "ahhh" in Hot Tubs and Swim Spas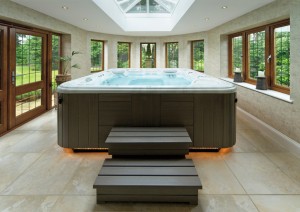 There are many ways to unwind from the stressors of everyday life, but perhaps one of the best is by way of water. Feeling sluggish? Drink a glass of water for an instant pick-me-up. Feeling uptight? Relax into a bath. Feeling the aches and pains of strenuous exercise or simply the good old-fashioned passage of time? Consider hot tubs: More luxurious (and fun!) than running a bath, less commitment than a swimming pool, a hot tub may just be just the thing to create a private, relaxing oasis in your own backyard (or even somewhere inside). And the best part of all? This water feature will be at your disposal to enjoy all year long.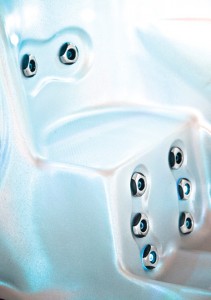 The hot tub industry as we know it began in the 1950s when some folks you may have heard of—the Jacuzzi brothers—created a hydrotherapy pump to help alleviate a family member's arthritis. In 1968, Roy Jacuzzi created the first stand-alone whirlpool tub. The rest, as they say, is history; the Jacuzzi family became a household name and did for hot tubs what Kleenex did for tissues and Xerox did for copy machines. Today, though, there are many manufacturers and many brands of hot tubs, with more features than ever. Even newer on the scene, and taken a step further, is the swim spa—much like a hot tub but with the added utility of providing a workout. In a swim spa, powerful jets provide enough resistance for homeowners to swim (or walk, run, even boogie board) against. Turn off these powerful jets and you also have your own place to kick back and relax.
Once relegated to hotel pool decks, the stuff of wild parties, or the trusty sidekick to residential in-ground pools, hot tubs are now, like most other home amenities, something that can be tastefully integrated and completely tailored to suit your needs. Terry Donovan of National Pools explains why hot tubs are a feature sought after by many of today's homeowners. "People are looking for a warm body of water to relax in," she says. Hot tub customers run the gamut, from younger families who enjoy them for the recreational and social value, to older customers who gravitate toward them for their therapeutic benefits.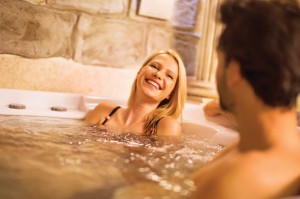 Choosing the Right Model
Paul Madden of Water By Design says that he sees many hot tub shoppers who know exactly what they want in a hot tub, thanks to their savvy advance homework. In this age of information, customers know a lot about hot tubs and all their features before they even come in to shop with him. "We are seeing a much smarter purchaser these days, both in terms of product knowledge and money spent," he says. "It's a lot like buying a car," he says, "so it's important to make the right decisions."
For customers who need a little more guidance, experts can help. Donovan asks questions to help determine what exactly these customers are looking for. She says, "I ask them, 'Have you had a hot tub before? Have you been in one? What features are you looking for? What are the reasons behind this purchase?'" With these answers, she can help homeowners determine what size, shape and model will best suit their needs and desires. For example, if you are considering a hot tub for entertaining, you'll need ample seating; if you'd rather use it more for a private retreat to relax and ease muscle aches, then jet size and jet placement may be more important. "Features are only a benefit if they benefit you," Donovan says.
An important feature to consider when buying a hot tub is not only the number of jets, but also the type and placement of jets. There is a huge variety in jet functionality, from pinpoints of water to pulsating waves to the feel of fingers running down your back. Even hot tub seating has many options: some models feature seats that are more upright while others will include loungers, "captain's chairs" in each corner, or some combination. Sound and TV systems, special mood lighting, even water features like illuminated arcs of water or mini waterfalls are options to amp up your hot tub experience.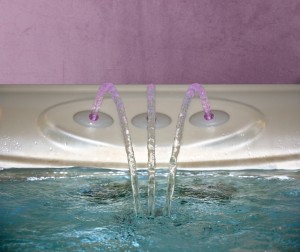 The look of hot tub interiors has evolved over time as well. Donovan says, "In the 14 years we've been doing this, hot tubs have come a long way in terms of comfort, color and variety. It all started with a marbled look, then speckled, then moved to more of a matte/muted look. We are seeing marble make a comeback, however!" Just like fashion, the trends in hot tub interiors are coming back around. Some homeowners prefer that the interior of their tubs coordinate with the exterior of their homes in some way—even if they are covered when not in use. Interiors are made of fiberglass covered with acrylic and come in a variety of colors and finishes. Madden says that the "white pearl" look remains quite popular, but quips that sometimes the biggest issue is getting spouses to agree, since the choices are so plentiful. Covers, typically made of foam core covered in vinyl, also come in an array of colors to suit your preferences.
The cabinets that hot tubs are housed in have also come a long way in terms of good looks—and ease of maintenance. Once upon a time they were made from wood, which required the regular cleaning, staining and sealing necessary to maintain its good looks. Today's cabinets are typically made from polymers that mimic the look of wood, complete with wood-grain embossing. Some manufacturers also make cabinets out of polymer to look like stone.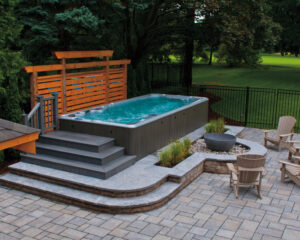 Locating Your Hot Tub
So you've figured out the look of the hot tub you want; what about integrating this sizeable item into your space? This is one of the most important things to decide. If you put it close to your home, rather than in the far reaches of your yard, you are more likely to use it more often through all seasons. Keep in mind that it can be a long, cold walk back to the house if you're taking advantage of a hot outdoor soak in the depths of winter.
Madden recommends a site visit ahead of time to make sure your plans are feasible. Experts will check not only that your chosen location is suitable, but also the clearance to deliver the tub on to your property, making sure that gates, walls, branches, even protruding meters and air conditioning units are not going to impede delivery. No one wants the unpleasant surprise of installation issues on delivery day. Madden says that while he's had some challenging installations—a hot tub on a dock at Smith Mountain Lake, and inside a home with a tricky stairwell requiring removal of handrails and other clever wrangling—there's never been a location that they haven't been able to overcome and deliver just what the customer envisioned.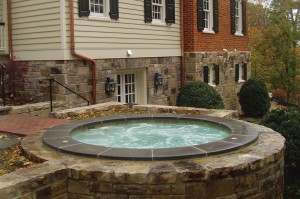 The key to successful installation is a firm, flat, level surface, like a concrete pad or pavers. If you're looking to place the hot tub on a deck, you'll need to be certain that your deck can withstand the enormous weight of a hot tub full of water—as well as the people in it. "They can weigh anywhere from 3,100 to 7,000 pounds when full of water," notes Donovan, so some decks will require further reinforcement to withstand that kind of weight.
While you don't need a plumber to help install this water-filled fun—hot tubs are self-contained, filled initially and then filtered—you may need the services of an electrician. Donovan explains that most municipal codes require that you have a dedicated, grounded outlet (a GFCI outlet), and in the right location—a certain distance from your hot tub, for safety. Getting your electrical hook-up up to snuff to accommodate a hot tub is not considered a major electrical overhaul, however, and costs should be minimal.
What if you want to place your hot tub inside—like in a basement or a sunroom? Some of the same rules apply: you'll need a firm, flat surface with adequate reinforcement, and the added requirement of water-resistant flooring (such as tile or cement). You also need to be sure the room where you want to place your tub or swim spa has adequate ventilation.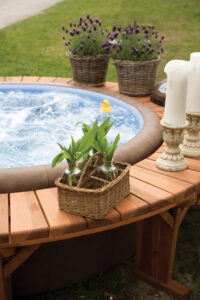 Once installed, you can certainly enjoy your hot tub without lifting another finger—but if you are looking to boost the aesthetics of your new spa even further, there are certainly some ideas to consider to create a visually pleasing scene. Some hot tub owners build attractive decking around the tub, making sure that the control panel and electrical supply remain easily accessible. Another tip, if you haven't already placed it near existing landscaping, is to landscape intentionally around it to enhance privacy and a getaway feel—think lush evergreens, perennial grasses and a trellis that will bloom with flowering vines in the warmer months. Under a pergola, an accent to an existing hardscape, or surrounded by large potted trees and container gardens, your hot tub really can be a destination in your own backyard.
Maintaining a hot tub has never been easier, and there are many options to consider here as well. "There are a dozen or more alternatives for sanitizers," explains Donovan, from traditional bromine or chlorine, to saltwater systems (a system that turns salt into chlorine), to ozonators (a mechanized solution to eliminating chemical sanitizers) to mineral sticks.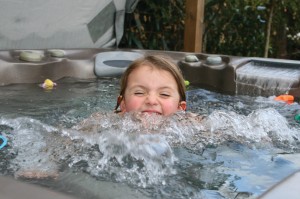 One benefit to all these options is that they give customers long-term flexibility. "It can all be retrofitted down the road," explains Madden. Generally speaking, chemical options are less expensive than ozonator technology. He says that some customers choose to wait it out until that technology becomes more affordable. Currently, many of his customers favor the saltwater sanitizing option.
Donovan says that some models are "self-cleaning"—meaning a powerful drain in the bottom of the tub eliminates any debris that lands there, as well as a skimmer (like on a traditional in-ground pool) to filter any surface debris or oils. With this self-cleaning feature, you can also drain the tub completely without using a secondary means (like a pump or shop vac, or sponging out those last few inches of water).
Technology advances have also improved hot tubs' energy efficiency—many meet strict efficiency standards, made with multiple layers of the high-tech foam used to insulate freezers, which in turn means less energy is required to keep them nice and hot.
Like any home luxury item, prices for hot tubs run the gamut, from base models to fully loaded. You can expect to pay somewhere between $4,000 and $5,000 for an entry-level tub, on up to $15,000 or more for a model with all the bells and whistles you could imagine.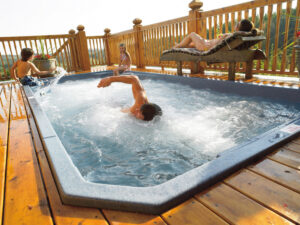 Swim Spas
If you'd like to be able to use your water oasis as a workout tool, you might be in the market for a swim spa. Much like a hot tub, this vessel is also above ground and self-contained, but it is longer and wider, and runs a powerful jet to swim against for a full workout. Swimming can be easier on troublesome joints than higher impact activities like running, or even walking and biking, while still providing a great workout. "You can swim against this current as long as your heart's content," Madden says. He likens the technology to an underwater treadmill or bike.
Madden helps put these swim spas in context to which we can all relate. Ever wonder how major athletes make such relatively quick comebacks from their injuries? Well wonder no more; he explains that much of their recovery can be attributed to hydrotherapy and the use of swim spa technology. To borrow a favorite phrase from physical therapists everywhere: "All roads lead to the pool."
National Pools and Water by Design both carry swim spas known as dual-zone spas, in which the water on the swim spa side is cooler for recreation than on the hot tub side. Donovan says that she has seen families choose this model so that the parents can relax on the hotter side while the children swim and play on the other. She says some models provide everything from 3 ½ miles per hour resistance—perfect for walking, swimming, even boogie boarding—to 7 miles per hour, in which you can even practice your kayak skills. A swim spa will cost "more than an above-ground pool, but less than an in-ground pool," she says. Basic models can start around $16,000. A top-of-the-line swim spa loaded with features, for example, can cost around $30,000 or more.
Whether for pure relaxing or a joint-gentle workout, these at-home water retreats can provide a little bit of luxury to your life—at your disposal, all the time. "People love hot tubs because they are something you can enjoy year-round—not just Memorial Day through Labor Day," says Madden. Maybe this is just the right season to consider adding this feature to your home and your life.
Above Ground Pool, Hot Tub locations, Hot Tubs, Jacuzzi, Landscaping for Hot Tubs, National Pools, Saltwater Sanitizing, Swim Spas, Water by Designs