Vanity Fair | Upgrade This Washroom Fixture For Custom Appeal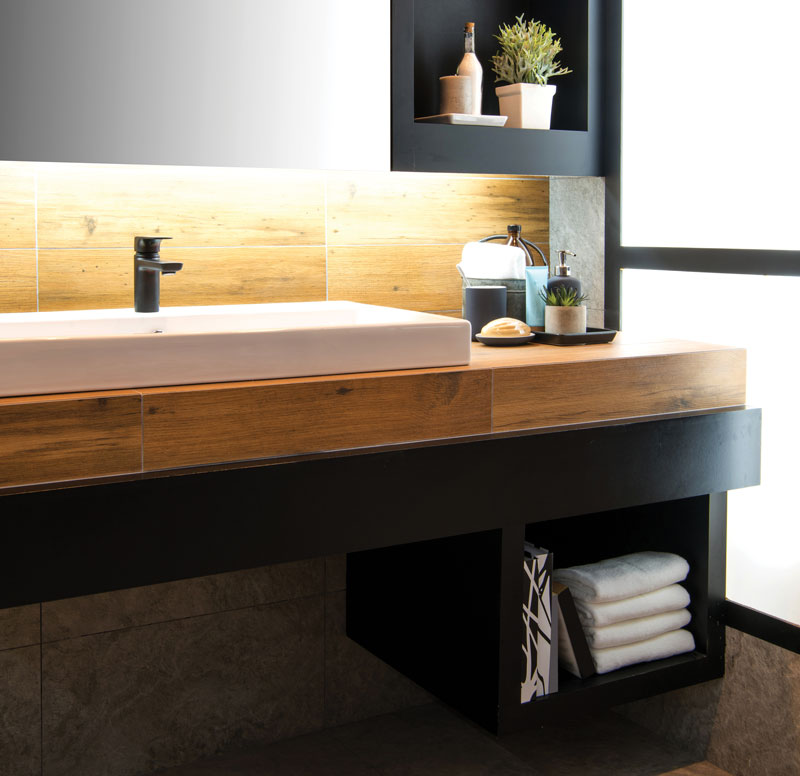 We've all seen exaggerated infomercials—you know the ones, where everyday people are shown in black-and-white struggling to complete a mundane task. Then, with a burst of color, a product appears that miraculously solves the problem. When my husband and I first bought our house, our master bathroom felt like the stage of our own personal infomercial.
Every day brought an unnecessarily dramatic skirmish with our too-big-for-the-space vanity. Lack of room meant a gymnastic feat was required to open cabinet doors and, despite the cabinet's large size, the narrowly designed interior shelves would barely accommodate basic necessities. We were struggling to function in what should have been a tranquil oasis. After nearly a year of frustration, we found our salvation in a new bathroom vanity, and we haven't looked back since.
It's a tried-and-true fact that bathrooms are second only to kitchens in terms of resale appeal, and when it comes to remodels, bathroom vanities are one of the easiest ways to make a statement. From the cabinet style and countertop to the sink and faucet, a little change goes a long way.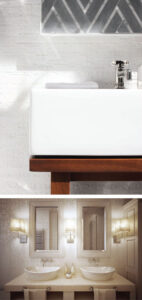 Envision a fresh start
Don't get me wrong, builder-grade bathroom vanities can be perfectly presentable, but given the opportunity, why not amplify the charm? You can either augment what you have, or start from scratch.
Consider your vanity a blank canvas. Paint is a quick and fairly simple way to give it new life. Navy blue and pure black cabinets are ideal statement pieces. For added vibrancy, try these rich shades in shiny lacquer, then balance your new bold centerpiece with fashionable gold and brass fixtures. Though a seemingly daring choice for one of the smaller rooms in your home, these combinations exude elegance and style. For a more neutral look, consider a crisp white, a soft grayblue, or rich espresso brown—any hue that enhances the room's color palette. To add dimension to cabinet doors, consider custom elements like molding, beadboard, decorative tin tiles, frosted glass panels, or distinctive hardware.
Storage is, of course, the ultimate vanity concern. If your current cabinet doesn't have drawers, consider mounting pull-out drawers inside the vanity. Sliding drawer kits are available at local hardware stores and installation is simple, just be sure to account for the plumbing pipes under the sink.
If you decide there is no salvaging your vanity, the world is your oyster. The considerations for vanities are many, but here are a few top factors. Your cabinet defines the space, so size is critical. Standard vanity lengths range from 24 to 60 inches, though smaller and larger varieties are available. In my case, the length of our vanity extended into the natural walking path. By replacing our 48-inch long behemoth with a 30-inch version, the room felt instantly larger. If downsizing is the solution for your bathroom, use masking tape or string to mark out various sizes and analyze the space. You'll know when it feels right.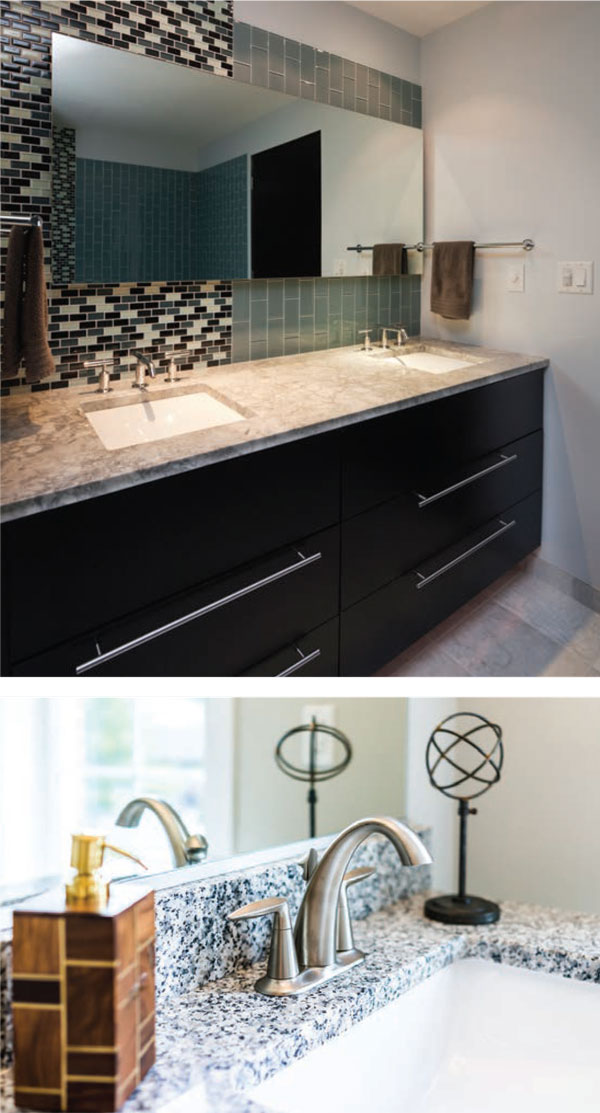 Length also determines the number of sinks your cabinet can accommodate. For two sinks, a minimum of 48 inches is generally the threshold. In regard to height, a standard vanity is around 32 inches high, but an emerging trend is the
comfort height cabinet, standing at 36 inches. Higher options are popular with both taller adults and retirees because they require less stooping, and some newer vanities even come with a built-in step stool disguised to look like a bottom drawer—perfect for young children who need help reaching the sink.
Once you've determined your dimensions, the journey to the perfect vanity begins! Two custom vanity styles dominate the market—freestanding and floating. Freestanding units have legs and tend to look more like traditional furniture, while floating, or wall-mounted, units skew toward the sleek and modern. Floating vanities give the illusion of more space because there is nothing touching the floor, but they can also be short on storage since they occupy less space.
While local stores and online retailers offer endless options for vanities, you can also repurpose existing furniture or vintage finds. A dresser can easily be converted into a vanity by cutting openings in the back and drawers to accommodate the plumbing and sink. Be sure to seal and lacquer any wood surfaces so it can withstand water and the humid bathroom environment.
Select a stylish surface
If you're anything like me, you've spent more than your fair share of time fawning over countertop options. With their relatively small size, bathroom vanities offer a chance to use high-end products without the hefty price tags.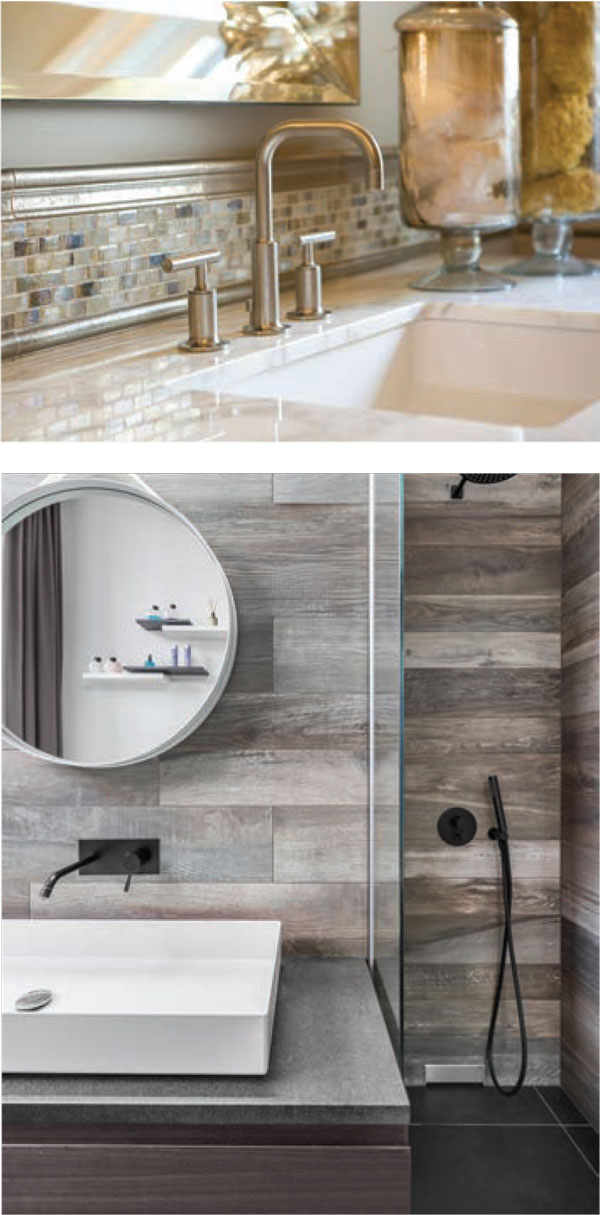 Engineered stone like quartz and porcelain, which have a marble-like aesthetic, are excellent options for bathrooms because they are non-porous, meaning they don't need to be sealed and they resist stains. With its natural specks, swirls, and veins, granite has long been a fan favorite. Another non-porous surface, it isn't damaged by water and heat, so bring on the curling irons, ladies!
Aside from its fitting name, soapstone offers a classically beautiful look and gains a stunning dark patina over time. Though it is a softer surface than other varieties, scratches can be disguised with mineral oil, and it is impervious to chemicals. Alternatively, solid surface countertops, crafted from acrylic resins and natural materials, are affordable without sacrificing style. This durable option resists stains, mold, mildew, and bacteria.
If you're feeling adventurous, consider concrete, which can be cast into various shapes and stained a range of colors. While generally associated with ultramodern designs, concrete can also blend seamlessly with neutral-hued rustic decor. A practical choice for bathrooms, it resists heat, stains, and scratches. Keep in mind that it requires regular sealing and can be quite heavy, so it isn't the best choice for delicate furniture.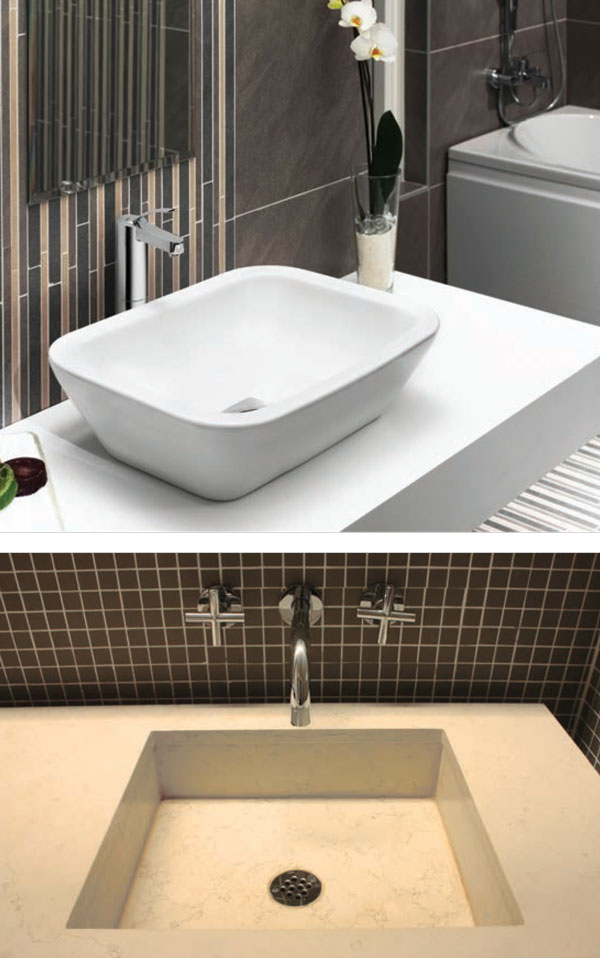 Opt for a distinct basin
Now that you've explored cabinets and countertops, the question remains: What type of sink is best? The main sink styles are drop-in, integrated, undermount, and vessel. With a drop-in sink, also known as top-mount, the top edges rest on the counter. An advantage to this option is that most any material can be used for the countertop because the sink completely covers the cutout and prevents water damage. Another popular choice, integrated sinks are one with the countertop—no seams or ridges—which makes for easy cleaning, a great choice for high traffic bathrooms.
Undermount sinks are, as the name implies, mounted underneath the countertop. This creates a sleek look because less of the actual basin is visible, and the counters extend seamlessly across the vanity. A vessel sink, another great choice for repurposed furniture, sits entirely on top of the cabinet. These bowls often appear like works of art and can match any style— glass for modern bathrooms, or blue-and-white porcelain for more traditional spaces. The primary consideration with vessel sinks is height. Since the bowl sits above the surface, the vanity height may need to be lowered to ensure the bowl doesn't end up uncomfortably high.
Of course, sinks come in many shapes and sizes. Once you determine the sink style and how much counter space you want, think about shape. Rectangle and square varieties edge toward the modern, while round and oval bowls evoke a traditional quality.

Adorn with tasteful finishes
With all the key pieces in place, only the finishes remain. From hardware to faucets, this is where your design comes alive. Metals are all the rage, from brass to gold to pewter. To jazz up an existing vanity, trade builder-grade drawer pulls for ones with more personality—crystal knobs, rope knots, or hammered silver bars. Since you only need a few, why not splurge a little or try something fun? Local consignment and antique stores are prime resources. Drawer pulls are also an ideal place to tie in accent colors. For instance, if your wall shelves and mirror are trimmed in brass, install matte brass pulls.
Faucets are the perfect accessory, and as far as I'm concerned, they're the heart of the vanity. To create a cohesive look, coordinate all the finishes in the room, from faucets to towel bars. Matte and brushed finishes, such as nickel, are handy for hiding water spots, while traditional bronze has perennial appeal. Chrome and brass are a bright, clean look which can range from traditional to modern.
When it comes to choosing a style, keep the atmosphere of your bathroom in mind. If you have a rustic theme, why not opt for a retro water pump? Going for a modern look? A boxier style will be just the ticket. Functionally, faucets can have a single lever or two separate handles, which can offer a vintage feel. If you select a vessel sink, consider a wall-mounted faucet, which has come into favor in recent years. Since the vessel sits high off the vanity, a wall-mounted option saves you the hassle of finding an extra tall faucet.
From my infomercial-like vanity experience, I took away one invaluable piece of advice: It doesn't have to be this way! With a little innovation and thoughtful design, we can all have the vanity of our dreams. So, go ahead, unlock your imagination and let the ideas take shape.
bathroom furniture, bathroom update, bathroom vanity, Current Issue, vanity