Trim Trends: Embellishments for Upholstery, Window Treatments and More
When you see a beautifully decorated room, whether in person, on television, or in glossy photos, it is the small but exquisite details that really seem to transform a design from functional to fabulous. Using decorators' trim—tassels on a valance, cording on a pillow, even a simple gimp covering upholstery tacks—is a designer's go-to method of fully customizing a design project. These are the final touches that elevate a project to the truly personal and one of a kind. Trims are used to draw the eye to certain elements of design, such as pleating along the skirt of a club chair, or to accentuate a structural feature, such as high ceilings or an oversized window.
Kristin Kopcial, owner of Decorating Den Interiors which provides design services to customers in the Roanoke Valley area, describes trim, tassels and fringe as "the icing on the cake" of a decorating project. "Embellishments add a little 'bling' to your design and are a way of ensuring that your design is one-of-a kind," she says. "They can really make a statement if used correctly."
Trim Types
Today's homeowners are blessed with almost endless choices of trims. There are gimp trims—a woven trim of various widths (regular gimp, scallop gimp, braided gimp, up to the very wide galloon gimp). These are used to cover seams or tacks in upholstery or to make transitions between the fabric and other types of trims. Cording, also known as piping, is commonly used at seams of cushions and pillows, adding decorative interest as well as additional reinforcement for the seams. Various fringes, such as bullion fringe, brush fringe or tassel fringe, are also popular statements on window treatments, throw pillows, and along skirting at the bottom of chairs, sofas and table covers. Trim tapes, available in a variety of widths, colors and patterns, are perhaps the most popular trend in fabric embellishment at the moment due to their versatility and affordability. Whether you are looking to add a touch of whimsy to a formal room or lend a feel of understated elegance to a more casual room, there is a trim to fit that goal.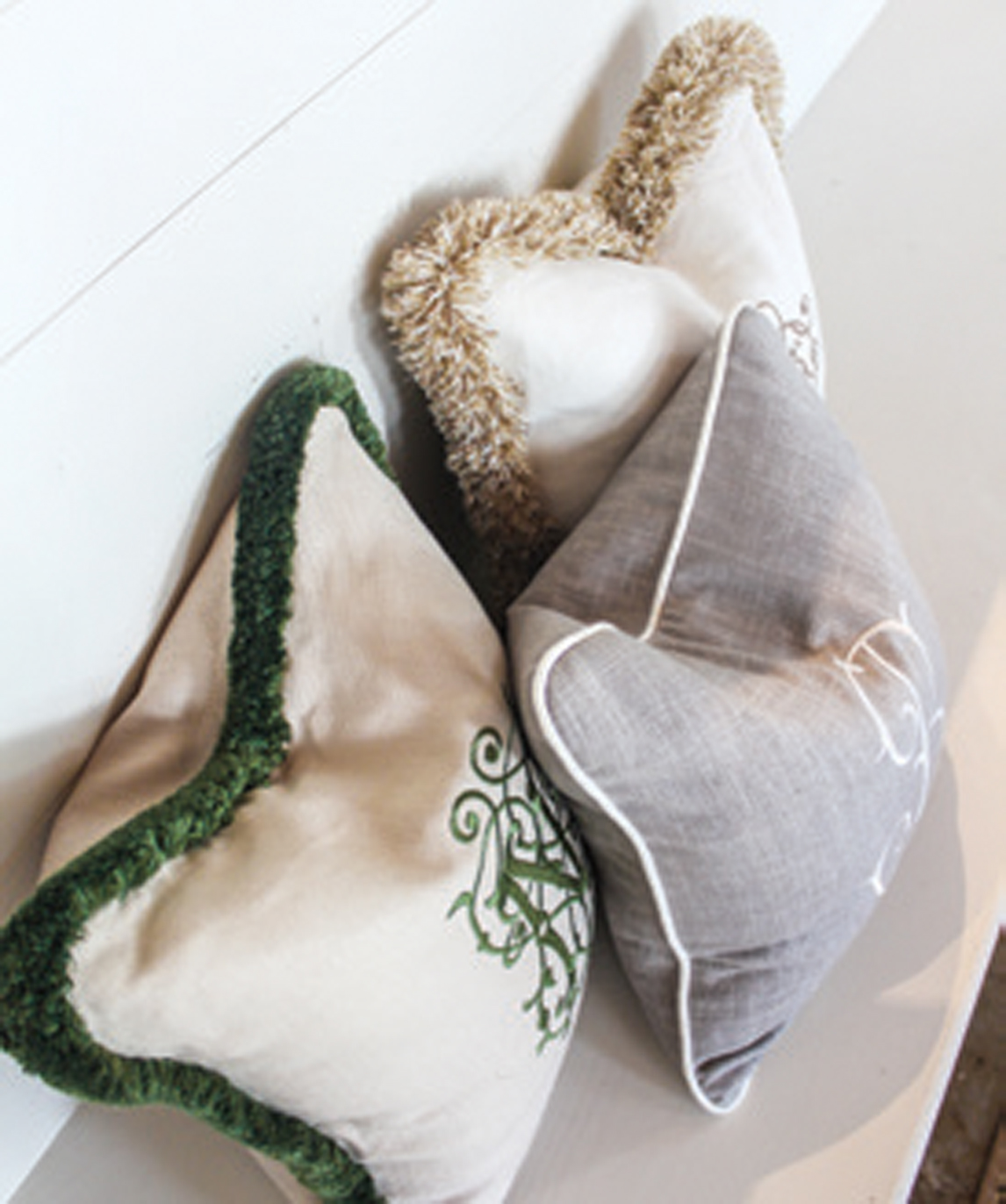 Uses and Trends
Like all elements of design, there are certain things that are currently on trend and others that are more timeless. Often this has less to do with the trim and more to do with where and how you use it. While we are familiar with trim edging a pillow or a drapery panel, it might be a little more adventurous to think about adding trim to a lampshade or an upholstered headboard.
"Decorative tape [also known as banding] is what I have found to be the most popular embellishment at the moment," says Kristin Kopcial. "It can be used on window treatments, pillows, bed skirts, and even high-end upholstered pieces." She also recommends using decorative tape on drapery panels for a sophisticated "but not too busy" look. She also likes to use tassels and trim on valances that "just need a little something extra."
Trims can also be layered—though experts, Kopcial included, caution that this should be done with care to prevent a dated look. Gimp and cording lend a classic feel to an upholstered chair or sofa, while contrasting cording and trim tape can give a piece a more contemporary feel.
Care and Upkeep
One thing many homeowners are concerned about when thinking of fabric embellishments is ease of upkeep. Will those darling tassels along the bottom of the sofa's skirting get caught in the vacuum cleaner? Is it safe to wash or dry clean the drapery panels with the Greek key decorative tape, or will the tape run or pucker? Will the contrasting cording on the throw pillows bleed if thrown in the washer? First of all, choose carefully. If the trim will be attached to something like a couch throw pillow, that in the course of family life will likely need to be removed and washed on occasion, then plan accordingly and choose trim (and removable pillow covers!) that can be either machine washed or dry cleaned safely.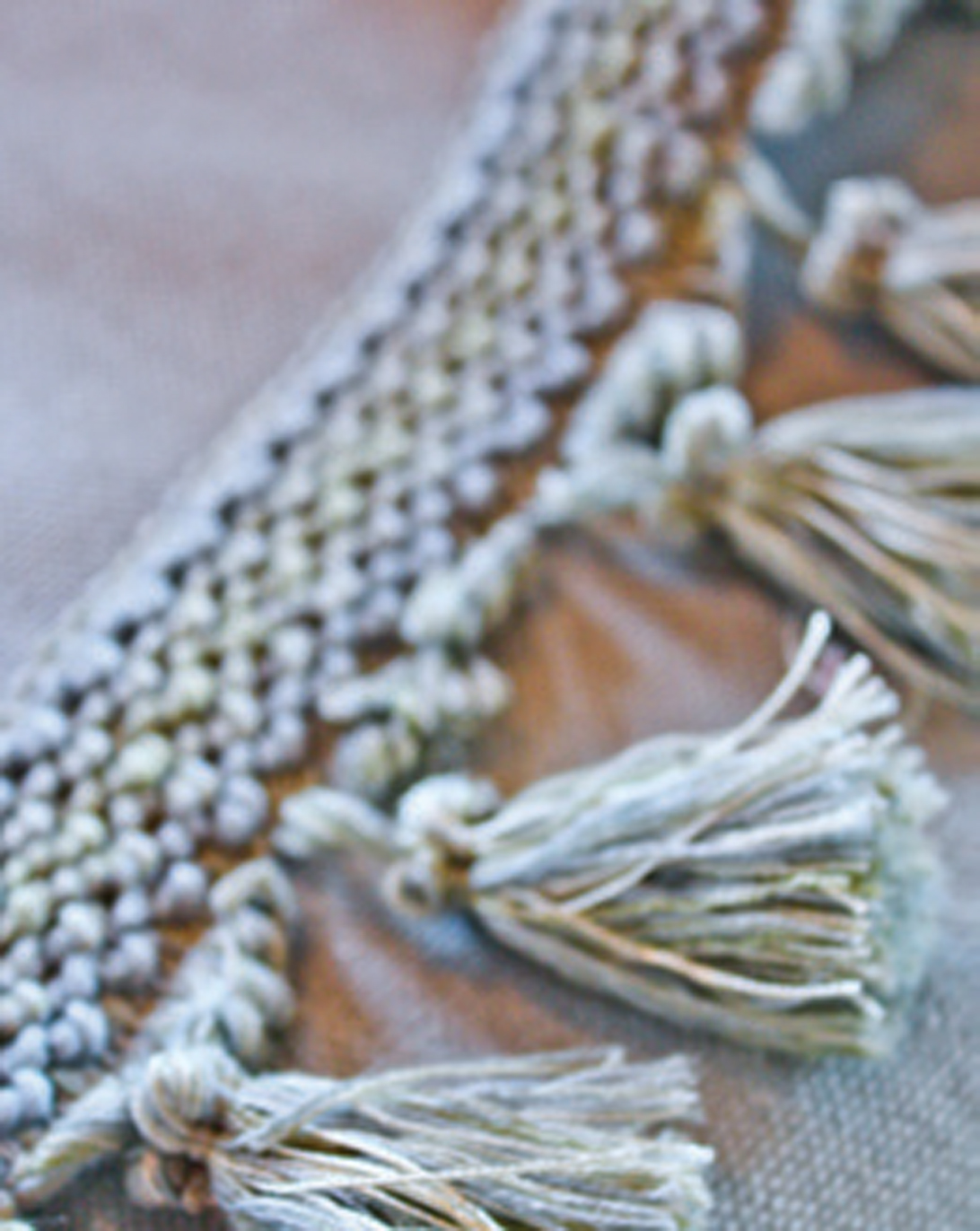 The key to keeping your fabric trim and embellishments looking their best is to keep them clean and dust free. Prevention is key. Shake, fluff, or carefully vacuum to remove dust, spot clean as recommended by the manufacturer, and as a last resort, wash by hand, in the washing machine or dry clean. Be sure that your trim is firmly attached before vacuuming or washing—most trim is either sewn on or glued, depending on the project. Make repairs, and trim any snags or loose strings as necessary before cleaning.
Whether you are contemplating a new design project or looking for ways to update and add a "pop" to your existing decor, today's beautiful trims, tapes and embellishments are sure to provide you with inspiration to bring out your home's unique appeal.



braided gimp, brush fringe, bullion fringe, cording, Decorating Den Interiors, draperies, fabric embellishments, fabric trim, fringe, galloon gimp, gimp trims, piping, pleating, regular gimp, scallop gimp, tassel fringe, tassels, trim, trim tapes