Tray Chic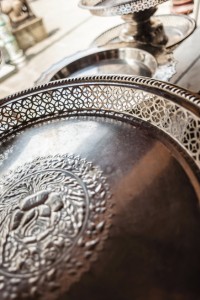 When I got married some years ago, a favorite gift at the time to give the bride and groom was a silver tray. They came in all shapes and sizes, and I received quite a collection. At the time, I was under-impressed and did not see the use in them, but my mother assured me there would come a time when I would love and use each and every one. Whom and what would I serve using these trays? All I could think of was teatime and white-gloved butlers when it came to trays.
But oh how the tray has transformed! No longer just functional vehicles on which to pass canapés, or objects with designs and materials dominated by silver, trays have become an integral and fun part of decorating and home decor. They are likely to be discovered in most any home today. Whether they are on a coffee table, ottoman, vanity table, or console, they can make quite a statement. Trays are suitable to put on practically any surface, and are particularly advantageous for protecting marble or other surfaces prone to distress. Trays can corral objects and keep them orderly, and create a nice place of interest in any room.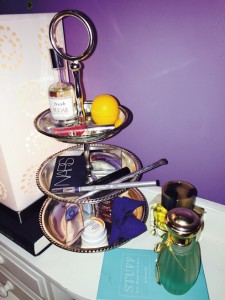 Repurposing China In Inventive Ways
Ever the versatile piece, a traditional tray can be used in rather unique ways, or it can be devised and created from items never imagined. Take for instance your grandmother's two- or three-tiered dessert tray that has forever found a home in your closet. It can make an excellent jewelry or perfume holder in your dressing room or bathroom, or you can display something interesting on it like a colorful collection of matchbooks or figurines. Don't have a have a tiered dessert tray? Make your own using two or three china plates, some candlestick holders, and some good craft glue (experts recommend fast-drying epoxy). This is a great way to show off those antique plates you picked up at an estate sale or your great aunt's china you thought you would never use or appreciate.
And speaking of china, almost any piece can be used as a distinctive tray. After all, the definition of a tray is "a container used for carrying, holding, or displaying." For many, there is nothing more fun than hunting in an antique store, thrift store, or even your own basement for pretty plates, saucers, teacups, bowls and other porcelain pieces. The versatility of dishes can be amazing. Take a small plate or saucer and add a nice bar of soap, and you have an elegant soap dish. Wrap in cellophane and tie with a lovely ribbon, and viola! You have the perfect hostess gift. Teacups in a drawer or on a shelf make a simple organizing system for holding anything from earrings to cotton balls to those pesky elastic hairbands. The key here is to start looking at china in a whole new light!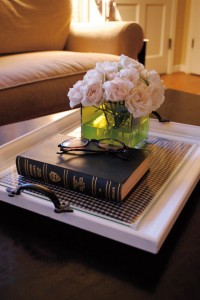 Crafting Fun Trays From Everyday Objects
Of course, when in pursuit of the perfect tray, don't bypass old picture frames. There are some unique old frames out there to be found, and they can be turned in to a stunning tray, sometimes with the simple addition of a piece of plywood and some paint. You can also add your personal signature to any tray by covering the bottom with some good-looking fabric, wine corks, beer bottle caps, concert ticket stubs, travel mementos, stencils…or just about anything! You can also take this jazz-it-up approach to old trays, revamping them for a new look.
Another easy and useful DIY project is to create a to-go tray made from the top of a sturdy cardboard box covered with cute wrapping paper or fabric. This project is a clever way to deliver a meal or take a dish to a potluck supper.
Keep in mind that just about anything can be repurposed and used as a tray. You just need to view everyday objects with new eyes, and the possibilities become endless.
Creating a Focal Point
And back to those silver trays… They can make a lovely and sophisticated backdrop for shelves when interspersed between books, porcelain figurines, picture frames, and other collectibles, or you can use a collection of trays in different shapes and sizes to fill the space and make a statement. Another option is to group silver trays together and hang them on the wall for an interesting and elegant look that creates a focal point in a room.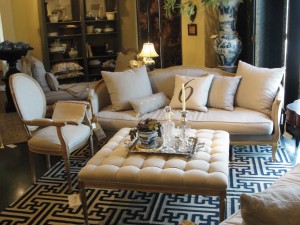 After all these years, I have actually begun to use and enjoy all of my silver trays, whether in the bathroom as an elegant soap dish or to display perfume bottles, on a coffee table to hold our many remote controls and magazines, or as a backsplash for a bar. Looks like my mom was right after all!
So next time you are in an antique or thrift store, an estate or yard sale, or even your own basement, get creative and let objects inspire you. You may find yourself with a whole new organizational system, a focal point for a room, or at the very least, a new conversation piece.
Creative Decor, Focal Point, Repurposed Tray, Silver Tray, Silver Use