Throw a Swingin' Soirée | Retro Cocktails and Canapés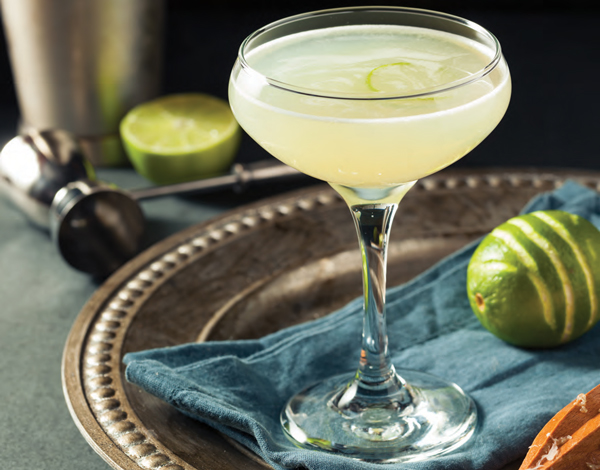 There is nothing like a good theme to set the tone for a memorable holiday party. Clothing, music, decorations and, of course, food and drink, help tie together the main elements of a party, and actually make planning easier. "Mad Men"—the Emmy Award-winning TV drama set in New York City during the 1960s—lends itself to a fun and stylish theme.
As with any good party, the details matter. Guests can dress to impress in glamorous 60s clothing. Retro decorations can be found on eBay or at thrift shops to help invoke the sophisticated 60s vibe with minimal cost. Maybe you can find an old (or new) metallic Christmas tree and trim it with multicolor lights. Set out your best crystal glasses and your rarely used linen napkins. Music is always important at parties, so make a playlist of 60s hits from artists such as Sam Cooke, Frank Sinatra, Rosemary Clooney, and Sammy Davis Jr.
For libations, there are numerous classic cocktails to choose from. Pick a few with different types of alcohol to assure there will be something for everyone, including some non-alcoholic choices as well. You will want a few appetizers to go with your swanky cocktails. We've pulled together some throwback drinks and easy-to-prepare apps to get the good times rolling at your next soirée…
VODKA GIMLET
serves 1
2 ounces vodka of choice
1 ounce fresh lime juice
1 teaspoon powdered sugar
ice
lime, sliced
Combine the vodka, lime juice, ice, and sugar in a cocktail shaker. Shake and strain into a martini glass. Garnish with lime slices.
Recipe courtesy of DrinksMixer.com.
OLD FASHIONED
serves 1
2 ounces bourbon whiskey
2 dashes Angostura bitters
1 splash water
1 teaspoon sugar
1 maraschino cherry
1 orange wedge
Mix sugar, water and Angostura bitters in an old-fashioned glass. Drop in a cherry and an orange wedge. Muddle into a paste using a muddler or the back end of a spoon. Pour in bourbon, fill with ice cubes, and stir.
Recipe courtesy of DrinksMixer.com.
AMBER FIZZ MOCKTAIL
serves 1
A non-alcoholic cocktail is a thoughtful touch, along with an assortment of sodas and sparkling water, for those who prefer to abstain.
4 ounces orange juice (fresh squeezed is best)
ginger ale
orange rind
Fill an old-fashioned glass with ice, then half fill with orange juice. Top up with ginger ale. Float a piece of pared orange rind on top to garnish.
Recipe from "Retro Cocktails: Shake It Baby!" by Kate Moseley.
ANGELS ON HORSEBACK
Makes 12 appetizers—multiply recipe as necessary. These bacon-wrapped oysters were a British appetizer popular in the 60s. For variety, replace the oysters with bitesize shrimp or scallops.
6 strips smoked thick-cut bacon
12 shucked raw oysters, bite-sized
½ cup cocktail sauce (homemade or store-bought)
¾ cup freshly grated horseradish (or use prepared horseradish for a tangier flavor)
lemon wedges, for serving
12 toothpicks
Cut bacon slices in half. Place a skillet over low heat and add the bacon, cooking on both sides until slightly cooked but still pliable (Do not let bacon get completely crispy or you won't be able to wrap it around the oyster). Alternatively, boil the strips of bacon until slightly cooked.
Let bacon cool, then place an oyster on the end and wrap so that the bacon completely overlaps it by at least one inch. Use a toothpick to secure in place.
When ready to serve, preheat your broiler and arrange baconwrapped oysters on a baking sheet. Broil about 3-5 minutes, or until the bacon is crisp on top and oysters have shrunken slightly. Remove from oven and place on serving platter. Top each one with a dollop of cocktail sauce and a generous pile of horseradish. Serve immediately with lemon wedges on the side (Use the lemon—it makes a big difference!)
Recipe adapted from Chef Hank Shaw.
GIN-MARINATED OLIVES
serves 4 to 6
The yummy parts of a martini make the perfect cocktail party snack. Castelvetrano are plump Sicilian olives with glossy green flesh and a buttery texture. You can substitute another olive, but these are really special.
12 ounces drained, rinsed green olives (preferably Castelvetrano)
2 serrano peppers, halved
1 medium clove of garlic, thinly sliced
slivered peel of one lemon
6 tablespoons extra virgin olive oil
½ cup gin
½ teaspoon dried oregano
a few sprigs of dried thyme, or equivalent
¼ cup of cubed feta cheese
Heat the oven to 350 degrees. In a baking dish, just large enough to arrange the olives in a single layer, combine them with the peppers, garlic, lemon peel, olive oil, gin, oregano, and thyme. Give a good toss, and bake for about 30 minutes, carefully jostling once or twice along the way. Remove from oven, sprinkle with the feta cubes, and let cool for a few minutes before serving.
Recipe from 101 Cookbooks 2018.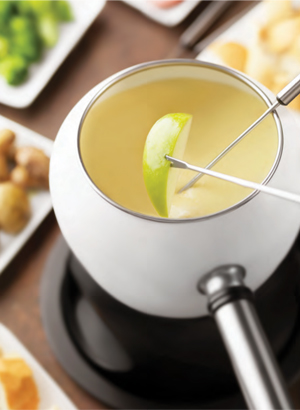 PARMESAN FONDUE
serves 14
Who doesn't love a cheesy fondue? This is the perfect choice for a retro soirée.
1½–2 cups milk
2 8-ounce packages cream cheese, cubed
1½ cups grated Parmesan cheese
½ teaspoons garlic salt
For dipping: apples, french bread, ham rolls, crudité
In a large saucepan, cook and stir milk and cream cheese over low heat until cheese is melted. Stir in Parmesan cheese and garlic salt. Cook and stir until heated through and pour into fondue pot. Serve with dippers.
Adapted from allrecipes.com. ✦
ANGELS ON HORSEBACK, Canapés, Cocktails, GIN-MARINATED OLIVES, live, OLD FASHIONED, PARMESAN FONDUE