Three Private Roanoke Art Collections | Highlighting Region's Artistic Talent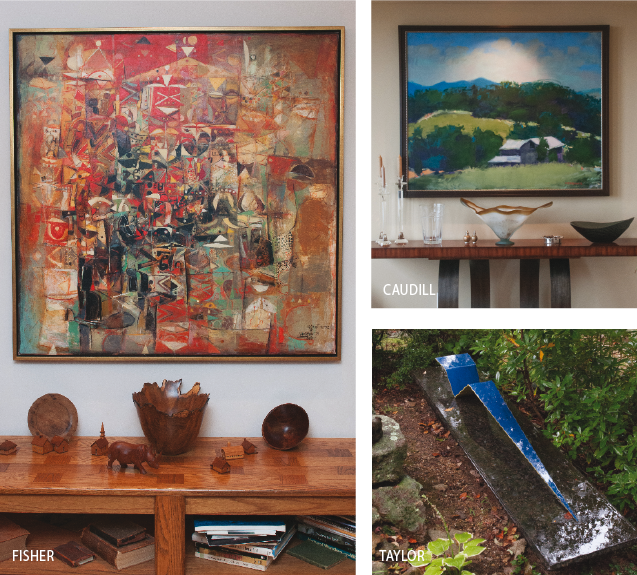 The Roanoke Valley is a regional hub for art and culture, and many artists find it to be a nurturing environment to perfect their craft. Roanoke is gifted with stunning landscapes and cityscapes to inspire, as well as supportive local galleries and the anchor of the Taubman Museum of Art and area universities to educate the public on art and design. Talented artists have found success through a passionate base of collectors here; we visited three collectors at their private residences to find out which artists and pieces they value most, and why.
---
Dave and Cindy Caudill
Dave and Cindy Caudill, who live in a renovated double apartment at The Fairfax in South Roanoke, are natives of the region who have always been interested in local art. They have amassed an impressive collection over the years, buying from galleries and commissioning pieces. "We sold our house at the lake and moved here full-time, and brought art with us, and also had some commissioned to fit our new space," explains Cindy.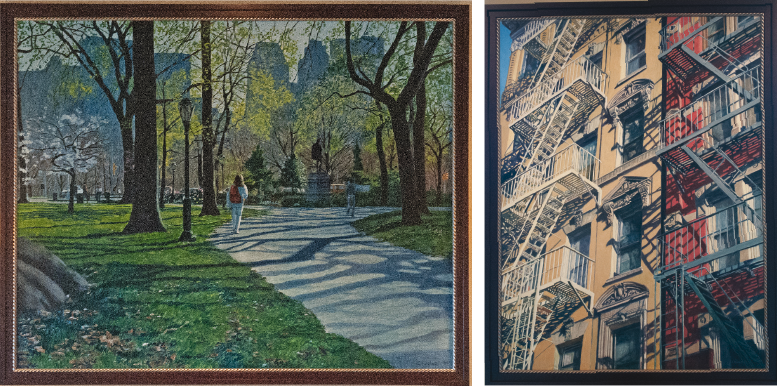 In the entry of their home, artist Kathy Seek is featured in a series of six commissioned landscape paintings, realistically highlighting local nature scenes. Stepping from the foyer into a formal living area, artist Ed Bourdett covers nearly every wall. A favorite artist of the couple, his painting "Walking with Shakespeare" was the first they ever purchased—and maintains a place of honor over the fireplace. "We call this the Ed Bourdett Library," Cindy jokes, gesturing to the paintings, most of which depict New York City and Central Park scenes. Bourdett, a realistic painter who favors a lot of architecture in his work, was born in New York but has made Roanoke and Fincastle his home for many years. Another favorite work of the couple is Bourdett's "Reflections," which they purchased from The Little Gallery on Smith Mountain Lake. It is another New York City scene, showing the reflection of a woman in the glass of a building. Flanking the fireplace in the living room are two built-in bookcases, which house two small paintings of boats by Jennifer Young. They were purchased at LinDor Arts—in addition to the Little Gallery, LinDor is a favorite spot of the couple for discovering new works.
The living room leads into a wood paneled office which belongs to Dave, a retired banker. Plush seating surrounds the fireplace, above which hangs one of his favorite paintings, a work by Connie Logan called "Workin' on Sundays." In the painting a man is riding a tractor, and in the background, on a hill, is a little white church. "Dave bought it because his father went to a little church that looked just like that one—it reminded him of his dad," Cindy says. Another Connie Logan hangs on an adjoining wall, this one a painting of farmland near Smith Mountain Lake. The Virginia-born Logan, who graduated from Virginia Tech, now maintains a North Carolina studio. Two small Ann Glover paintings of local Roanoke city scenes also hang in the office. Glover is an award-winning artist who has works in the Taubman's permanent collection, and has found wider success outside of Roanoke.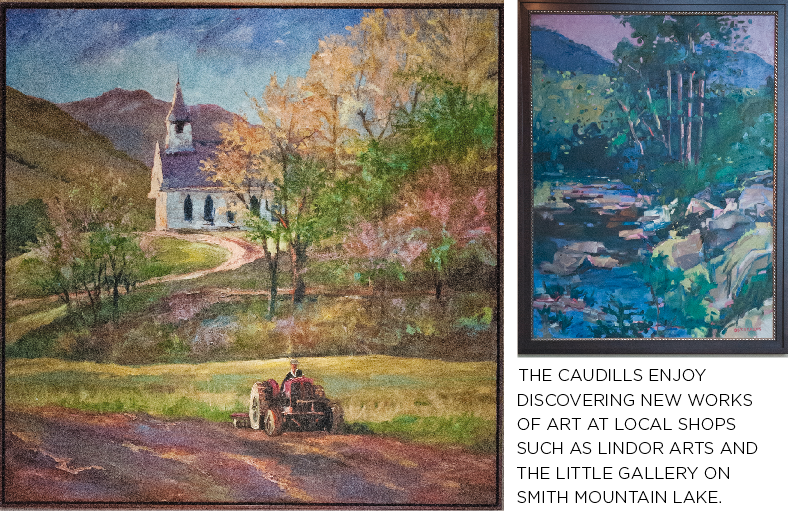 Throughout their home the Caudills have grouped works of the same artist together, as they did in the dining room, which features four paintings by Roanoke favorite, Greg Osterhaus. No close up of cows here—the Osterhaus originals that the Caudills favor are all rural landscapes that come alive with stunning color. Also in the dining room are two landscapes by Nan Mahone Wellborn, who lives around the corner. All framing in the house, which unifies the collections, was done by Jordan's Custom Framing.
The rest of the home is filled with art on every available wall, and all are special to the couple. During a tour of the apartment, Dave pauses in the hallway and looks at a Christine Adams painting of sand dunes and the beach in Nags Head, with sea oats bent in a gentle wind. "This beach was a peaceful spot for me, a place to sip a martini and contemplate," he remembers, smiling.
---
Dorsey and Linda Taylor
Dorsey and Linda Taylor are the charismatic owners of LinDor Arts, a respected downtown Roanoke art gallery in the heart of the cultural district. Dorsey inherited a love of art from his family, and says, "I grew up with art in the house, and I had an uncle who was a cartoonist in New York." Dorsey went to art school, and became an illustrator—he was even drafted into the army as an illustrator for the government. After his stint in the army, he returned to the Roanoke Valley where he and Linda established a successful wholesale picture frame moulding business, Roanoke Moulding Design. The business grew to include offices in Roanoke, Baltimore and Charlotte, and kept the couple busy while raising their three daughters.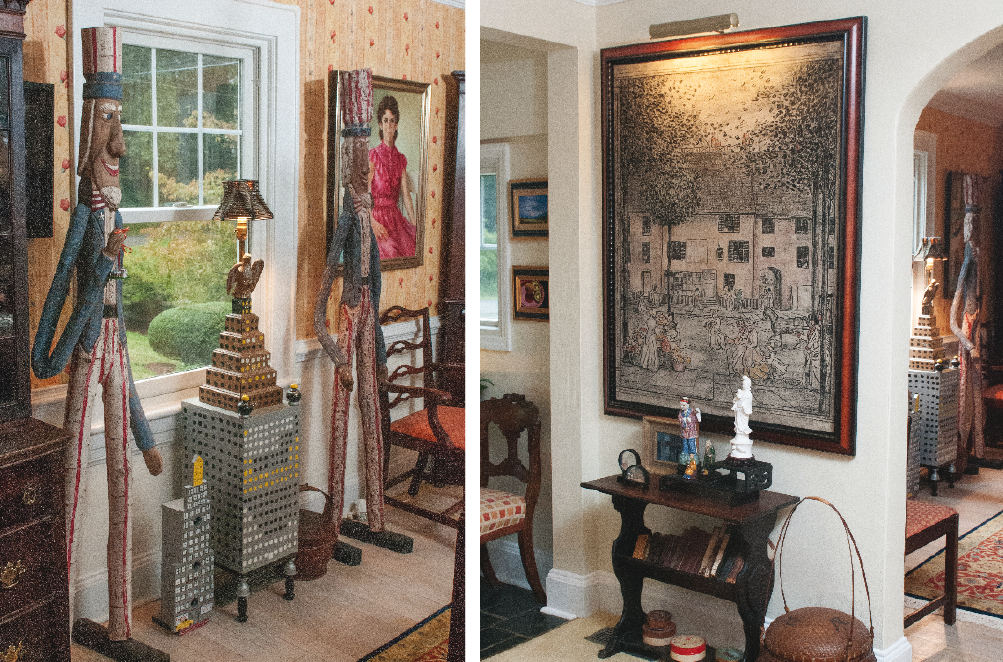 The couple also opened and maintained Dorsey Gallery, where they sold original art from many of the region's most exciting artists. During these years, Dorsey and Linda were tapped into the local art scene from both the creative and business angles, and established enduring friendships with artists like Ed Bourdett, Betty Branch, Jane Stogner and Paul Ostaseski, among others. Paintings and sculptures from many of these artists are displayed in the Taylors' picturesque red cottage, perched on rolling hills in Roanoke County.
After retiring from both businesses, the Taylors had nearly 450 pieces of original art stashed away, and wanted to share them with the public—which was how LinDor Arts was born. While potential buyers can browse the gallery, Dorsey and Linda let us peek inside their cottage to see what's in their personal collection.
They have more than 60 pieces of art from Charles Simmons, who is a self-taught sculptor from nearby North Carolina. "He (Simmons) was a black minister who was called to different churches for sermons, but would carve during the week," Linda explains. Simmons' work is featured both inside and outside of the cottage—particularly striking are a sculpture of the Madonna and child, and a carved horse head.
Speaking of horses, the sculpture of a horse on the mantel above the fireplace is by Inga Solonevich, who, along with husband George, were celebrated Roanoke artists and "dear friends" of Dorsey and Linda until their deaths. Inga also gave Linda a small bird sculpture that rests on a table in the living area, a pregnancy gift. George Solonevich also painted a portrait of a 30-something Dorsey, which hangs in the dining room.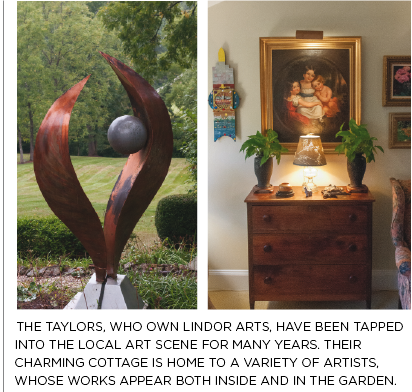 In the living area is a realistic painting of Natural Bridge by Tim Pfeiffer, a Roanoke artist whom the couple features at LinDor Arts. Linda herself was the artist on two paintings in the living room—landscapes of the couple's property, which they have owned and lived on since the early 1970s.
In the entryway, several works by "outsider artist" Benny Carter don the walls. An outsider artist, Linda explains, is self-taught and has little contact with the mainstream art world. Linda and Dorsey have forged friendships with many outsider or folk artists over the years and have helped sell their art—in addition to displaying them proudly in their own home.
As for Benny Carter, he created art on whatever he had to work with—in this case, the long blade of a saw. The North Carolinian was obsessed with New York, and before he had ever been to the Big Apple, he painted the Statue of Liberty, cityscapes and rows and rows of yellow taxi cabs. His work has been exhibited in museums and galleries in New York, Baltimore, Michigan and Atlanta, among other places.
While the cottage walls are covered with art from local talent, nationally renowned artists and inherited art, (including a painting from 1865 of unknown origin that features three girls who, oddly enough, resemble the Taylors' daughters) the outdoor gardens also contain a slew of sculptures. A Paul Ostaseski sculpture is reminiscent of a flower, or seed. Many of the couple's Charles Simmons pieces are outdoors—like "The Thinker" and "Mr. Moon", as Linda refers to them. The artist Bruce Cody, another friend of the couple, is responsible for two colorful outdoor pieces, one in blue and yellow, and one in orange.
Asked to pinpoint favorites, Dorsey smiles widely and says, "All of them."
---
Dennis and Glenna Fisher
Dennis and Glenna Fisher say they have always liked beautiful things and are longtime fans of the arts. They have filled their large, contemporary-style home with paintings, drawings and sculptures that they've collected over many years.
They began collecting in earnest after their four children were grown, starting with a sculpture of a pelican by Douglas Purdy that they found when they stumbled into a gallery in Carmel, California. It's still one of their favorites, and the "thing they'd grab if the house caught on fire." Another early piece is displayed in the family room, a sculpture of a raven holding the sun. "I just loved it," Glenna says. "It's from an old folk tale about a raven who went to the sun, and brought it back to earth." The raven is by Alaskan artists Jacques and Mary Regat—the Fishers discovered the piece while on a cruise to Alaska and had it shipped back to Roanoke.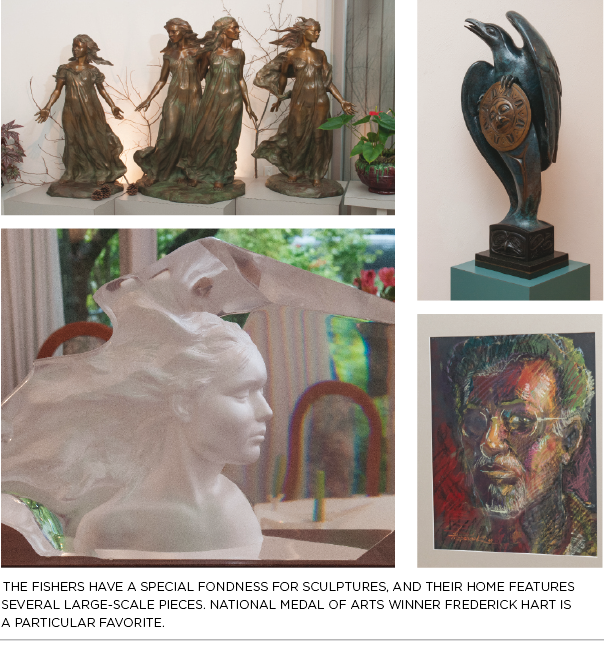 The family room holds other large-scale works, like a metal and wood depiction of cattails by Max Howard, and wall sculptures by Andy Brinkley of a tree with brilliant red leaves and a school of fish.
The Fishers are captivated by the work of Frederick Hart, an American sculptor who was awarded the National Medal of Arts for his body of work that includes the Washington National Cathedral's "Creation" sculptures and the Vietnam Veterans Memorial's "Three Soldiers" sculptures. The Fishers own Hart's "Daughters of Odessa" sculptures—four nearly life-sized bronze sculptures that they display in a breezeway that connects the garage to the living area. Among other Hart works, Dennis and Glenna have one of his clear acrylic resin sculptures—he patented a process in which one clear acrylic sculpture is embedded within another, and the image you see depends upon the angle from which you view the piece.
The Fishers also are fans of local artists, such as Chris Gryder, who was commissioned to do a nine piece ceramic tile installation that hangs on a soaring wall in the family room. They have a Paul Ostaseski sculpture that they purchased from LinDor Arts, and a few works from Eric Fitzpatrick, one of Roanoke's favorite artist sons. Every year on his birthday, Fitzpatrick paints a self-portrait. The Fishers have his 54th birthday painting, entitled "Endangered Species." They also have a Fitzpatrick landscape of a farm in Rockbridge County, and a more abstract painting, Fitzpatrick's "Tribute to Monet." Another local work of note in the home is a large metal sculpture by David Wertz, who has been commissioned to do pieces for organizations like Hidden Valley Country Club, the Franklin County YMCA and the Roanoke Rescue Mission.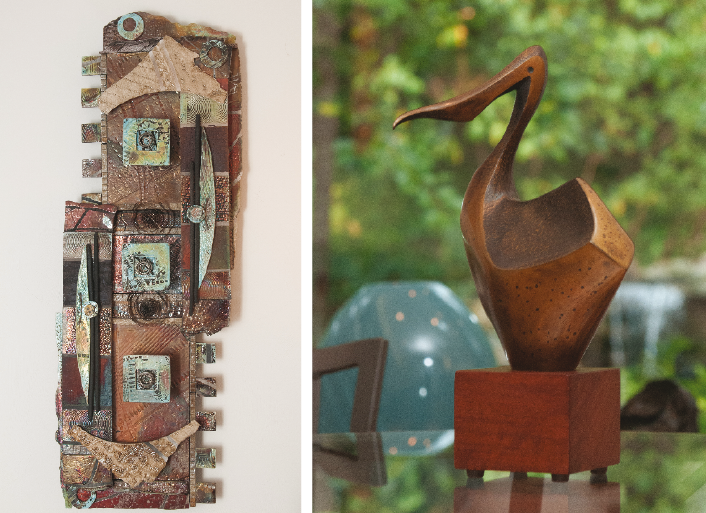 The house is bursting with art on every wall, and in every corner—the Fishers completed a large renovation to add on to the home, and to house Dennis' extensive antique tool collection, in a private museum over the garage. He explains, "The tools I collect are not just functional, but they are beautiful too, and works of art in their own right." Far from slowing down in his retirement, he's working on a coffee table book about antique tools, and he and Glenna continue their hunt for art that inspires them. The only problem will be—where will it fit?
The Caudills, the Taylors and the Fishers have diverse artistic tastes. The Caudills favor realistic rural and city landscapes; the Taylors' tastes span genres and styles; the Fishers gravitate to large-scale sculptures and antique tools. While preferences vary, these three couples are united in their passion for the arts, and all have homes brimming with treasured pieces that are beloved.
Photography by Kevin Hurley