The Winter Garden | A Chore Checklist Helps Create a Wonderland for All Seasons
Winter gardens come alive visually; as leaves fall and plants wither, the garden's remaining shapes, textures and other features become clear and well defined. Additionally, landscapes viewed from inside your home offer a different perspective. During the cold, dark days of winter, a garden presents opportunities to learn and be entertained by wildlife. Now is a great time to observe the bones of your landscape, plan some changes, do some cleanup and a few final plantings, then sit back and enjoy from inside your cozy home.
Do your homework
Winter is the best time to plan a garden. Determine what shrubs have outgrown their space, where architectural details such as an arbor are needed, and decide what plant additions would benefit the birds and the bees next spring. Evaluate which areas of the garden need refreshing.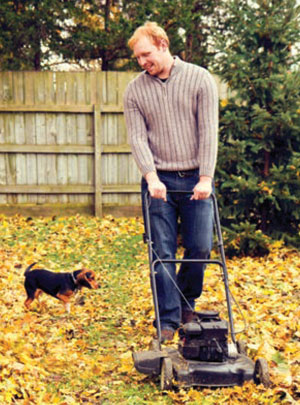 Once the first full freeze occurs, some trees and shrubs may be pruned. Shaping them is easier now as foliage doesn't block the view. Removing excess or dead branches and suckers allows more air to circulate once the leaves sprout next spring, creating healthier plants. Removing leggy branches underneath and tightening up shrubs' sides helps reclaim planting area in a newly opened space. Only remove about one-third of a shrub so that the plant is not stressed. Caveat: For spring-flowering shrubs such as forsythia, azaleas, lilacs, rhododendrons, and some hydrangea, cutting back in the winter removes the buds, resulting in fewer flowers. If in doubt, research your specific plants before using a heavy hand with the pruning shears. Conifers must be trimmed lightly for health and shape, since they don't regenerate from heavy cutting.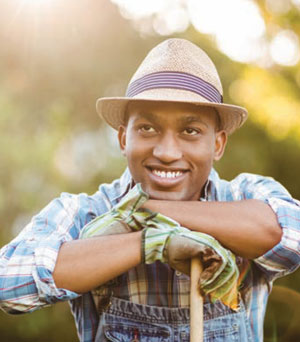 To tame or not to tame
Leave flower heads on perennials such as black-eyed Susans and purple coneflower, as well as perennial stalks and ornamental grasses, for food and shelter for birds, insects and other wildlife. Such leftovers also give the winter garden some architectural character. Native plants left to go to seed also provide a healthy food source for wildlife. However, do put blackened, moldy plants and sticks in the trash to prevent disease, and place old vegetables and tired annuals in the compost bin.
Don't be so tidy in the outskirts of your yard. Piles of sticks and leftover flower stalks are home to insects overwintering. Many of these are beneficial critters, so allowing them to stay for the winter makes one less chore and gives them a home.
A few chores
Turning heavy or clay-packed soil and adding compost makes it easier to dig in the spring. Even frozen, exposed clay soil benefits from air and wet winter moisture. Clear overgrown vegetation and move plants and small trees such as evergreens that would benefit from a new location. New varieties can be added to the landscape where holes appear.
Shred leaves and allow them to settle into the lawn or spread them in the perennial beds to feed the soil. Repair broken tools or take them to the repair shop. It is a good time to sharpen and oil them. Any damaged areas on trellises, gates, fences and arbors show up nicely once the leaves fall, and now is the perfect time to get outside and fix these problems. Days over 40 degrees offer a good opportunity for a fresh coat of paint.

What to plant
Hardy plants like leeks, spinach, radishes, turnips and broccoli can be planted in early winter before the ground freezes. Kale, spinach, and collards can survive freezing temperatures. Growing food in the winter provides an outdoor activity and the ingredients for healthy meals like veggie-laden stews, soups and casseroles.
Ornamental kale, pansies and chrysanthemums bestow much-needed color outside. Plant some in pots or in beds around the yard for some living decoration for the dark months ahead. Snowdrops, hellebores, winterberries, and beauty berry along with nandina and hollies tender flowers and colorful foliage; their cuttings work well for interior arrangements and holiday decorations too. Red twig dogwoods and blue spruce show off their color best in the winter light. Plant daffodils and crocus in early winter for spring blooms. These plants need time to settle so getting them in the ground before the winter holidays is recommended. Research native plants to add to your landscape. Make a list to order or buy at local nurseries as winter winds down.
Winter wildlife delights
Winter is a fine time for bird watching. Without foliage in the garden, birds become more visible. Attracting birds to the yard isn't complicated. Bird baths, bird feeders, and perennials left with their flower heads intact all invite wildlife. Looking out a window or glass door, bird watching stills the mind and induces peaceful acquisition of knowledge as you observe their habits. Birds are a joyful garden addition, and keeping them happy is not hard.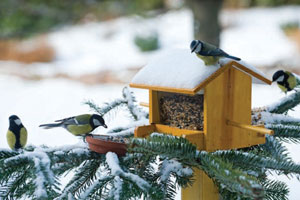 What birds eat: Birds' winter diet consists mainly of nuts, seeds and berries. Some of these are provided by nature or your plants, but bird feeders are a good addition to offer more variety. Different types of feeders are beneficial for specific feeds. Sunflower seeds work well in tubular feeders or hoppers with perches that allow birds to sit and remove the casing, then eat the seed. Suet or balls of peanut butter and seed come in many sizes and shapes to be hung from a metal stand or tree limb for easy pecking. Premixed seed in large bags can be poured onto platform feeders or scattered on the ground. Store bird seed in a metal or plastic container with a tight-fitting lid to keep rodents out, and make sure you wash your hands after handling the feeder.
What spot is best: Moving bird feeders around in the yard once a month keeps the yard cleaner, since the ground below gets covered in seed hulls and droppings. If moving feeders isn't an option, rake up the spent casings and put them in the compost bin. Seed should be replenished every few days, and don't stop refilling once the grass greens up, as birds get accustomed to this piece of their diet. They may come less frequently once insects appear back on the scene, but discontinuing filling the feeder during the warm months deprives them and causes stress. It is best to put out small amounts of bird food every day or every other day to eliminate excessive mess and pests. Large quantities attract unwanted wildlife such as racoons and bears.
Chores to keep them happy: During winter months with lots of moisture, a covered bird feeder is the best choice to prevent the seed from getting wet and molding. Dump old or wet feed when replenishing the bird feeder. Use a brush to clean the debris out and keep the container sanitary. Clean feeders every other week with one part bleach to nine parts water. Let dry in the sun and refill with seed.
Old nests should be cleared from birdhouses. Late winter is a good time to clean out unoccupied birdhouses and get them ready for a spring arrival. Clean a birdhouse the same way recommended for feeders; brush out rubbish and waste, then use bleach and water to sanitize them. Repair cracks in the roof and sides. A fresh coat of paint keeps out water.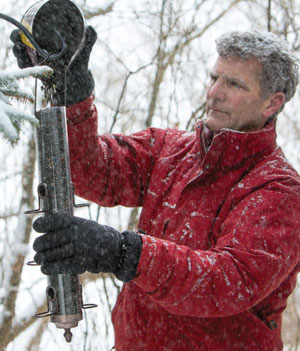 Safety is important: Birds are resilient. They live outside in extreme weather, always alert to predators and hopefully fleeing just in time, but keeping intruders away from bird feeders makes sense. A large metal disk (often referred to as a baffle) mounted on the pole below the feeder protects birds from wildlife such as squirrels and raccoons. Place feeders far enough away from trees that offer launching pads for squirrels and cats to leap onto the feeder. And do not place them too close to windows; a misjudged landing can cause a bird to fly into the glass and break its neck.
ATTRACTING BIRDS TO THE YARD ISN'T COMPLICATED. BIRD BATHS, BIRD FEEDERS, AND PERENNIALS LEFT WITH THEIR FLOWER HEADS INTACT ALL INVITE WILDLIFE.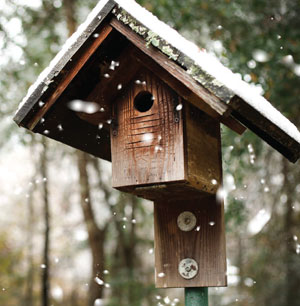 Birds like houses too: Watching a bird as it feeds, flies or builds a nest is inspiring and educational. To see how meticulous birds are, watch them hunt for nest supplies and then slowly place every twig and bit of straw. There are many types of man-made birdhouses; certain designs attract different species to settle there. Research different styles and build or purchase one for the garden. Birds are particular; different shapes and placement heights matter for their nesting criteria.
Many say winter is the best time to look at the bones of the landscape. Winter garden tasks alleviate boredom and provide entertainment. Getting outside clears the head and energizes the body. Clearing, pruning, planning, observing and meditating are all richer in the quiet of a winter day. The garden is always out there waiting to inspire. ✦
Beauty Berry. Nandina, broccoli, chrysanthemums, clay soil, Collards, Hellebores, hollies, kale, Leeks, native plants, ornamental kale, pansies, Radishes, Shaping, shrubs, Snowdrops, spinach, Turnips, Winter Gardens, Winterberries