The Warmth of Wood | Add Custom Style to Home Interiors
Wood features have warmed our homes for centuries. Whether log walls or ornate paneling, plank or polished hardwood floors, utilitarian or intricately carved furnishings, the mellow richness of wood enhances our interiors. We're more than accustomed to wood flooring and furniture, but there are other ways to use wood accents in your home design. Adding a wood architectural element can create a pleasing focal point which adds distinctive style to your home.
Walls
Traditional wainscoting in the form of raised panel, tongue and groove, and board and batten adds a delightful custom touch to any home and works with a variety of decor styles, from traditional to farmhouse to Arts and Crafts. In recent years, shiplap, with its long horizontal planks, has been a hot trend for accent walls.
Beyond these staples, there are new ways to think about old favorites. Try imparting a modern feel by going big. A grid of large wooden squares or oversized rectangular panels is a stunning design element, but make sure your space is large enough so that the design isn't overpowering or out of scale with the rest of the room.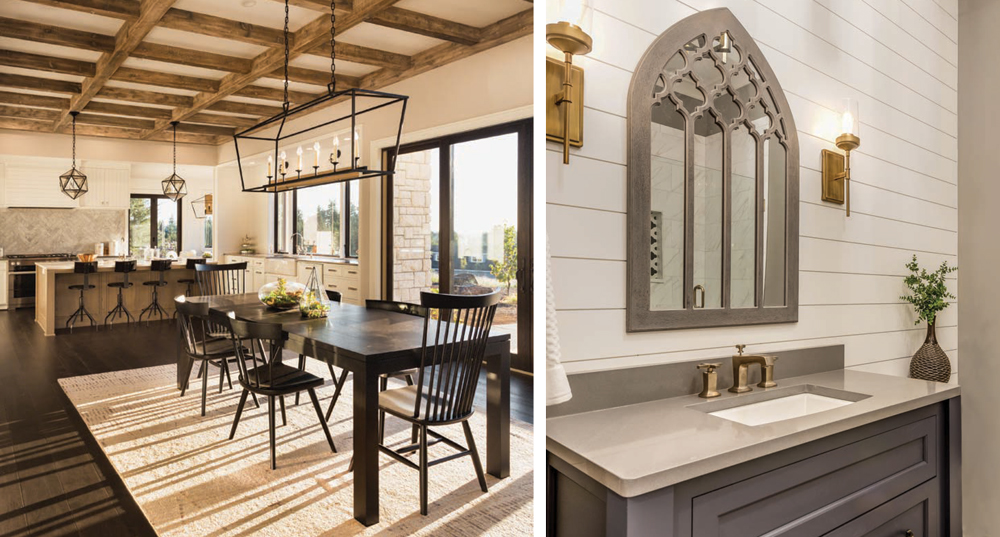 Framing
You can also use wood to delineate spaces and frame out architectural details. A wide entry between rooms can be highlighted with wood beams instead of standard molding. If your home has load-bearing components such as lintels or columns, covering them in an eye-catching wood cladding can turn a necessity into a feature. It's a good trick to warm up a finished basement, which can sometimes seem a bit sterile without natural light. Offset the richness of the wood with crisp white walls for a thoroughly bright and inviting space.
Don't forget to watch where you walk. Homes with step-downs between rooms can benefit from a wood detail on the transition. Any potentially awkward architectural features can be turned into a focal point with the addition of a custom wood detail.
Ceiling
Wood ceiling beams can really set the tone in the right room. But be careful: Unless your home is on the National Register of Historic Places, heavy beams on a standard 8-foot ceiling are likely going to feel oppressive and out of place. Save this feature for large, airy rooms with good light and high or vaulted ceilings, where their weight will help ground a soaring space. This look pairs particularly well with contrasting textures, such as a fireplace of stone or exposed brick.
Fireplace
A chunky length of reclaimed or rough-finished wood makes a pleasing mantel, and is an attractive way to delineate the space between fireplace and a wall-mounted TV. If you have wall space on either side of the hearth, consider adding thick floating wood shelves to frame the fireplace and provide a venue for objets d'art.
Room divider
Midcentury modern design frequently delineated an open floor plan with the judicious use of a partial wooden screen. The key to making this look fabulous versus dated is to stick to clean, bold lines and shapes. Keep the same pattern going from floor to ceiling, and choose a design that allows light to pass through and a view to the other side. Think of this kind of room divider as a statement piece as much as an architectural element.

Kitchen
If your kitchen has stained wood cabinetry, offsetting it with other finishes such as stainless steel and natural stone will keep it aesthetically balanced. But if your cabinets are white or another painted color, wood accents add an inviting touch. Consider pairing painted cabinetry with butcher block counters or wood panels around an island. Open shelving made of thick wood slabs is a stylish counterpoint against a tiled backsplash. A range hood clad in reclaimed lumber adds an unexpected detail.

Door + Stairs
For a midcentury welcome, jazz up a plain front door by adding fretwork. Make a statement on your staircase by replacing a traditional balustrade with floor-to-ceiling vertical wooden posts. Keep the lines clean and geometric for maximum "wow" effect.
The best part about custom wood details (besides their design impact) is how well they can be incorporated into a variety of decors. Traditional dwellings gain a sense of opulence and luster from detailed millwork. Cottage and farmhouse spaces gain charm through horizontal planks and reclaimed or rustic wood accents. Midcentury digs can up their energy with geometric details and shapes. Modern homes with sleek lines and concrete flooring are warmed by organic wood elements. Whichever style is yours, there's a wood accent waiting to bring your space to life. ✦
accent walls, Board and Batten, Ceiling, Door, fireplace, Framing, fretwork, horizontal planks, intricately carved furnishings, kitchen, log walls, ornate paneling, plank, polished hardwood floors, raised panel, Reclaimed Wood, Room divider, rough-finished wood, Stairs, tongue and groove, utilitarian, Wainscoting, walls, Wood, wood cabinetry, Wood ceiling beams