The Parrotts' Nest | Love at First Sight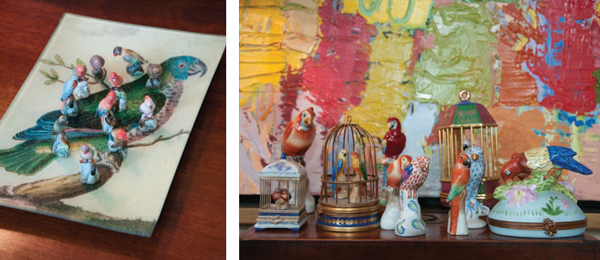 Photography by Kevin Hurley
Martha and John Parrott's stately brick home has a well-manicured front yard, with mature trees, a pea gravel drive, boxwood plantings and banks of hydrangeas. The front walkway, constructed of brick and stone to complement the home's exterior, has gracious double stairways leading down the gentle slope to the front door. The home's woodland setting means that the entire property is bathed in dappled sunlight and the sounds of birdsong from dawn until sunset.



It was Martha who spotted the brick colonial for sale in 2003 as she was preparing to leave for a trip to France to celebrate an upcoming birthday. "The timing was crazy," Martha recalls. "But we had three young children then, and had been casually looking for a home with room for our family to stretch out." Despite all the preparations for a two-week trip out of the country, Martha called local realtor Chan Bolling and made an appointment to see the house that very day.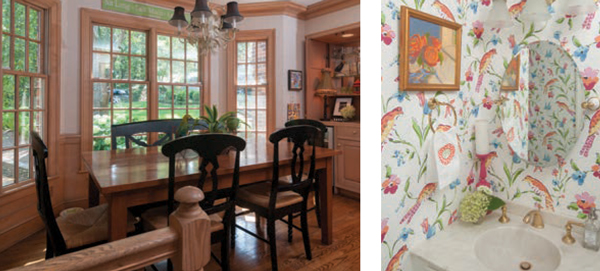 According to Martha, it was love at first sight. She loved the location up on a hillside in the trees, the floor plan that flowed naturally from room to room, the large living areas, and the five bedrooms. The downstairs powder room had wallpaper printed with feathers, and that seemed like a sign to someone with the last name Parrott. "I came home and told John, 'I just have to have that house. It's perfect,'" Martha says.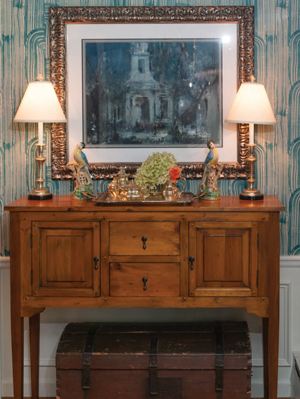 Martha and John were both born and raised in Roanoke, and have families that have been here for generations. Both graduated from University of Virginia and both returned to the area after college. Perhaps this longevity has given them a head start on their mutual passion: collecting and displaying the work of local artists. This is a home of people who prize art; it hangs on every available wall, at every level, even up the staircase walls. Almost all of the dozens and dozens of works are by local and regional artists. John comes from a family of artists. His cousin is a local artist of note, Mary Boxley Bullington, and his father also painted a few of the oils the couple displays in their home. "I think we began to collect art even before we were married," says Martha. "We started with a few small things that we could afford in those early days, and our collection has just grown over the years." Though they were given some pieces by family, the vast majority of their collection is entirely their own. In their more than three decades of collecting, Martha and John have purchased their treasures in estate sales, from art dealers and galleries, and even sidewalk festivals and yard sales. They are special fans of Roanoke's LinDor Arts in downtown Roanoke.



The home got a large addition in the 90s, before the Parrotts purchased it, and the added space has transformed the traditional colonial. The addition netted the family a handy entrance to the driveway, a powder room, a clever dining nook with a builtin bar, and most notably, a large family room overlooking the wooded back yard. "It was this space that really sold the house for me," explains John. "I love the wood. The previous owner was in the furniture business and had the woodwork custom milled at his factory in Galax." The unique caramel-colored wood graces the custom shelving, mantel, wainscoting and crown molding in the room and is set off by neutral-toned grass cloth wallpaper. Double French doors open to an outdoor deck and flood the room with light. Anchored by a large oriental carpet, Martha and John have chosen furnishings that are soft and comfortable but still retain a traditional structure and look, coordinating without feeling overly matched. Inviting blue velvet chairs have red piping, a color picked up in the room's carpet, throw pillows, and even the artwork (an heirloom Peyton Klein oil, a gift from John's parents) hanging over the fireplace. The fireplace itself is wood burning—a big attraction for the Parrott family on chilly nights.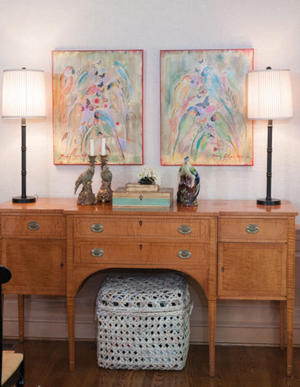 Besides works by such local notables as Allen Ingles Palmer, Ted Turner and Walter Biggs which hang in the newer section of the home, there are two Mary Franklin Saunders whimsical oil paintings of parrots which were Martha's Christmas present last year. Beneath the painting are two large porcelain parrots. "I love collecting parrots. I've been collecting parrots my whole married life," says Martha with a smile. "I can't imagine why…" There must be dozens of parrots all over the home: sculptures, wall art, tiny figurines … they find their way into most of the rooms of the Parrotts' home, from the wallpaper in the powder room, to the many sculptures tucked here and there around the home.
The adjoining dining alcove is where the family regularly enjoys meals. The sturdy family dining table started its life as a drafting table belonging to Martha's grandfather, who was an engineer with the Norfolk and Western Railroad. Carefully cleaned, and with some minor adjustments such as shortening the legs, the table allows the Parrott family to dine on a piece of Roanoke—and their family's—history.
---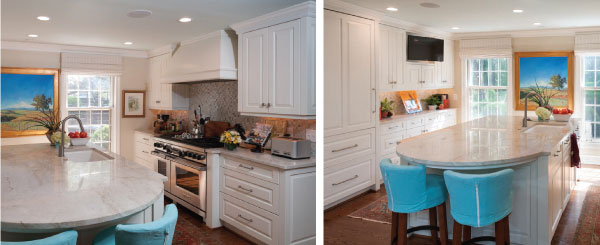 The Parrotts worked with Johnson Granite to design and fabricate the countertops in their renovated kitchen.
---
The kitchen underwent an extensive renovation about five years ago. "When we moved in, we removed a low hanging bank of cabinets so that John wouldn't hit his head," says Martha. John, who is comfortably over six feet tall, adds, "Those came out, but that was really all we did for over ten years. It was pretty dated." The renovation has opened up the space completely. Now, custom cabinets and light colored quartzite countertops have brightened the space considerably. The Parrotts have kept the open feel of the kitchen by keeping clutter to a minimum and cleverly hiding kitchen fixtures that can't be dispensed with. The refrigerator is camouflaged behind custom cabinetry making for a seamless wall of cabinets, and the microwave, which usually hogs so much counterspace, has been tucked underneath the island countertop. The hardwood floors, which run seamlessly from the adjoining dining room, make a nice contrast to the warm neutral walls and geometric backsplash. The 48-inch Wolf range stands testament to Martha's cooking prowess, though she confesses that with the children mostly grown and gone, she doesn't cook as much as she used to.
Between the room's two large windows hangs a Sharon Kincheloe oil of a bucolic Blue Ridge scene, almost like having a third window. The painting was purchased years ago, says John, at the Taubman Museum's sidewalk art festival. "We have gone every year, and we made it our goal to support our local artists by selecting at least one piece," he says. They write the date of purchase on the back of each year's selection to remind themselves. "When we started, we had no money and could purchase very little, but we'd still buy something every year."
The home has a formal living room and a formal dining room, often unused mausoleums in many modern homes, but Martha and John have found a way to incorporate these rooms into the home in such a way that they are not only used, but seamlessly flow from one area to another. The kitchen renovation several years ago provided the opportunity to open up the original narrow door from the kitchen to the dining room, transforming the closedin "formal" dining area to an open and airy space with excellent flow from the living room and kitchen, and into the large family room beyond. The dining room features an heirloom suite of dining furniture that John received from his grandparents on his father's side. "As it happened," John says, with a hand on one of the elegantly carved chairs, "when the furniture became available, I was the only grandchild who had the space to take it all, so I was the lucky one."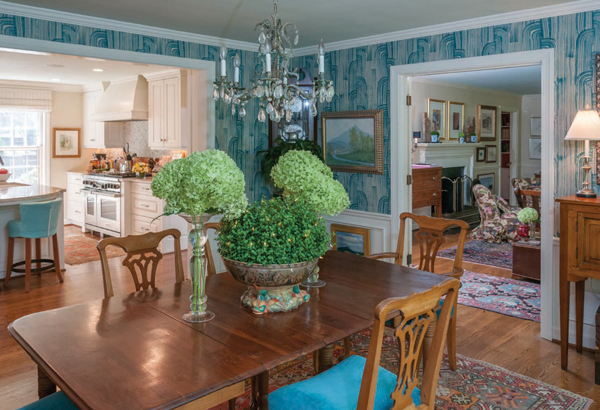 The art-deco wallpaper in the dining room was chosen by Martha, with help from interior designer Vera Silcox who helped Martha select all the wallpaper in the home. The blue color offsets the art in this room, from an intricate carved gilt mirror, to delicate plates, to the prized Walter Biggs oil depicting the Presbyterian church in Salem, and of course a few parrot sculptures flanking the antique silver tea service. In front of the windows, on its own Lucite pedestal, is a Dorothy Gillespie metal starburst sculpture underlit from the base. "I love low-lighting," says Martha. "I've put lighting underneath several of our paintings and I think it enhances the art and warms the room at the same time. In fact, the first thing I do each morning is to go around and turn on those lights. It just makes the home feel alive." The Gillespie sculpture was a gift from John.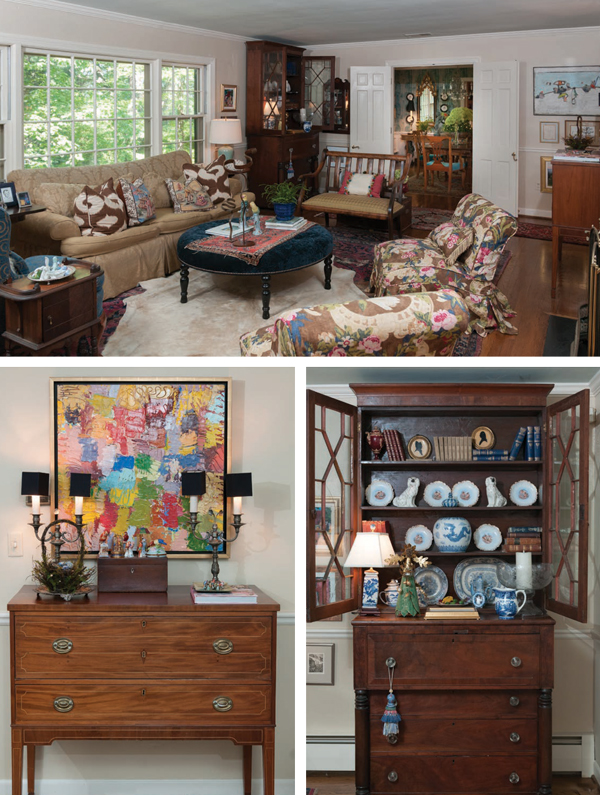 The home's living room has an abundance of comfortable seating, arranged conversationally on the large antique jeweltoned oriental that Martha inherited from her parents. A cowhide rug layered on top is a stylish camouflage to a flaw in the rug. The room is a clever combination of valuable antiques and heirlooms, secondhand finds, and lots and lots of art. In the far corner stands an empire chest of drawers, with a vivid "central flame" evident in the wood. John and Martha chuckle that this may perhaps be one of their best antiques, but it was purchased by them years ago at a yard sale. "We are not overly particular about where our things come from," says Martha. "It is just that sometimes you just know that something is the right thing for a room … it doesn't matter where you find it." An imposing secretary desk fills the space between the windows and the back wall. The desk, originally from a Charlottesville estate, had been in Martha's family until her uncle called one day out of the blue to ask if she'd like to have it. "I said 'of course,'" Martha exclaims. "Just tell me when you want me to have the movers there!" She has filled the glass-paned upper cabinet with an artful display of antique dishware, leather-covered books, and a large set of Staffordshire dogs.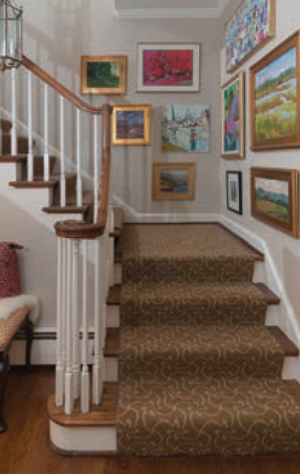 The Parrotts have filled the room with things that are meaningful to their family: a stack of leather photo albums found in John's namesake great-grandfather's desk, a bright oil by John's cousin, Mary Boxley Bullington, an impressive collection of tiny Herend porcelain parrots amassed atop an antique box. Here, too, Martha and John have used almost every available bit of wall space to display art. The walls are a veritable who's who of local artists including Sharon Kincheloe, Walter Biggs, John Will Creasy and Jim Yates. Some of these treasures are hung in groupings, such as the Jim Yates collection, and others are arranged as space allows, even down to knee-level. "A long time ago I had a friend who showed me how to hang art like this. I just liked how it looked, and have started doing it myself," says Martha. "Plus," quips John, "we ran out of space to put stuff."
As their children have grown and flown for the most part, Martha and John have spent more and more time in a cozy room just off the front entry. The "Little Den," as they call it, features just enough room for a couple of chairs and a soft leather couch. The bookcases are painted white with back walls in a startling persimmon color, making a vivid backdrop for books, family photographs, and of course, more artwork. There are family photos of the Parrott children and also several antique photos of family members from the early 1900s, notably a large formally seated photo of John's great-grandfather (also John Parrott) and his wife. This early John was in the coal business in Parrott, Virginia, and the photo depicts Parrott great-grands in front of their home, each holding a Saint Bernard puppy (the couple avidly raised and bred the giant dogs).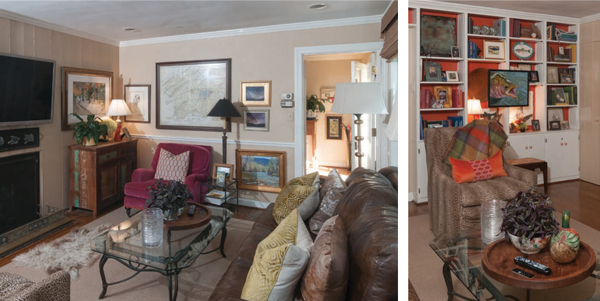 The art in this room has a distinctly "fishy feel" which is by design. John Parrott comes from a long line of fishermen and enjoys fishing in his spare time. A fish oil painting hangs in front of the shelves, pottery fish is displayed on the top shelf, an antique kreel on another, even a fish lamp illuminates the corner of one shelf. This room has the largest display of art by family members as well. There's another Mary Bullington, but also a pair of oils done by John's father depicting the family's beloved fishing camp. Other art displayed in the den includes works by Ted Turner, Peter Ring, John Will Creasy and Hale Trotter. On another wall hangs a large map of Roanoke from the 1930— back when the plats of land were still listed by owners' names rather than the numbers we find today. John points out a large area west of town, which is labeled "Parrott." The land was sold not long after the map was published, and the land was developed very soon afterward into the Salem VA Hospital which was opened by President Roosevelt in a memorable visit to the area in 1934.
Seventeen years later, both Martha and John are grateful to have raised their family in this home in the trees. The children are all grown, though their youngest, Buck, a recent college graduate, has returned to the nest, to find work locally. Martha and John have found other ways to share this special spot with their family and friends, notably opening the home and yard for Historic Garden Week in 2017. Looking back both Martha and John are convinced that the decision to move to Ridgewood Lane was the right call. "I still come down every morning and open a window and listen to the sounds of the outdoors," says Martha. "I gaze at the artwork and family photos and I know we made the right choice. We love this house." ✦
art-deco wallpaper, brick colonial, brick home, Custom cabinetry, double stairways, Hardwood Floors, Historic Garden Week in 2017, oil paintings, traditional colonial, woodwork