The Gift Stash: Prepared with Presents for Year-Round Giving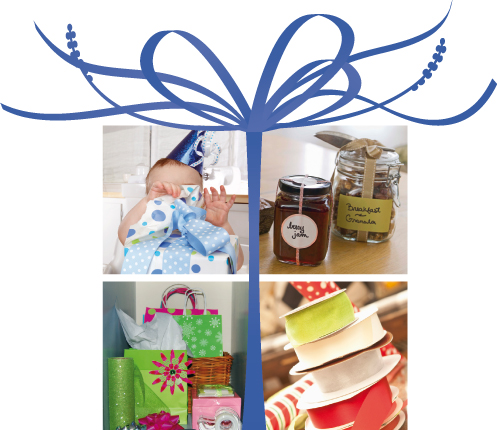 "It isn't the size of the gift that matters, but the size of the heart that gives it," writes Eileen Elias Freeman in "The Angels' Little Instruction Book." But even the best-intentioned heart can let the moment pass before finding time to go shopping, or worse, rushing out to buy something (anything!) and ending up with a gift that falls flat. I'll admit to being at a birthday party and, in my haste, forgotten what I ended up wrapping for the honoree: "Am I giving her a candle or body wash?"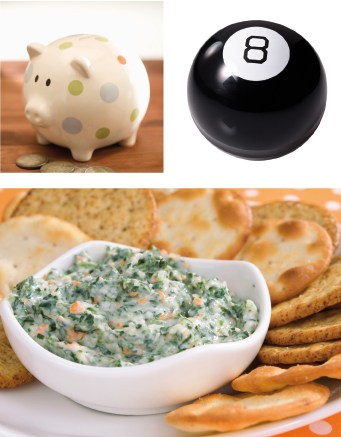 Thankfully, such harried moments are rare. I'm grateful I had a great teacher about the wisdom of keeping a gift stash. My mother kept a drawer in her bedroom armoire that held treasures of all sorts. I remember seeing silver bookmarks, compact purse mirrors, and fancy little soaps shaped like roses. She also had a variety of pretty greeting cards for birthdays, condolences, and even some that were blank inside so she could write her own message. My mom called these gifts "little tokens of affection." From time to time, she would buy interesting things when she noticed them on sale to replenish her gift drawer. In the days leading up to Christmas, these gifts would be wrapped and waiting on a tray near the front door for any neighbor who might drop by with a gift in hand. Her system was simple, affordable, and she was always prepared.
Keeping a small collection of gifts can save time and worry, and now is the perfect time to get yours in order. Start by collecting interesting items for an all-occasion gift drawer so you'll always be prepared for birthdays, hostess gifts or teacher appreciation presents. Designate a spot to keep these gifts and your wrapping supplies together so you won't have to go on a scavenger hunt for the tape. When shopping, look for items that are useful and gender-neutral. At some point during the year, you'll know someone who might like:
Fireplace matches in decorative boxes
Dip mix, crackers and a spreader wrapped together in a serving bowl
DVD of a classic movie and a few boxes of movie theater-sized candy
Exotic spice blend and a copy of a recipe that uses it
Local condiments like nuts, barbecue sauce, pickles and jellies
Interesting refrigerator magnets
A polka-dotted piggy bank
A pretty-shaped bottle of olive oil wrapped in a gauzy wine bag
Retro toys (who can resist shaking a Magic 8 Ball?)
Seasonal kitchen towels
Small LED flashlights with batteries
Your gift-giving center can be as small as a dresser drawer or as large as a hallway closet, but a two-drawer plastic storage bin is a great start. Keep gifts in the top and supplies in the bottom. It's a bonus if the storage unit can hold your longest roll of wrapping paper. A seldom-used container like a camp footlocker, steamer trunk or large suitcase can double as a gift center. Keep the gift center stationed near the place you will spread out to do your wrapping, whether it's the kitchen table or the bedroom floor. During a high-volume gift-giving season like Christmas, it's especially convenient to have everything in one container in case you need to whisk things quickly out of sight.
Keep ribbon, scissors, tape, tissue paper and wrapping paper in your gift center. Plain craft bags are the "Little Black Dress" of gift wrap because they can be dressed up or down; children love decorating a bag for their friends, and a crisp bag hole-punched for a nice bow is a classic presentation for adults. Clear cellophane bags are also a versatile gift-wrap option. Having raffia, spools of tulle and wired ribbon on hand also makes tying snazzy bows simple. Chinese takeout boxes make nifty gift containers—and they fold flat for storage. If your wrapping stock is low, consider replenishing your supply when a child comes to your door with a school fundraiser catalog. They often sell basic gift-wrap sets that are practical and pretty, containing coordinating tags, gift bags in a variety of sizes, colored tissue, and a few rolls of nice-quality paper.
If you have room, keep an accordion file containing a set of blank notecards, a good pen, a book of stamps, a copy of your address book or Christmas card list, and a list of birthdays organized by month. Sending handwritten notes is a snap when everything you need is handy and all in one place.
After all, the spirit behind gift-giving is meant to bring delight to a shared moment between special friends. Setting up a system and doing what we can in advance will prevent any last-minute tension from entering the scene and thwarting that happy experience.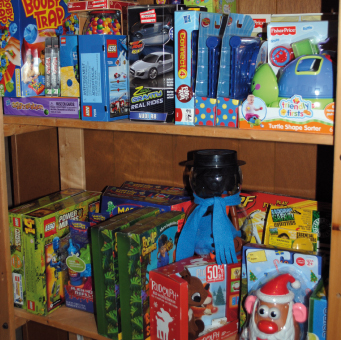 Stock Up And Save!
For maximum savings and inventory control of your gift stock, keep this list as a reference to know when stores traditionally discount certain items. If you plan in advance and have the storage space, you can find many bargains on bigger-ticket items that you might save for Christmas or milestone occasions.
JANUARY: Know any June brides? Department stores hold "white sales" for bedroom and bathroom linens. Many online retailers offer free monogramming.
FEBRUARY: Winter coats, scarves and gloves make way for new spring merchandise.
MARCH: You can find a great deal on luggage for a retiree with big travel plans, or a digital camera for an expectant couple's blow-by-blow baby blog.
APRIL: April showers bring great bargains on cookware, jewelry (Hello, Mother's Day!) and small household electronics, including computers and hand-held electronic devices so desired by teens and 'tweens.
MAY: Pre-shop now for Father's Day by purchasing grilling tools, barbecue sauces and meat thermometers, which go on sale in preparation for summer cookouts. Vacuum cleaners also go on sale. (But don't even think about it…)
JUNE: A new groom or a recent first-time homeowner needs to stock the shed with home improvement tools. Big national retailers feature these items at the start of the summer.
JULY: Canning equipment and bargains on fresh produce are as abundant as the summer's harvest. Try your hand at making jellies or pickles for neighbor gifts and school bake sales.
AUGUST: Outdoor sporting goods, camping equipment and pool toys can be bought now and saved for sports enthusiasts.
SEPTEMBER: Stationery, desk organizers and other office items are on sale after the back-to-school shopping season. This is a great time to buy teacher gifts.
OCTOBER: Know someone with a green thumb? Garden tools go on sale in October.
NOVEMBER: The best toy sales of the year happen before the holiday season. While you're helping Santa with his list, buy a few extra items to set aside for children's birthday gifts.
DECEMBER: Wedding items, including champagne, go on sale. Many retailers offer an additional discount when you buy multiple bottles.
Source:
"Buy Ketchup in May and Fly at Noon — A Guide to the Best Time to Buy This, Do That, and Go There" by Mark Di Vincenzo