Ten Years at HOME | An Anniversary Retrospective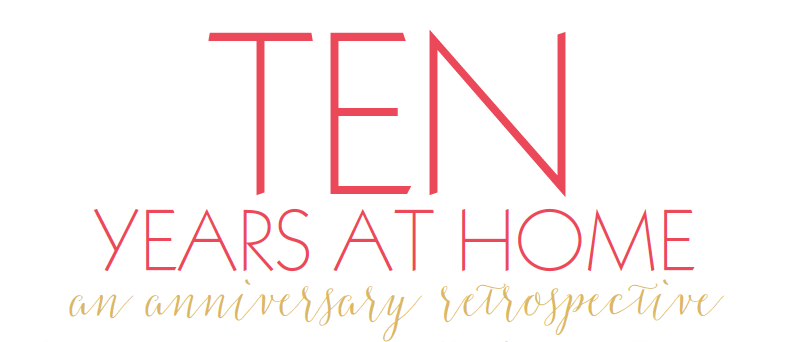 In every issue since our inception, one gracious local family has invited HOME magazine—and all of you—into their home for an up-close-and-personal look at where and how they live, providing real, hands-on ideas and inspiration for better living. Here, with heartfelt thanks to all participating homeowners over the years, we revisit just a few of the most memorable.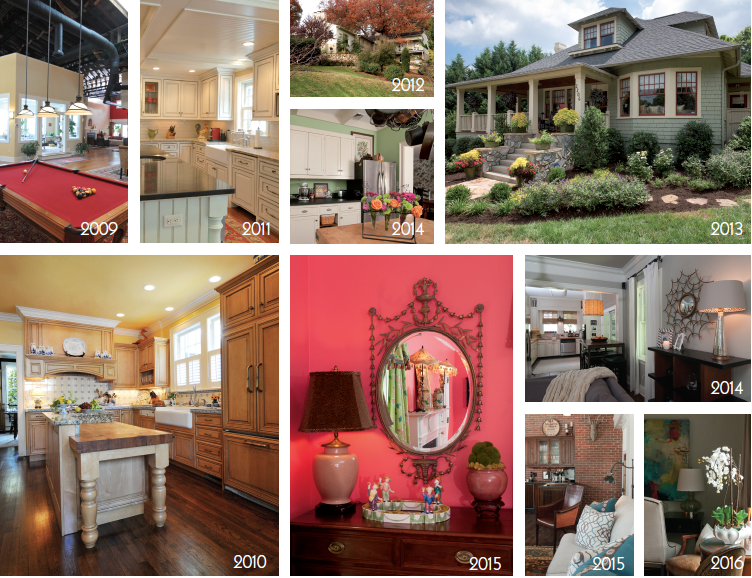 ---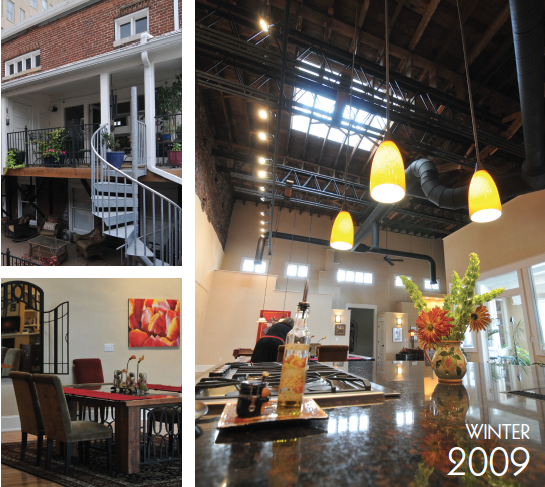 Renovated Loft Home to Family and Fun
Janice and Larry Davidson fulfilled a dream to renovate and live in a downtown loft—on the top floor of the downtown location of Davidsons, their family-owned men's clothier business. In our Winter 2009 issue, they shared their story of transforming what had been both storage and a distribution center for the business into a polished living space decorated with reclaimed pieces from family and business—including a massive table fashioned out of two glass doors from this very building, crafted with materials and assistance from Black Dog Salvage. Open spaces, high ceilings, hardwood floors and spacious windows are hallmarks of this gracious downtown property. The Davidsons say their home is perfect for entertaining, with a chef's kitchen, skylit dining area, distinct entertaining areas and even a charming rooftop porch.
---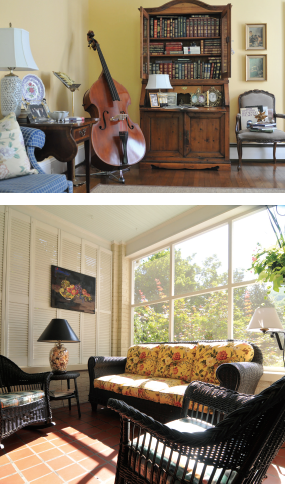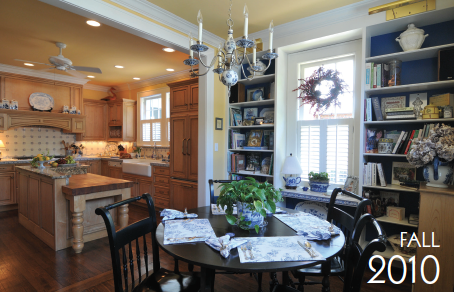 Settled on Stanley Avenue
Bob and Jo Rider chose their classic 1910 Georgian colonial on South Roanoke's Stanley Avenue for its charming architecture and small-town feel, perfect for their family with four young children. Now, they host their grown children, grandchildren and neighbors all year long, for all manner of gatherings, including Halloween parties in the fall and sledding in the winter—just as they'd like it. The details that provide good bones and character to homes from this era include crown molding, hardwood floors, plantation shutters and French doors with original beveled glass. While through the years they have mostly provided facelifts to the home, they completely renovated their kitchen, which appeared on the Fall 2010 cover.
---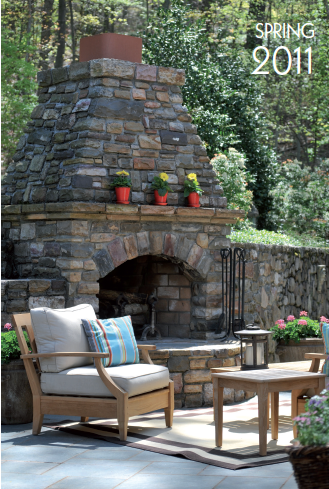 Comforts of Home Take Shape
Angie Link had always had her eye on a particular dream home in South Roanoke, so it was an easy decision to buy when it came on the market in 2002. She and husband Eddie loved this South Roanoke home for its traditional, comfortable feel, and used architect John Fulton and contractors Cornerstone Builders to renovate and expand the kitchen into a large comfortable space, transforming what were three small rooms into one expansive knock-out area perfect for cooking and gathering. Angie credits designer Elaine Stephenson for the elegant but comfortable interiors. Outdoor renovations include a generous patio area with an outdoor fireplace and terraced gardens to indulge Angie's longtime passion for gardening. An octagon-shaped room with a cathedral ceiling, added by the previous owner, is another feature that makes the Link home remarkable. The home was featured in our Spring 2011 issue.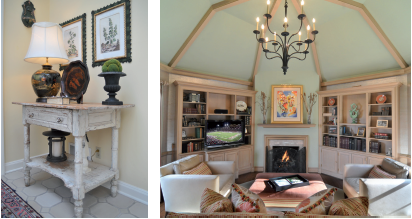 ---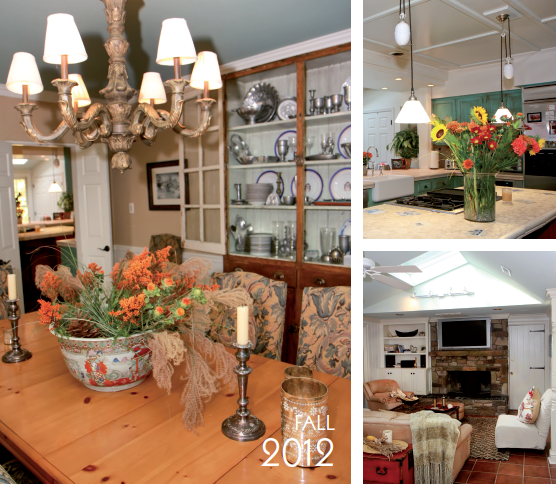 Labor of Love Transforms Home
What began with a pool house renovation due to a leaky pipe morphed into a total house transformation, featured in our Fall 2012 issue. A 1950s-era ranch, this home was transformed room by room, with most of the work done by homeowners Scott Arnold, heart surgeon by day, Laura Arnold, and their two sons, with help from family, friends and the occasional trusted contractor. With the expertise of Vera Silcox, friend and interior designer, the home emerged from its renovation with great style. Features include a cheery kitchen with sea-green cabinets, an elegant master suite oasis, a renovated pool house that includes eating and sleeping quarters, and expansive outdoor entertaining space featuring an outdoor kitchen and a pool restored by National Pools.
---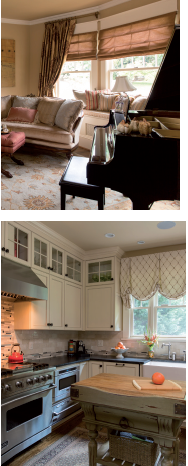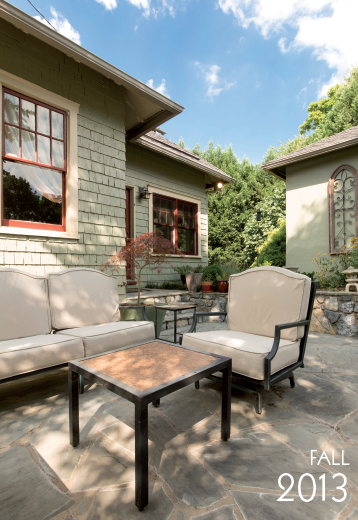 A Crowd-Pleasing Renovation
When Lynne Pearo moved to South Roanoke from New Orleans, she immediately was attracted to this Arts and Crafts-style gem, featured in our Fall 2013 edition. Lynne felt that the home's interior was a little confining and dark, and with the help of JC Construction, she remodeled the home, including removing walls and lightening and brightening, all while making efficient use of every inch of the house. Cathy Spark at Accents on Windows created all the window treatments. The project included an exterior facelift as well, painting it a soft shade of moss to give the home a breath of fresh air, as well as adding new front railings, white trim with red accents, and exquisite landscaping by Fiddlehead Landscape and Garden Design.
---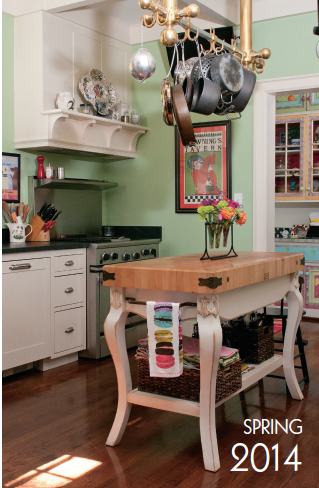 Customized Family Home is a Perfect Fit
Anne Marie and Gordon Poore didn't have to move far from their Crystal Spring home when they bought their current home—also in the neighborhood, which they loved, with plenty of room for their family with three school-aged children. Featured in the Spring 2014 issue, every bit of this Georgian-style Colonial has been renovated, with much of the work being completed by Gordon himself, with help from a few trusted professionals. One of the largest transformations was the kitchen and its adjoining rooms; walls came down, doorways were widened and a staircase was moved to maximize space, create better traffic patterns, and of course, create a cook's kitchen with a coffered ceiling, white cabinetry, a mantel range hood and an old brass light fixture repurposed from department store display. Upstairs, the renovated master suite features a soothing blue and white palette, with a cathedral ceiling and Palladian window, and a white Carrera marble bath.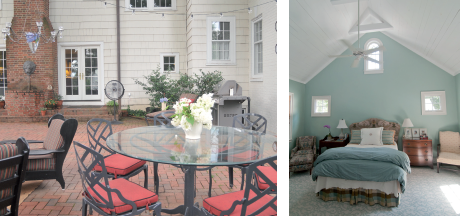 ---
Fresh Eye Lends New Life to a Family Home
Transforming the interior the Durham family's Avenham Avenue home was right up designer Jessica Durham's alley. When she and husband Hunter looked at buying the 1920s bungalow-style cottage, she was able to see past the dark, dated interiors and dream about putting its high ceilings and extra-large rooms to work. This eye for design comes naturally, as she and her mother own Magnolia in Roanoke and a sister store in Abingdon. Featured in our Fall 2014 issue, the Durham home is a showcase for Jessica's eclectic style and an extension of all Magnolia has to offer, featuring a mix of streamlined modern furnishings, interesting textiles and light fixtures, and local art throughout. A scene from a sunny corner of the Durhams' living room graced our Fall 2014 cover.
The Durham family, though they loved their home on Avenham Avenue, has relocated to a home
just a few streets away.
---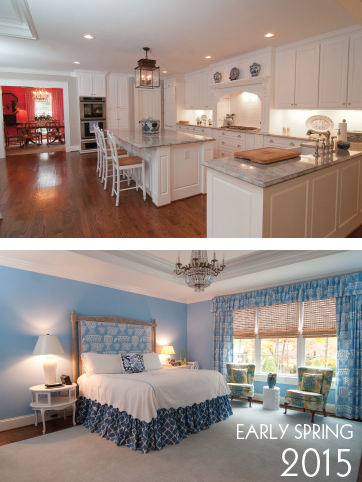 Bright, Bold and Beautiful
It's impossible to be gloomy in Meredith and John Draper's color-filled home on Sewell Lane in Southwest City, featured in our Early Spring 2015 issue. They chose the home for the location, the good bones and the spacious yard—the perfect set-up to customize the home to their desires: a first-floor master bedroom, a large den, a new kitchen and a pool. They called upon Alam Design Group and Family Builders to help with the renovations and say they couldn't have been more pleased with the results. Of note is the spacious kitchen with white cabinetry, Vermont granite countertops and a dining alcove, as well as interiors (including the center hall!) painted in bright and vivid hues of blue and pink. Their backyard oasis includes a custom pool created by Virginia Pool Sales and Service.
---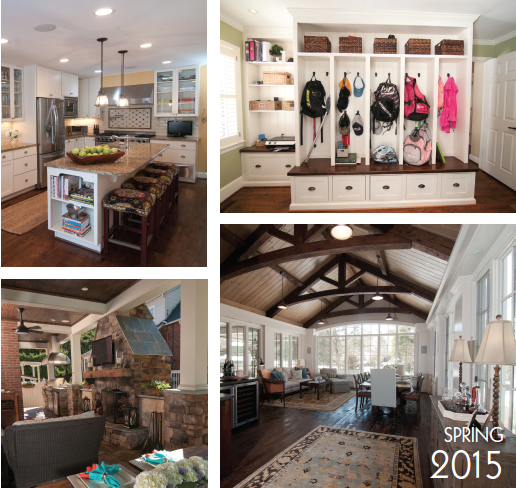 Fresh and Fun Updates
It was the big, flat yard that drew this sporty family—Jenny and Chris John and their three children—to their current South Roanoke home. As for the rest of the shuttered Georgian Colonial, they gutted and renovated it to perfectly suit bustling family life. Highlights include a perfectly appointed mudroom, which was once a formal dining room, to keep everyone's gear in order, and a den with comfortable seating and significant artwork to provide a quiet place to relax. And with help from dear friend Robert Kulp of Black Dog Salvage and Blue Ridge Residential, the Johns extended their kitchen with a great room off the back—500 square feet, with a sunroom at one end, hewn beams and a high ceiling. A long table and a wet bar make this space, which Jenny calls "the best room in the house," perfect for gatherings. A door leads to a side porch and an outdoor kitchen complete with a large grill, smoker, cooking area and fireplace. A scene from this room was featured on the cover of the Spring 2015 issue.
---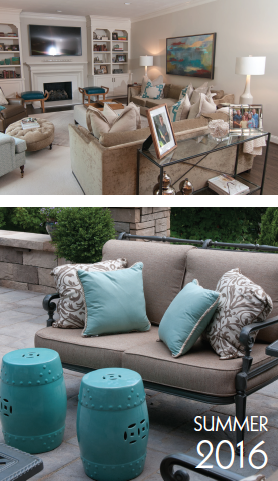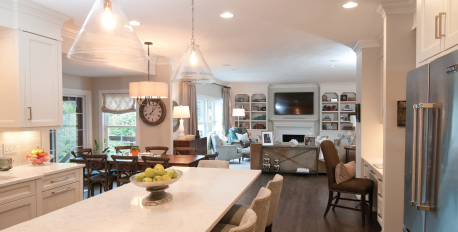 The More, The Merrier
When Steve and Juli Murden were looking for a new home in Roanoke County, they found an attractive home that was move-in ready—essentially a blank canvas, but with builder-grade materials and an unfinished basement. They wanted the space and functionality to make hosting family and friends, and their children's friends and families, a breeze. With a team of professionals including Baron Enterprises, Classical Designs and Roanoke Landscaping, in just five months they expanded a cramped driveway, added a utilitarian wing (the hard-working mudroom, pantry, laundry and more), first-floor master suite, large screened-in porch and lower patio, as well as finished the basement and modified the kitchen, foyer and living areas. Friend and designer Jessica Durham oversaw the interior design. The Murdens' home has the space, seating, and amenities to host a crowd in effortless style. A scene from their porch graces the cover of the Summer 2016 issue.
---
Photography by Kevin Hurley, KG Thienemann & Bill Hazlegrove
anniversary issue, featured homes, home, roanoke homes, ten years