Sumptuous Spreads- Design a Buffet That's Pretty, Pleasing and Perfectly Functional
Food and beverages are cornerstones in any celebration. Whether you are inviting friends for a tree-trimming party with hearty soups and salads, hosting an open house with substantial nibbles, or ringing in the New Year with decadent desserts, your choice in cuisine will be one of the most important decisions you will make. When a large group gathers, it is often easier to present your fare in buffet style. Here, take a few tips for planning and organizing an easy, fun and ultimately successful buffet.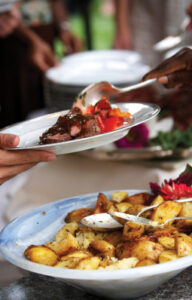 Carefully Consider Your Menu
Creating a beautiful, delicious buffet for your guests to enjoy is a wonderful way to show your guests a great time. When designing your menu, consider these food factors and you will surely have a hit!
COLOR: Food always tastes better when it is colorful and interestingly arranged. Brightly colored foods in various hues will be more appealing to your guests when viewing the table. If your buffet contains all things white or orange, mentally your guests will feel as though the same items have been served. You can add color by adding sauces to meats (think green chimichurri sauce on flank steak), by adding garnish to platters and by offering a variety of foods. 
TEXTURE: Choose items in opposition: soft and crunchy, raw and stewed, oven-roasted and pan-sautéed, grilled and fried. Think of the way things will feel in your mouth as you eat them. You don't want your guests to leave feeling as though they could have sucked their meal through a straw because you presented only soft foods! On the flip side, there's nothing worse than trying to chat while managing a plate full of food that is difficult to chew.
TEMPERATURE: Hostesses, this one's for you. In order to ease your workload for the party, serve things that will not require being in the oven at the last minute. Meats can be served at room temperature, as can certain salads and grilled vegetables, and other items can come straight from the refrigerator. Review your menu carefully to ensure that you only have one or two hot items.
SHAPE: Add excitement to platters by presenting your foods in different shapes. Don't cut squares of polenta; instead divide the squares to create triangles to stack in interesting configurations. Use a mandoline to cut your vegetables in different forms. Show off the grill marks on your meats with pride. All of these details make for an exciting and appealing table.
TASTE: Think of the seasonings you are using, and present a variety of flavors that will mellow when eaten together. Make certain that your dishes are not too spicy or too sweet. You also want to think of your environment and how the food will hold up—is it warm outside, causing cheese and mayonnaise-based foods to deteriorate quickly? Is it cold and your soups will need Sterno heat? All of these factors will influence how good your food will taste.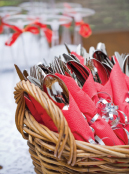 Setting the Buffet
When creating your menu, you should also consider your serving pieces. Think of your table as an extension of the party; beautifully displayed food will add a festive flair to your event. Add height to your table by displaying food on cake stands or risers (a box or stand covered by a napkin or fabric). Your centerpiece should never overpower the table or get in the way of the food. Platters can be all white, an eclectic mix of patterns and colors, or silver for a more formal look.
When setting the table, start with the plates and have the guests flow in a clockwise pattern. If there are over 20 guests in attendance, think about offering a double-sided buffet table. Keep in mind that most of your guests will go through the buffet line at the same time, so make it as user-friendly as possible: Label foods, have appropriate serving utensils, and allow plenty of room for ease in dishing food. If you are able to do so, hire wait staff for larger gatherings to help replenish food as needed.
My friend Stacy DeLano likes to use the following tricks to keep her kitchen clean during a party. She stores extra food in aluminum foil pans, which present a uniform and clean look on her counters and are easy to access when it is time to replenish the food. As guests finish eating, she stashes everything in large plastic bins: one bin for rinsed dishes, another for cups, a container in the sink for flatware and a basket for linens. At the end of the party, her kitchen is not an overwhelming mess!
Offer two choices of protein, and make certain that there are plenty of options for guests who may be vegetarians. Place the proteins at the front of the line since these are the largest items your guests will put on their plates. Carbohydrates and starches should be served next, followed by hot vegetable dishes and cold salads. Try to avoid serving leafy salads, as they can be difficult to manage on a plate and cumbersome to eat without sitting at a table. If you are serving pasta, stay with a sturdier variety such as penne or fusilli for easy eating. Avoid serving too many carbohydrates, or fried or creamy foods. As an interesting twist, consider offering herbed pita, cornbread, or mini muffins as a bread option instead of the traditional dinner roll.
For easy utensil management, roll your flatware in a napkin secured with a cheerful ribbon. It is certainly acceptable to use plastic and paper products when serving a large group, but if you choose to go this route, don't mix disposable products with crystal and china. If you choose to rent china and glassware, don't forget to add that to your planning timeline.
It can be a great idea to serve desserts and drinks at separate tables. When serving desserts, try to have fruit, chocolate and citrus options, and try to offer desserts with an unusual twist (think pear tart with ginger cookie crust) or offer comfort food such as cupcakes. It is becoming more common to offer only wine and beer to drink at parties, but if you decide on a full bar, serve all varieties of dark and light alcohol. An easy way to cut bar costs is to offer a specialty drink that fits within the theme of your soirée.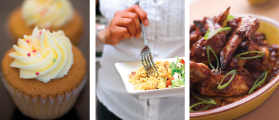 There is no better gift than a memorable evening of fun. Careful planning will help you set up the perfect buffet—allowing you, in the end, to be a guest at your own bash!