Steam Shower Upgrade | Your Personal Retreat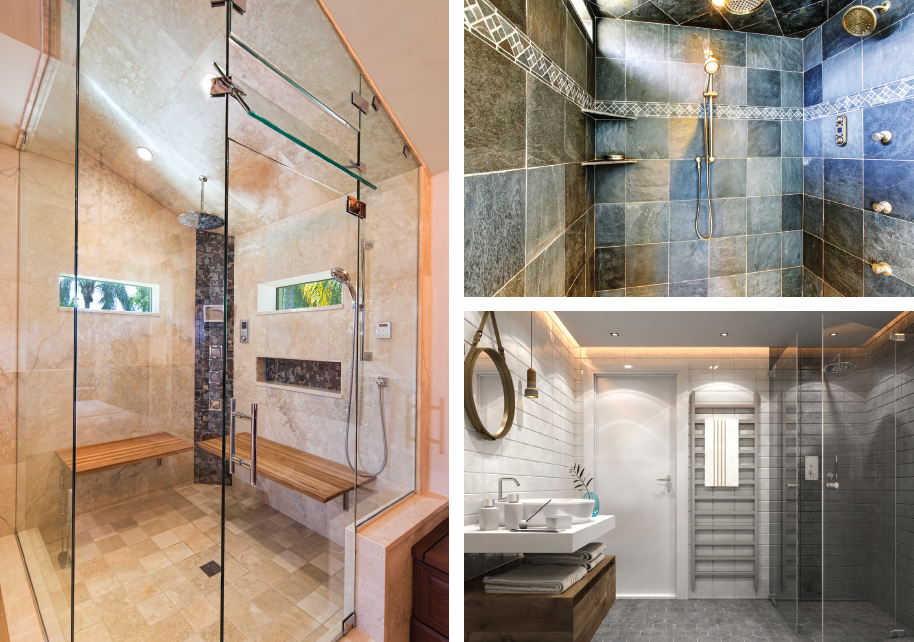 Imagine for a moment what it feels like to hit the shower after a long day. Perhaps you've been raking leaves or you've completed a challenging workout, or maybe you find yourself chilled to the bone after an afternoon of cheering on a favorite team.
You are cold and tired, your muscles ache, and a shower is definitely in order. Now, imagine what it would be like if that shower was also an oasis of comfortable seating, soft lighting, and gentle steam, perhaps even steam scented like lavender or eucalyptus. Yes please!
Since the days of the ancient Romans, people of many cultures have embraced the benefits that come from steam bathing. The moist heat stimulates subcutaneous blood flow, helping to accelerate the healing of damaged tissue, or sore joints from overuse, strenuous exercise, or arthritis. Steam bathing naturally flushes out impurities in the skin, contributing to a healthier, more radiant complexion. Spending time in the spa-like environment helps lower stress, contributes to relaxation, and can provide deeper, more restful sleep.
According to Sara Baker, showroom manager for Ferguson Bath, Kitchen, and Lighting Gallery, "Many homeowners are looking to bring the spa experience into the comfort and privacy of their own home, and steam showers definitely provide that experience." Baker goes on to explain that having one's regular shower do double duty as a steam shower allows busy people to combine the health benefits of steam into their usual shower routine.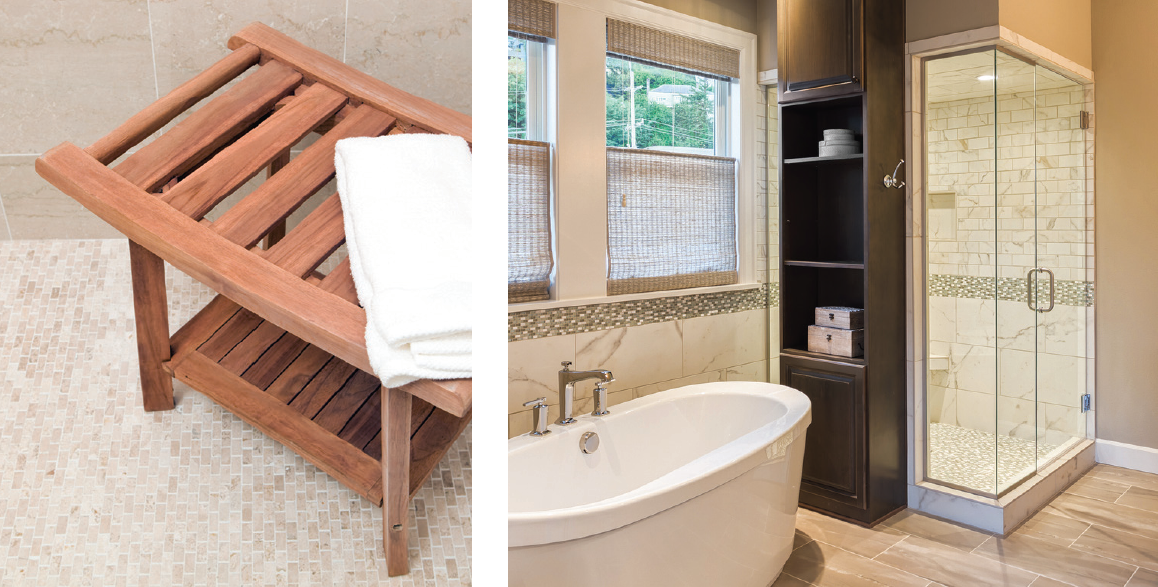 A steam shower can also be an excellent upgrade for your home. Real estate agents have been telling us for years that the best return on our investments occur when we upgrade kitchens and baths. A steam shower is one of those luxury upgrades that can be a real attention-getter when you go to sell your home, but also one that you can enjoy in the meantime. Homeowners looking to incorporate the spa experience into their homes can build (or renovate) a steam shower with such features as soft music, aromatherapy, and comfortable seating. Modern steam generators are state of the art, says Baker, explaining, "The systems are 100% digital, including Bluetooth technology and a mobile app that controls water temperature, light, and music devices."
How do steam showers work? A steam shower spends most of its life as a regular shower. But when you push a button on the control panel or app, the magic happens: Water flows into the steam generator, which has a heating element (think of a very powerful electric tea kettle), boils, and then the steam is pumped through a small nozzle close to the floor of the shower. Within a few seconds the stream starts, and within a few minutes the entire shower enclosure is full of steam. And another nice bonus: Steam showers are very efficient. On average, a 20 minute residential steam shower uses less than two gallons of water! Once you've had your steam, you can turn off the system and rinse off without ever leaving your shower.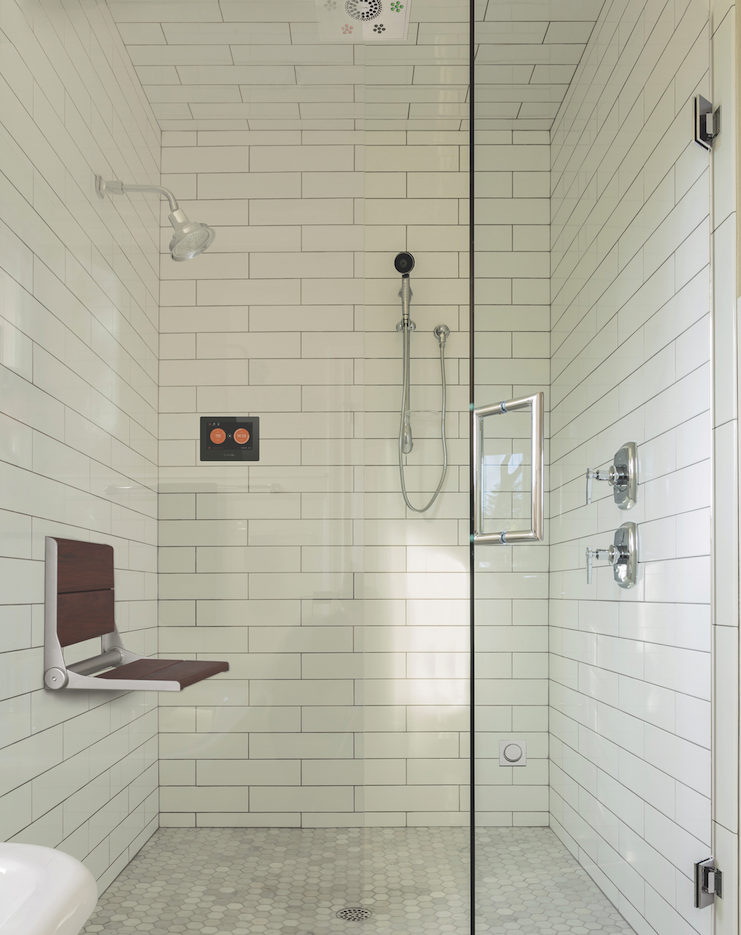 If you are considering adding one to your home, it is important to do your research. Be sure to take the time to ask questions about how different models work and what features are available for your space. Steam generator units vary in size and steam output, so you want to find the right unit for your home's requirements. "When designing a new showering space," says Baker, "You will need to know the cubic footage of your existing shower before considering a steam shower. The larger the space, the larger the steam generator needs to be." Steam generator units are designed to be enclosed behind the walls (or in some cases, under the floor) of your bathroom, so access to these spaces is crucial. "There are many factors to consider when converting a traditional shower into a steam shower," notes Baker, "Bathroom size, access to behind-wall panels, shower door height, and where the steam head should be mounted. We recommend working with a licensed professional contractor to make sure your shower is compliant with your local building regulations."
Also, since you do not want the increased heat and moisture level to encourage mold, mildew or bacteria, talk to your contractor about the need for ventilation, vapor-sealed light fixtures, and a waterproof membrane for walls, floor, and ceiling. Discuss appropriate materials for the visible surfaces as well. Tile is the most common choice, and an excellent one, as most tile is non-porous. It pays to double check, however: Some specialty tiles are porous, as is most natural stone, and these may not make suitable choices for a steam shower. Another thing to keep in mind is that unless you want all the steam to hang out over your head, you'll want to be sure that the ceiling of the shower is not more than eight feet high, and that it has a very slight slope to prevent water condensation from dripping down on you while you steam.
Finally, to keep all that lovely steam in the shower, you'll need the area to be sealed, and that usually means some form of custom glass door. Be sure to let your glass fabricator know that this is for a steam shower, so they can guide you in choosing the best type of glass, sealers, and hinges.
So, before you schedule that spa weekend, consider adding a spa-like steam room environment to your own shower, and start reaping the benefits of health and relaxation right in the privacy of your own home. A steam shower can be a valuable upgrade to a master bath, but it is also a touch of luxury that you can enjoy now and for years to come… no appointment necessary.
bathroom, bathroom renovation, Current Issue, Shower, Steam Shower