Statement Lighting: Shining Light On Fixture Trends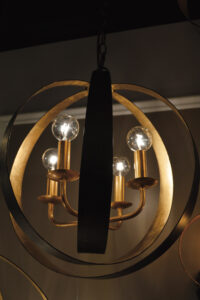 Lighting is a crucial element of interior design, and a good lighting plan for a room accounts for both function and beauty. Hard-working but subtle recessed lighting certainly illuminates your home for tasks, and can even highlight architectural elements or artwork, but the real eye candy often comes in the form of a light fixture that on its own is a sight to behold—a sculptural pendant, an oversized lantern or glittering chandelier. Statement light fixtures like these have big style impact while providing another layer of needed illumination; they also reflect your own unique personality and tastes. But where are some unexpected places in the home to make a lighting statement, and how can you choose something stylish that works with your decor?
To offer some new ideas for illuminating your home, Roanoke's leading lighting experts break down the current trends and give the inside scoop about the lighting guidelines that influence their selections for clients.  
Trending Now
Industrial-inspired pendants or fixtures are still in demand and on trend, but are now offered in warmer metals, organic materials, and colored or mercury glass.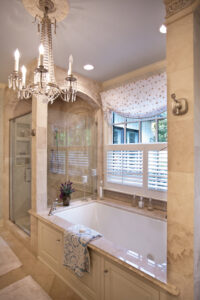 "Gold is a popular trend for lighting," says Pamela Taylor, who manages the showroom at Williams Lighting Galleries in Roanoke. "Light fixtures that incorporate wood tones are increasingly popular … we also see a lot of natural elements incorporated into the design such as rope, rattan—even feathers."
Gold and brass have been options in lighting for a long time, but the warm metals that are popular now aren't the shiny ones of the 1980s—they are burnished with an aged look. The aged look continues with fixtures meant to look like they were reclaimed—such as a fixture that looks like an old rectangular toolbox that has been flipped over and made into a light.
Amanda Schmidt, a showroom consultant at Ferguson Bath, Kitchen and Lighting Gallery in Roanoke, says industrial-style fixtures with mercury glass are popular. "We're seeing different styles of mercury glass, like ones with gold fleck, in line with the trend toward warmer colors," she says. 
Colored glass is now in demand with homeowners (think one bold color instead of Tiffany-style glass) and organic-type fixtures are finding their way onto the showroom floor, made with materials like concrete, ceramic, cardboard and handblown glass.  
Architectural shapes of all kinds are on trend, and modern-looking fixtures can be softened with a vintage/Edison-style bulb to fit in more traditional homes. Both Taylor and Schmidt report that the orb shape is still popular, as are fixtures with drum shades. "I think the popularity of these shapes is due to their versatility—they will work with almost any decor," says Taylor.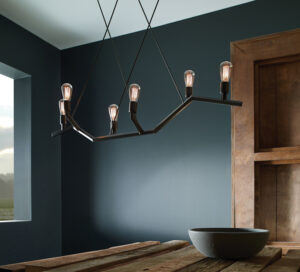 LED lighting is also in demand, especially for homeowners who are eco-conscious, and Schmidt notes that Ferguson is carrying more LED fixtures and getting more inquiries from clients about how they can integrate LED in
their homes. 
Schmidt says that people are impressed with the flexibility LED provides. LED fixtures now dim well, which they didn't do a couple of years ago. Homeowners are also surprised to learn that LED filament bulbs (also referred to as antique or Edison-style) are available, as well as bulbs that are identical in color temperature to incandescent lights, offering a warm glow instead of the cool light color that many people consider the hallmark of LED.
For outdoor use, LED lighting is a safe and cost-effective option because they don't create heat and they can be left on for long periods without big energy costs. Another little-known bonus? LED lights might cut down on the bugs. "Because LEDs don't emit UV rays, they don't attract bugs, which is great for a light near a door that you open often," Schmidt explains.
You'll pay more upfront for an LED fixture, with the idea being that you'll recoup the cost with energy savings over a period of years. It's a choice that is good for the planet, with today's LED lights rated as six to seven times more efficient than conventional lighting and lasting up to 25 times longer. This is a real plus for a fixture that is not easily accessible (like hanging from a cathedral ceiling) because it practically eliminates annoying lightbulb changes.
Lighting Guidelines (And When to Ignore Them)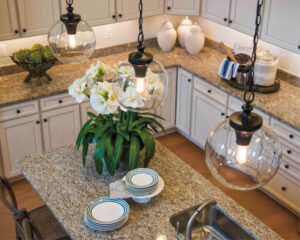 Many homeowners want to know what the rules are for choosing a fixture. How high should you hang it? How big should it be? Can you mix metals?  
Fortunately, there are no hard rules when it comes to lighting, but there are some guidelines that can inform your selection. For hanging over a table, the fixture can hang as low as 30 inches above the table (measuring from the top of the table to the bottom of the fixture). It may need to be higher if the you have tall family members or guests. The kind of fixture comes into play here as well; if it is a visually heavy fixture (you can't see through it), it may need to be slightly higher so it doesn't feel obtrusive.
In areas where a fixture doesn't hang over a table or furniture, be sure that a tall person can walk under it, and in the entry, be sure that you've allotted for front door clearance. In older homes without tall ceilings, semi-flush-mounted fixtures add interest while allowing for needed clearance.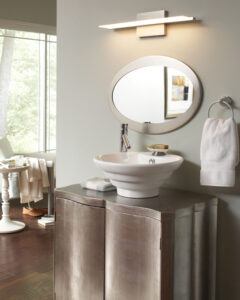 If you like the new metals available in lighting but fear they don't "match" current metals in your home, know that mixing and matching is okay, though including an element of repetition in the space will help it look intentional. For instance, if you add a new burnished brass fixture in your foyer, add a mirror with a burnished brass frame in the same space—and you've just borrowed a trick from an interior designer's handbook.  
The size of your fixture is ultimately personal preference; you want something that fills the space without overwhelming it. A general formula for chandelier or pendant selection in a dining room is that chandeliers should have a diameter of one-half to two-thirds the width of the table. To size a fixture as the focal point of any other space, like a living room or foyer, measure the length and width of the room (to the nearest foot) and add those figures together. The sum of those two numbers is the approximate recommended diameter of your chandelier or pendant (in inches).  
A final note on size: Taylor thinks it's better to go bigger rather than smaller. "'Too big' can be interpreted as making a statement," she says. "If the fixture is too small it tends to get lost and can look like an afterthought." 
One guideline not to ignore: though it's on trend to hang a chandelier in a bathroom, make sure it is hung properly. For safety, you shouldn't be able to touch the fixture if you are standing in the tub (or shower). Electricians can advise on codes if you are renovating a bathroom or have chosen a new fixture for your current bath.
Unexpected Lighting Statements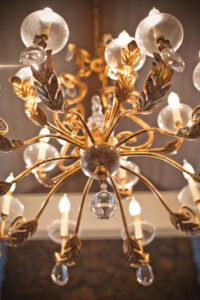 The dining room chandelier has been around as long as the dining room. Even in this traditional space, you can bend tradition to come up with something unique. Consider multiple chandeliers instead of a single, especially for a long table; think about hanging several miniature pedants at different heights, clustered together, for an artistic statement that no one else on the block will have.
The popularity of pendants in the kitchen has soared with the popularity of the open floor plan, in part because they are excellent for creating zones and division in a large, open spaces while also lending style and interest to the room. When you are choosing pendants for a kitchen island, know whether the island is for prep only, or includes seating. That can influence the fixture height (if the island functions as a table, the 30-inch general guideline applies). Consider if you want the pendants to create division in the room, or if they should hang higher to prevent it.  
Miniature pendants and chandeliers are making appearances in walk-in closets, powder rooms and even laundry rooms. In a space like the laundry, it can be an unexpected shot of glamour to greet an otherwise unglamorous task.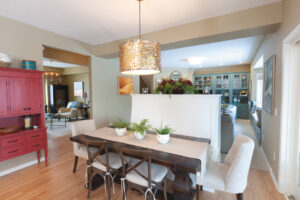 Trends in lighting placement include chandeliers over coffee tables and in other living spaces, and in bedrooms. If these ideas pique your interest, there a few factors to consider in making a choice. In the living room, you have two lines of sight—from the doorway standing up, and sitting on furniture. Consider both sight lines to determine if a chandelier or fixture would obstruct views of art, an interesting outdoor view, or the television.  
In the bedroom, chandeliers and pedants can be a great choice; a recent trend is two small hanging chandeliers on either side of the bed in place of other bedside lighting. Another trend is a chandelier hanging from the bedroom ceiling. If you are trying out this trend, make sure that you can sit comfortably on the bed with the fixture hanging, and can make the bed without bumping into it.
Don't overlook a dimmer switch, which is an excellent choice for all lighting fixtures because it gives you maximum flexibility and control.
Visiting the Lighting Store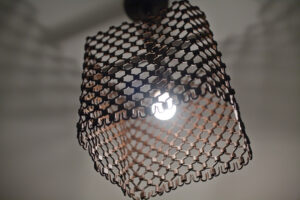 Browse online before visiting a lighting store to have a sense of likes and dislikes as a starting point. If you are upfront about your price range, a lighting specialist can quickly assist you in narrowing down the best budget options. Bringing in photos of the room, as well as measurements, can be helpful in choosing fixtures of appropriate scale and style. Some lighting stores will do a consultation at your home for a nominal fee and make custom recommendations without obligation to buy, which is particularly helpful if you are overwhelmed by a renovation or building project.
The good news? Trends and guidelines exist as a reference, but our lighting consultants say you should go with what you love. Go with your instinct, and, if necessary, have an expert help you work it into a space in your home.
chandeliers, edison lightbulbs, Ferguson Bath - Kitchen and Lighting Gallery, lanterns, LED lighting, lighting, lighting fixtures, recessed lighting, statement lighting, Williams Lighting Galleries