Sofa, So Good! Find the right sofa to suit your style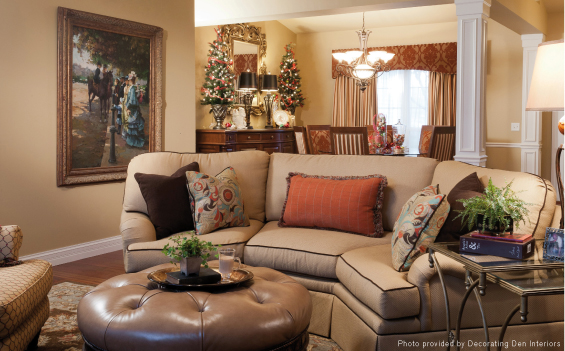 Growing up in southwestern Virginia, I remember the elegant luncheons and dinner parties my mother coordinated in our home with her fine china and silver. Not a detail was left undone as she spent hours preparing a beautiful table and delectable food. It was during these events that we would actually use our living room. The largest room in the house was always reserved for entertaining and unexpected guests. Visitors were welcomed into our home and invited to sit on a camelback sofa, characterized by its upright back and lack of back cushions. Perhaps this image helps you recollect bygone days of greater formality and entertaining.
Fast forward forty years and many families are opting for a more relaxed living approach—less china and silver, more of the everyday "stuff" for entertaining. And our living rooms? "It seems like people are more casual these days," says Grand Home Furnishings Designer Cindy Rosen. "Customers are looking for more casual, straight lines and a more modern feel."
This goes for both the living room and the den. The sofa is typically the foundation of these rooms, but Rosen has also seen some homeowners choose to go "sofa-less" in their living rooms. "Some customers prefer four really comfortable arm chairs, instead of a sofa, with a table in the middle." This more intimate setting, she says, "is more conducive to conversation."
Because the sofa remains a constant furniture piece in most homes, Rosen works hard to advise clients on decision-making for this furniture staple.
"When furniture comes into our stores, I try to create a vignette to show customers how pieces could look in their homes," says Rosen. "I also work with customers by going into their homes and helping them with floor plan formats, scale, color choices and structure. This usually starts with the sofa. We first need to determine if they want something temporary or something to last forever. Often it is a decision about 'getting by for the next few years' or saving for a bigger purchase for later."
Needless to say, the less you pay, the less a sofa will last in terms of durability. However, if a homeowner wants to change décor every few years then buying a less expensive model could be a prudent choice.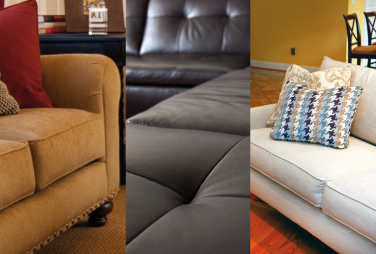 Choices You Can Live With
"If you do want something to last forever," she recommends, "choose something without a pattern. But, if you do insist on a pattern, stay with a small-scale pattern, so the visual texture it creates will blend well with other pieces in your room."
Rosen notes the wide range of beiges and neutral colors available. She points out that green is considered a neutral that goes with warm or cool colors. "Even hot pink!" she adds. "By choosing a neutral, one can pick up the bolder colors through accent pieces," she adds.
Perhaps your budget dictates reupholstering a current sofa rather than buying a new one. Phyllis Kerr at Phil's Upholstery says she sees many customers who want to transition from traditional and formal to a more modern and contemporary look. Reupholstering an existing piece of furniture allows you the chance to make changes in cushion styles and other finishing details for your sofa, updating more for your sofa's look than just the fabric.
If you are buying new, Kathy Potts of Forest's Decorating Den Interiors says manufacturers are making things easier. Designing your own sofa is now a very popular trend with clients. National designers like Kincaid and Taylor King allow customers to create their own sofa style by selecting one or more aspects of the sofa like the seat, leg or arm. For example, while a tapered leg gives a cleaner look, a turned leg shows a bit more formality. One could also choose a straight versus rounded arm, skirtless vs. skirted, squared cushions vs. rounded. The buyer is in control and can custom design a unique piece for their home.
Trends and Themes
In terms of textures, Potts is seeing more woven, linen-like fabrics. She agrees with Rosen that neutrals and creams are more popular than ever.
Rosen has seen clients choosing to use bolder, larger prints in accent furniture and sofa pillows. This allows for greater flexibility in changing a look without breaking the bank with the purchase of an entirely new sofa or recovering an entire existing piece.
She says that while browns, rusty reds and golds have been popular themes in the past, she is currently seeing more greys and blues, giving a nod toward a more contemporary look. Rosen adds, "A sofa is a dominant piece of furniture in any room it inhabits and typically it is one of the larger objects in a room, so it sets the thematic tone for formal or casual, modern or traditional."
In terms of fabrics, she says microfiber is a very popular and versatile fabric. Microfiber is typically thought of as being suede-like in texture, but you can also choose a faux leather or velvet look. "It's so durable and less expensive," she notes. "Particularly for young families, you can get more wear out of microfiber."
Another thing to consider in terms of practicality is seat depth and height. Potts asks her clients to ask themselves, "When thinking of how you'll use your sofa, do you want to fall back or do you want to sit up? If you want to sit upright to read, rather than lounge, then sofa depth needs to be considered." Likewise, she adds, "If you are a tall person, you need more height." It is so important to sit on the furniture and try it before you buy it.
Comfort truly is an important factor. While sofa is derived from the Arabic suffa meaning 'carpet' or 'divan,' couch comes from the French noun couche meaning "to lie down." Interestingly enough, Smith Brothers Furniture manufactures a unique sofa with a notable construction. Like a bed, the springs are under the cushions, and the cushions are made of high density foam much like a mattress. Rosen says they are very comfortable, and she doesn't know of anyone else that constructs sofas like this. "They will last forever," she says.
In it for the Long Haul
"A sofa is an investment," says Rosen. "It is the centerpiece of a living room or den, so choose something you like that will last for years. Then you can make upholstery updates to it over time."
It is all about personal style and comfort. If our homes are truly our "castles," then we want to use them fully and practically. It's called a "living" room for a reason, let your sofa set the tone in yours.
Couch Design for Dummies
Four things generally determine the style of a sofa: the arms, the back, the legs and the skirt (or lack thereof). Here are several styling options you may consider when sofa shopping or remodeling a room.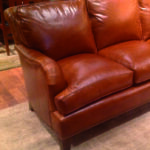 English or Club
Styling: Rolled arms and back with tight, seamed back and seat. Usually skirt-less with low legs on casters (wheels that swivel).
Practicality/Versatility: Popular because they are very comfortable and adaptable to most interiors.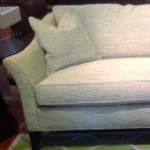 Tuxedo
Styling: Sleek and modern, yet reminiscent of the 1920s, with high arms and back, clean lines and straight or slightly flared arms.
Practicality/Versatility: While some may find a lower arm cozier, others find a tuxedo to be quite comfortable.
Camelback
Styling: Designed by Thomas Chippendale. Design is formal and upright with serpent back and high rolled arms. Typically with a tight seat and skirtless.
Practicality/Versatility: NOT!
Knole
Styling: Characteristic of English country homes and symbolic of a 17th century sofa made for Knole, a house in Kent. This classic piece has a high, straight back often with angled arms and finials.
Practicality/Versatility: Formal and traditional.
Cabriole
Styling: Exposed, carved wood frame that often conjures the limbs of dogs or lions. Harkens back to the 18th-century French style with curved arms and lines.
Practicality/Versatility: Formal and traditional.
Lawson
Styling: Named after turn of the century financier Thomas W. Lawson who was known as a "comfort seeker." Conjures comfort and coziness with low, square back and low, boxed or rolled arms.
Practicality/Versatility: Casual, yet with the right fabric, could transition to a more formal setting.
Chesterfield
Styling: Often described as distinctive, cozy, masculine and traditional. Rolled arms are on the same level as back. Typically made of leather with no back cushions, but rather a quilted, tufted look on the back, often embellished with buttons or nail heads. Its straight back is said to have been designed so that men would sit up straight and not wrinkle their suits.
Practicality/Versatility: The Chesterfield generates visions of English libraries and gentlemen's clubs. Can be used formally or informally. Makes a nice addition to the game room.
Mid-century Modern
Styling: Streamlined design with straight squared lines and low, sleek legs.
Practicality/Versatility: Ultra-modern, yet equally evocative of the 1970s. Needs to be in the right room with the right complementary accessories. Not a good transitional piece.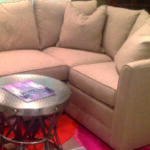 Sectional
Styling: Typically modern with clean lines, this modular seating machine is composed of various pieces such as armless sofas, end and corner units, ottomans and sometimes even a recliner, sleeper sofa or chaise lounge.
Practicality/Versatility: Good for family rooms, dens, game rooms and naps.
Bridgewater
Styling: Soft rolled back with low, rounded arms. Can be skirted or bare-legged.
Practicality/Versatility: A good transitional piece, typically more formal but fabric can transform it for more casual settings.