Snow Day, Kitchen Play: Stock your Pantry for Easy Comfort Food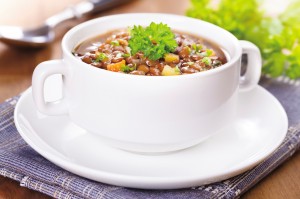 We all laugh at each other and ourselves each time snow is predicted. It seems to be a local covenant: Run to the store to buy bread and milk! (I've got an excuse: with two teenaged boys, I buy bread and milk every time I go to the store!) Many times, when I arrive before a storm, the shelves in the bread and dairy aisles are nearly empty. When a winter storm passes us by as they sometimes do, I imagine there are many households throwing away gallons of spoiled milk and moldy bread.
Though I do have one favorite recipe with main ingredients of milk and bread, I usually spend my snow days making hearty soups and pasta dishes, and maybe some "kitchen sink" cookies, using whatever I can find in the freezer or pantry. I consider my freezer an extension of my pantry—just holding things that will spoil if I leave them at room temperature. We all probably have some of the same basics in our freezers and pantries—flour, sugar, olive oil, pasta, frozen vegetables and the like. But there is a whole category of things beyond bread and milk that I consider basic that you may not have considered stocking. Add these to your stash of provisions, so you're ready for the next snowstorm or long winter weekend:
Dried mushrooms: Use these to pump up the flavor in soups or pasta. Ground straight from the package in your spice grinder, they also make a great rub for meat.
Good bacon: Buy good-quality bacon. Freeze it in packages of 4 strips. Just that small amount can upgrade any dish.
Whole grains: Store wheat berries, farro, brown rice and other whole grains in the freezer or in airtight containers in your pantry to maintain freshness.
Dried fruit: Dried fruit is a great accompaniment to cheese, a classic addition to a wintery pork roast, and delicious chopped in cookies.
Frozen shrimp: They're frozen individually, so you can pull out just a handful for a special dinner for one or two.
Chocolate chips: Buy good chocolate chips (60 percent cocoa) so they can be used in brownies, cakes and other desserts, without having to stock lots of different kinds of specialty chocolate.
Nuts: Buy nuts on sale in the fall and store them in the freezer. Roast whole nuts at 350 degrees for five minutes right before using them to heighten the taste. Chop and use in desserts, salads or pasta, or sprinkled over roasted vegetables.
Beans: Dried beans are economical and easy to cook if you have a little notice. If you only have a little time, lentils are a great, quick-cooking option too.
Asian-inspired ingredients: Curry paste, fish sauce and coconut milk are the basics of a great meal with any fish, meat or vegetable.
Good vinegar and olive oil: Throw away the bottled salad dressing and make your own.
With a fully stocked panty and freezer, you could make just about anything! Here is my favorite bread-and-milk-based recipe, plus a few recipes that may be useful on a cold day—whether it snows or not! Happy cooking!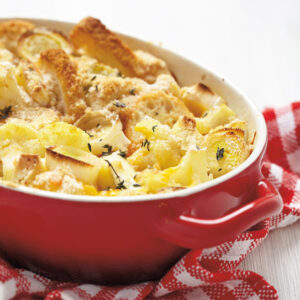 Strata (serves 8-12)
Lots of people call this breakfast casserole, but I like to think of it as a savory bread pudding—a potential side for dinner too! There is a version of this dish in many cultures—think frittata and quiche. A strata is endlessly flexible and a great way to use up leftover cheeses from a party, or other ingredients you may have on hand. This is best made at least 8 hours before baking.
5 cups cubed bread (use regular white bread, or you could use what
you have on hand like leftover croissants, French bread, etc.)
2 ½ cups cheese (all one kind, or a mixture)
10 eggs
4 cups milk
2 teaspoons Dijon mustard
1 teaspoon salt
½ teaspoon pepper
Optional: add up to 1 ½ cups total of cooked sausage, ham, sautéed onions or leeks, sautéed and strained spinach, sautéed mushrooms or blanched asparagus.
Place the bread in an even layer in a greased 9 x 13 casserole. Sprinkle with the cheese and any additional ingredients you choose. In a medium bowl, whisk the eggs. Add the milk, mustard, salt and pepper. Pour the milk mixture over the bread, cover with foil and refrigerate for at least 4 hours.
When ready to bake, preheat the oven to 350. Cook for 35 minutes covered, then uncover and bake another 10-15 minutes until browned and the center is not jiggly.

Some ideas for combinations:
Mushroom, leek and Gruyere cheese
Sausage and cheddar
Spinach, onion and bleu cheese
Kitchen Sink Cookies (makes 12-20 based on size)
My kids and I like to come up with original recipes and make things like this once in a while. We love the combination of sweet and salty, so don't leave out the pretzels!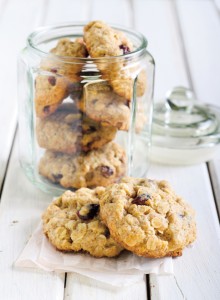 2 sticks unsalted butter
1 ½ cups firmly packed brown sugar
2 eggs
1 teaspoon vanilla
2 cups flour
1 teaspoon baking soda
1 cup oats
2 cups chocolate chips (are chocolate
chips ever optional?)
Optional ingredients:
1 cup unsweetened flaked coconut
1 cup nuts (walnuts, pecans or almonds), roasted for 5 minutes
then coarsely chopped
1 cup crushed pretzels or potato chips
1 cup dried fruit like raisins or cranberries
Cream butter and sugar. Add eggs and vanilla and mix well. Add flour and baking soda. Mix in oatmeal and optional ingredients.
Scoop onto baking sheet. Flatten slightly with wet hands. Bake at 350 until done, about 9 to 13 minutes, depending on the size of your cookies.
Lentil Soup (serves four)
Even though you may have all day to cook during a storm, this great soup comes together in less than an hour. Or, to make a delicious side for grilled salmon, reduce the stock to 3 cups.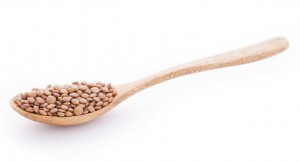 2 tablespoons olive oil
1 onion, chopped
1 carrot, chopped
2 stalks celery, chopped
2 cloves garlic, minced
1 tablespoon curry paste or 2 teaspoons smoked paprika
2 cups lentils, picked through for stones then rinsed
6 cups homemade chicken or vegetable stock
3 handfuls fresh spinach, roughly chopped
Salt and pepper, to taste
Heat the olive oil in a large stock pot. Saute onions, carrots and celery about 5 minutes over medium heat. Add the garlic, stirring constantly, and cook for another 2 minutes. Add the curry paste or paprika and cook another minute. Add the lentils and stock and stir to combine. Bring to a boil, reduce heat, then cover and simmer over low heat for 20 minutes. Stir, and add salt and pepper to taste. Just before serving, add spinach and stir to wilt it.
Kitchen Sink Cookies, Lentil Soup Recipe, Pantry Extras, Snowy Weather Food, Strata